It's the tail end of 1977 as we rejoin Len Wein & Ross Andru on ASM. This month, they're aided & abetted by Tony DeZuniga on inks and the great Glynis Oliver on colors. And despite that fact that ASM 172-175 were already one continual story when we saw them, like, a year and a half ago, 176 picks up right where it left off, chain combo-ing at least 5 more issues onto the streak. Give Spidey a break, Len! The snake is really eating its own tail here. When I first started buying old comics in 2018, before I'd thought about this blog, this was the first storyline I read, for reasons that will become obvious. Now here I am re-reading it. Spider-Man is swinging JJJ back to his office after their bizarre adventure together, and they're bickering as usual. Spidey drops him off and is about to leave when Jonah suggests Spider-Man set up the whole mess to make himself look good, and Spidey is back inside, ready to argue.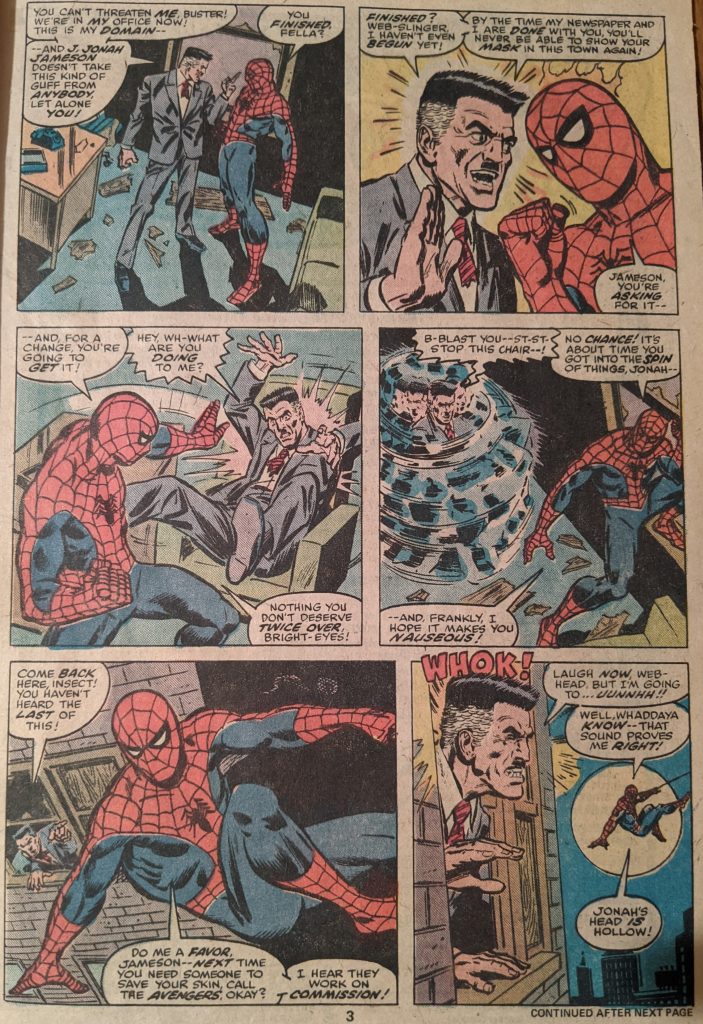 You know how they do. Spidey heads home, and the next morning, Peter wakes up to find his arm has healed from being grazed by a bullet back in ASM 173. 3 issues, pretty good! Man, there's so much baggage from 172-175, it feels weird to have let that lie for so long. Anyway, he gets up and gets on with his day, in the rare good mood, but don't worry, that's bound to change.
Man, you could write a paper on this scene. Aunt May's goofy "Grey Panthers" thing is suddenly less silly. DeZuniga is doing Andru more favors than anyone who's inked him since Romita.. This book looks really slick. But, hey, look who turns up to the hospital immediately:
A rare mature moment from perpetual party girl Mary Jane during Wein's run. The doctor comes out and tells Peter Aunt May's only had a mild heart attack, and that she's up and asking for him. They're gonna keep her for a few days of observation, but she's ok. Peter is extremely relieved, and their reunion is sweet. Outside on the street, MJ wants them to celebrate together, but (for some reason?) Peter's going to Dr. Hamilton's office to see how Harry's doing. Harry, we may recall, has been on a downward slide since Liz Allen left him, and has been seeing Dr. Barton Hamilton for therapy, but in ASM 175, they had an altercation that seemed to indicate Harry was reverting to The Green Goblin. None of that really explains why Peter is trying to drop in on their session, tho. That's weird. And when he gets to Hamilton's office, he finds the cops there, investigating signs of a struggle and saying Hamilton didn't show up today. Peter fears the worst and races off to the place Flash & Harry have been sharing. And he better hurry.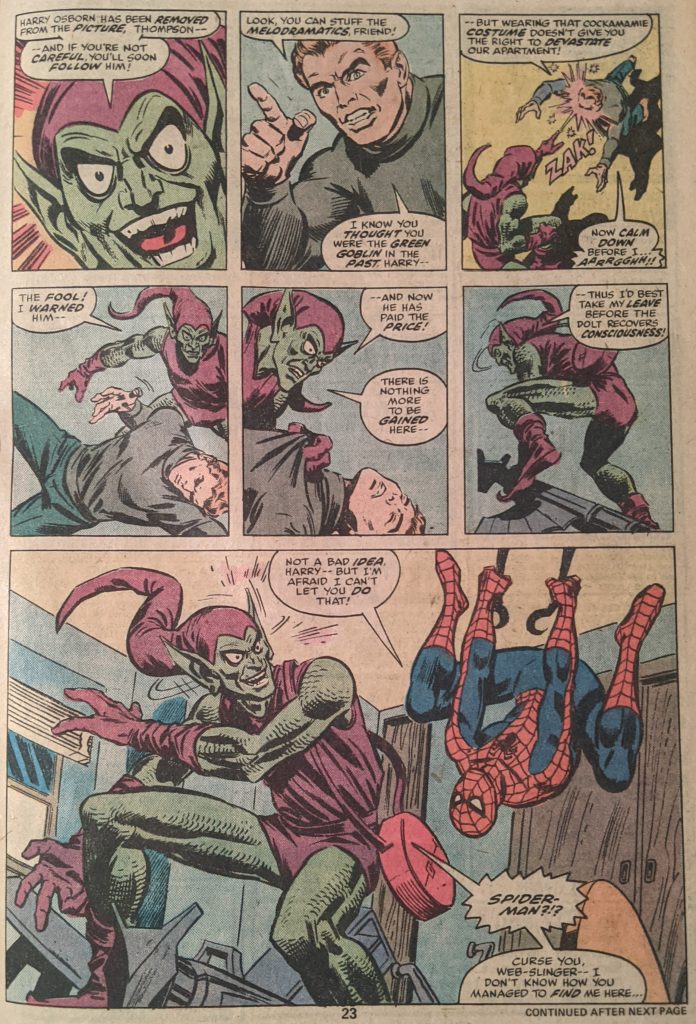 Flash Thompson: Shot in the face! That seems serious. Ross Andru's Green Goblin was always kinda creepy in a way literally no one else's ever was or has been. He's gangly and weird looking in addition to deranged. They fight around the remarkably large living room of Flash's place for awhile until Gobby manages to electrocute Spider-Man with a new gimmick, an "electro-bat."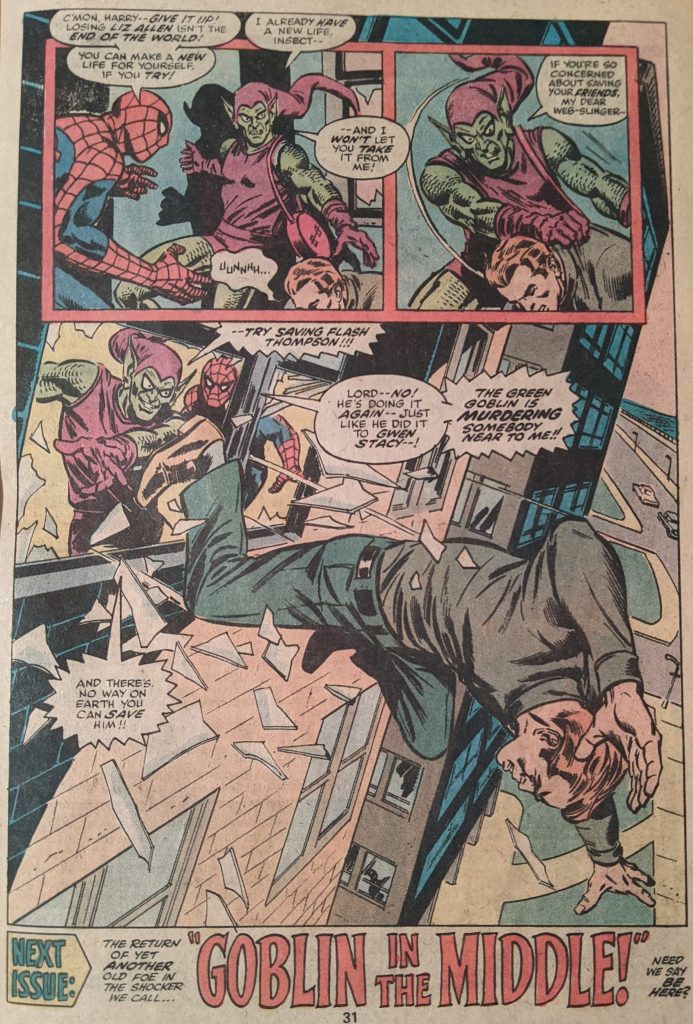 Flash looks remarkably un-cut-up for a guy who just did a header through a window. As usual, Andru's figures are very solid and real-feeling, and yet his fight choreography is awkward and unexciting, and his posing is weird. He's really not a natural at the superhero stuff. Well, we're in it now. Wein's almost done with ASM, and I guess he's decided the biggest bang he could go out with is The Green Goblin. Before we see the next installment, we have to look at this back cover ad: