Rare to find one this old at McKay's, but I'll sure take it. Hey, what's up with Spider-Man's right hand? I hope he's reaching into his belt for some kinda gimmick to win this fight, but even that doesn't quite explain it. Maybe he loses most of his hand this issue! Let's find out. Jim Mooney is through the revolving door of inkers for this issue which really hits the ground running: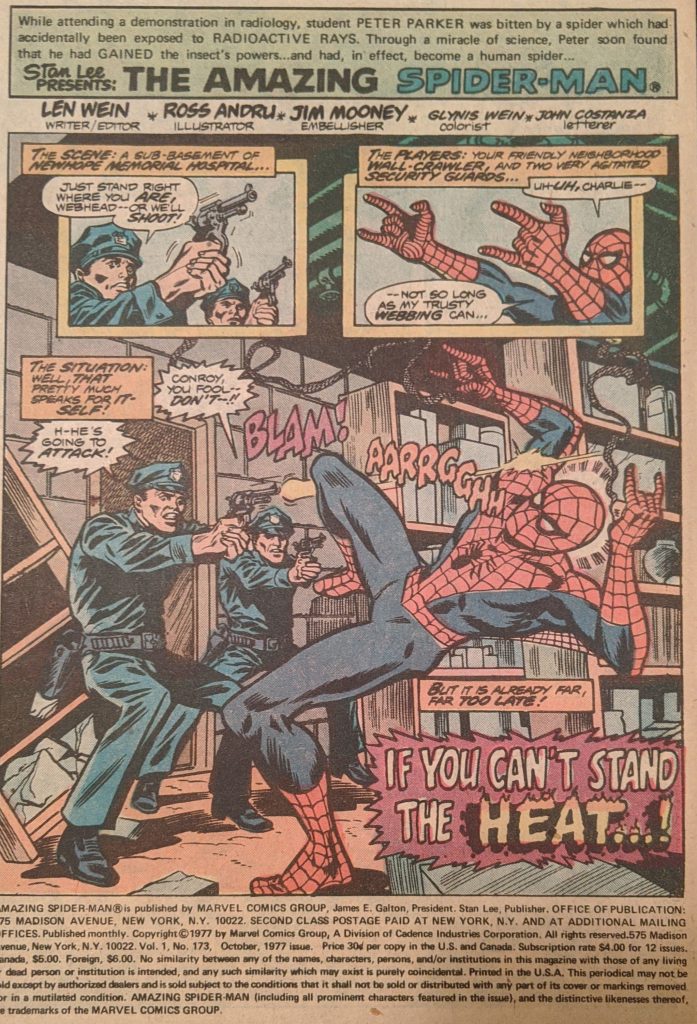 Shot on page one! As with 95% of all gunshot wounds in comics before 1985, it's just a graze on the surface of his shoulder, not so bad, but still pretty painful! These rent-a-cops are really out for blood as Spidey disarms and defeats them, much moreso than the actual police usually are when chasing Spidey. With them out, he decides to flee, but then the most ridiculous possible thing happens.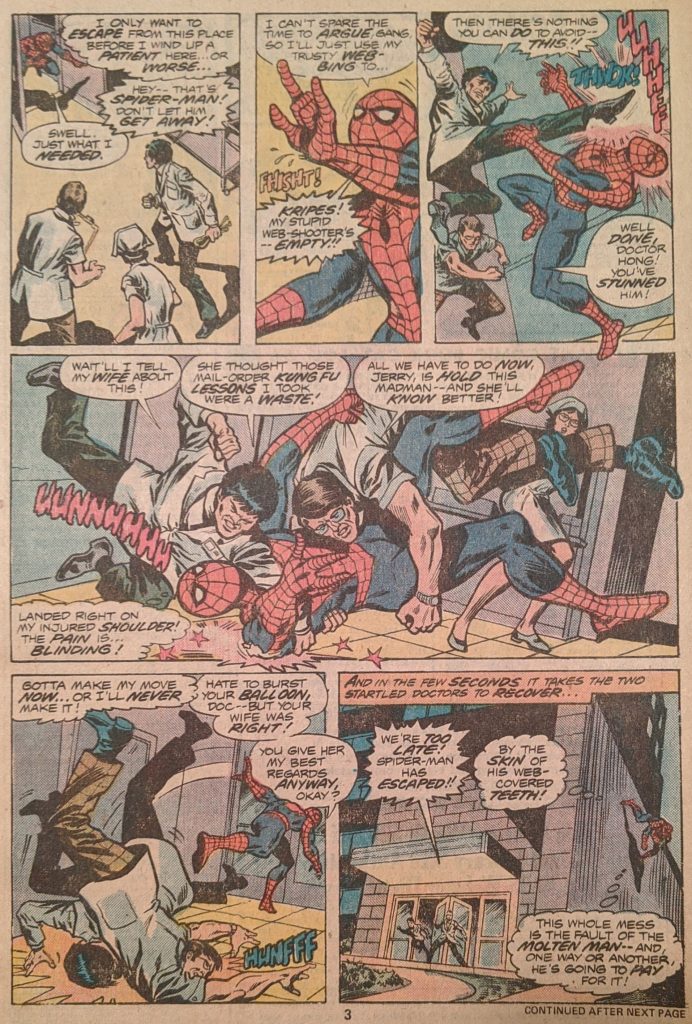 Kripes, check out that flying kick by Background Doctor Number One! What?? Is the middle panel a jab at all the mail order martial arts lessons being advertised in comics of this vintage? Maybe! As Spidey flees the hospital, Jim Mooney provides some pretty solid evidence of what an inker brings to the table in comics:

Molten Man just looked like a weirdo in a diaper last issue, but here he looks deranged and pretty scary. Same penciler, new inker. MM forces this random, unnamed lab technician to finish the work he started on some kinda formula, which she injects into him. And it works! He turns back into a regular guy. He apologizes sincerely for being mean earlier, saying a desperate man does whatever he has to and he'll never bother her again. And then he burns back into flames. That's too bad. With his last hope gone, he's now crazier than ever. Meanwhile, his poor sister is getting out of the clink.

I don't get why Liz has been so reluctant to explain her deal. It's not like her relationship to Raxton is a secret. It's what brought her back into the book, even, after all those years away. We switch back to Spider-Man as he gets home, having been patched up by Curt Connors. He arrives home to a bunch of unpaid bills and a letter from ESU saying he's failed to many classes to graduate with the rest of his class. Whoops. Then Robbie calls and tells him to hurry down to the plot. The whole gang accompanied Liz to the showndown with her half-brother, who casually admits he made her rob the hospital while yelling down from a window. Liz decides to go up and confront him, try to get him to surrender. The late-arriving Peter Parker doesn't expect that to go too well, though, so as she tries to reason with her brother, Spider-Man is on the scene. And in true 1970s fashion, falls off the ceiling because of a loose tile, losing the element of surprise. Sheesh.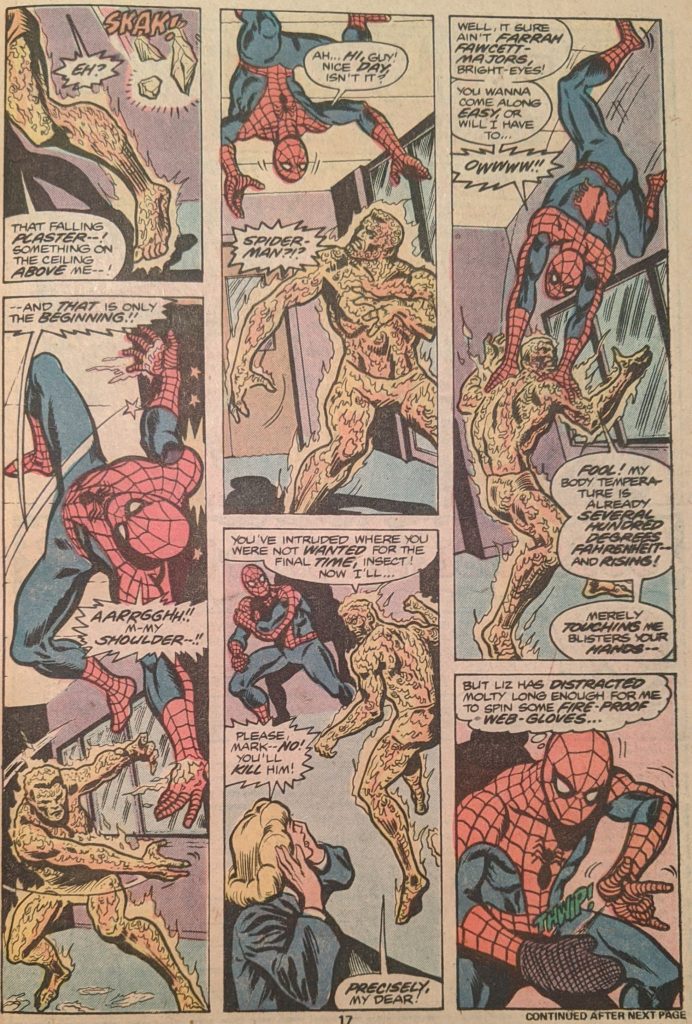 In the ensuing fracas, Molten Man gets punched into some liquid oxygen tanks, causing a huge explosion. Batting .1000 today, Spidey. Everyone survives, which is nice, but Molten Man is now only angrier. And guess what, Spidey tucks his hand into his belt to immobilize his bad arm, sorta like a sling. Ok, I get it. Weird thing to put on the cover, tho. As the fight continues, the place begins to collapse, and as Liz is about to fall through the floor, Molten Man tosses a chunk of it at the pretty messed up Spider-Man because…

A dark ending! Nobody wins! Sometimes it's like that, I guess. As you know, just like last time, Molten Man is dead, and will never be seen again. No, sir. Back in the letter column, somebody's having a good time:

Really went the extra mile with that address.