This looks pretty silly. Jim Mooney inks this one solo. As it opens, Punisher is just shooting at the escaping chopper, JJJ be damned, I guess.

"I wasn't going to shoot him! I was just going to cause the vehicle he's in to explode and/or crash to the street below us! Duh!" How did the rent-a-cops sneak up on them like that? Dude is grabbing Spidey like this is a vampire movie. They take down the guards, but then more show up, so Spidey shoots 2 webs and they swing away. This seems… short sighted. What's Frank gonna do at the end of his webline? Oh, well. Having seen our heroes to safety, we head downstairs to the weirdly smiley situation in the Bugle…

I guess maybe Robbie has a point. JJJ gets kidnapped all the time, why worry? Elsewhere, it's Punisher War Journal Entry 416 as Spidey and Frank zoom around in The Punisher's Battlevan while Spiey homes in on his tracker. As they search, Frank casually mentions he owes The Hitman his life. Spidey's pretty surprised by that, so Frank explains they were in Vietnam together, and one Lt. Burt Kenyon saved Frank after he was caught in an explosion. He says he's "long suspected" Kenyon was The Hitman (For some reason?) but now he's sure. Isn't that cute? Good Punisher and Evil Punisher are old pals! His story is interrupted by Spider-Man getting a ping on his tracer, in the underbrush outside a farmhouse (They were still in the city when Frank's story started! Where are they?), so they go to investigate. But also…

Well, that can't be good! But that's a future problem, we're back at that farmhouse, where Spidey and Punisher take out 2 goons and start getting some info out of them. Meanwhile, their boss has JJJ… Under the Brooklyn Bridge in a boat? Where is that farmhouse??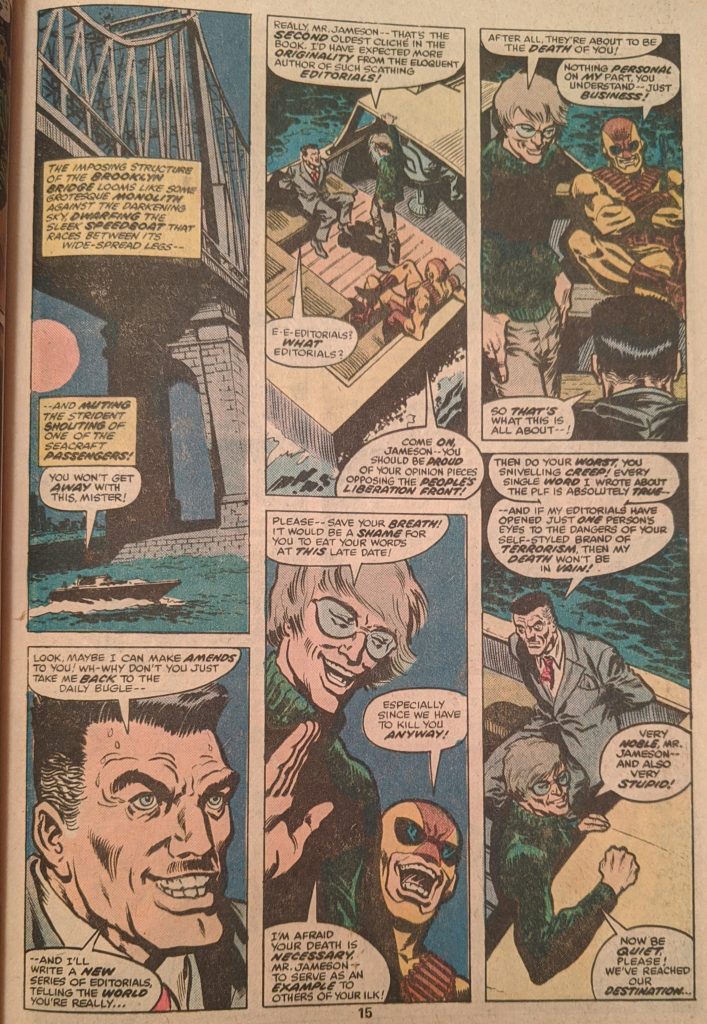 So they are gonna kill JJJ? And they had to kidnap him first… why? This whole business seems undercooked. They've taken JJJ to the Statue of Liberty, where they gas some guards and get to work. The PLF is going to blow up the statue, with Jameson inside. Which… seems like it'd be really hard to identify what's left of him, and their message wouldn't really be sent, but… whatever, it doesn't matter, because Punisher and Spider-Man show up in Hitman's dumb helicopter. Punny opens fire on the bad guys, with Spider-Man saying some stuff about "forcing him to use mercy bullets," and then they land and get to work incapacitating dudes.

This is really spiralling out of control. Hitman tries to escape in his chopper, but Spidey grabs on, throwing it off balance and forcing it to crash on Lady Liberty's head, where JJJ happens to be. Hitman takes him hostage, and then just… shoots Spidey? As he falls over the side, Punisher climbs up. Hitman does the whole "you should join me" bit, but Frank's not into it.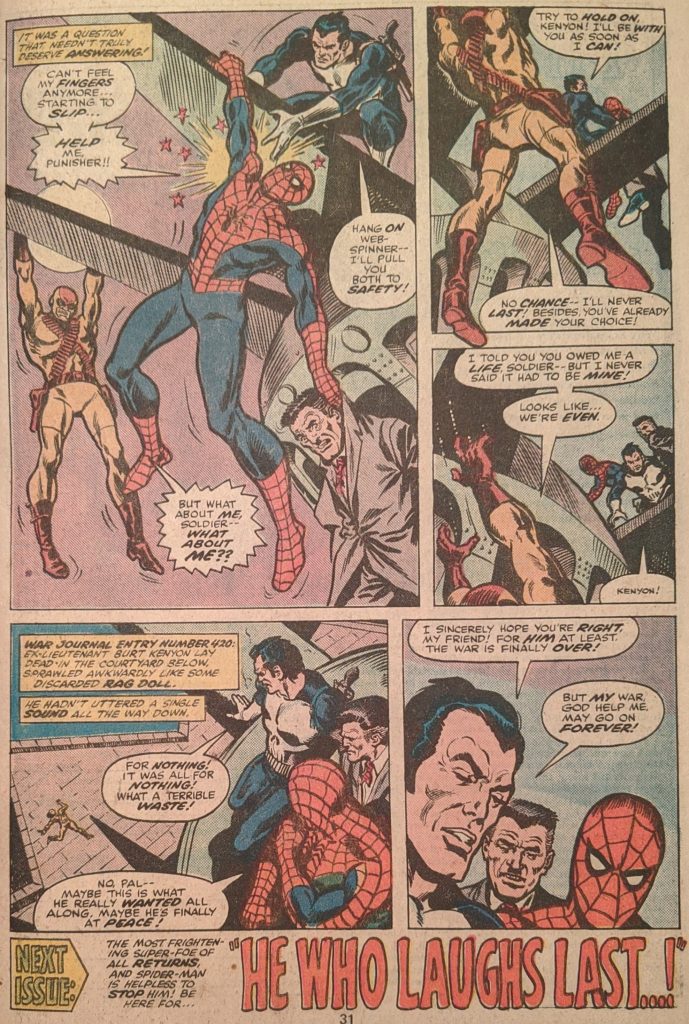 I'll never get over how chummy Spidey and Punisher were in the 70s. Great friends! The whole "wantonly killing people" thing not an issue for Spidey at all. So weird. Anyway, this brings us to the end of this block. Next time we see Len & Ross, we'll go backwards and finally see the stuff I had to skip this time, and in an even further future installment, we'll pick up where this one left off. In the meantime, we'll skip ahead not all that far, actually, to rejoin the Marv Wolfman run with ASM 189.