This one I've had since I was a kid. How and why I kept dropping in and out of the non-ASM titles in the middle of stories is really confusing to me. The next posts after this are a Web 2-part I only had part 2 of. Why did that happen so often? I really don't know. Spider-Man is now alone in the desert, waiting for Puma to strike. I guess they split up to have their duel or whatever.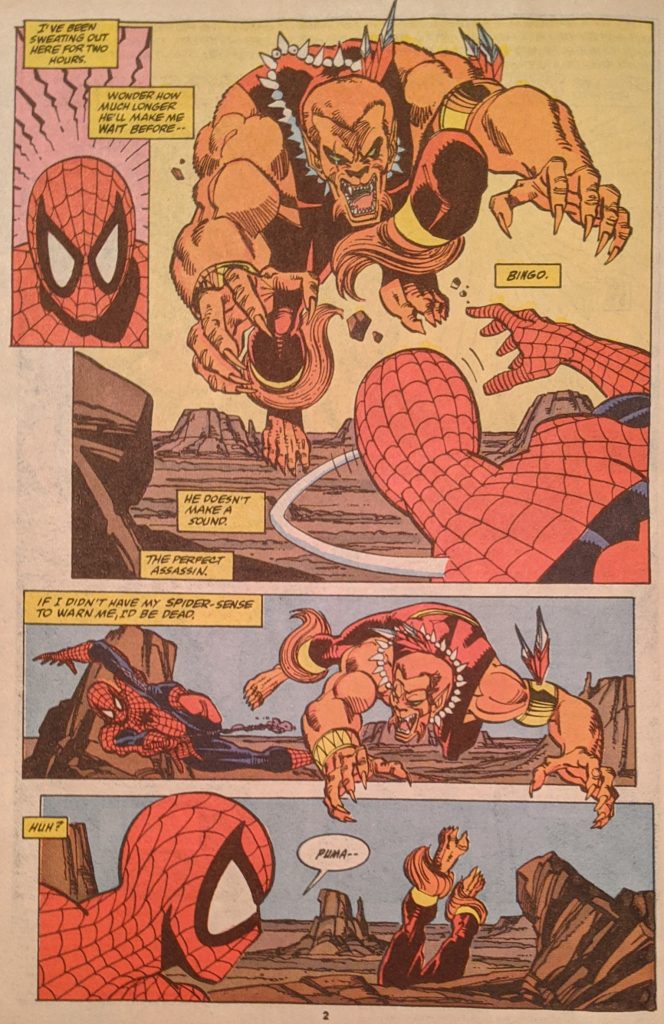 Puma vanishes into the Road Runner & Coyote-looking landscape. Spidey takes the chance to tell us what happened last issue for a whopping 3 and a half pages before Puma attacks again, this time slashing his shoulder. Spidey punches him into a rock face.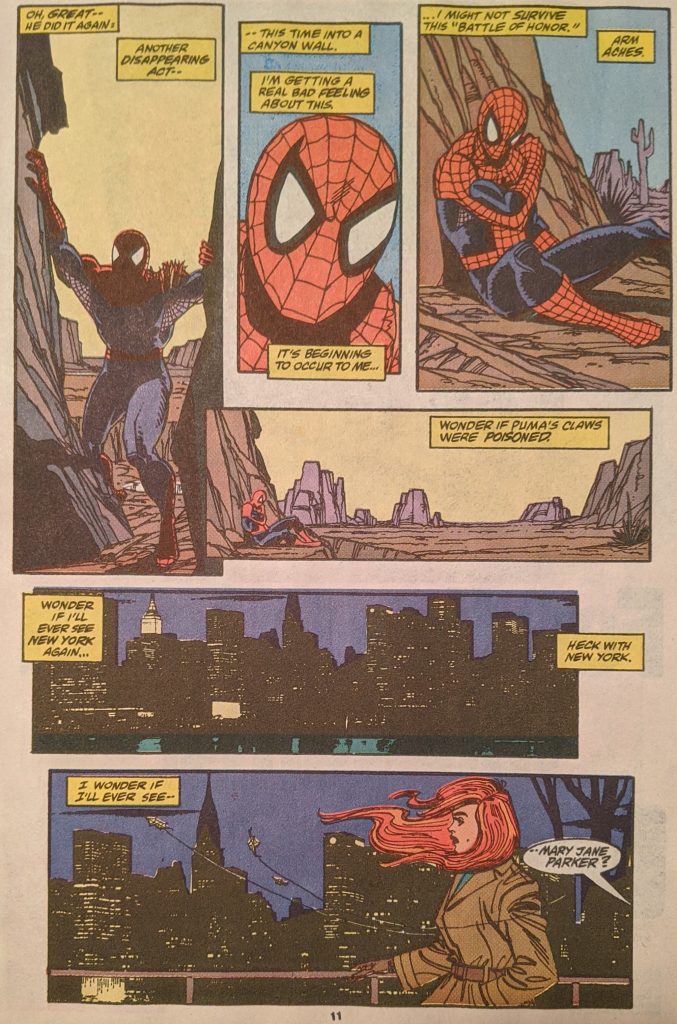 Oh, here we go.
All of a sudden, I remember how this ends. I couldn't tell you this whole time, but seeing this page brought it back. Back in New Mexico, Spidey pretends to be very sick and weak to draw Puma into a trap, but it doesn't work too well. A web misses, and Puma grabs it to reel Spidey in for a patented Sal Buscema shoulder charge: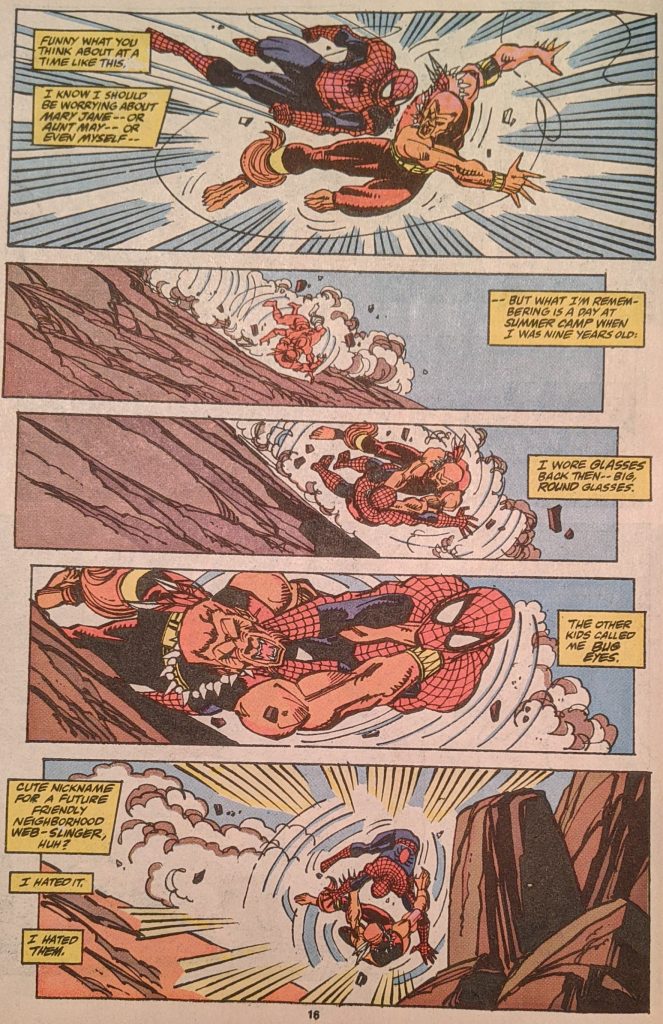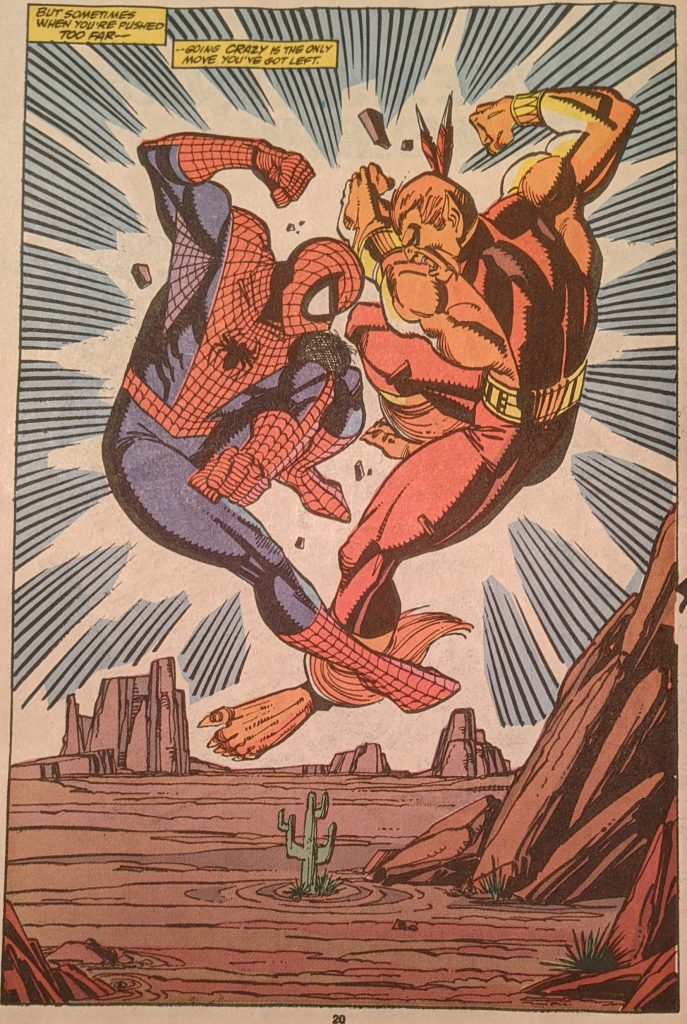 Just like Seal said! As they keep brawling, Peter remembers that as the only fight he ever got in before he was Spider-Man (Don't tell Stan Lee in TAC Super Special!), and as Spidey kicks Puma into a cactus, wounding him, he thinks the counsellors had to pull him off the 6 kids instead of the other way around. He lures Puma into a cave, where he eventually webs a noose around the neck like he's going to kill him. But then he lets go, allowing Puma a chance to live. Puma demands to know why.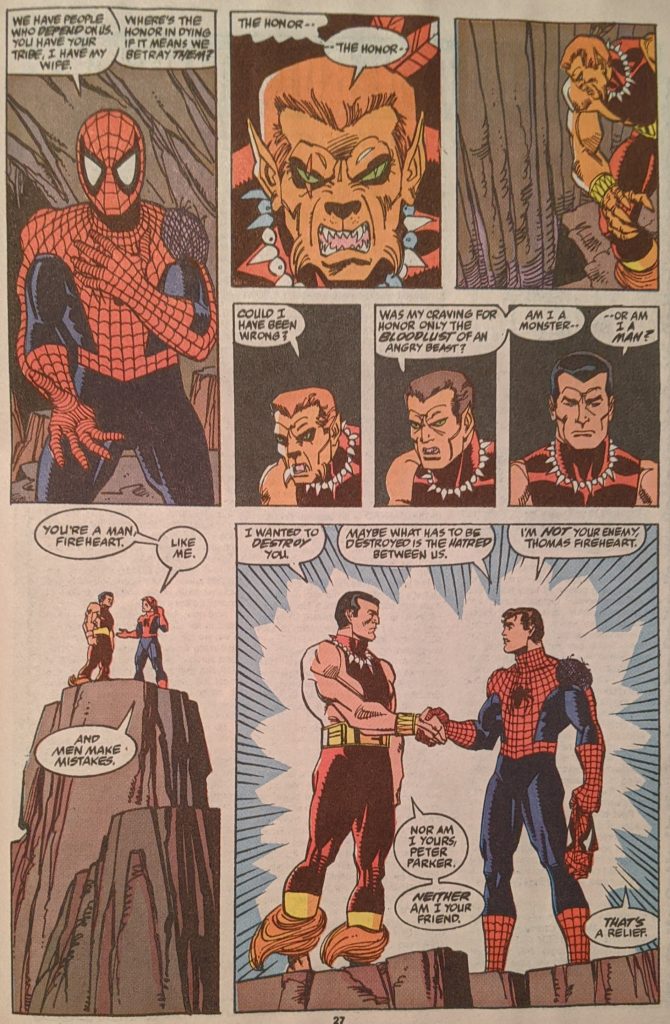 Pretty anticlimactic. They were roughly this friendly the whole time until last issue. I dunno. I guess this had to resolve somehow. So JJJ has gone to the trouble of starting a new business and hiring his core staff away from Fireheart, and now he's in charge of The Bugle again. That's awkward. And Spidey and Puma have squashed the beef permanently. But what of that wife Peter mentioned? Well, the lame dude arrives at the Parker residence to find MJ in a pitch black apartment. Then she turns the lights on.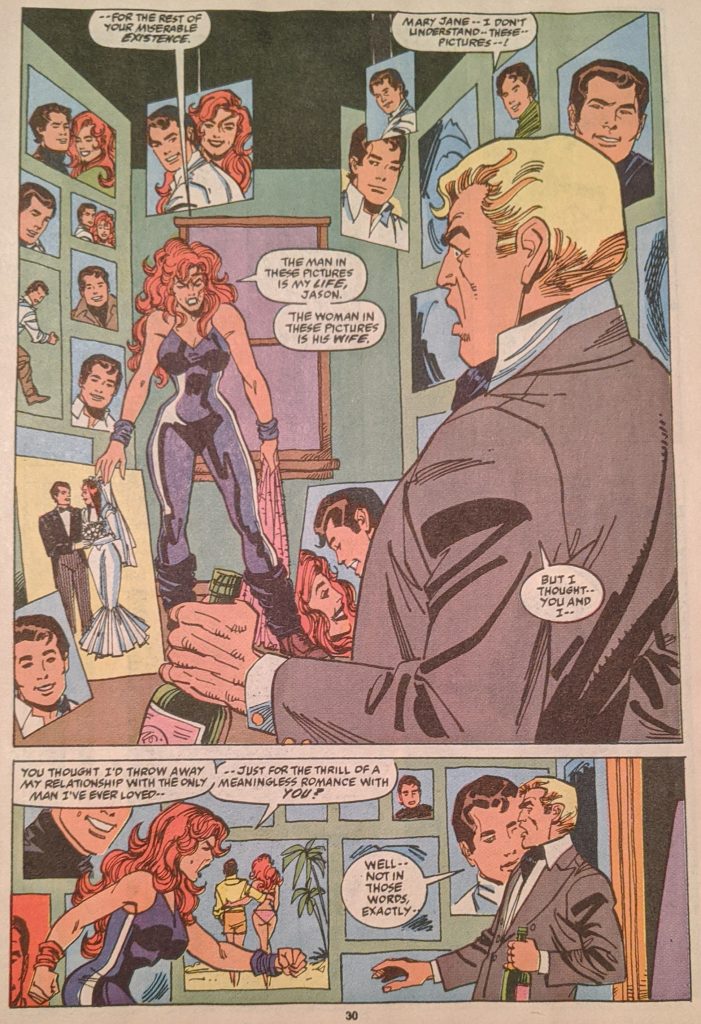 MJ is looking stout! She could fight She-Hulk! That's the abrupt end of that. I saw almost none of the lead up to this as a kid. MJ's hard switch from "It's so wrong but I can't help it" to "get out of my life" is pretty jarring. But I don't care. Just glad that nonsense is over. Onto the next nonsense that will plague this marriage. It is also pretty silly. I can't remember when it starts…