All in the same story? This promises to be a weird one. The Aquarian! Not exactly a household name. This one's written by the great Larry Hama, drawn by Dietrich Smith, inked by Sean Parsons & colored by Tom Smith. Not familiar with 2 of those names.
That is… a weird looking Hulk. Love the guy at the bottom. Jazz hands! Hulk smashes his way through the Mandroids, who talk like robots even though I think there's supposed to be people in them. We're told SHIELD is guarding Avengers Mansion until the team is confirmed dead or comes back, but they're not equipped to deal with this particular break in.
Huh. Somebody with the guts to draw small eyes on Spidey in the 90s? This is a surprise. Spidey happens to be swinging by Avengers Mansion, sees the SHIELD helicarrier, and then the damage to the building. He swoops inside and is me with an LMD crawling out of the mandroid, with a guy from the helicarrier telling him what's up through it like a radio. Once Spidey is briefed, the SHIELD guys decide to let him try to handle things first.
Oh, hey, so that's Hulk's deal. Seems like they coulda talked about this in The Savage Land.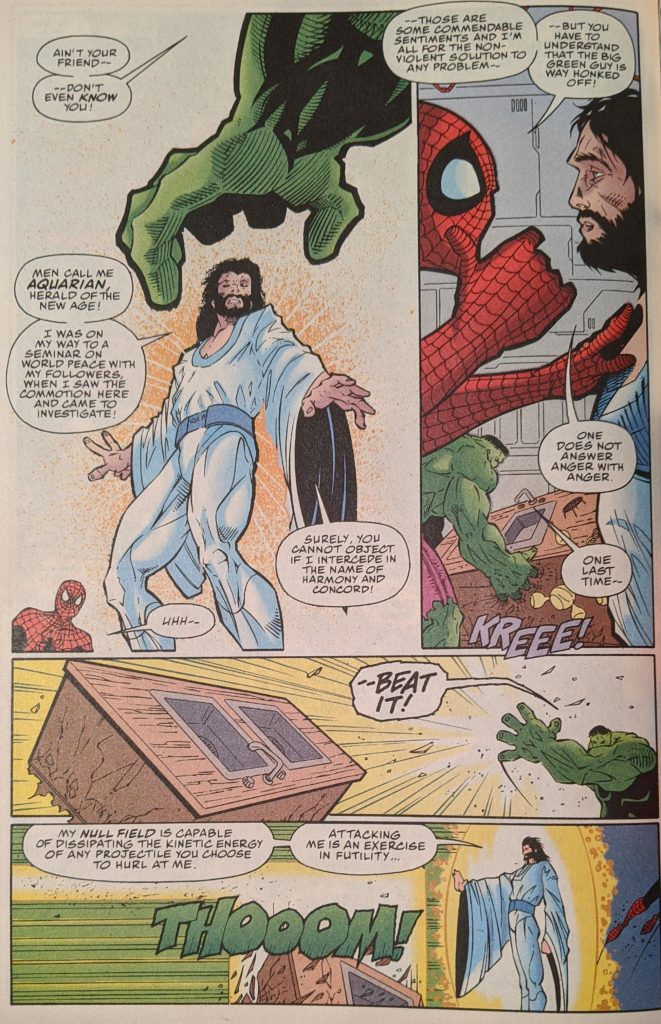 This guy Dietrich Smith is definitely in the Madureira/Campbell copy club, but he's got a unique spin on it, I must say. His stuff is stylized enough that I'm interested. The Aquarian! I mostly know this guy as a punchline. He;s another Steve Gerber character, a very weird Superman riff. He's like a space hippie. Anyway, the LMD tells them yet another intruder is on the premises and is working on stealing all The Avengers' files. Aquarian convinces Hulk they should all go try to stop this.
Hulk goes and punches the crap out of it, but it reforms as everyone figures out it's a Doombot. As they heroes fight the robot, SHIELD exposits through the now beheaded LMD that the various little pieces of it were smuggled into the Mansion as part of the new computer equipment. Doom is currently presumed dead along with The Avengers and The FF due to being off in Heroes Reborn, so this seems like a plot from beyond the grave. Hulk chucks the robot through a very solid looking metal wall into another room.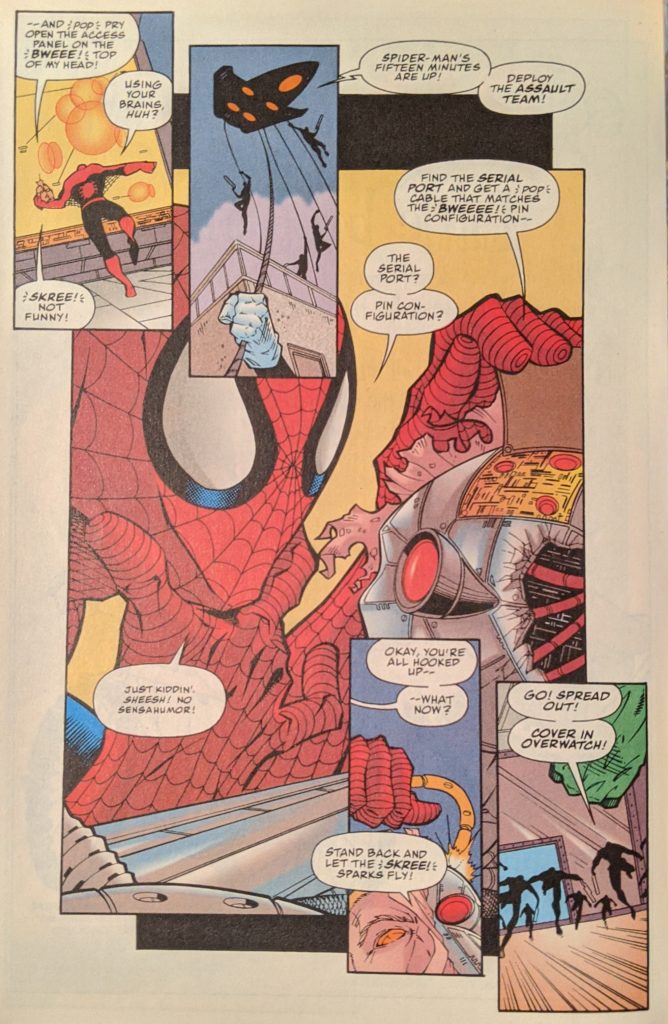 This guy's Spider-Man is extremely weird, but I'm kinda into it? I don't know why. SHIELD shows up and wants to detain everybody, but more importantly, the download succeeds and Latveria gets all The Avengers' data. But the LMD head says it was able to get a virus in there, too, so soon SHIELD reports that Latveria's networks have been compromised.
What a weird story! Wow. Total fluff. Makes sense that Strange & Dracula are gonna be in a different one, tho. Side B has the surprising credits of a plot by JM DeMatteis, a script by beloved 70s Dracula writer Marv Wolfman, marking his first Spider-Man work since the early 80s, breakdowns by Bob McLeod, finishes by Tom Palmer and colors by Tom Smith. The heavy-handed inks of Tom Palmer kinda make every artist he works with look the same. People as diverse as Walt Simonson, John Buscema and Steve Epting have all been rendered kind of homogenous by Palmer. Let's see how McLoed holds up. We open on the Rosewater Ballroom, where an evening of ballroom dancing is in full swing when Dracula shows up.
As they dance, it's implied they're doing the whole reincarnated lovers thing Dracula stories tend to do.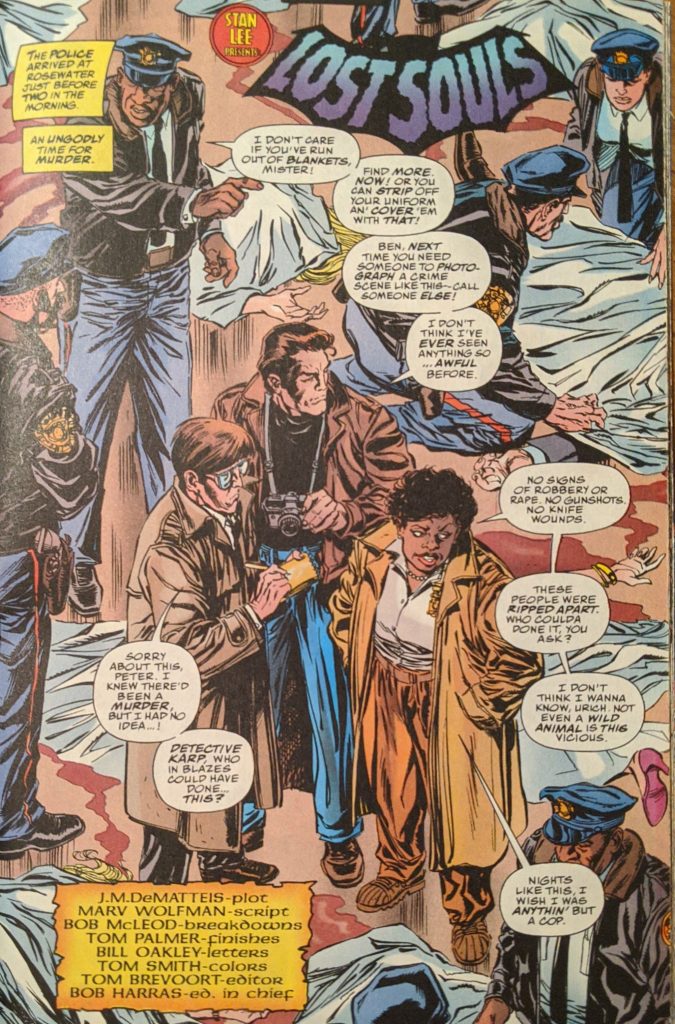 Not being a cop is pretty cool, Detective Karp! As Peter photographs the crime scene, Dr. Strange appears in the middle of it. Peter thinks this is his cue to back off and let Strange handle this case, since he wouldn't be here if it wasn't spooky stuff. Karp protests, but he makes her forget about it instantly and gets to his own investigation.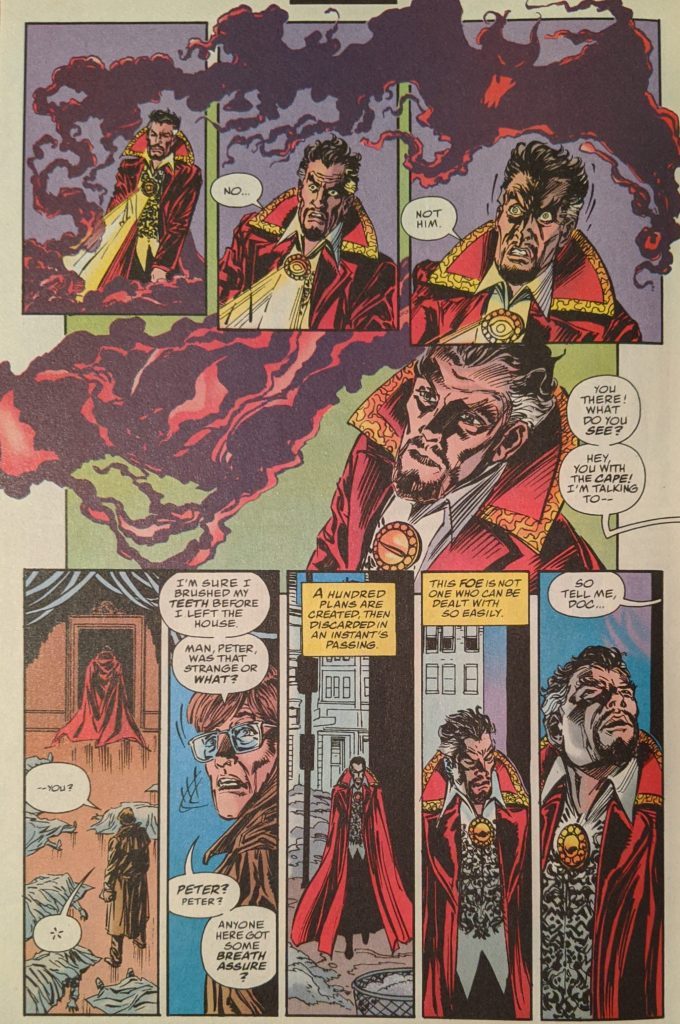 Palmer is really Palmering this one, but there's no mistaking McLeod's Spider-Man. Elsewhere, Raynee is slowly turning into a vampire and very confused, but Dracula is there to tell her it's all going to be ok. That seems unlikely!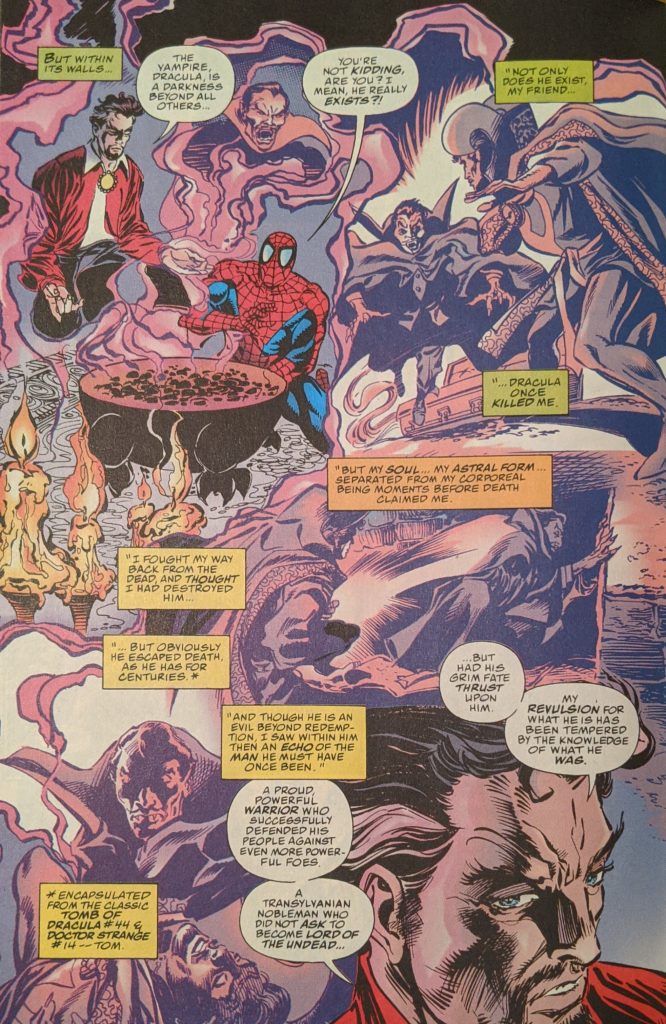 Full marks to the art team for the unmistakable Gene Colan feel to those flashbacks to comics he drew! Strange says they must search for Dracula, and Spidey makes a pretty cutting edge joke about him having a website for 1997, when a ghost wolf bursts in and bites Strange. Spidey can't do anything but watch. When it dissipates, Strange says he can heal himself, but he taps Spidey on the forehead and says he must stop Dracula. And even though he has no idea how he might do that, he swings off to do it, anyway. At the vampire spot, Raynee happens into a room full of weird snowglobes. As she looks into one, it begins to shake and makes her drop it, and then the swirling stuff inside begins trying to consume her.
No idea what that was all about.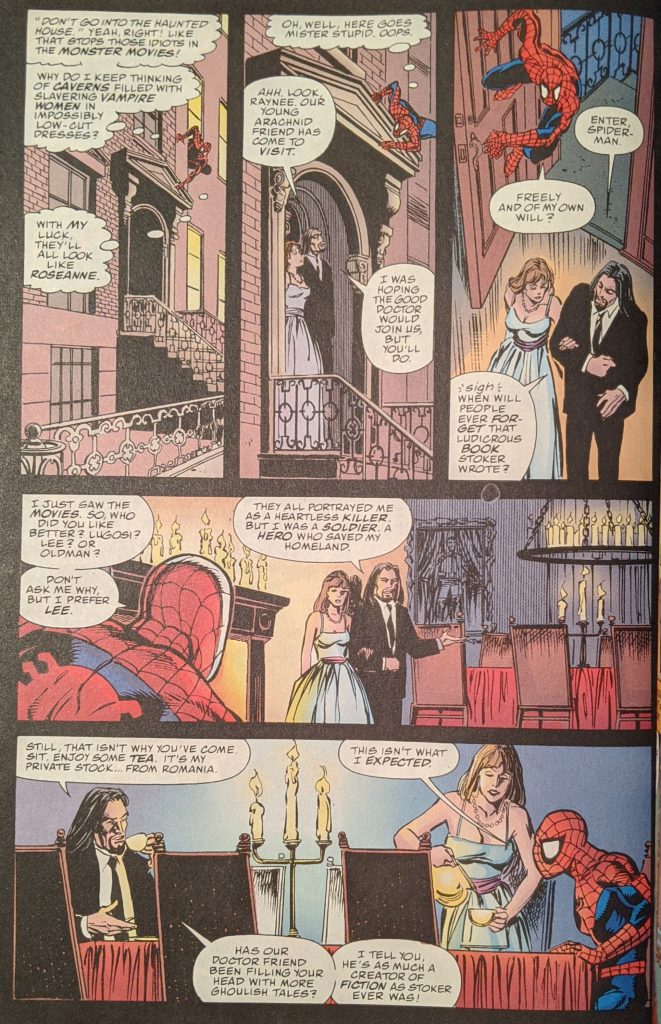 Spidey harassing the actual Dracula about the fictional Draculas is absolutely delightful! Dracula starts trying to mind control our man, but even through the haze he's in, he hasn't forgotten Dracula killed that ballroom full of people. When confronted about it, he says part of it was sustenance, and part of it was just for sport.
While that's going down, Dr. Strange is working on healing himself, but within his mind, he has to fight a psychic construct of Dracula as the vampire virus tries to take hold in his system. And the psychic Dracula looks like the 70s Dracula because that's how Strange remembers him.
Strange's attacks on the psychic Dracula wound the real one, allowing Spider-Man a chance to web up his still-lupine face and push him across the room. Then the 2 heroes battle Dracula at the same time on 2 planes of existence, which is more than the vampire can handle.
Strange appears in the room with Spidey, and puts Dracula in a mystical cage. Raynee runs to be at his side, and Spidey says she's been brainwashed, but Strange says it's deeper than that. He says Dracula created her, and summons the snowglobe things from earlier.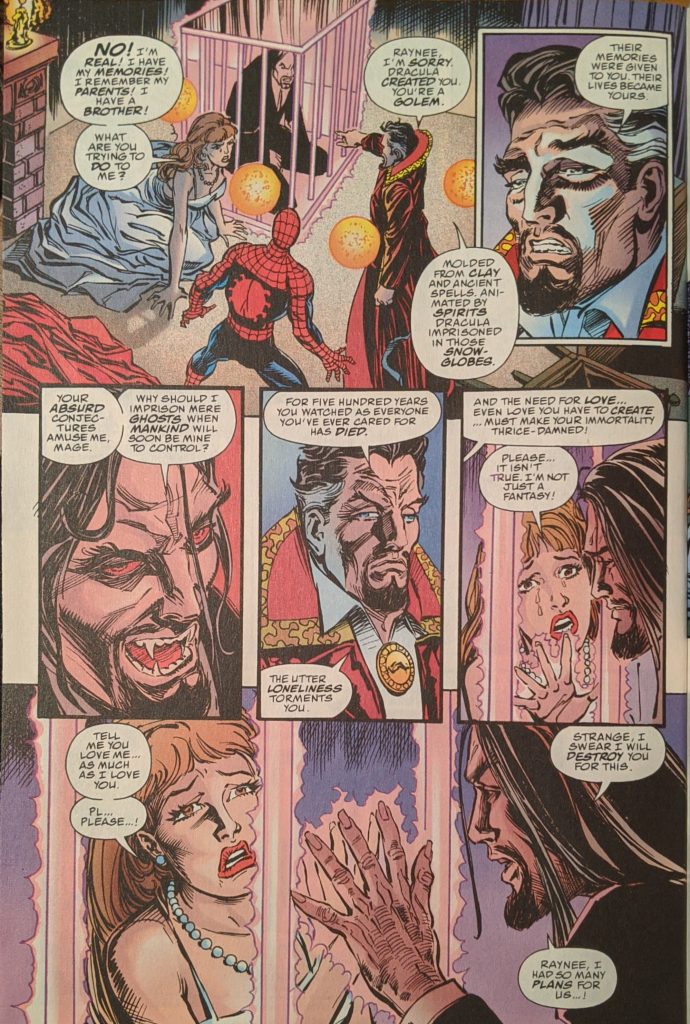 But then… why was she in that dance hall? This was a very weird story. Kinda fun to see Wolfman return to both Spidey and Dracula, but very weird.