So this should've run somewhat earlier (See how it has the older trade dress and everything), but I was trying to hold it til we got to the unmasking of Hobgoblin. And we did, so now we get this! The first new Roger Stern Spider-Man comics since ASM 250! And what better reason for him to return than this? Across this 3-issue miniseries, he is joined by Ron Frenz, a series of amazing inkers, and the great Christie Scheele on colors. This issue's inker is George Perez! Heck of a line-up. If only they could've let Romita, Jr. draw it. Somebody else coulda filled in on Spider-Man for an issue (I feel pretty confident JR would've only missed 1 to draw 3 of these, knowing his output). Ah, well. If not Stern's partner on Spidey, at least the guy who followed him still hearkens back to that period. As does the opening page…
…a direct reference to ASM 251. 
I mean, obviously I didn't want to run this til we saw Ned revealed as The Hobgoblin. MJ wants to know what's wrong, but Peter says just a bad dream. He internally recaps all recent events (Clone, dead Aunt May, dead baby, Osborn's return), and probably for good reason, in case fans of the Stern run are tuning in after a long absence. He's apparently been having this dream a lot lately, enough that MJ knows about it.
How weird must it have been to do this? For Stern to wade into the deep end of the disastrous end to his Hobgoblin saga, which he is reported to have hated? He continues to do so as we switch to Betty, also having a nightmare about Ned, which ends up recapping their split, and even flashing back to Betty catching Hobgoblin beating up Flash in ASM 288, only now adding that the face she saw under the mask was, indeed, her husband's. She'd repressed all this after cracking up and joining a cult and all that, but Macendale's trial is bringing it all back. Then we cut to recently fired Bugle reporter Jacob Conover drowning his sorrows at a bar, grumbling about how he thinks Ned ruined his career. He says a lot of people will regret crossing him, including…
Still blaming himself after all these… months? I mean if 20+ years ago in reality were "5 years ago," what was ten years ago in reality? How fresh is Ned's death to these people? Well, anyway, the next day, Peter, Betty & Conover are all in the crowd of reporters awaiting the verdict in the Hobgoblin trial. What's he on trial for, anyway? Is this the first time he's ever been caught? Maybe it is. Well, he's guilty on all counts.
George Perez's hand in this is really unmistakable. And Betty's life just got turned upside down. As Peter elbows a shellshocked Betty through the descending scrum of reporters,, Macendale tells the ever-present leader of the goofy Code: Blue cop squad that confessing this now this should complicate matters, get him in another long trial, and keep him alive. Fair enough. Peter ducks Betty into a fire door on the court house and tells her to run for it while holding back the tide of reporters with his spider strength. Then he bounds away before they can push the door open, changing clothes as he does. As Betty makes it to a different exit, Spider-Man swoops in and grabs her.
Then we get an unusual array of reactions…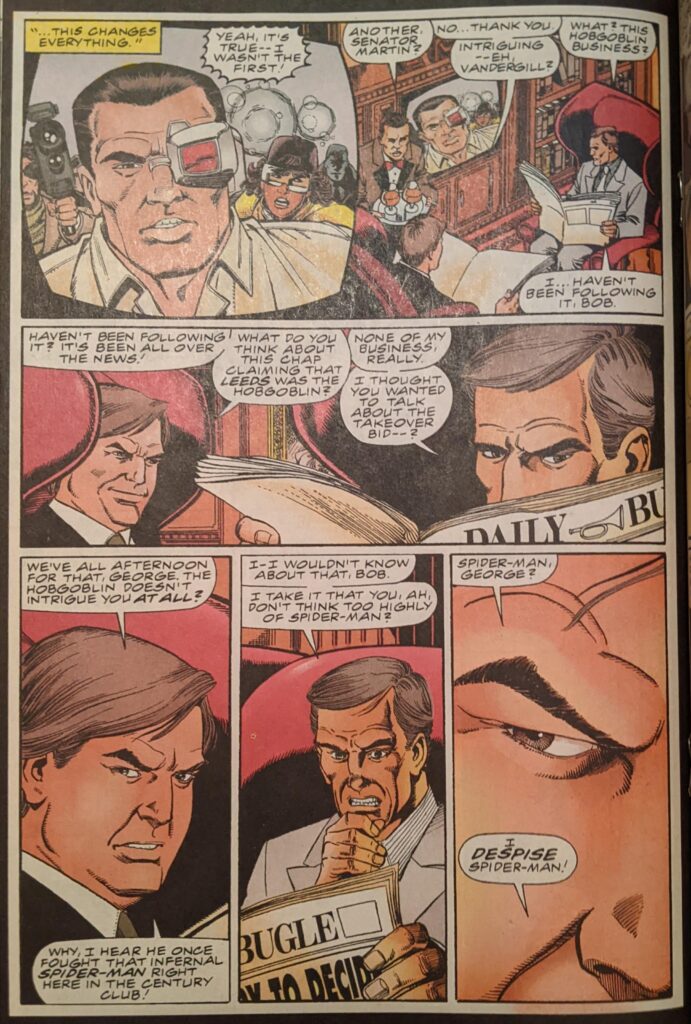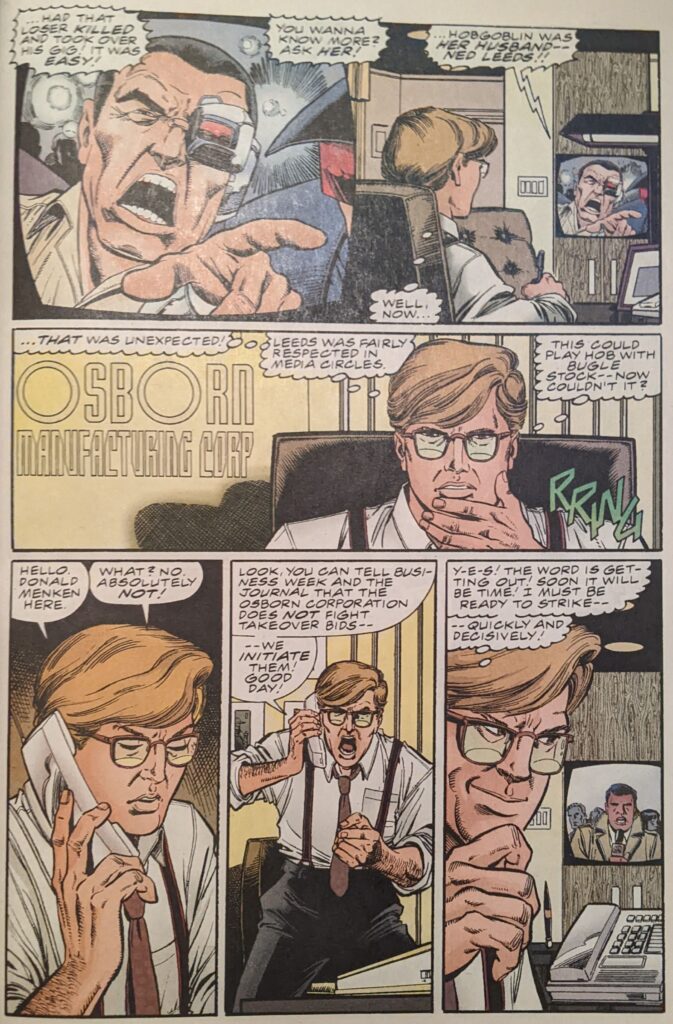 Why, it's a whole gallery of Stern's original suspects for The Hobgoblin! Most of whom hadn't been seen in comics since he left the book! Some of them started popping up in Spider-Man comics before this came out, as requested by Stern, to get them back in the mix a bit more organically. We also get a reaction from Jonas Harrow, who has his computer pull up and analyze footage of Spider-Man and Hobgoblin fighting before and after the date of Ned's death and concludes it's obviously 2 different Hobgoblins. Harrow is a weird pull, not really related like all the other dudes. At The Daily Bugle, JJJ and Robbie are meeting with Peter & Betty. JJJ says this accusation is ridiculous, but Betty reveals how she found out The Foreigner had Ned killed on Macendale's order "a few months ago" (In Web 92, which was published more than 5 years prior). JJJ is visibly shaken, but when Peter & Betty leave, tells Robbie they have to print the truth. Back at his place, Peter talks to MJ about it, who says so much of this doesn't add up for her. Peter details how he learned the truth, and MJ suggests Kingpin could've doctored the file he got in ASM 289. But he says Kingpin only showed it to him to get back at Macendale, and had no reason to fake the pictures and documents in it. Then MJ drops the bomb.
And just like that, almost 10 years after the book was closed on The Hobgoblin, the game's back on! When Stern was approached about coming back and doing something in the Spider-Office, he mentioned no one ever did figure out his real pick for Hobgoblin's secret identity, and soon enough, this series was conceived to let him set the record straight. Which is insane, but also awesome. Suddenly, the real Hobgoblin is still out there. But why has he let Macendale run around in his suit all this time? Well, speaking of whom, Macendale is having a nightmare where he recaps his whole life, basically. Including a moment from when he became a Spider-Man villain (Stern's decision in TAC 56), until his dream shifts, and he's hunted by the real Hobgoblin, who he yells is dead and can't be after him.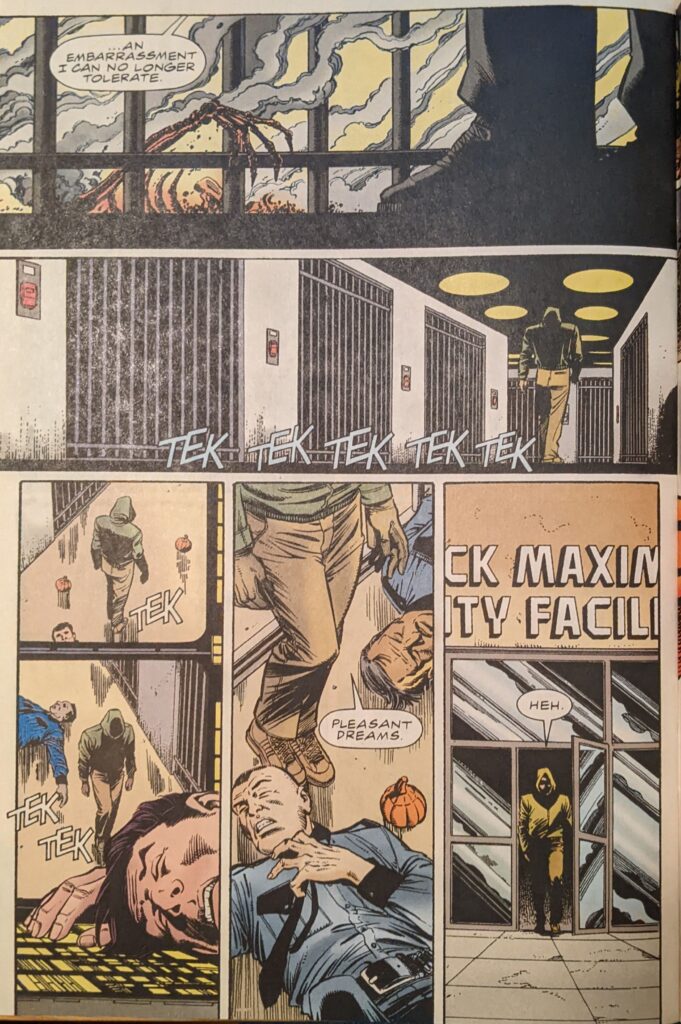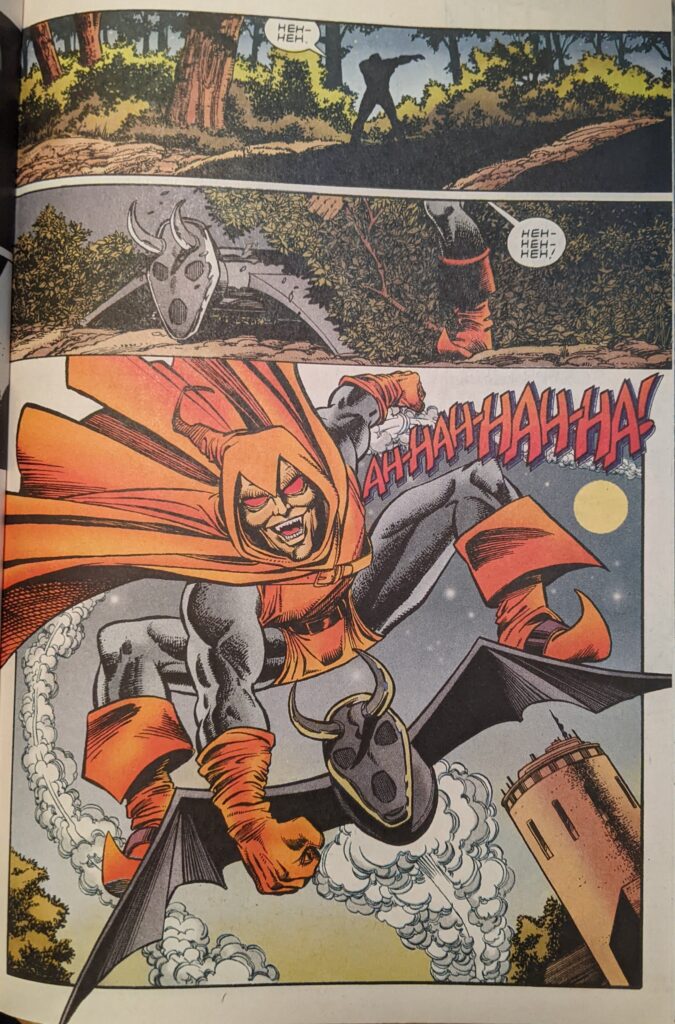 Bad dreams continue to be a theme in this issue, as we find Roderick Kingsley having a nightmare summarizing some of his run-ins with and about Hobgoblin from during and after Stern's run, such as when Hobby attacked The Century Club in ASM 249 and ending with him almost killed for associating with The Hobgoblin when he and The Rose fell out during the gang war as shown in Web 29.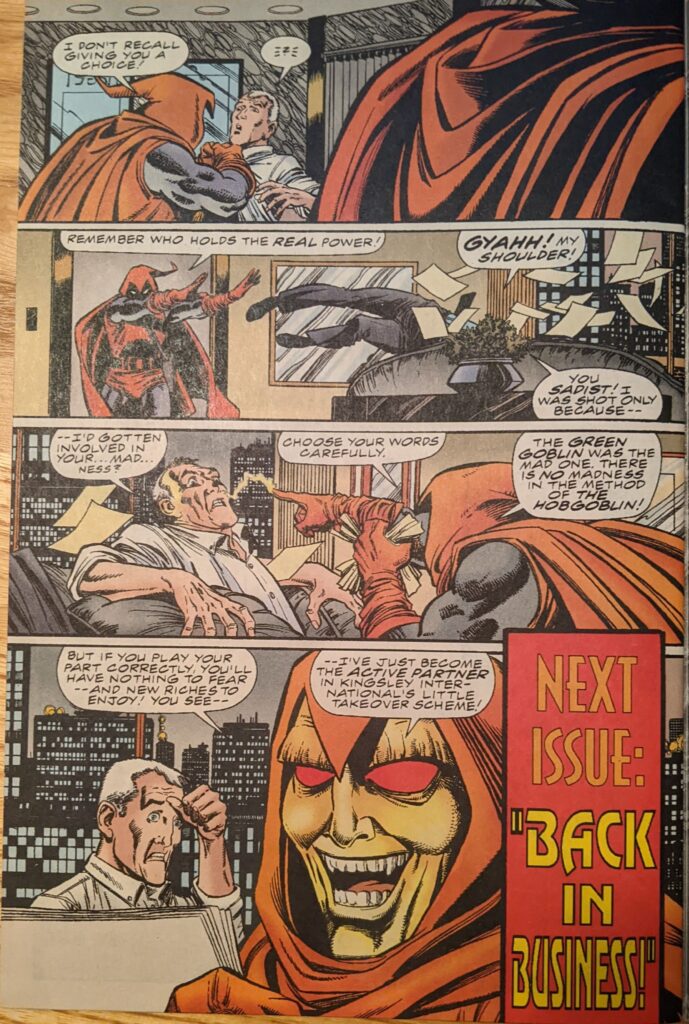 And we're back! I was so excited about this when it came out. Even reading it now I get a little excited. It's not often a creator gets to do something like this in comics, where as soon as you're gone, anybody can do anything to the characters. And with the Hobgoblin mystery so captivating to me from some of my earliest days as a reader, this was huge to me. Still with JRJR could've worked on it, tho. This issue's inside back cover includes a bunch of references for the various dreams and flashbacks, which is nice. 2 more to go, and when the smoke clears, the real Hobgoblin will finally be unmasked! For real!