$8.50 feels pretty steep.I wonder if I paid it. No idea, at this point.Random John Byrne cover. Kingpin sure is getting around in the Spider-Man books lately for a villain who's kinda been stolen by Daredevil at this point. Maybe the Spider-Office is trying to assert their claim. John, Jr. only does breakdowns this month, finished by Dan Green and colored by Bob Sharen. And we're told that "in a darkened cottage room in the suburban community of Englewood Cliffs, New Jersey," Peter Parker is in a compromising position.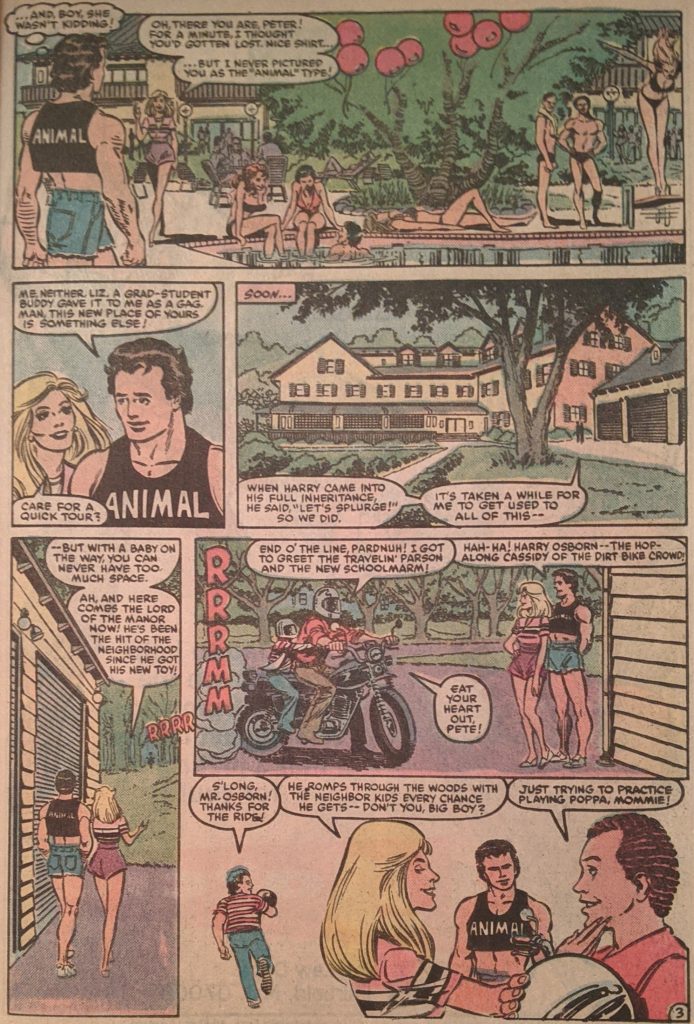 What an outfit! John Romita, Jr. has always prided himself on using current fashion in his work, but there's a downside to that. This is him just doing breakdowns, and yet there's no mistaking his hand here. In any era, it's always nice to see Harry & Liz enjoying a period of happiness. But they're not the only members of our cast at this party:
Another nice little moment. At The Daily Bugle, JJJ is in a somber mood. Marla arrives, and he tells her about just one of the skeletons in his closet: How he created The Scorpion. He expresses regret, and the co-creator of the latest Spider-Slayer says what's done is done, but then Jonah reveals he's received an envelope. Despite the only other person who knew about his role in The Scorpion being dead, he's being blackmailed for it. From there, we cut to Harry Osborn receiving a similar envelope back at the party, and its contents shake him so bad he gets back on his dirt bike and abandons the party. A concerned Liz tells Peter, who volunteers to go after him.
Peter spends a couple pages recapping his history with Norman Osborn. Which, considering he's been dead well over 10 years and people didn't have the easiest access to back issues at this time, is probably more than worthwhile.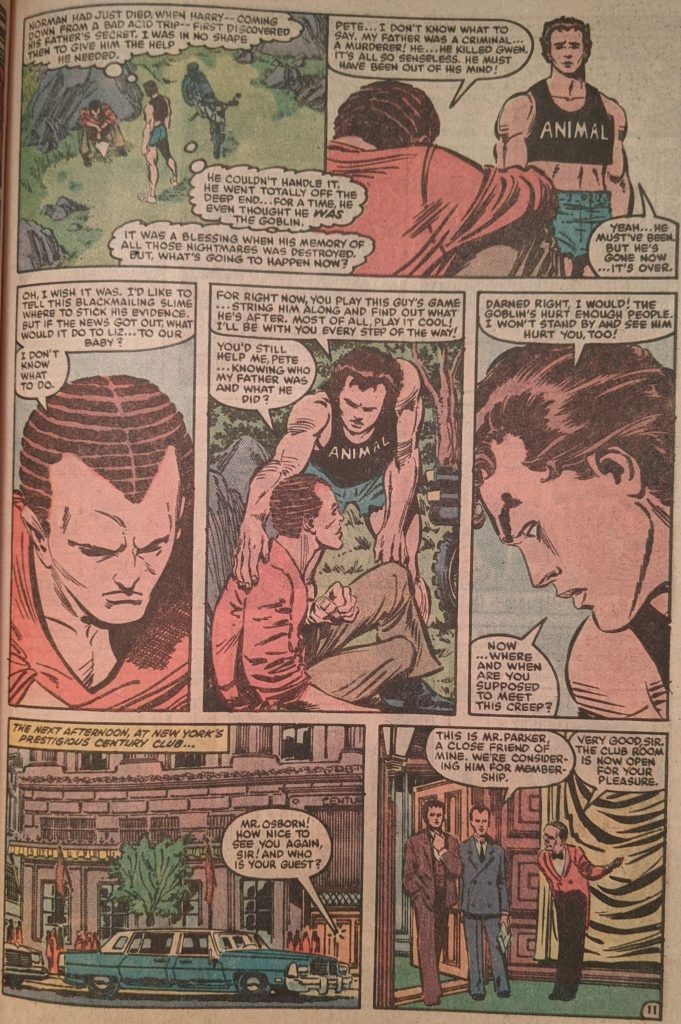 Poor Harry learning his father killed his friend for a 2nd time. What a life. Haven't had much occasion to see The Century Club in a comic for awhile, by this point. As they wait to meet Harry's extortionist, Peter is shocked to see The Kingpin having lunch. He was fully certain The Hobgoblin was Harry's tormentor until now. And then a few other familiar faces show up to the club, like Stern's fashion designer mogul guy Roderick Kingsely, and also…
Now here's a nice bonus from learning all of Norman Osborn's secrets! You can blackmail most of the richest guys in New York. Harry instantly realizes this is the guy who's been breaking into all the Osborn facilities lately, and that helps other things fall into place. Hobby explains that he couldn't extort any one of the guys in this room without it being noticed in their financial records, so he's decided to collect a modest fee from all of them indefinitely. And watching from an air vent, Spider-Man hears the whole plan. It's JJJ, of course, who stands up and says Hobgoblin can't get away with this.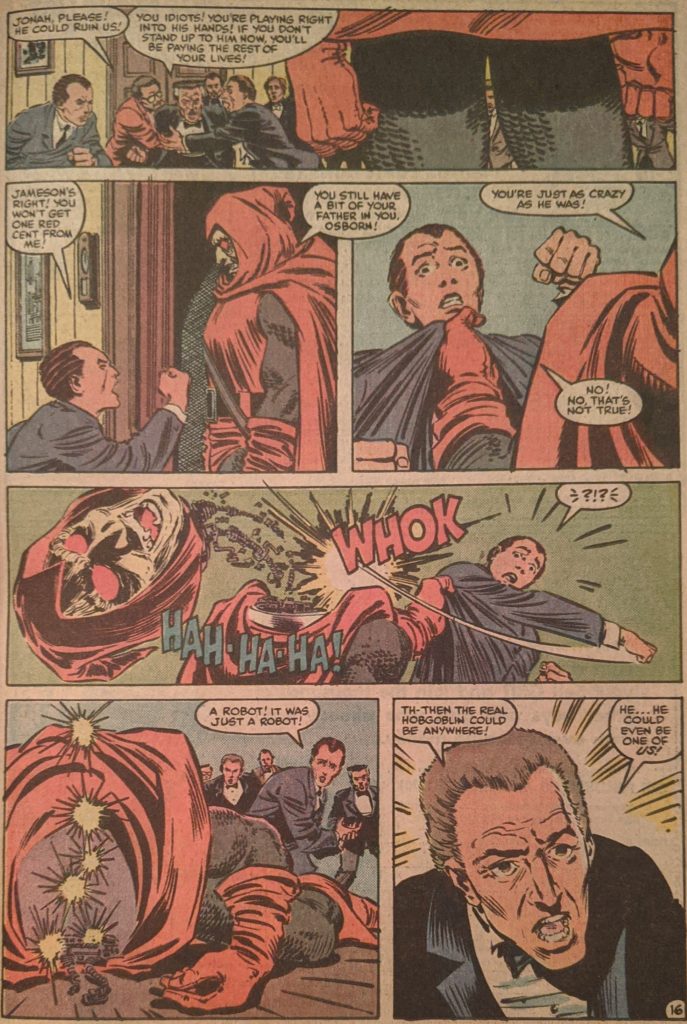 (That's Kingsely at the bottom, as it's not obvious til the next page) As Spider-Man wonders what to make of the robot angle, the real Hobgoblin comes smashing through the window, saying he hoped to ferret out troublemakers with the deception. But he doesn't expect Spider-Man to drop down on top of him. Spidey wants to try to force him back out the window, but instead they fly out into the main dining room. Kingpin's goons want him to flee, but he says he wants to study this.
Not the first time we've seen JRJR have Spidey whip up a web bat lately, but it seems like Stern thought that was as silly as it looks and added the broken wood thing. Hobby brags that he's improved on the original formula for Goblin's gas, which now includes a powerful sedative. Spidey goes down hard, and Hobby is about the blast his head off when a dinner tray blocks the zap.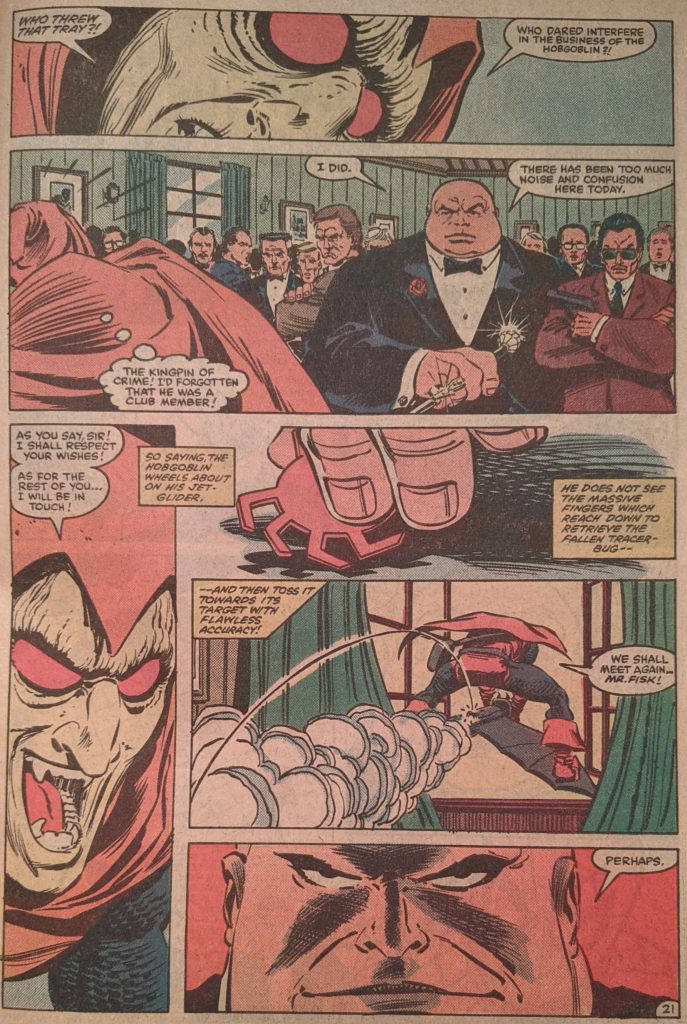 Trouble is brewing now! Saved by The Kingpin, of all people. The Hobgoblin story is heating up… In the letter page, the usual onslaught of guesses as to his identity continues. People are throwing out pretty much any name. Even Lt. Keating, Nathan Lubensky and KJ Clayton get a mention. But who is it really? I'm shocked my time-jumping hasn't spoiled it yet.