This one is noteworthy for a couple of things. First, it features pencil layouts by Jim Shooter. At this time, Shooter is the controversial but undeniably great Editor-in-Chief of Marvel Comics, presiding over a real resurgence for the company, so it's kinda crazy he drew this issue. But before he was all that, he was a wunderkind who got his first job writing comics before he was old enough to drive, and a solid artist, too. So that's fun. It's also notable for the fellow on the cover, Jack O'Lantern. Jack looks like a 3rd rate Green Goblin rip-off, and that's funny because he was created by none other than Sturdy Steve Ditko, in the pages of Machine Man. At this point, Ditko had returned to work for Marvel after his famous falling out with Stan Lee, but on the condition that he wouldn't work on his beloved characters, Spider-Man & Dr. Strange. But I guess you love some ideas so much you can't help revisiting them, and so Ditko sort of re-made Green Goblin. And Roger Stern apparently looked at Jack O'Lantern and thought "That guy oughta be fighting Spider-Man," and snagged him for this issue. And while it may not be immediately obvious, the impact of that decision would continue to be felt for decades.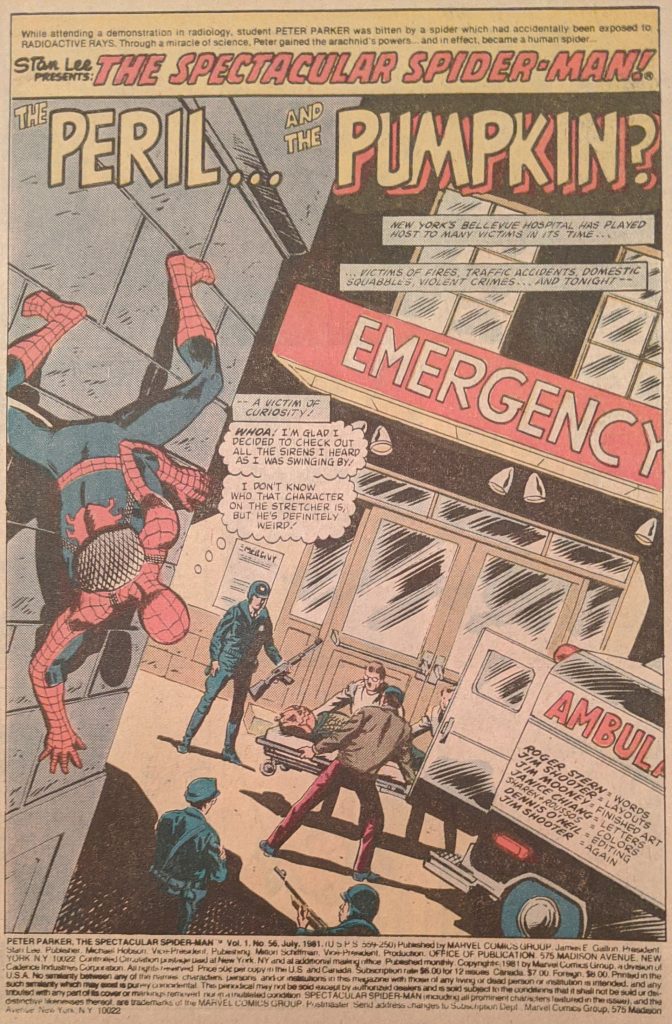 So, this one starts with a curious Spider-Man watching a weird looking dude being wheeled out of an ambulance: Jack O' Lantern. He's only just been beaten up by Machine Man, pretty bad, and is going to the hospital. Spidey snaps some pictures of him and swings over to the Daily Bugle to see if he can get paid. Inside, a guy is telling the tale of what happened. Jack, an "international terrorist," attacked a fancy costume party intending to rob the guests when Machine Man stopped him by redirecting his own concussion grenade at him. JJJ is berating no one in particular for failing to get photos of this when Peter Parker runs in with his film. Good timing for once, Pete.
The next day, a doctor makes his rounds in the prison ward of the hospital, checking on Vulture and Nitro before getting to Jack O'Lantern who is hilariously still in his full costume. A cop watching him says they couldn't get it off of him. The doc is worried that, since no one could examine him in the suit, he could die. Meanwhile, a guy at a phone booth outside is plotting to break him out of jail. And over at ESU, Peter Parker is walking to his office when his Spider Sense goes off. He dives through the door only to find Steve Hopkins, Comic Relief, hanging upside down from the ceiling, trying to grab him.
Good for you, Pete-o. In the excellent book "Comic Book Creators On Spider-Man," Roger Stern says he based his take on Peter's fellow teaching assistants on people from the Marvel Bullpen. He has said that every time he put something that really happened in the book, readers complained it was too ridiculous. Are we to assume a version of this happened? Who knows? As this is going down, Jack O'Lantern's goons break into the hospital pretending to be phone repairmen just as Jack sits up in his bed like Michael Meyers in Halloween (No grandma with a bomb, though). His guys get to him just as he was running for it, and he explains why he's not in a coma anymore…
Here is a man who sees opportunity everywhere. Meanwhile, back at ESU, Peter & Parker is still debating privacy with Deb Whtiman (Who, of course, gets hurt feelings) when Macy Kane walks in. Steve goes for her hat as promised, and we learn Marcy's incredible and tragic secret:
Yes. You may have thought she had cancer or something. You fool. She's just… not blonde. Peter chases her out and tries to be a shoulder to lean on (Making her rethink her hate for him), and she says she was blonde as a kid and it was her only good feature, but now she's got brown hair and a doctor told her if she kept dying it, it would fall out. Oh, the horror. She scampers off, and then Deb runs out to tell Pete Aunt May's on the phone. Turns out, her new paramore, Nathan, is at the hospital Jack O'Lantern is running amok in.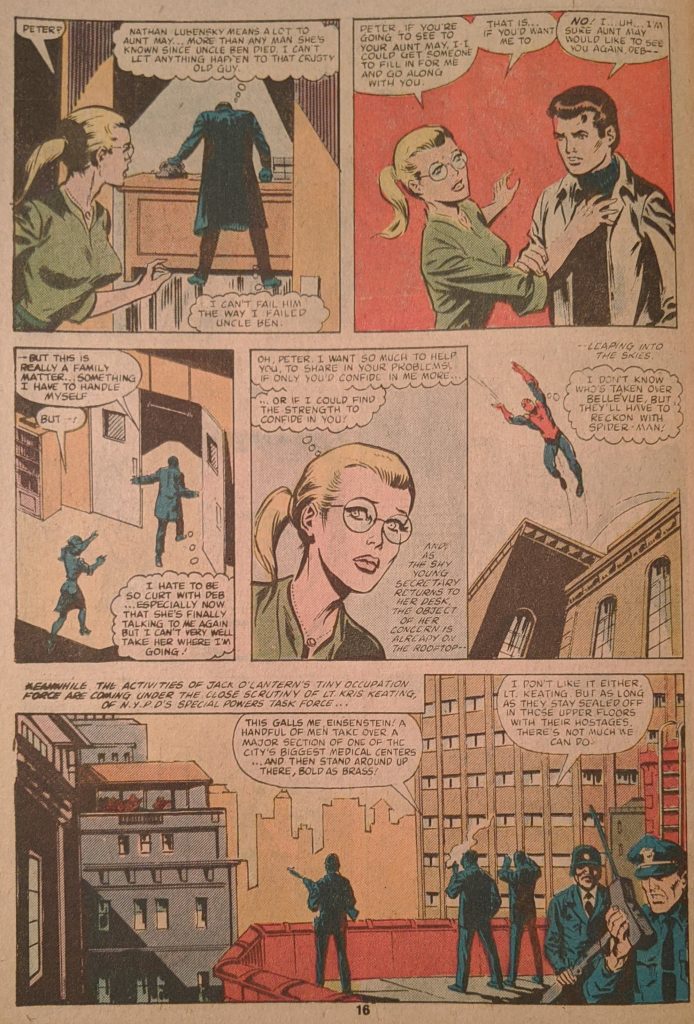 /Sigh. The Deb Whtiman riff is really out-staying its welcome, isn't it? Anyway, the cops, led by Lt. Keating, have the hospital surrounded, but don't dare go in because Jack & Co. have hostages. So Keating is extra mad when his least-favorite person shows up to go save the day. But he does so in a totally baffling way, webbing away from the building, spotting a plane taking off, webbing on to that, getting high in the sky, and then web-parachuting back down to the hospital. I mean… climbing up a wall probably woulda done the job, but ok.
Spidey sneaks in past the distracted goons and hears some other goons talking about the hostages being watched in the solarium by a dude with an M-16.
Spidey comes smashing right through the wall (I like it when writers remind you how strong he is) and handily disarms the guard on the old folks. He wants to get them out, but Nathan once again ain't havin' it.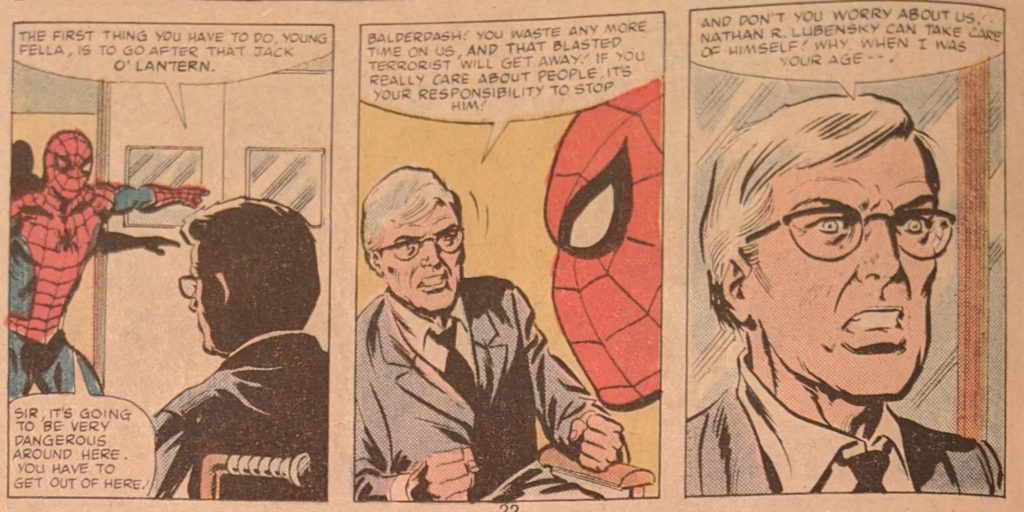 You gotta hand it to them for coming up with a guy who can take Uncle Ben's spot. You're messing with hallowed lore giving Aunt May a love interest, but how could you not root for Nathan? Peter is impressed, and heads off looking for Jack O'Lantern. Suddenly all the lights go out and Jack tries to zap Spidey from behind, but of course, that won't get him far. What follows is a fun fight where Jack O'Lantern has no idea who he's dealing with, and grows more and more panicked as Spider-Man first dodges all his lasers and then rips a steel door off the hinges.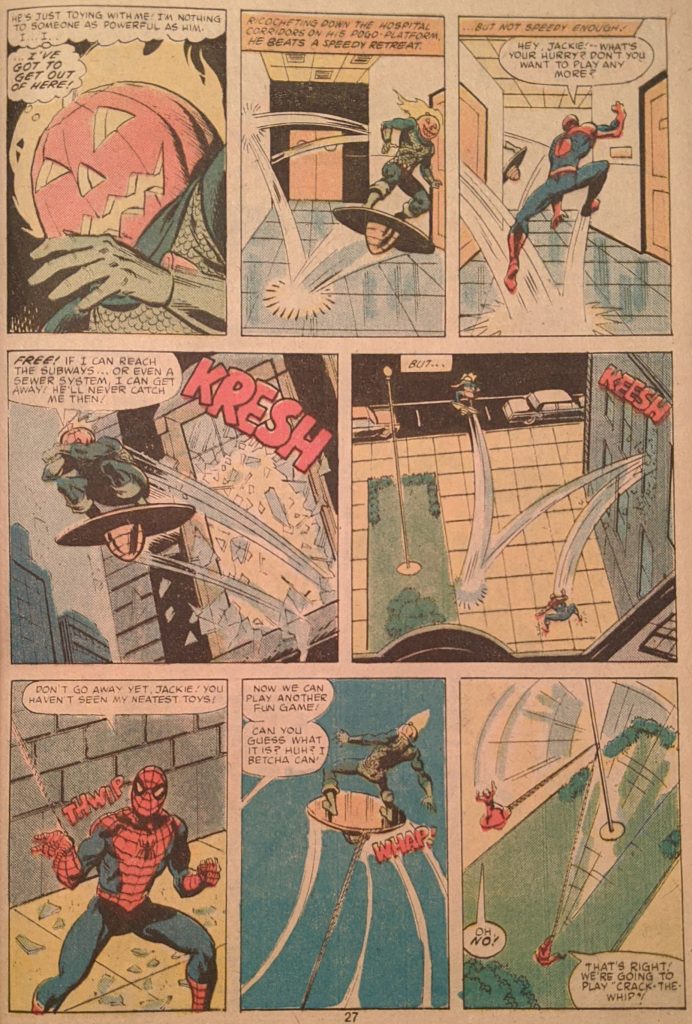 Aaaaw. That's sad. And so, certainly not for the first time, a dejected Peter Parker trudges off into the sunset, having saved the day and also hurt the person he loves most in the process. Some days it just doesn't pay to be a superhero.