Only 2 books to go in this final block from the 80s. We have one last thing to deal with in the whole Foreigner/Black Cat situation. Peter David and this story were both weirdly absent from TAC while all the preceding was going on, but he's back to finish up. At a glance, this issue's cover is very similar to TAC 118, both featuring guys on flying contraptions filling the scene with lasers as Spider-Man dodges. They don't really look the same, but are so similar in content that this issue made me go, "wait, what?" when I pulled it out. It would appear that, despite their defense of it in the letters, editorial caves on Black Cat's terrible suit, and commissioned another, also terrible suit. Why did she get Wolverine's mask AND old shoulderpads? Alan Kupperberg is back, inking himself, and Bob Sharen colors, and look at this terrible drawing hey introduce the new Black Cat with: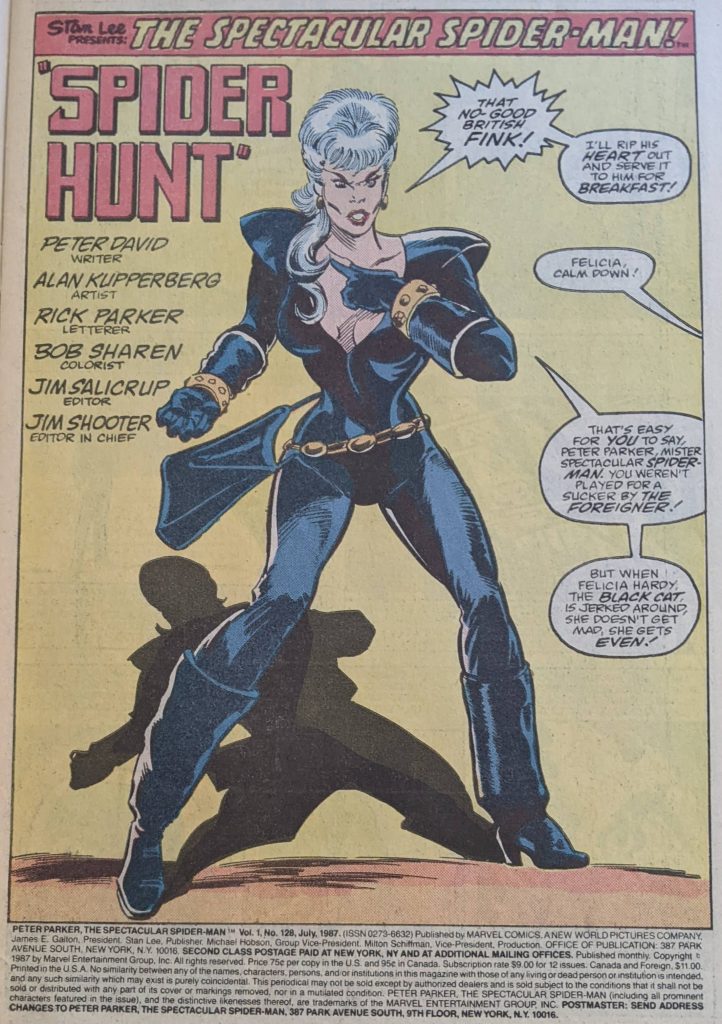 Sheesh, her hair is worse than the suit. What year is this, 1954? Anyway, she plays up her shock as Spidey recaps how he found about about Foreigner and Ned and all that.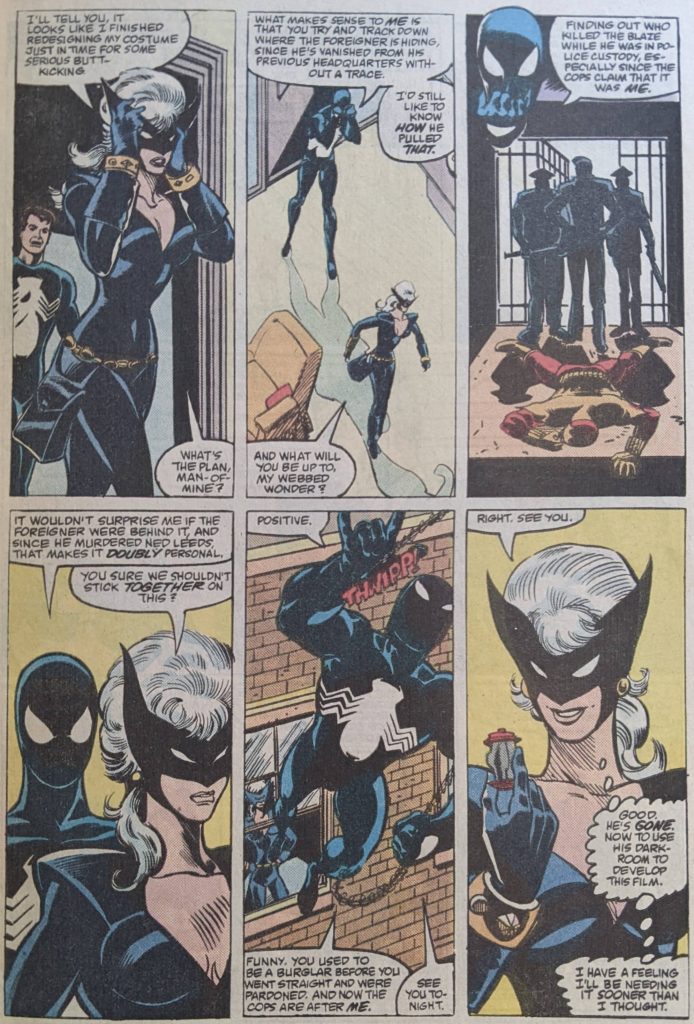 Meanwhile, JJJ goes to hire Silver Sable to hunt down Spider-Man. Same old song and dance, 9 months after doing the same with X-Factor. A bit tired. Not helping is Peter David really not getting her voice. JJJ offers $500,000, and Silver says 1 million, and he agrees. You really got that kinda money, JJJ? Spider-Man goes to the library of ESU, which looks like a Rubik's Cube, almost no detail, good stuff. He's there to harass the guys who created Blaze to find out why and how they sold their stuff to Foreigner, but they don't know what he's talking about; say they destroyed all their gear and were shocked to hear of a new Blaze.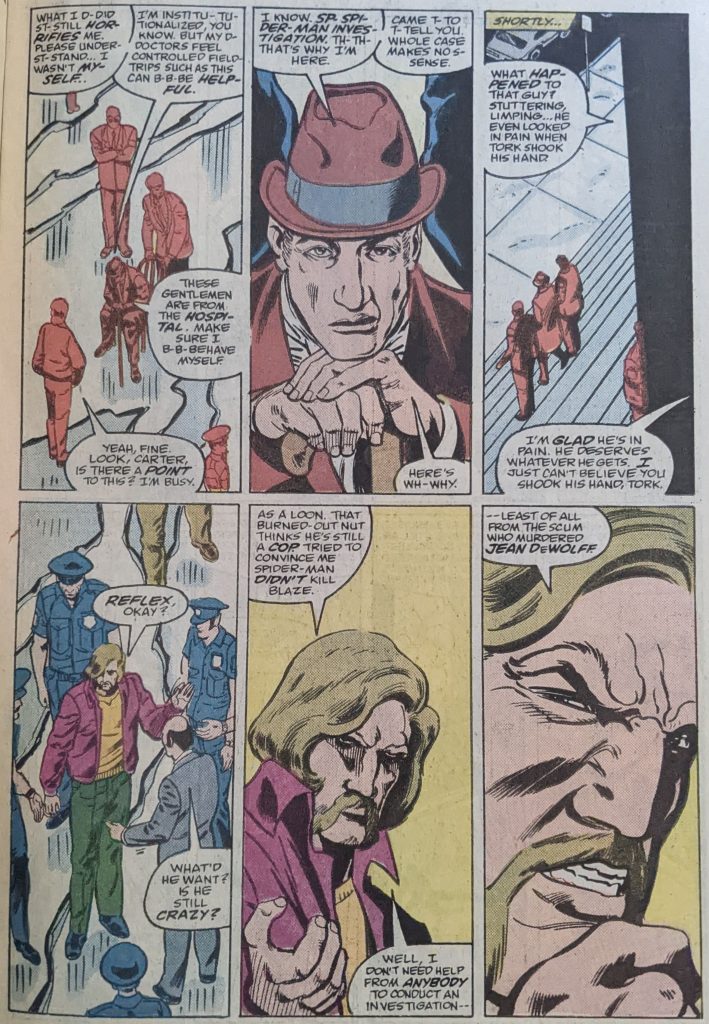 Well, well, look who it is. Man, I can't see Sin-Eater without thinking of the asinine garbage Nick Spencer did with him in 2021. You'd think Tork was a Spider-Man character instead of a Daredevil guy, as much as he's been around lately. Well, if yer gonna invoke The Death of Jean DeWolff, it's only right that Daredevil appears on the very next page. DD wants to help Spidey, but Spider-Man still doesn't trust him after the gang war, and why would he, DD was wildly out of character. Matt says to contact him if he reconsiders. Spider-Man wonders if maybe he should get help, from The FF or The Avengers, but thinks they're as likely to turn him over to the cops as help, which seems pretty uncharitable of him. He decides he only needs Felicia to deal with this. Boy, is he in for a bad time. As he swings off, we see Sable's Wild Pack tracking him.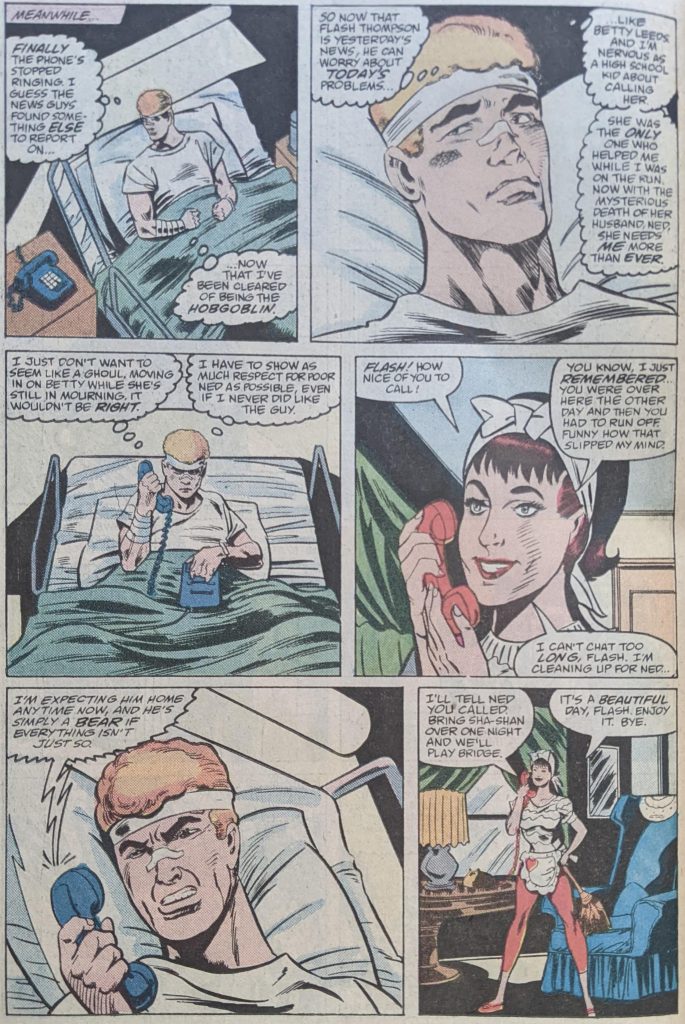 It's weird that Peter David was so invested in this Betty thing, and yet he isn't long for the Spider-Titles, and doesn't really get to resolve it in any way until she gets into that cult in WEB 40, over a year from now. Anyway, random goons are after Spider-Man like on the cover. He dodges and tries to escape, but they give chase. So he quickly disables most of their flying machines, in a pretty impressive display of his agility.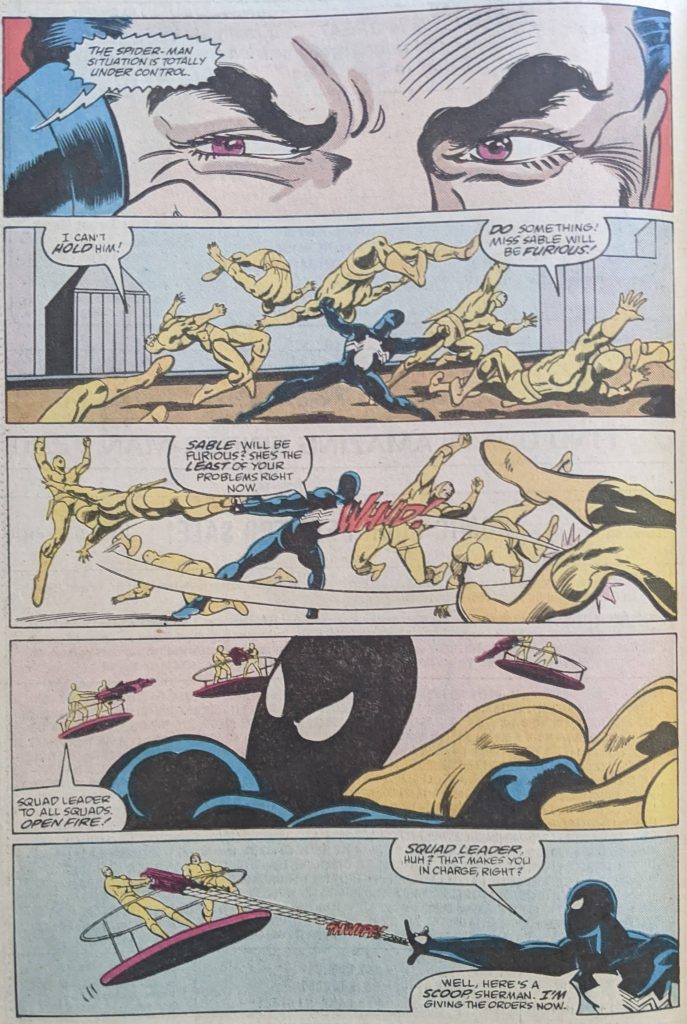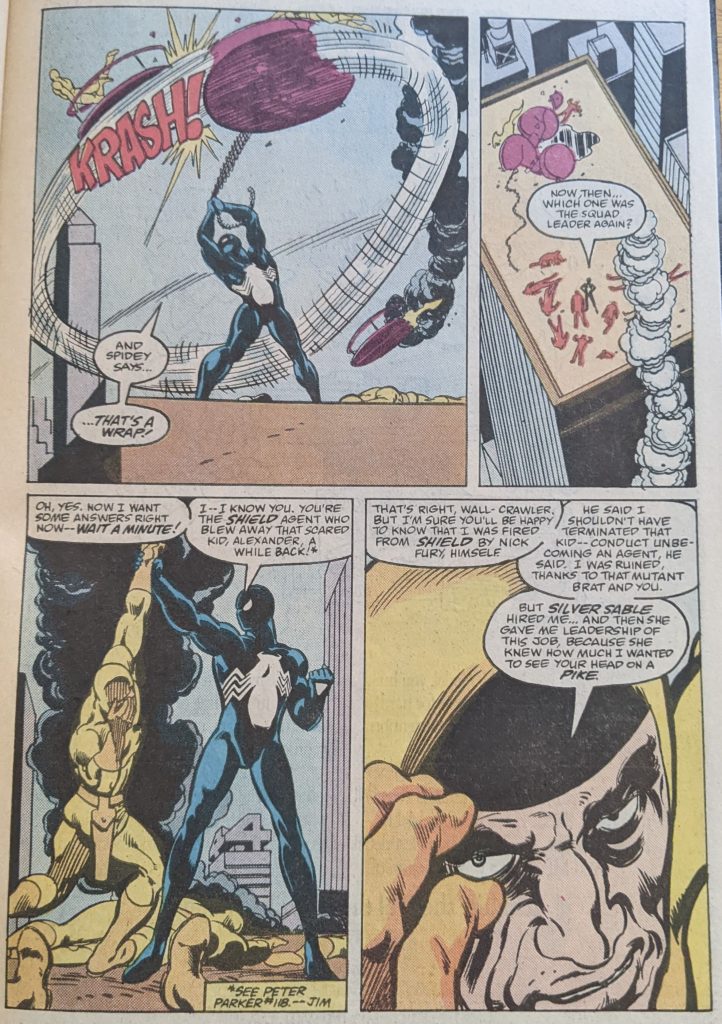 Well that's convenient. Even the story is related to TAC 118. Maybe the cover similarity was on purpose. Spidey takes that guy's outfit off and webs him up real tight.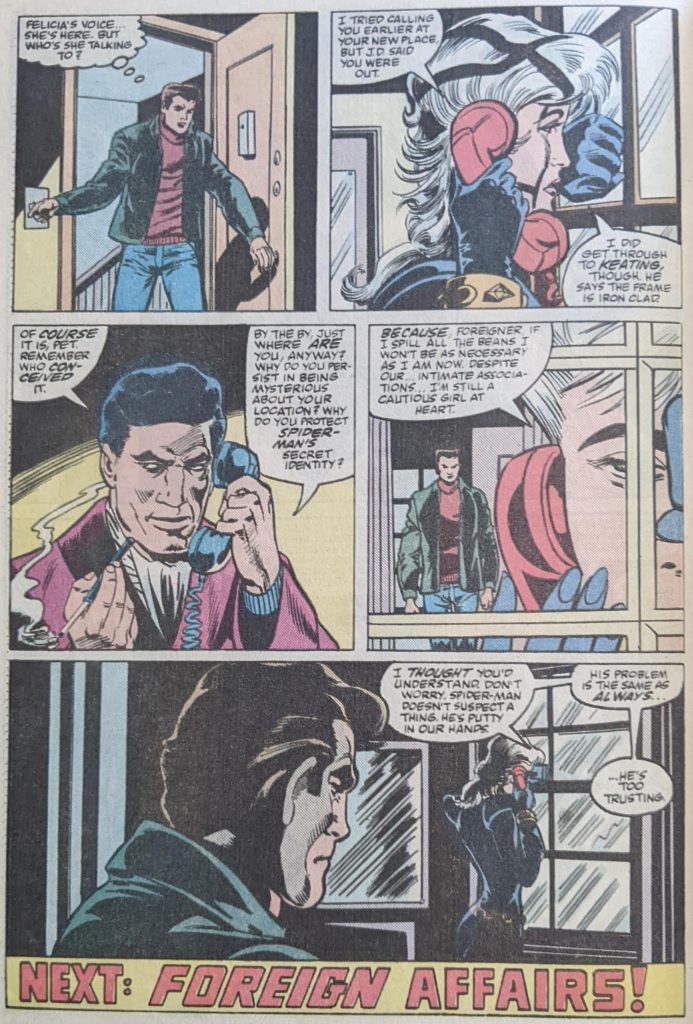 Seems like we're all set to wrap this up next issue. We better be, 'cuz next issue's all we got.