Ho ho ho and such, it's another Christmas adventure with another great cover by "Lil Artie Adams." It's another wraparound cover, and the back doesn't make much sense, frankly, but who cares?
This year's Christmas special had a lot of cool things in it, including a Wolverine story by the legends Larry Hama and Michael Golden, A New Warriors short by that book's regular creative team and a Thanos one from creator Jim Starlin and Ron Lim, Punisher and Daredevil work by their regular writers (Ann Nocenti DD!), and more, but our prime concern is the Spider-Man short. And it's got quite a team on it. By now, everyone knows Stan Lee doesn't actually come up with any stories, so a plot provided by Richard Howell and art by the legend Steve Lightle, Al Milgrom and Renee Witterstaetter gives him something to dialogue.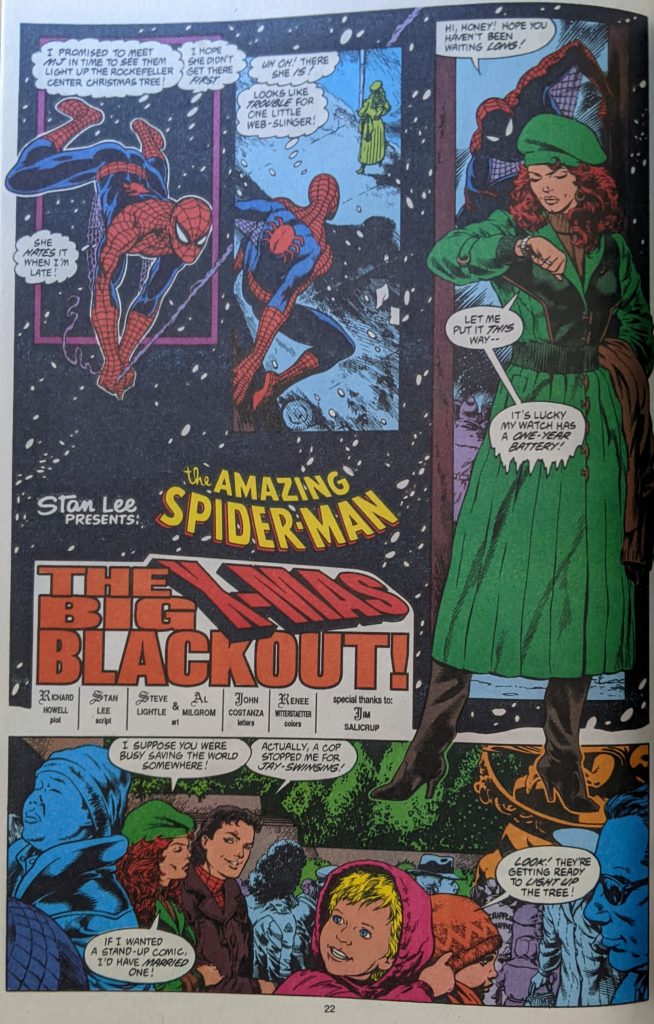 Over some more gorgeous work by Lightle, we see the crowd waiting in anticipation, and then the tree is lit, only to go right back out, which we soon learn is courtesy of Electro, "Master of all electricity!"
Some very Stan Lee dialogue. After a big zap that takes out a corner of the building, Spider-Man runs off, hiding in the big tree and waiting for Electro's attention to wander. As he starts monologing again, Spidey starts chucking giant tree ornaments at him.
Nothing earthshattering, but it is always fun to read Stan's Spidey banter again, and man, that Steve Lightle was something. He also provides a beautiful illo for the inside back cover: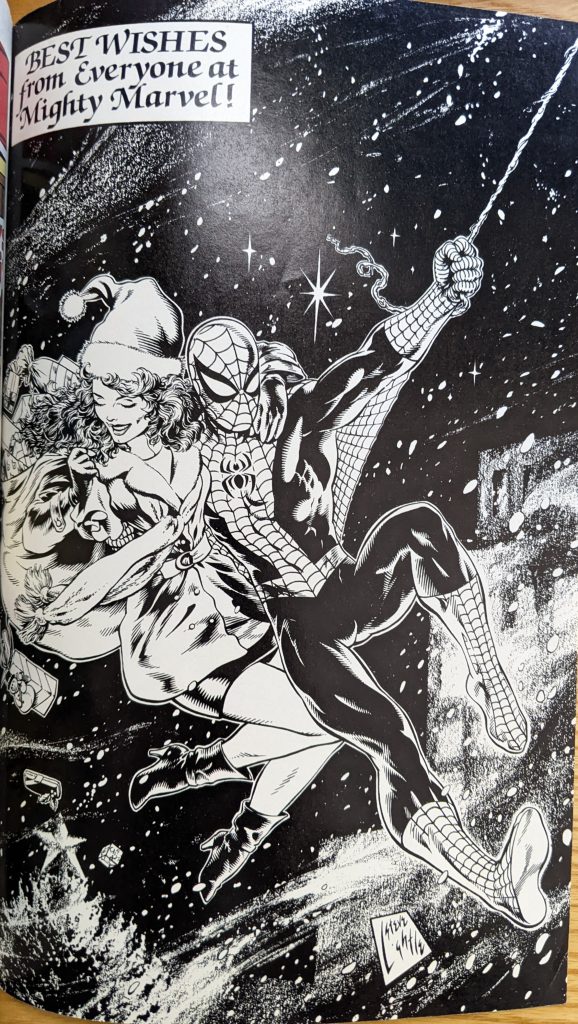 And while I'm not gonna cover it since it's not a Spider-Man, take my word that the Nocenti DD story was really, really good. Nice to see it again.