This month, Pollard does breakdowns for Pablo Marcos to finish. It's all action on page one as a van drives by our swinging star having a shootout with the cops!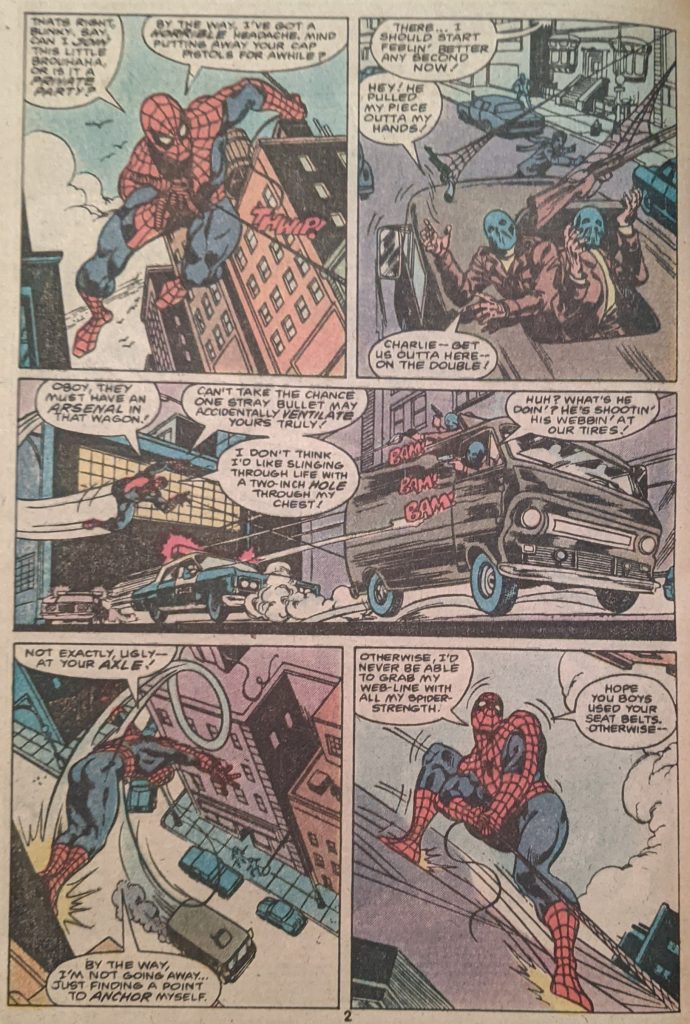 Black Cat mentioned having a Spider-Man scrapbook back in her previous appearance in ASM 194 & 195. You know, the story that ended with her plunging to her death. She looks to have done ok there. When night falls, she's off to steal a statue called The Golden Lovers from The Guggenheim. A guard who runs into her has the bad luck to have a door randomly slam open and knock him out, because no matter what Bill Mantlo says, Black Cat had superpowers at this point. If you're wondering if she mentioned not crossing a black cat's path, well, of course! Spidey hears about her break in on the police band and comes running to see if Cat is really alive.
I mean, come on. It's not subtle. That later writers decided she was just some regular person is absurd. As she escapes, The Cat implies she lost one of her nine lives surviving the fall in her debut. The idea of a character who really has all these cat cliches would've been interesting. Spidey returns the statue and swings off, thinking he doesn't know whether to be sorry or happy that Cat's alive, since they've had the chemistry from the beginning. The next day, Pete stops by the Daily Bugle… for some reason?… We will recall he works at The Daily Globe at this time, why does he keep going back?… and finds newly promoted publisher Joe Robertson acting just like JJJ, being a jerk and yelling at everyone. Glory says she's worried about him.
This blog has officially been going so long I've forgotten what's going on with Robbie. We briefly cut to Black Cat yelling at her weird shrine to Spider-Man that if he knew why she steals, he wouldn't stop her, and telling a poster to not maker her hurt him as she shreds it with her claws! She has claws! Yet another thing they took away from her only to give back! Meanwhile, at The Globe, Barney Bushkin is asking Peter to give April Maye another chance. Remember April Maye? It feels like forever since I last read stuff from this period. Oh, wow, it's been over a year, ok, I don't feel so bad now. Anyway, Barney thinks they could be the next Woodward & Burnstein, and Peter agrees to try. You may recall last time we saw April, she was hanging out with some goons selling drugs to elementary school children to get a story. I did not recall. Man, this is some weird time for Spider-Man. Anyway, out on the street, something triggers Peter's Spider Sense, but he can't see anything amiss. And across town, Black Cat is casing the statue again, now under heavier guard. The Cat puts some object in place for a return attempt at a heist later, and then Peter is rushing off to a blind date with Flash & Sha Shan. He says he hasn't been on a real date since he split with MJ, and dismisses "those meetings with Cissy Ironwood" as boring. Take that, Chris Claremont, I guess! Peter walks up on the others and…
That's some aggressive lady. What a coincidence that he happened to be walking by the museum! He changes clothes and gets in there in time to find The Cat getting the statue, having used gas to knock out all the guards.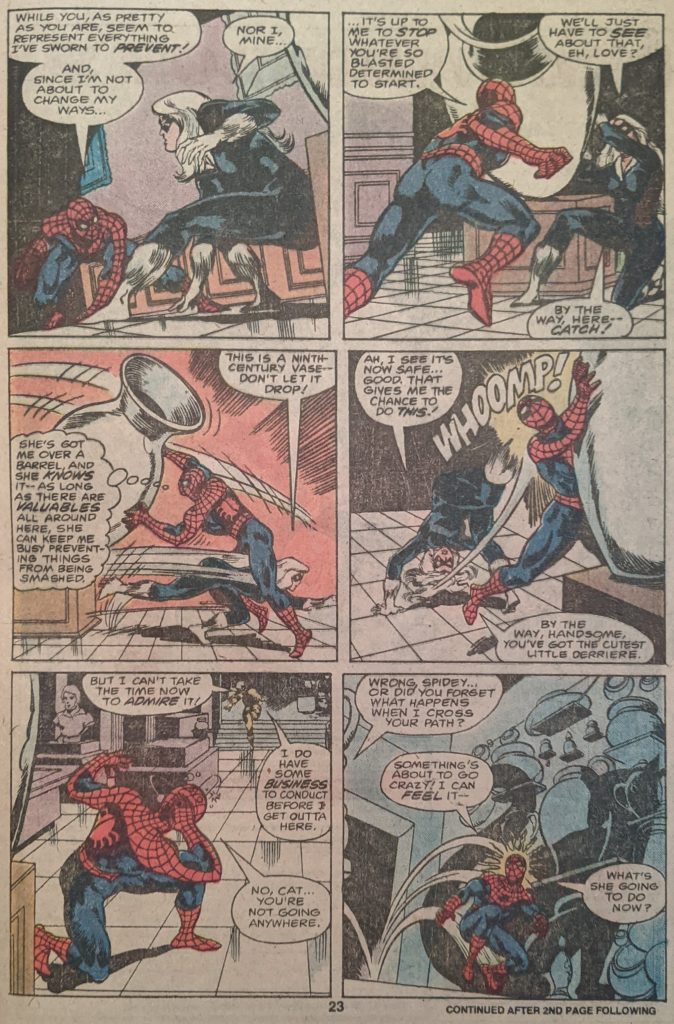 2 "black cat crossing your path" reference this issue so far (Seriously, we get it)! Spidey once again falls prey to some terrible luck as she escapes, when all that stuff on the wall behind him falls on him. Meanwhile, we find JJJ waking up in the alley he disappeared into last issue, with amnesia! And he gets lead away by Dr. Jonas Harrow, that very random background character who's appeared in a few comics since Len Wein took over, but has never actually encountered Spider-Man, which is highly irregular. But at the same time ,Black Cat interrupts an auction for "the Raja Ruby."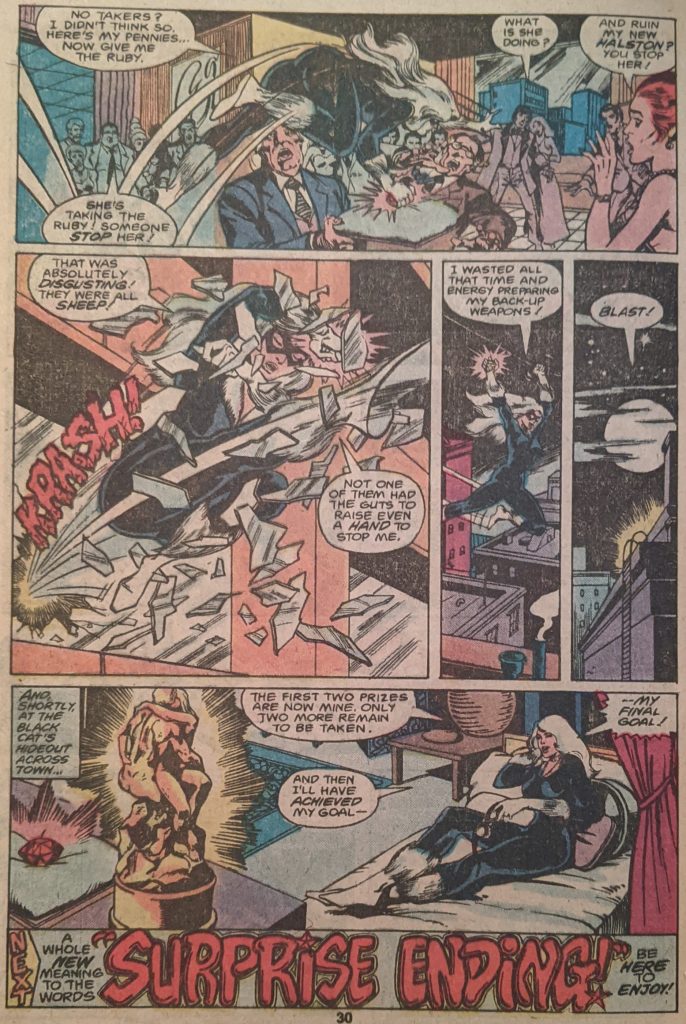 We'll see about that caption…Keith Pollard is now fully in his element as a Spidey artist. His Spider-Man is dynamic and his version of the mask is uniquely his own. These recent issues look great. It's a shame he, and Marv, are nearly done.