Issue 25 and they still don't know what to do with this title following McFarlane's abrupt departure almost 10 months prior. No regular creative team, no direction. And now this wacky bit of business. Have we seen Excalibur before? I don't… think so… Spidey's old pal Captain Britain (Recently seen here in MTU 65 & 66, now sporting a much better costume) leads a team of mutants in the UK, including Spidey's old pal Nightcrawler (Since ASM 161 & 162, among others), Spidey's old acquaintance Kitty Pryde (Met in MTU 118), Phoenix, aka Rachel Summers, the daughter of Jean Grey and Cyclops from the future (MTU 150), and Meggan, who I'm pretty sure he doesn't know yet. Spider-Man sure has met almost everybody. This month's random team of pinch hitters is Terry Kavanagh, Chris Marrinan, Mark Stegbauer and Kevin Tinsley. We open on Joe Robertson paying Peter Parker a bonus for getting exclusive pre-publicity photos from the movie MJ turned down in SM 23. Not sure how she had that kinda pull since she didn't take the part, but she did, and Peter is very grateful.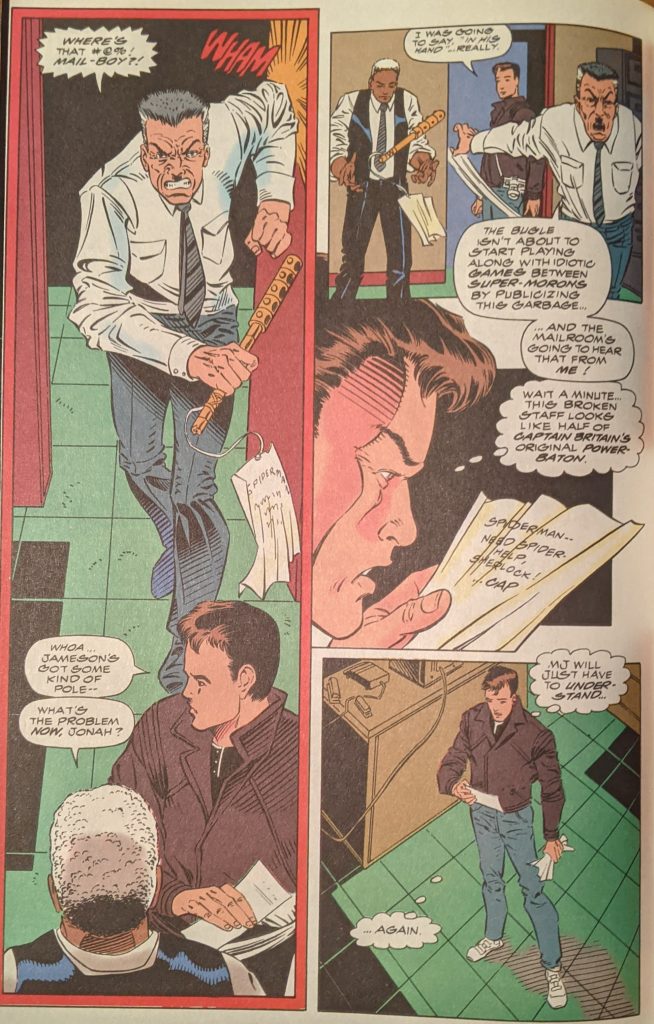 Our man sure is doing a lot of traveling lately. I don't know what happened with Captain Britain's lil magic stick, but I never saw him use it in a comic before reading MTU 65 just recently, so he must've abandoned it before I came on the scene. But, at any rate, Spider-Man is now in London, his just-paid bonus is gone, and he's trying to find Baker Street because of the "Sherlock" reference in CB's note. When he stops on a roof, he's attacked by a gargoyle, 'cuz, why not?
It's been a little while since Spidey was handily defeated by his true archnemesis. Spider-Man is spit out of those tubes onto the streets of Paris, where he's attacked by The Juggernaut. Who not only smashes the Arch De Triumphe, but also starts flying. A thoroughly confused Spider-Man manages to run him to ground, where he's met by Exclaibur (Minus Captain Britain), who do not seem happy to see him.
I forgot Excalibur also includes some kinda weird dude named Kylun and a Shi'ar named Cerise at this time. Well, it's everybody vs. those 2 baddies. Spider-Man swoops down to rescue the unconscious Phoenix as the Eiffel Tower comes to life and grabs everyone else. As Spidey tries to resuscitate Phoenix, the tower seems to kill everyone else by Captain Britain, who flies int oa rage.
Well, that's gross.
Spider-Man uses his new-found cosmic power to blow up the villains, revealed to be androids, but then loses his strength and almost passes out, forcing Captain Britain to fly to his rescue.
The boys are then attacked by an array of classic Spider-Man villains, and a caption mentions how Brian & Peter were briefly roommates, so maybe that's how I knew that. Spider-Man points out that most of their foes are either in prison or dead, so there's no reason to go easy on them as they're, of course, revealed to be robots, as Marrinan's faux-Erik Larsen vibe really kicks up a notch.
How is the grin a clue?? Unless it's The Joker…
I mentioned how Spider-Man and Arcade don't meet again until the 90s back in MTU 66… But it being direct sequel is pretty weird. Did Arcade just forget he was mad at Spidey and CB all these years? Even if we apply the "5 year" rule from the clone saga, it's been 2 or 3 years since MTU 66, at this point. Funny, too, that I read this first, as a lad. I just had to take all the references to comics as old as me at face value. The online comics world is a funny thing. Certain sectors will tell you this is "the first appearance of Spider-Phoenix!" Like that's a thing. I know a young guy who bought this comic in the late 2010s, believing that was something of value and not meaningless sales jabber. I felt bad for him.