Here it is, the first of the oversized 30th Anniversary issues with fancy hologram covers. And so we truly enter the age of the gimmick cover. This would only get weirder and weirder. Holograms. Foil covers. Chromium covers (Whatever that is). Die-cut covers. Glow-in-the-dark covers. An issue of Rob Liefeld's terrible Bloodstrike comic had a "blood" cover, with red goo inside a plastic casing. "Feel the blood!" it proclaimed. There was an issue of Superman where the cover was a Colorforms-type thing and came with the stickers, that was pretty cool, at least. Better buy 5 of each, as they're going to be worth millions! Or, maybe not worth the paper they were printed on. Who knows?! This rainbow hologram technology was pretty cool, I must admit. They did this for chase cards in their trading card sets, and then these, and the X-Men got some similar hologram covers not long after. I think all the holograms are drawn by Bags, I can't remember. This one surely is. The thing about these overblown anniversary issues is, they worked on my dumb lil' teenage self. I didn't routinely buy more than one Spider-Man title per month, but I got all of these. I think I used to have TWO of the ASM one, but got rid of the duplicate. Maybe I thought it would be valuable, but more likely, it was just in some grab bag or something. It's frustrating, all the things I don't remember going through all these comics. All of these had a fold out poster inside. This one's a lovely Charles Vess piece:
Love that guy. It's the usual gang onboard for the "final" fight with The Green Goblin. Again. And not for the last time.Peter Parker sits at home brooding over the opened package Harry sent home with Aunt May last issue. Was it a bomb? An apology card? No, it was a jack-in-the-box, and as MJ sweeps in talking about her day and not yet realizing Peter's mood, he turns the crank.
And we're off. Downstairs, Liz is not holding it together, and her brother knows it. Little Normie comes in and asks why she's crying, but they both react to the thing he's holding:
Gassing your own child is very, very cool. Back upstairs, Peter does some recapping, and MJ heads to the bedroom for headache medicine, but shouts his name when she gets there.
What a sad mess this history is. Reminds of you Harry blowing up the apartment on Peter & MJ back in ASM 136, and that was almost 20 years ago, at this point. Len Wein effectively put this feud on pause for awhile, but Conway and now DeMatteis just can't let it lie. Peter & MJ run downstairs to find nothing but a note for "Peter Parker, Arachnid," that says, and you're never gonna believe this, "Gotcha." Cut to the Osborns waking up at a fancy dinner table as Harry welcomes them and talks about their deep bonds of love and trust. 
Fun times. Liz breaks for a door and finds it bricked up, which is pretty over the top, and then Mark tells Harry they can help him no matter how far he's gone over the edge. That gets him a pumpkin bomb in the chest followed by a Class-A Buscema punch for implying Harry is crazy. Harry tells Mark they're a family, and if Mark tries to turn Liz against him, he'll kill him. Elsewhere, Spider-Man swings through the night, internal monologuing about his grim history with the Osborns and such. But also:
We having fun? We celebrating that 30th anniversary?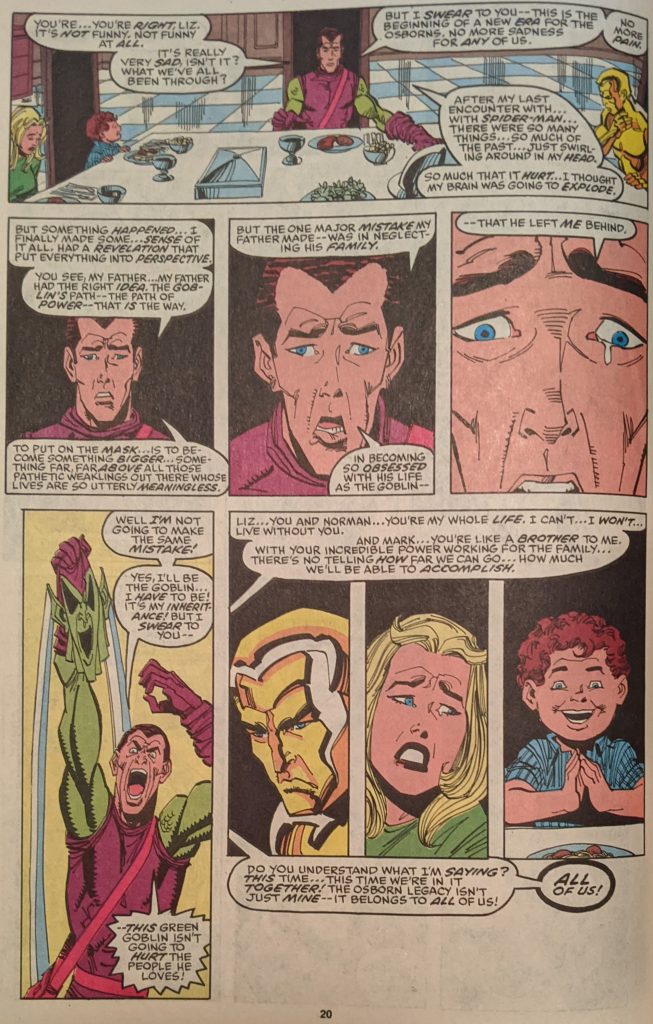 Yay. Meanwhile, Spider-Man approaches the old Osborn family home, the one Harry & Liz moved into back in the Stern/Romita days (we saw their housewarming in ASM 249). Spider-Man cautiously makes his way inside.
Harry demands that Spider-Man sit down and eat, and he realizes he hasn't much choice, so he does.
Mark snaps, lunging at Harry, telling him the damage he's doing to his wife & son. Spider-Man feels getting involved will only make it worse as Mark reveals he activated a spider tracer to bring Spidey here, at which point Harry really loses it, tell him he's not related by blood and was always going to betray the family as he beats him around the room. Spidey begins to realize Harry is a lot more powerful than he should be. Spider-Man finally stands up, says they're getting Harry some help tonight. Harry pulls the mask back on and attacks, saying he doesn't need help, but Liz stops him to say he does. That she knows he's been through a lot at the hand of his father, but that now he's endangering his own son.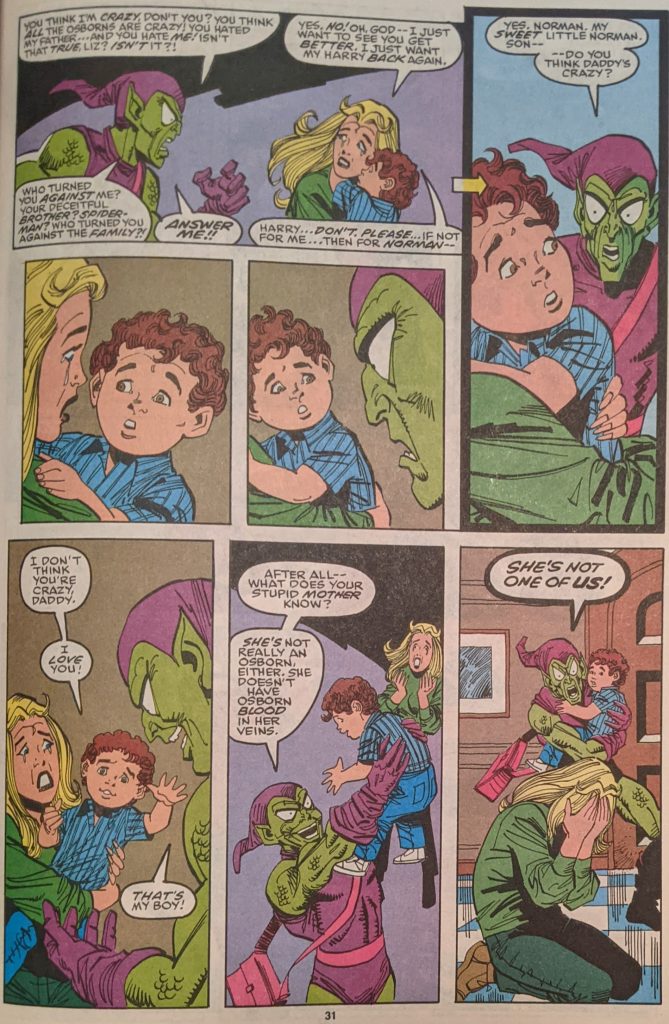 Harry sends Normie off to his mother as he mounts the glider and begins beating up Spider-Man, saying he finally found the Goblin formula everyone's been after since his dad died, secreted away right here in the house. He announces he now truly is The Green Goblin as the beating continues.Spider-Man tries to reason with him, and gets Harry saying Harry Osborn is dead and buried and long live The Green Goblin. Shades of things to come for Peter himself, really. Who wrote that "Peter Parker is dead, I'm The Spider" dreck again? Oh, right.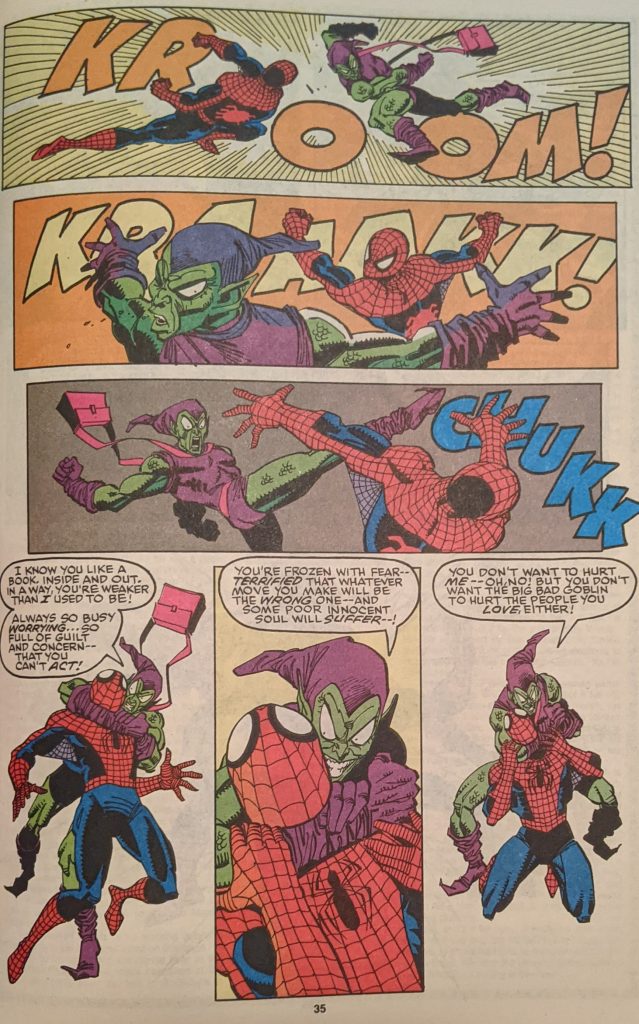 Sal's fight scenes might be becoming kind of old fashioned in 1992, but you can't deny the impact.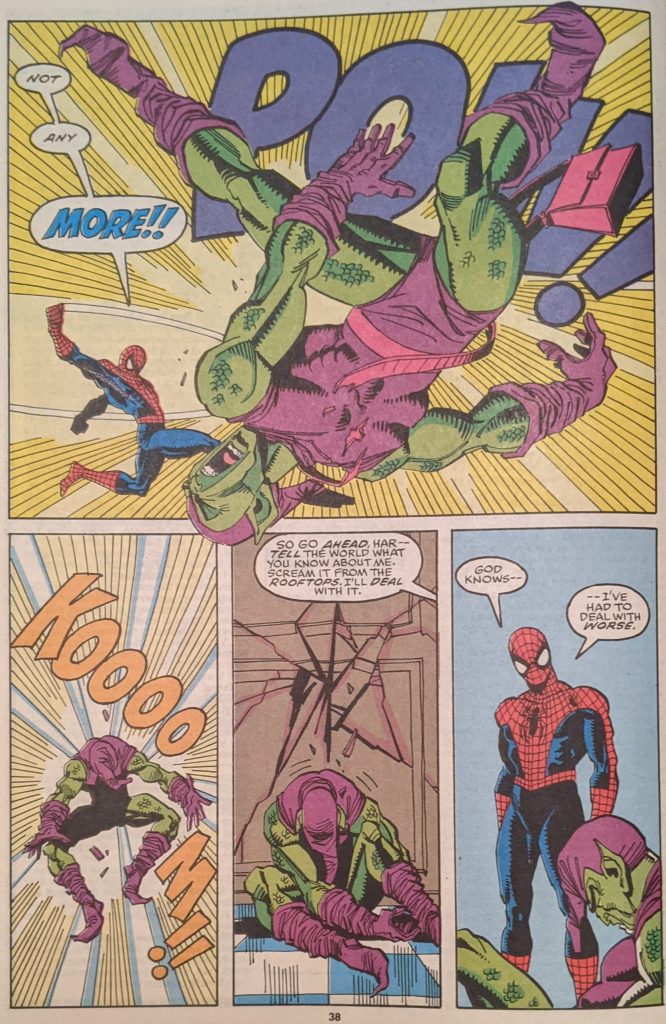 Harry is out. Spider-Man webs his unconscious form and sends Liz to call the cops, the helps Mark to his feet. But we see Normie with a fury in his eyes looking at the man who beat up his dad. The cycle continues in the Osborn family.
More echoes of Harry's first outing as The Goblin, how he was carted off in an ambulance in ASM 137 shouting to the world that he knows who Spider-Man is. So, that's that. Despite the cover promising final battle, things are more or less as they were before this issue. But it won't be long before we see The Green Goblin again. Hey, was this issue not sad enough? Think it could be sadder? It's almost out of pages, but I bet it could!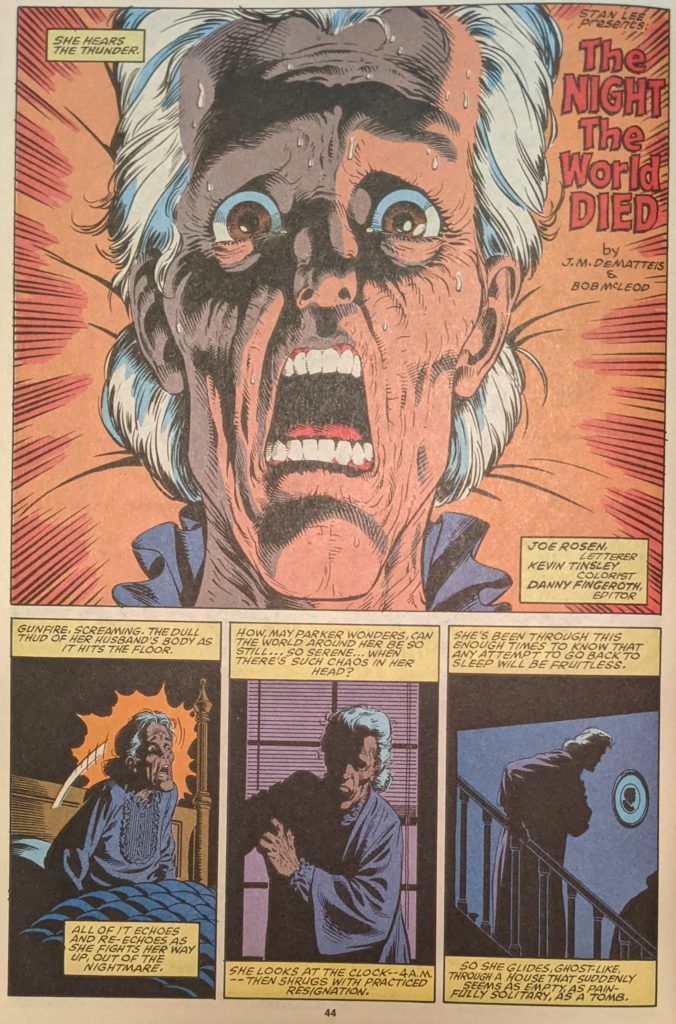 The cover promised Spider-Man's origin. But it didn't say how you were gonna get it.
Still wish May getting over her Spider-Man baggage in ASM 200 hadn't been swept back under the rug over the years. It was a good moment. Now we have this. Well, that was sure fun. Next post, we see the Web of Spider-Man 30th Anniversary issue. Can it be any more dour? I do not remember it at all! Hey, now all the titles have made it to cover date July 1992. They haven't lined up in quite a while.