Welcome back to the very, very end of 1991, as we enter a block that will introduce a major new Spider-Man character AND one of the most insane twists anyone ever pulled. But first… this. They quit numbering the Marvel Graphic Novel line at some point, but this is one. What is this? I have no idea. Never read it. But I did see this cover back in the 2000s and think it looked hilarious. I'm eager to see what this nonsense could possibly add up to. To my surprise, we have a plot by Gerry Conway, a script by Conway and Stan Lee, art by Ross Andru and Mike Esposito, with colors by Bob Sharen. Suddenly it's the 70s again. Andru & Esposito looked way different last time we saw them, on that Sandman story in TAC Annual 10 & WEB Annual 6. What's Conway doing back? How'd they rope Stan Lee into this? Many questions, likely never to be answered.
Well, that's one way to start a comic.
Ross Andru keeping that action staging awkward, even 20+ years later. The ridiculous woman is addressed as "baroness" by the Yakuza guy who wants to sell her the services of "The White Ninja" she's testing. This is taking place on top of a skyscraper, and we see Silver Sable is watching it all on a telephoto lens. Ok! Meanwhile, some street toughs decide to mug Mary Jane in New York, but they've made a grave mistake.
Not exactly the same old Ross Andru, but… more or less! Some giant hands on Spidey in that one panel. Our heroes continue on to Aunt May's, where they're staying for the weekend for unspecified reasons, MJ implying that he hides his identity from May not to protect her, but to protect himself. Probably true, MJ. May thinking Peter is too fragile to do anything while Peter thinks she's too fragile to learn his secret and both of them being wrong is fun, tho. Meanwhile, The White Ninja breaks into Osborn Chemical, where he's almost immediately accosted by Silver Sable and her Wild Pack. Unfortunately, he dispatches all of them in a single page.
Why the long face, Harry??? The Cassidy Crystals. Sounds very McGuffin-y. The ninja delivers the McGuffin Crystals to the lady from earlier on a private jet at JFK, and soon they take off, with her talking mysterious villain talk. The next day, Peter Parker arrives as The Daily Bugle just in time to hear Ben Urich being berated by JJJ for failing to get the scoop on what happened at Osborn last night. Osborn and the cops are reporting there was no robbery, but somehow, JJJ & Ben don't believe it. Why would they know at all? JJJ demands Peter use his friendship with Harry to learn the truth for a bonus, and he's off.
Fear… itself???
Uh…. huh. I assumed Silver had been hired to protect the crystals. I suppose it's just the Nazi connection that has her involved. At any rate, we naturally get a couple pages of Spider-Man breaking into the Symkarian Embassy and fighting guards instead of, you know, calling his long time acquaintance and saying "What's up?" It's all rendered in classic Ross andru awkwardness. Spidey then takes the fight into a ballroom where Silver is entertaining some dignitaries. Her guys shoot machine guns at him with all these civilians around like lunatics,and he responds in kind by leaping among chandeliers and making them rain glass on everyone. This is all very reasonable. Silver finally calls an end go the madness and drags Spider-Man off to talk.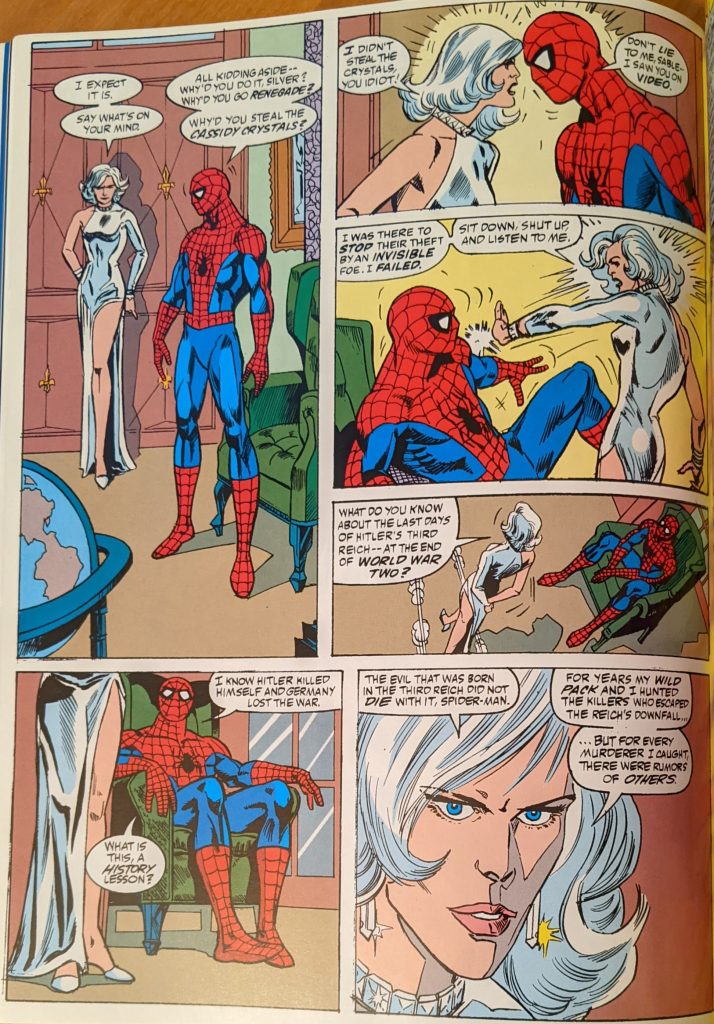 Time for a quick primer on the insanity that is Hitler's life in Marvel Comics:
Still don't understand why that wolf guy decided to be Hate-Monger in TAC 12–15.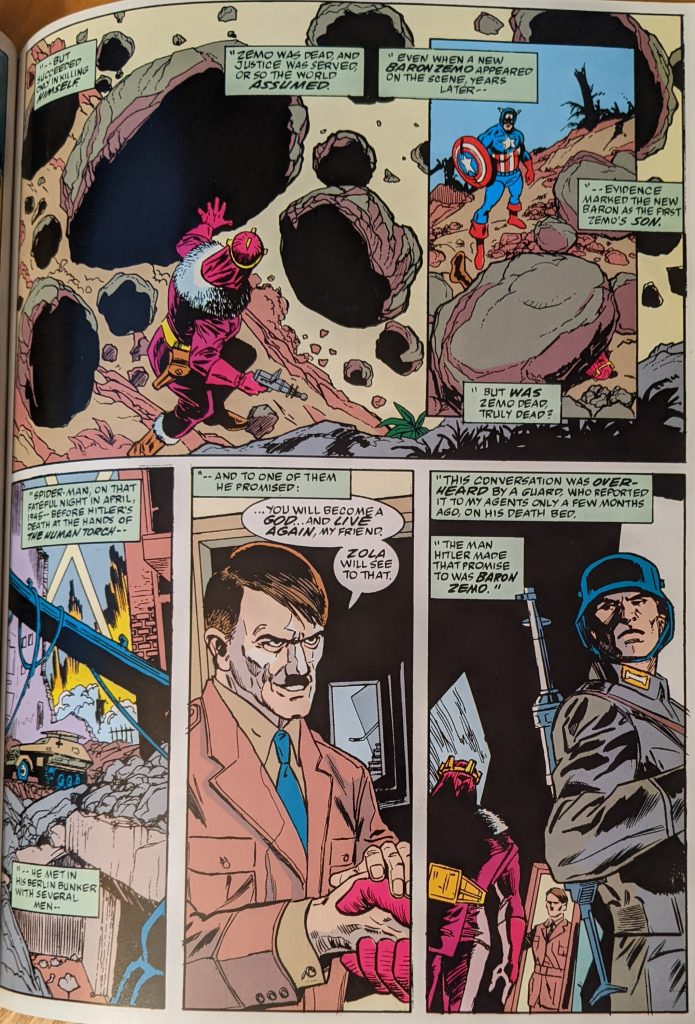 Well, this is complicated. Silver goes on to explain that "The Baroness" arrived on the scene 6 months ago, ready to finance terrorist organizations destabilized by the fall of the Berlin Wall, and when she caught one of The Baroness's goons, said goon said Zemo was behind her before dying. Then she explains seeing The Baroness hire the ninja, and we're all caught up. Spidey feels like he has to see this through, but he has to go clear it with MJ before he runs off to Bavaria, and we get some real classic Ross Andru Peter & MJ…
…and even his creepy Aunt May…
…MJ's even calling people a "male chauvinist," the 70s are back! Andru is really committed to Peter wearing that sweater. I think it's cool to give him an actual wardrobe instead of just having him wear random clothes, but surely he'd moved on in over 20 years of publishing. Anyway, smash cut to Spidey & Silver checking out the castle The Baroness allegedly lives in.
Andru's art seemed pretty different in that Sandman story, and his close-ups in this look different, but most of it feels like he's gone back to old times. I wonder if it's on purpose, even. Silver and Spidey breach the castle grounds as security is alerted, and then split up. Spider-Man is immediately attacked by the ninja. In similar circumstances in other books, his Spider Sense would simply allow him to tell where his foe is and surprise him, but we're told "Spider Sense is going haywire! I don't know which way to turn!" so Spidey can job out to the ninja. Then the ninja hits him with the fear gas from the McGuffn Crystals, and it's a Mysterio story…
I cannot believe they put Mindworm up there. Of all people! The vision of Vulture swoops the vision of MJ off into the distance, and a despondent Spider-Man just watches them go. Meanwhile, The Baroness commands her goons to hit The Wild Pack with the gas, too, so I guess now it's all up to Silver Sable. In the woods, ghosts berate Spider-Man for allowing the deaths of the usual list of people who've died as The White Ninja creeps up on him.
Interesting to see Andru draw the black suit. Love to see what the ninja saw when Spider-Man was punched at him.
Pretty vintage Conway/Andru. Unfortunately. Meanwhile, The Baroness has gotten into the ridiculous getup she's wearing on the cover, explains to a captive Sable she's going to launch missiles full of fear gas at all major capitals, and then…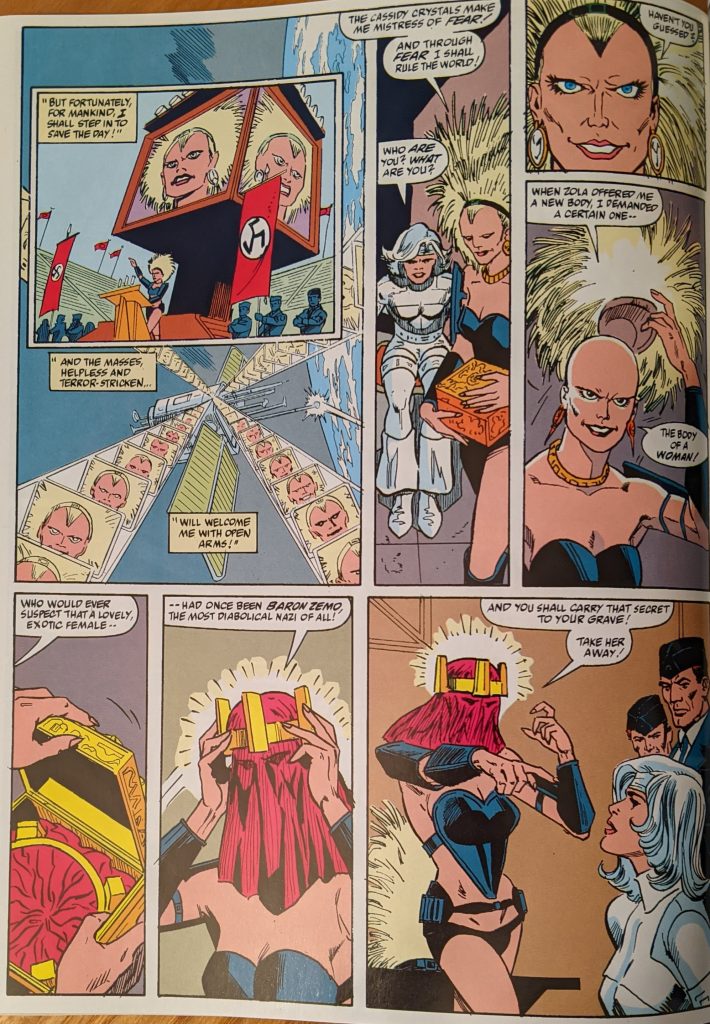 Oooooooookaaaaay. Great plan, Baron. You think he ever told his son he was back in a hot new bod and a hilarious wig? Probably not. Sable is tossed into a cell, and then we spend 2 pages watching her break right back out immediately. Meanwhile, outside, Spider-Man is actually getting beaten by just some ninja guy, to the point that he's decided to flee. This is so embarrassing. So 70s. He dives into some bushes, taunting the ninja to follow, and when he does, he runs off a cliff like he's in a Looney Tunes cartoon.
For whatever reason, the ninja's great fear is just a bunch of big mouths laughing at him, and he falls off the cable. Spider-Man tries to snag him with a webline, but the ninja twists away, improbably making Spidey snag the fear gas canister instead. 70s. But unlike 70s Spider-Man, watching this guy plummet to his doom is very upsetting to Spider-Man, who wouldn't give it a 2nd thought back then, so that's nice, at least. Spidey hooks back up with Silver entirely too easily because we're almost out of pages, and then they immediately find the rocket launch room. Spidey takes on various goons while Silver goes for Baroness Zemo.
You can give him a new body, but you can't make him a new Baron Zemo, and so Sable easily makes her shoot herself in the face with the fear spray. Zemo looks in an improbably convenient mirror and begins to hallucinate her skin is ripping off and she's some kinda weird monster underneath.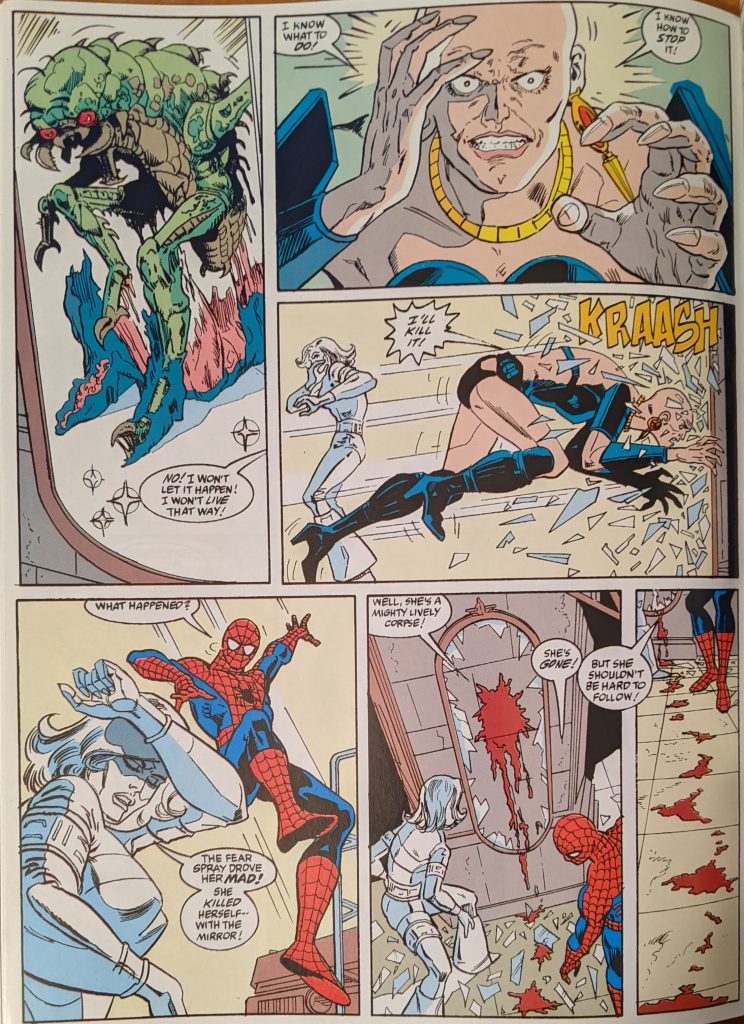 Zemo tries to launch the rockets, but hits the self destruct button instead due to the blood in her eyes and all over her face. Spidey shoots a web out the window for Silver and her guys to uses to rappel out of the doomed castle and then runs back to try to save Zemo, apparently unconcerned about the dozens of goons about to die. But Zemo is still convinced she's launched the rockets, and wants to fight to the end, so Spider-Man dives out the window.
Well… ok. Guess that's that. Did Stan Lee just write the last page? Not much of this felt like him. What a bizarre book. Conway and Andru seemed to bring out the worst in each other. 20 years from this, Marvel would do a big line-wide event called Fear Itself. No relation. But there was a tie-in mini called Fear Itself: Spider-Man, which must be kind of confusing for people stocking back issues.