McKay's comes through with the grand finale! Hopefully they have a good explanation for Psycho-Man tormenting Spidey like this, and for what seems like a seeeeeerious coincidence when he initially shrank. Conway and Lee are now joined by Gil Kane, Sal Buscema & Alan Kupperburg on pencils & inks and Bob Sharen, Nel Yomtov & Evelyn Stein on colors. Quite a gang! We get at least one answer immediately, as Spider-Man is now strapped to a table with a current running through him which Psycho-Man says will sap the Uni-Power out of him. Ol' Psycho thinks our guy is still Captain Universe. That makes sense. Sort of. The Captain Universe concept was invented in Micronauts, so a member of the Microverse being after it works.
Psycho recaps to himself how he used to run Sub Atomica, then he was exiled, then the FF beat him up, now he's back, etc, etc. The "master of size manipulation who can also control his victims' emotions," as he actually calls himself, summons robots to dump Spidey in a prison with previous test subjects. Including a menacing green tentacle headed his way as he regains consciousness. As Psycho-Man goes to get his most powerful weapon, Gil Kane tags out and Sal Buscema tags in.
I genuinely appreciate that all these other captives, all heroic former Captains Universe, are extremely inhuman. You know, they're not just blue people or whatever. They are very alien and also good guys, and that's pretty rare. Spidey has the tentacle dude grab his webshooters from the case Psycho-Man put them in. Then they tell him they know where the controls to their cells are, but they can't do anything about them, and Gil Kane tags back in.
He may not be at the height of his powers anymore, but there's no mistaking Gil Kane panels. Psycho is immediately aware of the breakout, and uses his emotion controlling gas to turn all the aliens into hated-powered killers. Spidey swings above the fumes and is unaffected, but now has to run from his former allies. He finds his way into the chamber where Psycho-Man's previously shown super weapon is held, seemingly all according to P-M's plan as Alan Kupperburg shows up for a single page…
Kane is back as the hero and villain finally start fighting. Spidey destroys the emotion control board, forcing a fistfight. Psycho explains his bizarre motivations: He shrunk that solar system and told them to make him their ruler or stay tiny forever. They agreed, but he found he didn't have enough power to enlarge them. So he was betting on the Uni-Power to do it. Spidey asks if he couldn't make them bigger, why didn't Psycho-Man just make himself smaller.
That No-Prize joke is not necessarily breaking the 4th wall, but certainly roughing it up a bit. Spidey and his foe keep growing larger and larger as they fight in some great Gil Kane action pages…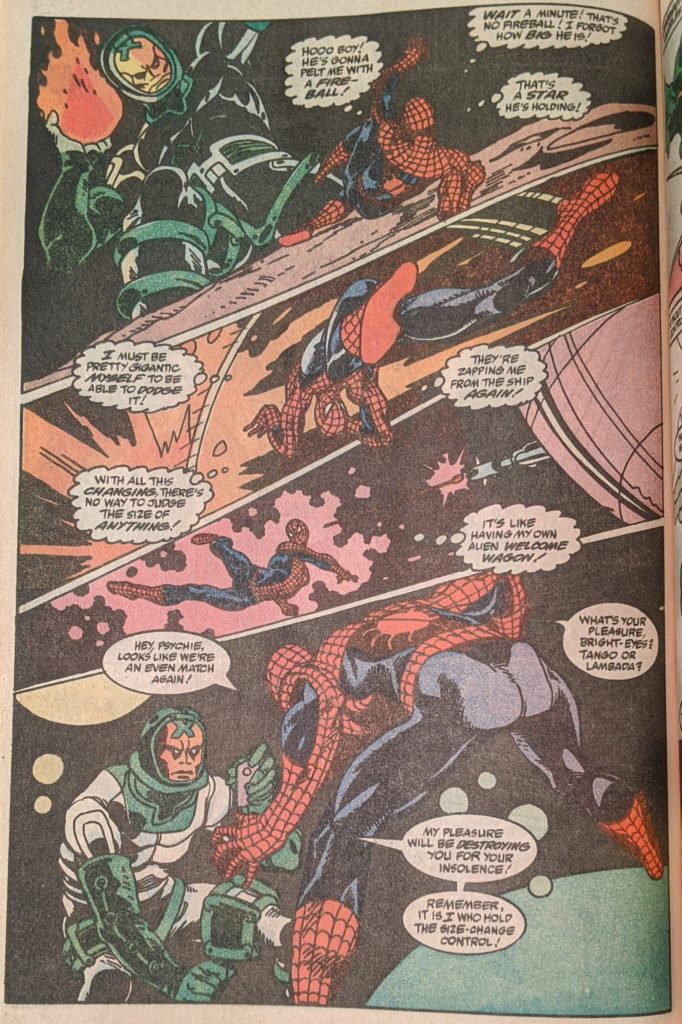 …until Spidey smahses Psycho-Man's controls, hitting him with his own shrink ray and zapping him back to subatomic size even as Spider-Man keeps growing… growing until Harry Osborn's microscope starts vibrating.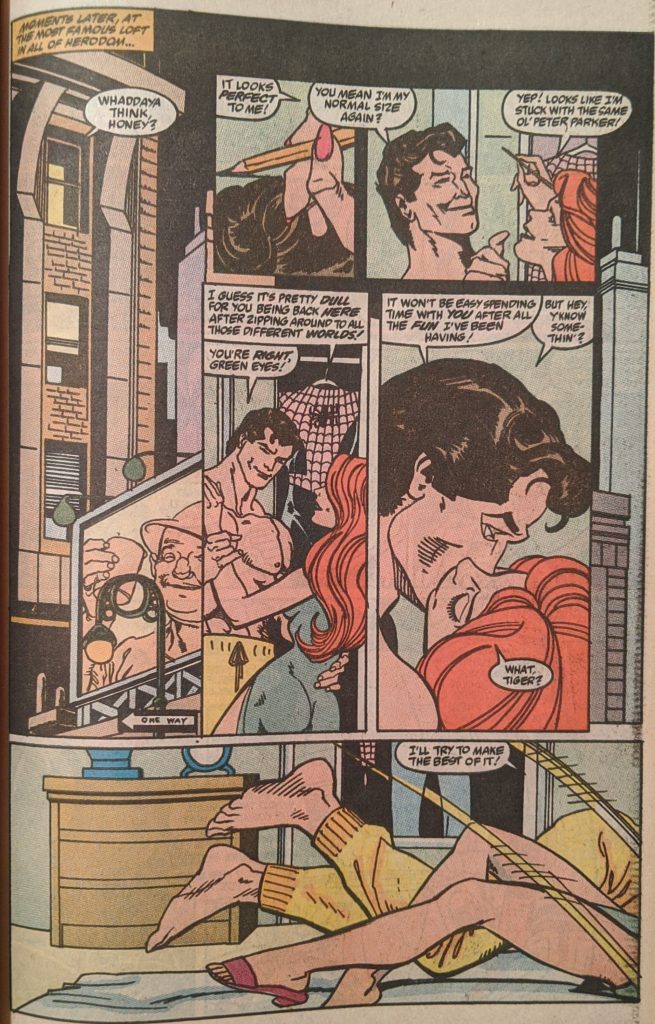 No one's gonna tell us how Ant-Man was involved? That was literally a coincidence? Lame. As for everything else, don't worry. All those heroic aliens say they're too small to go back to their own worlds,but they can use Psycho-Man's shrink ray to go down into the worlds he shrank as defenders. But… Couldn't they use the same technology to go big? I dunno, whatever, the end. Next up, the 70s team of Conway, Andru & Esposito (Joined by Sharen) reunites for an Aunt May story.
Man, Ross Andru's art has changed a lot, and yet he still draws a really creepy Aunt May. It was hard to tell what was going on with the credits on his story last issue, but now that he's the only credited penciler, I am really surprised. Gunmen burst in through the skylight as May continues narrating. MJ grabbed her and dragged her into a store as the men opened fire, but there was someone else in that store…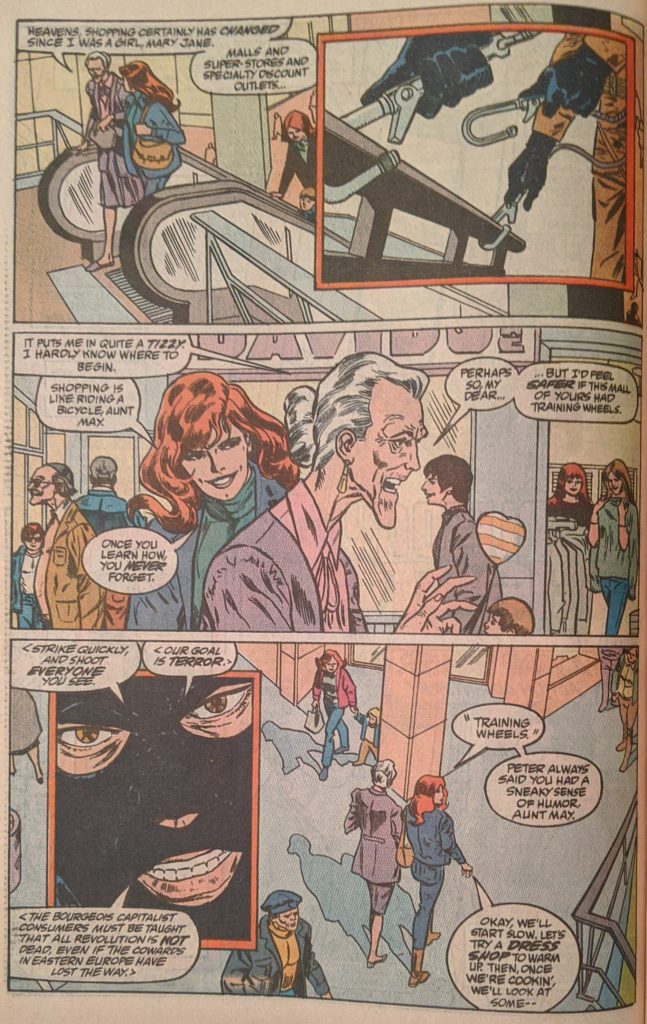 The team that introduced The Punisher is at it again. May watched as The Punisher engaged the terrorists, all shooty and whatnot, until he got pinned down and the leader announced he'd been tailing them for months.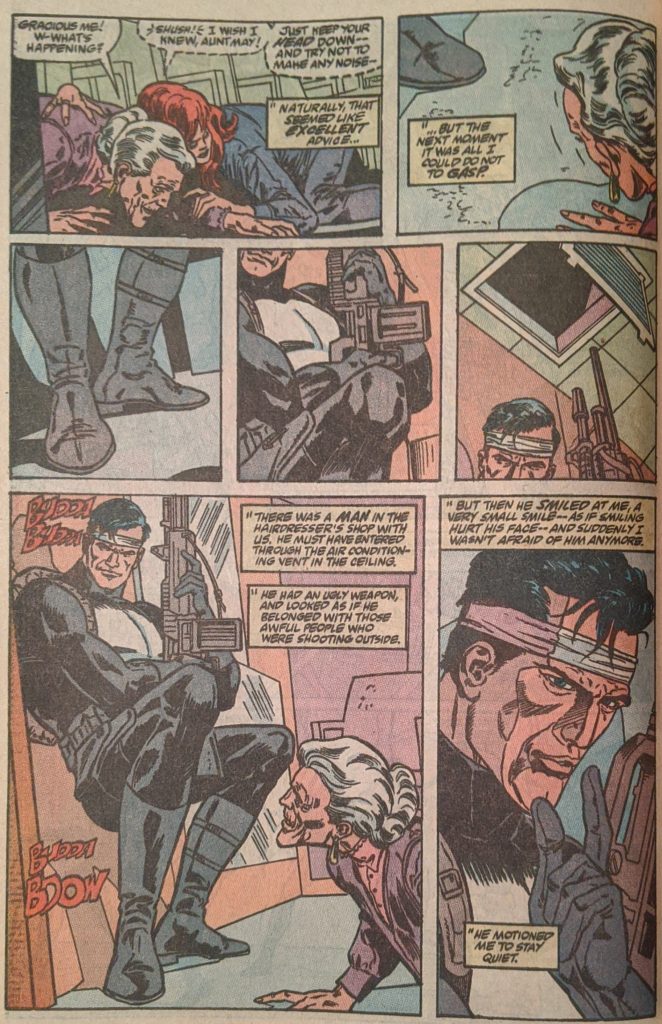 "Fake a heart attack" is page one of the Aunt May Playbook by this point. The distraction worked, letting Punisher kill all the remaining terrorists before running to see if May was ok.
Good ol' Aunt May. Next up, Mary Jane has caught jury duty in a story by Peter David, the great June Brigman, Stan Drake & Bob Sharen, in a story with the very Peter David title "11 Angry Men and 1 Angry Woman." And lemme tell ya, MJ has taken the 80s powersuit to new heights.
We learn MJ is the sole guilty vote on the jury, then flash back to jury selection, where she learned Spider-Man was involved in the case. Back in the present, that one douchebag tries to assault her again (How can this be happening?) and is once again restrained by the others, and she suggests they review the court transcripts again.
So the case is this guy robbed a jewelry store and is on trial for it, but he testified that he was just walking by and saw Spider-Man robbing the store, and that, when spotted, Spidey forced the bag of jewels on him and pinned the whole thing on him, MJ, obviously, is not on board. MJ points out that the evidence shows the door to the store was pried open with a crowbar, and Spider-Man wouldn't need one, but they don't care.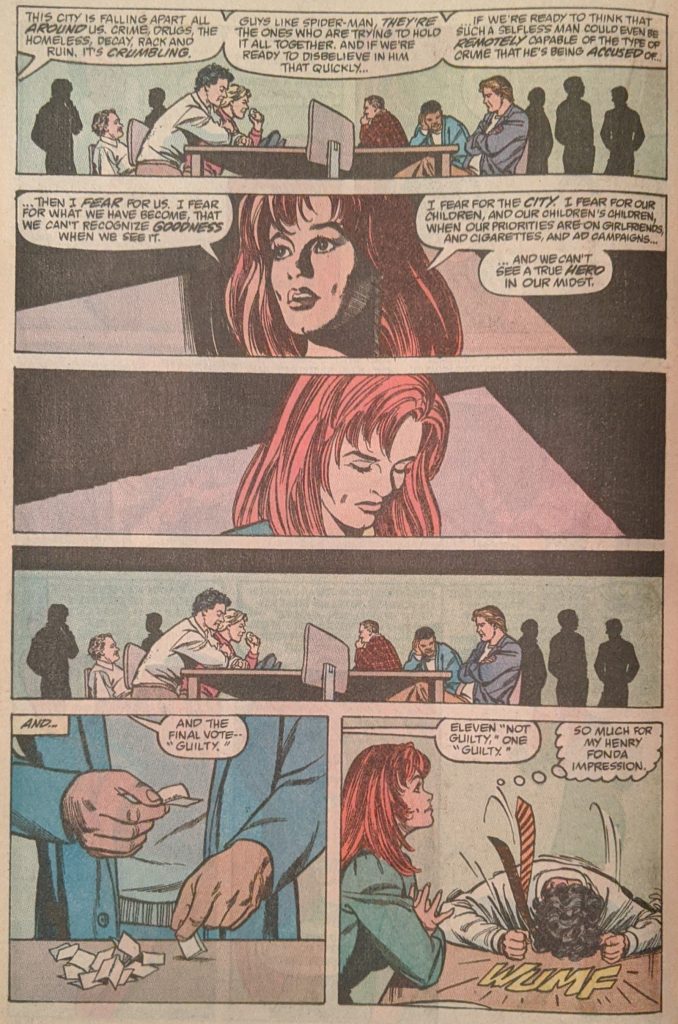 Thus, there is a hung jury. The judge says the lawyers have half an hour to settle or she'll have to call for a new trial. Outside later, that jerk is reunited with his girlfriend, and I hope she doesn't get beaten the next time he's upset, while MJ calls Peter and says she's upset and asks if he can meet her there. Elsewhere in the courtroom, while the lawyers argue, the Treadwell guy is excited, feeling good about his chances, when he sees Spider-Man outside, on his way to see Mary Jane.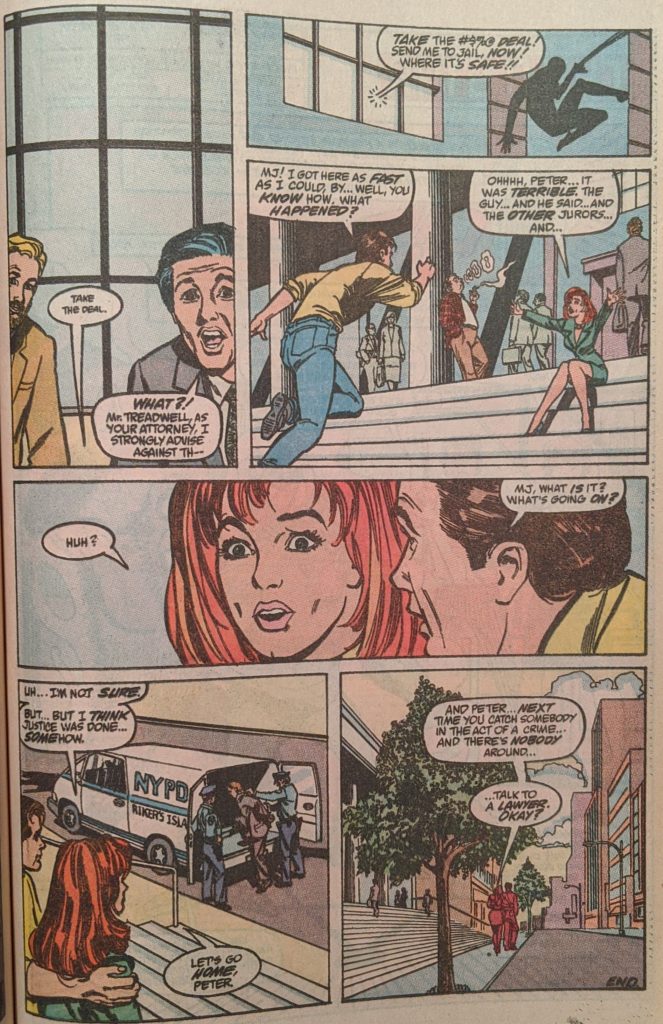 Alrighty. Finally, there's one by Tony Isabella, Steve Ditko & Bob Sharen in which a couple summons some demons in their house, it all goes pear-shaped, and their infant child gains the power of Captain Universe to save the day. Really. It's insane. Man, these annuals can be exhausting. Writing the posts about them takes so much longer. Glad they cranked them all out together this year.