Well, well, look who it is. Marvel Vs. DC may have been the biggest meeting between the two companies, but they had struck up the partnership again in the years prior with such meetings as Silver Surfer/Green Lantern, Batman/Captain America, Punisher/Batman and Batman/Daredevil (Bit of a pattern there). But now we got both companies' biggest individual draws teaming up in this all-Marvel production. And, a pretty surprising 2 years later, DC will produce a Batman/Spider-Man. But that's for later. As the cover indicates, this is written by JM DeMatteis (Which might explain why he's not been scripting recent ASMs), drawn by Mark Bagley (Which might explain why he's not drawing recent ASMs), has not one, but two great inkers in Scott Hanna & Mark Farmer, and colors by "Electric Crayon." Bu the mid-90s, DC had darkened Batman's suit and taken the undies off the outside, a welcome choice (Jim Lee would later reverse it in the mid-2000s). It opens with Peter Parker having a nightmare about the death of Uncle Ben. When he catches up with the killer, he starts laughing. And laughing. And morphing into The Joker just as Peter wakes up. So, that's weird.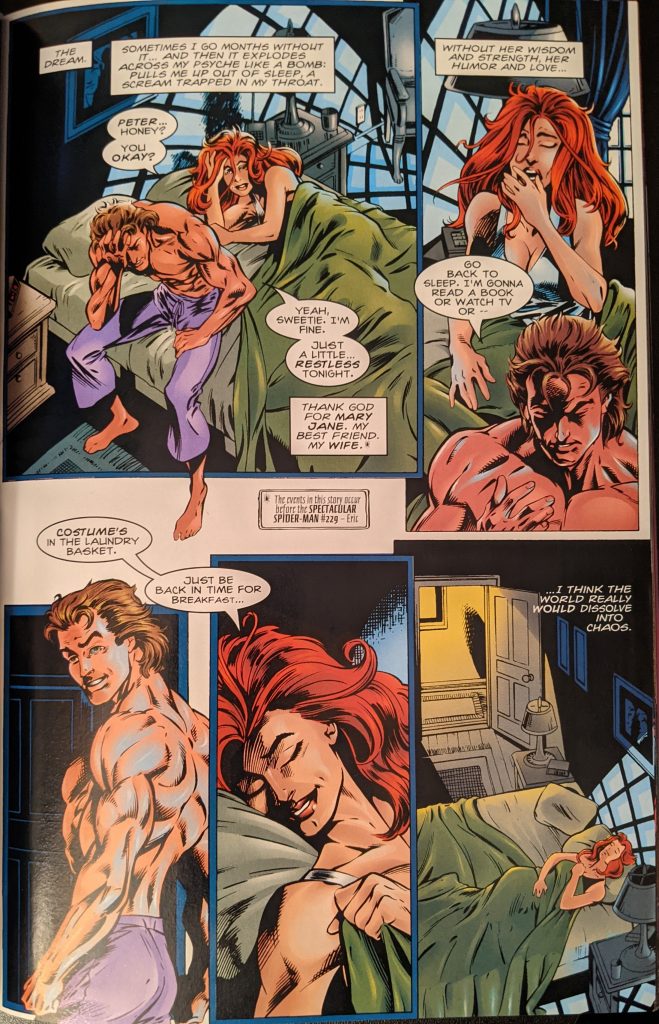 LOVE the seemingly accidental implication that MJ won't be Peter's wife anymore In TAC 229.
I mostly included this page because I've seen this Spider-Man swiped repeatedly since this came out. Cut to Batman having more or less the same dream, unable to save his parents (A bit more surreal since he's there as Batman and not young Bruce Wayne). He leaps onto the killer, and he starts to laugh and turns into Carnage. Again, weird.
Alright, we got the heroes' deals explained in case any reader somehow doesn't know them, and Bagley has 2 splashes I'm sure he can sell for a lot of money, time to get this show on the road. Not totally dissimilar to the quick refreshers in Superman Vs The Amazing Spider-Man, really. Now we're in the real story, as Spider-Man has been summoned to Ravencroft by Dr. Kafka (Her original design long-since gone) because of an increasingly agitated Carnage. Carnage is messing with her, as usual.
Bags designed Carnage, and literally no one else has ever been able to draw him quite right. Spider-Man has never been abe to take Carnage alone (Except, uh, when he can), and things go south fast, but it turns out this was all an elaborately staged chance to test some new microwave guns and their ability to subdue Carnage. The way this institution is run is bananas. "Let's endanger everyone here and maybe in the whole city to make sure our new guns work." Kafka says the guns can stop the symbiote, but the only way to stop Kasady is through his mind. A visitor is not convinced.
I mean, I dunno, this is weird and obviously not going to work out too well, but Dr. Kafka's a complete idiot if she thinks Carnage can be rehabilitated, so who knows. Spidey objects, Briar tries to kick him out of Ravencroft, but Dr. Kafka says no. Briar points out Spider-Man has fought Kassady so many times and he just keeps getting loose. Point to her. But Spidey thinks that you can't just "correct" people, and if this works, he won't be the last to undergo this procedure. Smash cut to The Joker laughing, as usual.
When I say they darkened the suit, they really darkened the suit. Why not just make it black? Soon enough, Joker's back in Arkham, Batman narrating about maybe they're destined to do this until they die, when who should appear but Cassandra Briar, saying she has a process to fix The Joker. Dr. Akham doesn't believe her, but she has proof in tow: A docile, harmless Cletus Kasady. He's so timid he can't look anyone in the eye, and she says it's made his symbiote go dormant. Aall seems totally true, right? So she tells them she's already got "Congressional authority" to do the same to The Joker, and she does. And then she has a press conference featuring both men standing around looking confuded, touting her success. She says tonight, Cleuts & The Joker will be taken to Washington to meet The President (That is ludicrous) to prove this "therapy" should be more widely used. She brushes off the concerns of human rights groups, and that's that for that. But, I mean, of course…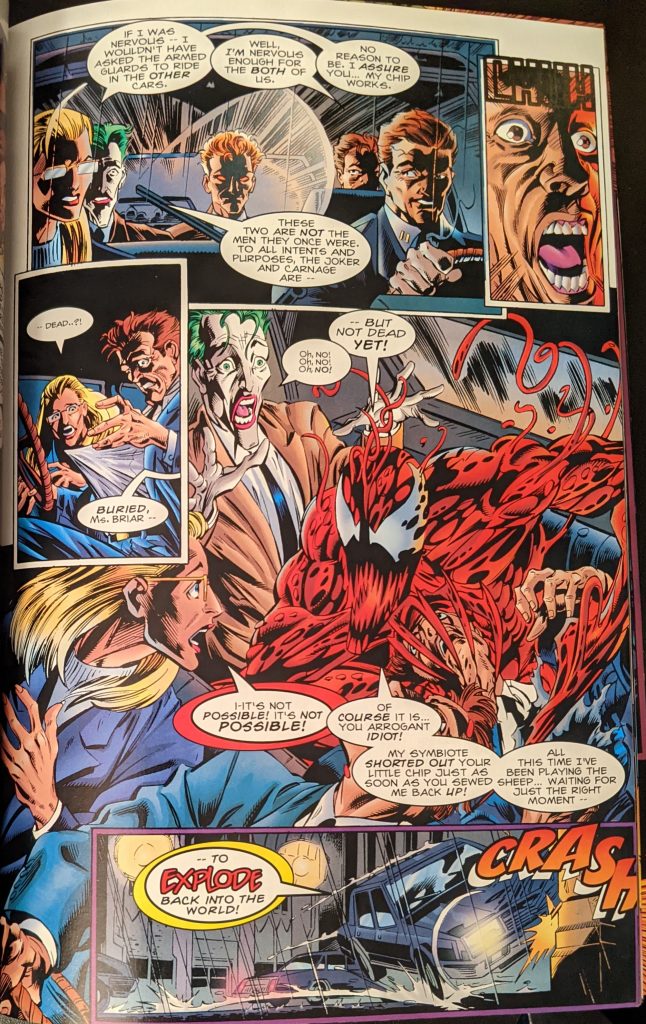 My, what a surprise. Who could've sene this coming? The Joker being genuinely scared is pretty amusing, tho. Carrying Briar & The Joker, Carnage leaps out of the car and is met with the guards from the other car. He tells them he's feeling benevolent and will let them live if they don't bother him. Then one of the guards rips his own face off.
I know Batman is a master of disguise, but how does he get those big ears into his regulaer guy-shaped-head?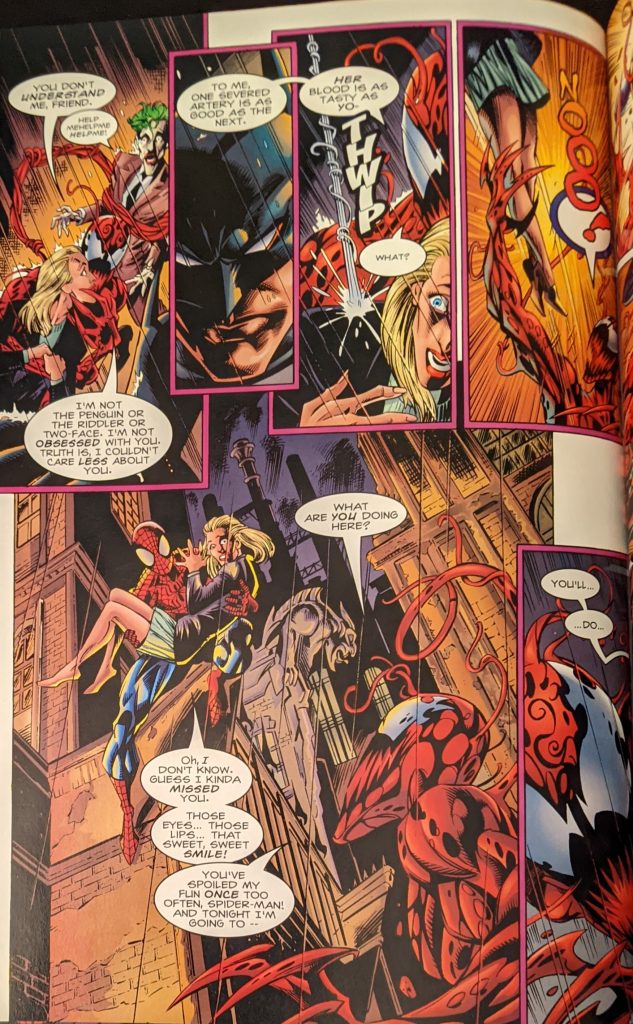 Spider-Man cracking jokes in a "serious" JM DeMatteis comic, as I live and breathe. Batman lays into Carnage, doing a pretty good job of not getting chopped up but not much more. Kasady tells a panicking Joker he's the only one in Gotham who has nothing to fear. Spider-Man dives in, saying Carnage is more in love with the sound of his own voice than Rush Limbaugh. Still love anyone getting a hit in on that guy. Batman, being Batman, doesn't want Spider-Man involved, but he's silly. Carnage shoots darts and tendrils of his suit out to stab and choke the guards, distracting the heroes so, of course…
That's Batman for ya. It's funny to me how he's always all "I work alone! Just me and 15 Robins and Batgirl and Huntress and Commissioner Gordon and The Justice League and–" While Batman is being a jerk, Carnage has the terrified Joker somewheres, and he's running the symbiote up into his nose to "rewire his brain" the same way it did for Cletus and make him normal again. This actually works.
Joker being too insane for Carnage is legit funny.
Oh, no, Batman's getting a Kraven's Last Hunt 2nd internal monologue! Run, Batman! Get out while you can! Alfred comes in seemingly just so the team can do a page with Alfred on it, adding nothing to the story, and then Batman leaves. Meanwhile, Spider-Man is swinging around, beating himself up for annoying a legend in the game (At this point, the idea that they were in separate universes obviously hadn't come up. They made the weird decision to acknowledge this in Marvel Vs. DC despite that making no sense at all). He's thinking about packing it in when yer average, garden variety guy with a knife chases a woman into an alley. Spidey is shocked and appalled that none of the neighbors do anything, presumably trying to contrast Gotham and New York, but what're they gonna do, drop a pot on his head?
(How was he gonna drop the knife if it's webbed to his hand?) Batman rolls up and asks Spider-Man to get in his car. Meanwhile, Joker has taken Carnage to his hideout, where he still has plenty of the virus from the beginning of the book, which he is delighted to start detailing his plans for, but Carnage cuts him off.
That didn't last long, but we're running out of pages. Carnage goes to kill Joker, but he escapes through an elaborate hidden tunnel, and then, being The Joker, blows up the building while singing to himself. I can't really know what JM DeMatteis thinks of these characters, but I think Carnage is one-note and boring, and it's fun to see a superior villain casually outwit him. Meanwhile, Batman apologizes to Spider-Man for cutting him out earlier, saying he's been reminded by "a friend" that studying Carnage's mind isn't enough, and he should go to someone with experience. Spidey tries to make some jokes, and that goes as well as you'd expect. Then they find the rubble of the hideout. Bats says the chips implanted in the villains were tracking devices, and still working. They seem to find Carnage's corpse.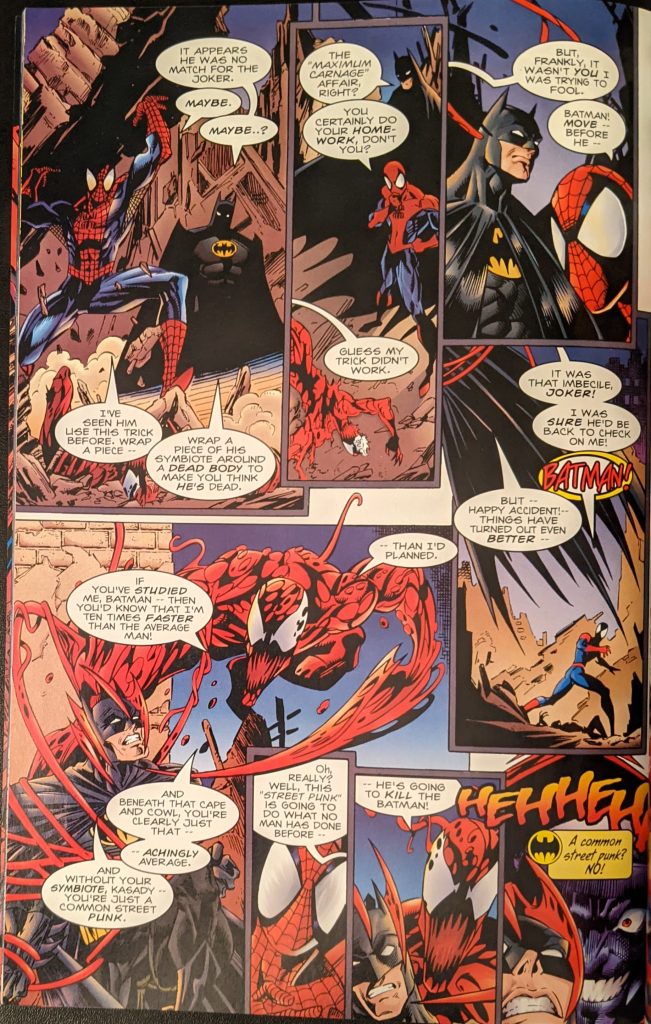 This thing about Joker being Spider-Man's devil and Carnage being Batman's is not landing at all for me. Very contrived. Carnage blinks, actually getting a little scared he's going to die, once again proving Joker to be the top of the crazy bad guy food chain, and allowing Batman to kick loose. With Joker's eyes on that, Spidey is able to web Joker's box out of his hand (To which he responds "Heeey — Good aim!" which is actually pretty good). Cletus is panicking, and despite Batman's internal monologue about how deep down, he's just a scared little boy (As he flattens what is supposed to be Spider-Man's most dangerous foe right now in a single page), I don't get it. Spidey, meanwhile, chases down The Joker, shining his Spider Signal on him and getting a "I hope Commissioner Gordon doesn't hear about this!" Another solid bit for The Joker.
OF COURSE DeMatteis has Spider-Man flip and want to kill someone for no reason. Ugh. He should be writing Joker comics instead of Spider-Man comics. He just knocks Joker out. We're out of room, so all that's left is to flash forward to the villains in custody and the heroes shaking hands and parting as friends.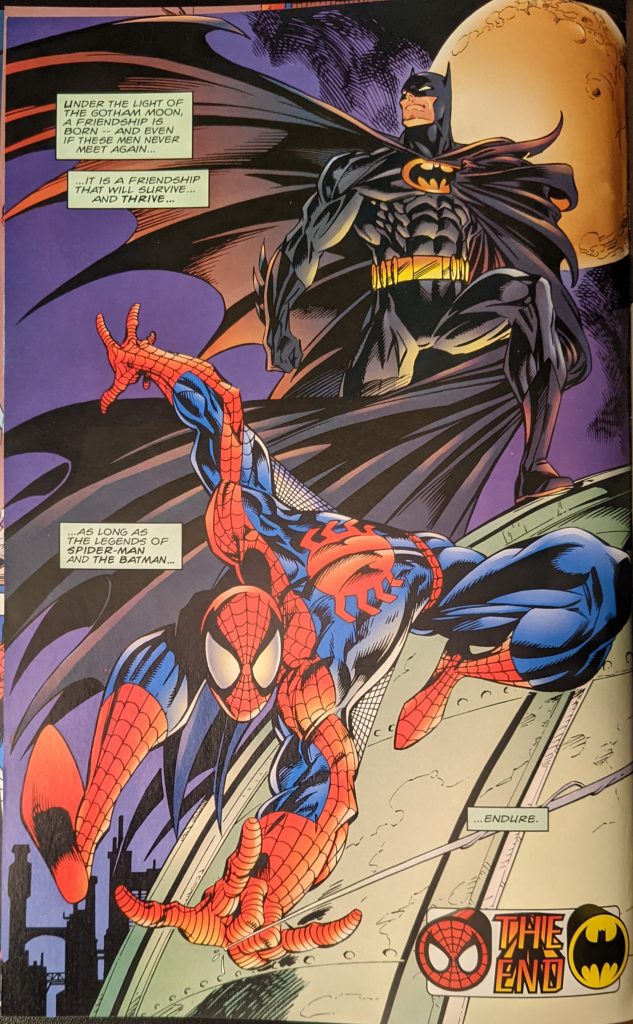 Another page that probably sold for a lot. A lot of similarities to Superman vs The Amazing Spider-Man, really. Their greatest foes teaming up and then falling out and all that. No actual fight between the heroes this time. I guess we're in a more enlightened era. Kinda funny to me that, in the 70s, A Spider-Man/Superman team-up was a meeting of the companies' two biggest draws, and in the 90s, so is this. And in a couple years, we'll see how DC approaches it. For now, wait'll you see the cover of our next comic, you'll love it.