Oh, did Ben Reilly seemingly walk out of the book forever last post? Ha ha. This month is a plot by JM DeMatteis, a script by Todd DeZago, pencils by Darick Robertson (Future co-creator of The Boys), inks by Larry Mahlstedt, and colors by, you guessed it, Bob Sharen. It is so wild how long he worked on the Spider-titles.
That's right, now that Ben has rejected the life of Peter Parker and role of Spider-Man… we're following him. In a book called The Amazing Spider-Man. And his hair got mad long overnight! Wonder if Darick was given Lost Years as reference and nothing "in the present." Ben is furiously recapping the events since his return and so into it that he's not paying enough attention when his bike pops a tire, sending him flying and not just wrecking, but exploding into a wall. What rotten luck. Sticking to a wall above the smoldering wreckage, he wonders if he did this on purpose, to prevent himself from leaving the city he still thinks of as home.
I mostly included this page because Robertson did such a great "Spidey-in-motion" panel there. Ben's swinging takes him right to Peter & MJ's house, reminding him why he chose to leave, and he swings off again, determined to leave them to enjoy the life they've built together.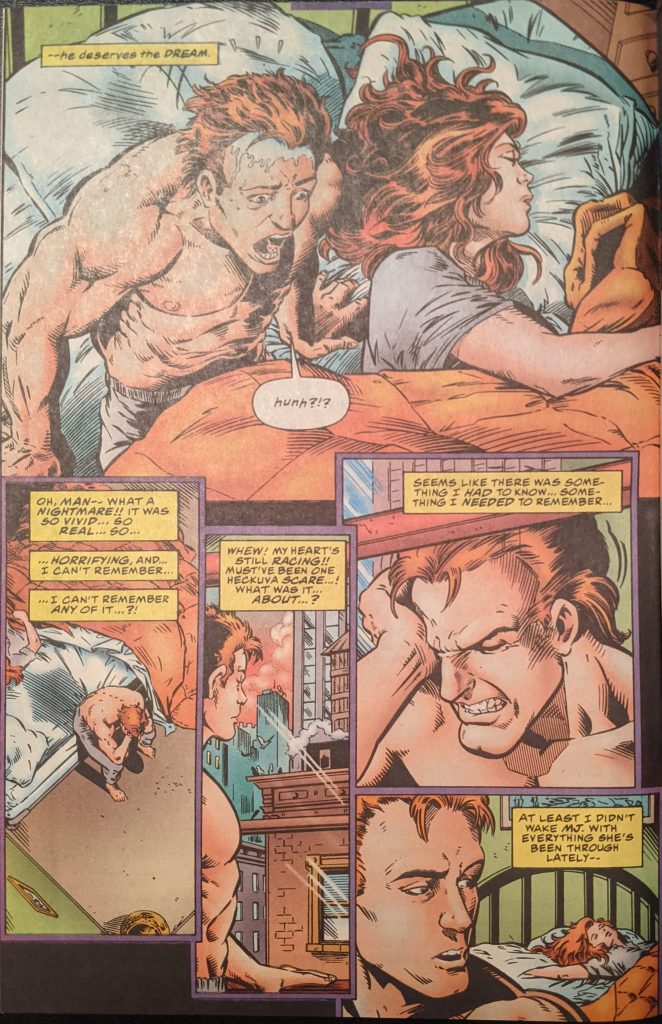 What's got Peter so spooked? Nothing good! As he thinks he'd never let anything hurt MJ, a phone call to Seward Trainer about using his cabin in Vermont serves as narration for The Scarlet Spider swinging through the woods to said cabin. Making a fire, he sits and wonders who he wants to be and what he wants to do as he flashes back to when he first came to this little Vermont town called Rachel looking to sign up as Seward's lab assistant, hoping to use his knowledge of genetics to learn more about his own condition. But on arrival, soaking wet from rain, he didn't have enough money for a room.
The phone call is Trainer, frantically telling Ben to get out of the house. Seward says he has to keep moving or "they'll" find him. Then the house blows up.
Ben rushes to Seward's lab back in New York, finding it wrecked but empty. He thinks he owes Trainer so much and has to help him as he flashes back to their first meeting again, the next day, when Trainer was hanging out with some pals when a fever-mad Ben appeared in the lobby of the hotel demanding the proprietary give him some food or be "beaten within an inch of your life!" Way to keep a low profile, buddy. Seward talks him down a 2nd time, and Ben collapses on the floor.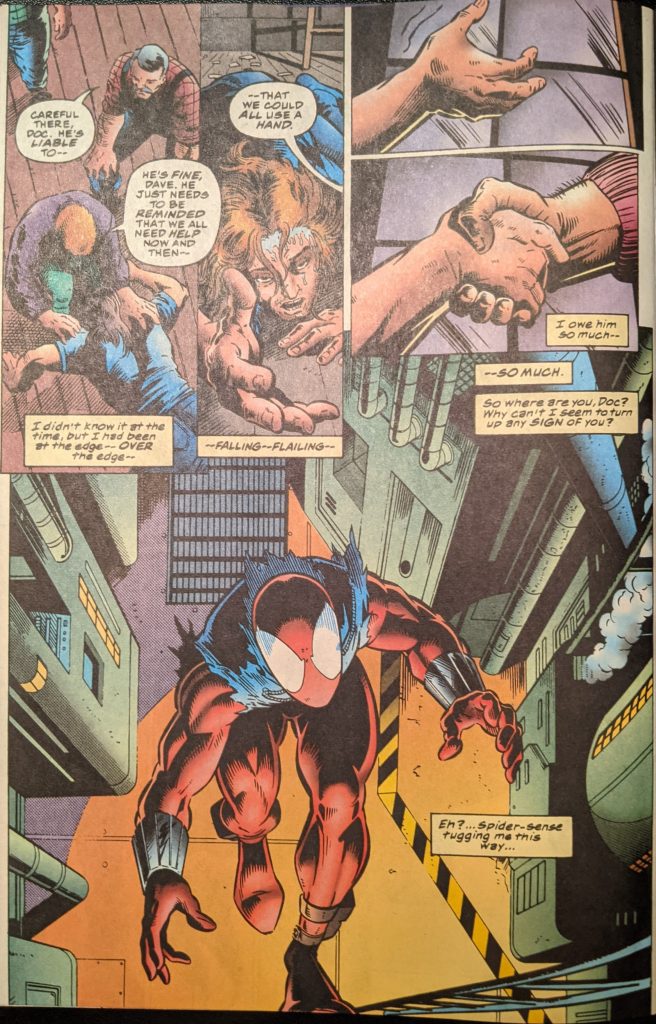 Scarlet finds some really weird robots trying to tap into Seward's mainframe, big metal balls with tentacle arms, and when they see him, they attack.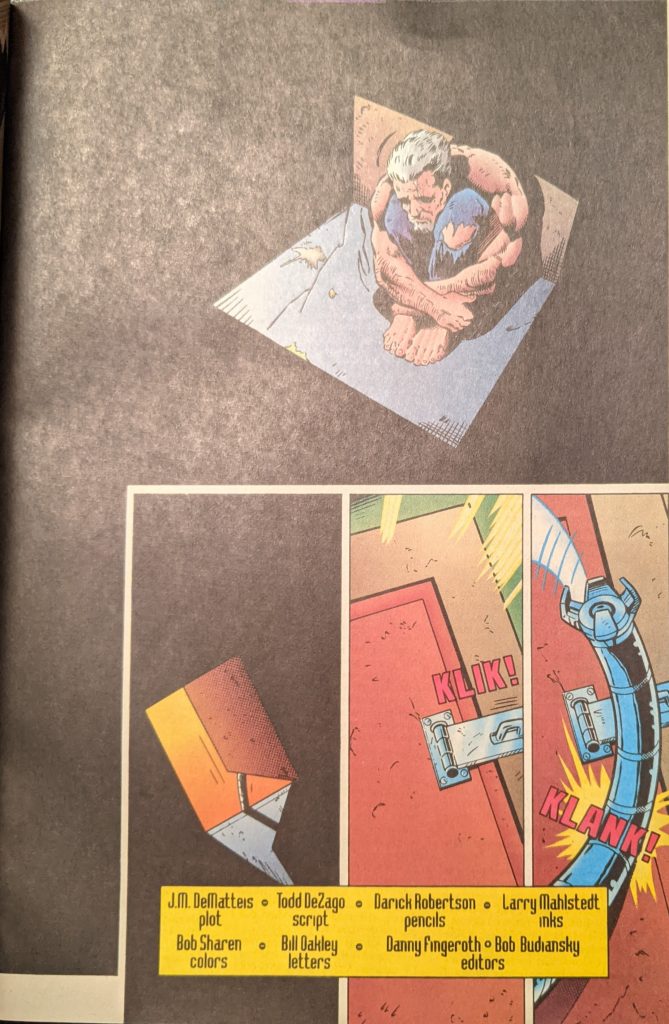 Spider-Man appeared on 2 pages of this issue of The Amazing Spider-Man. In the letter col, people are on ASM 399 and loving it. The ridiculous "maybe everyone's a clone" swerve, the "Gwen coming back from the dead swerve," eatin' it up. Or at least, those are the letters they chose to print. One guy says 399 just beat ASM 361, the debut of Carnage, for the best-ever issue of the title. I do not trust that guy!