It's good to be back to this era of ASM. But maybe not for Spider-Man, by the look of things! Love JJJ's outfit. Like almost every book in this run of ASM, this one was picked up at some comic shop somewhere. Anywhere I could for many years, the first thing I'd do is look for missing pieces of this set. A tickle in the back of my brain suggests I got it at Sincere Comics in Mobile, AL, but I can't say for sure decades on. It's actually bagged upside down. It's Roger Stern, it's John Romita, Jr., it's Dan Green, it's Bob Sharen, who could ask for more? Ok, Green's not actually my preferred inker, but compared to some of the people who've inked JR on this run, totally great. Anyway! This issue is randomly hosted by The Watcher?
Normally you wouldn't see something like this outside of What If? We go to see Felicia Hardy, still in the hospital after getting shot up in TAC 76, but she's doing much better and antsy to leave. Then Spider-Man shows up with a present.
As he swings them across town, Spidey says he has a mission for them: "important papers being held in a certain foreign embassy" that they need to steal, perfect for her skill set. Seems odd, but Felicia is all the way onboard, and soon her beloved is lowering her into the embassy on a web. She easily nabs the documents, and then they're off to a seaside exchange with a government agent, who pays them $500,000 for their service to their country! What luck!
Wah wah waaaaah. But look at those printing presses down there! John Romita, Jr., man. Here's JJJ, really in that hilarious tracksuit. As one of his employees hands him a copy of The Bugle hot off the presses, Spider-Man shows up to taunt him, as he tends to do. But this time…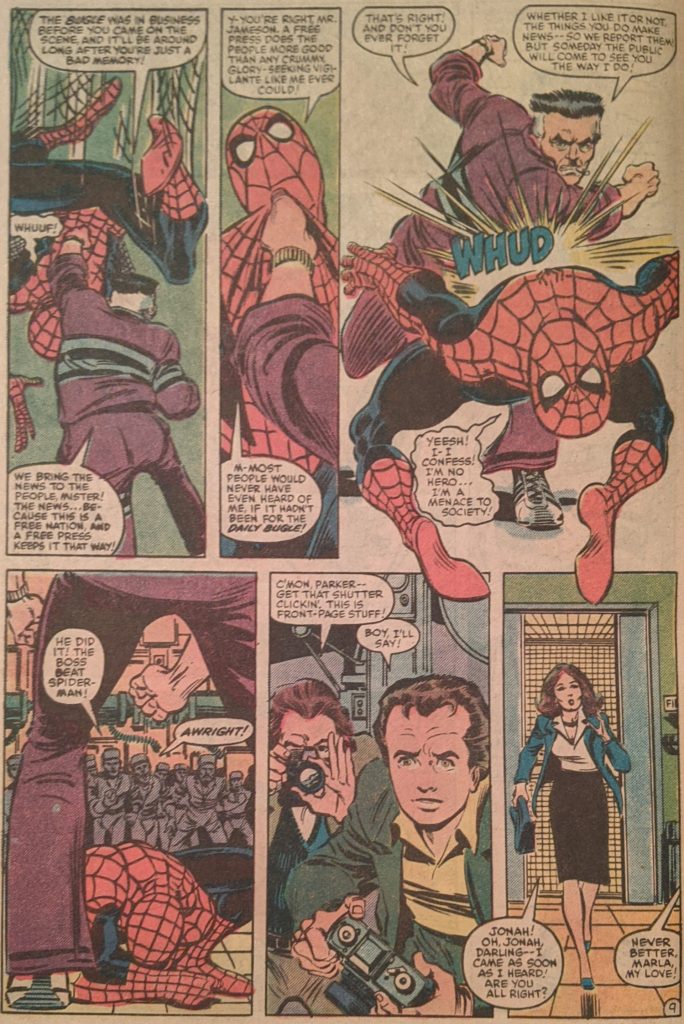 Marla embraces her man, who now has a thick mullet of black hair, as the printing guy hands him a paper with the headline "PUBLISHER DEFEATS SPIDER-MAN." Then JJJ's daydream ends, and he's still holding the paper he had before Spider-Man showed up. So. You see where this is going. As JJJ heads up to his office lamenting that he'll never really be able to beat up Spider-Man, we check in with Mary Jane Watson, on a date with some guy named Greg. They're going to see a show, and MJ says she always wanted to be on Broadway (Is this the first we've heard of that?). She looks up to see the marquee says "Coming Soon: The Mary Jane Watson Story." Adoring fans mob her for autographs. She goes in to see how auditions for her play are going just in time to see Meryl Streep get turned down for the title role.
Is this daydream the first appearance of Gayle and the boys? The internet says "yes."
It is extremely weird that Aunt Anna always says this. Well, we're halfway through the book, seems like a good time to check in with the title character. He's hanging upside down from a building near Avengers mansion, wondering if he made the right choice in giving up on membership. You can have tight continuity like that when it's the same guy writing both books. As he broods about it, he swings away just in time to see JJJ out jogging. And then his Spider Sense goes off.
The 2-headed Green/Hobgoblin is a fun touch. As Spidey beats down all the villains instantly and tells them to smile for the camera, JJJ says he's been wrong about him all these years and even kisses his boot. That image is the front page of tomorrow's Bugle, with the headline "JAMESON EATS CROW." Peter Parker accepts a Pulitzer Prize for the photo, and then Dr. Sloan busts in to say the formula he left behind when he quit school turned out to be "a cure for everything!" and Peter got an automatica doctorate. Then Nathan Lubensky dances into frame, as Peter's formula has allowed him to walk again. But there's no time for our hero to bask in the glory, because Spider-Man is late for his own event.
Even in his daydreams, Spider-Man loses. None of that may have been real, but the nerd randomly being bullied by a gang down below is. Spider-Man drops down and scares the goons off.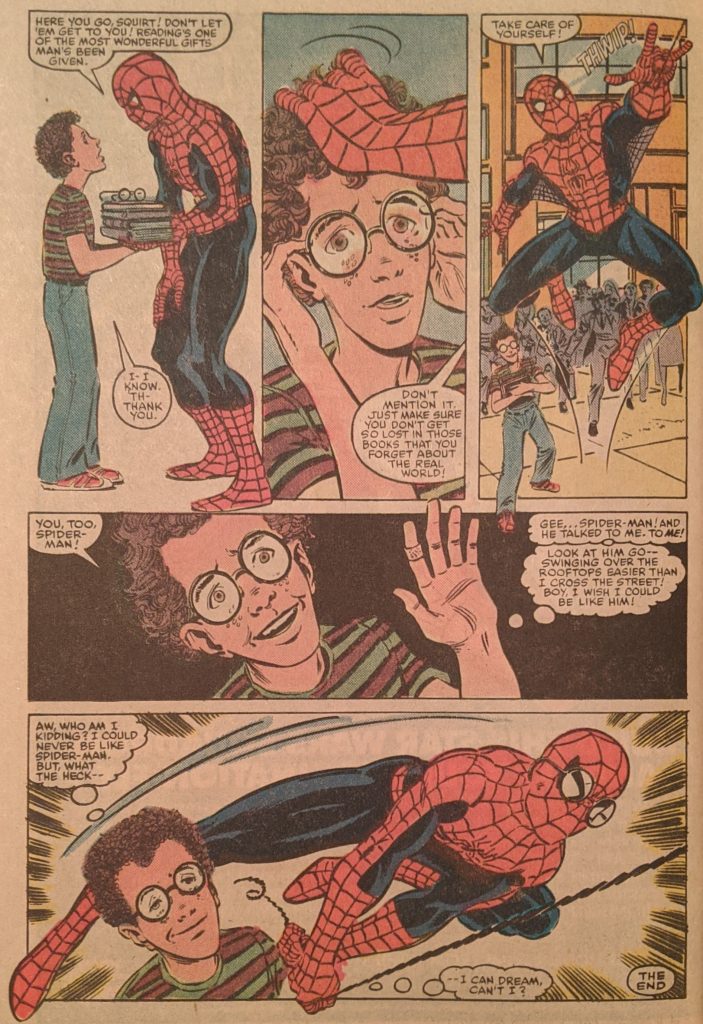 A cute issue, if not a very substantial one. Sometimes fun is enough. But it won't all be fun and games for long. We're back in 1983, and the mystery of The Hobgoblin is raging on. As usual, this issue's letter page has a rundown of guesses…

Some wild ones. Imagine if it really was Jackson Wheele. All this hype and excitement only to reveal Big Wheel behind the mask.