Well, well, well. Who should be drawing this issue but a young man named John Romita, Jr. More than 2 years after his comics debut in ASM Annual 11, less than a year away from his debut as the regular penciler of ASM with 208, a little bonus surprise for me, drawing for Bill Mantlo and inked by Jim Mooney. Let's see how this goes. As we get going, Spidey arrives at the office of Curt Connors, who has summoned him due to a terrible danger.
Mooney is laying on his usual thick coat, but there's no mistaking the nervous energy of John Romita, Jr.'s Spider-Man bouncing around the room at a second's notice. While Spider-Man demonstrates he's fine by hopping around and lifting Curt's desk, Curt secretly activates a radiation spectrometer to analyze Spidey. He's worried that Spider-Man let all the stuff on his desk smash to the floor without even noticing, let alone apologizing. And as our hero takes his leave, Curt's initial tests indicate something's wrong, indeed. What could it be? If you've seen the cover to next issue, it's no mystery, but it could be all kinds of stuff. Meanwhile, a shadowy figure who's obviously Electro arrvies to a meeting in an old warehouse with some other shadowy figures who are very obviously…
…The Frightful Four. So this is how they come to add him to the roster for a sec. I thought the outcome of this meeting had already posted, but it hasn't so, uh, look out for that. I must say, having Electro whup one of the FF's villains in a single page sure shows how tuff he is, but at what cost? How could anyone take these guys seriously as a threat to the FF again when one zappy boy is able to lay them low instantly? Meanwhile, at ESU, Phil, Steve & Marcy see Chip Martin's parents on campus, and we're awkwardly told no one's seen Chip since last issue and also flashback to what happened. With that out of the way, Peter walks up.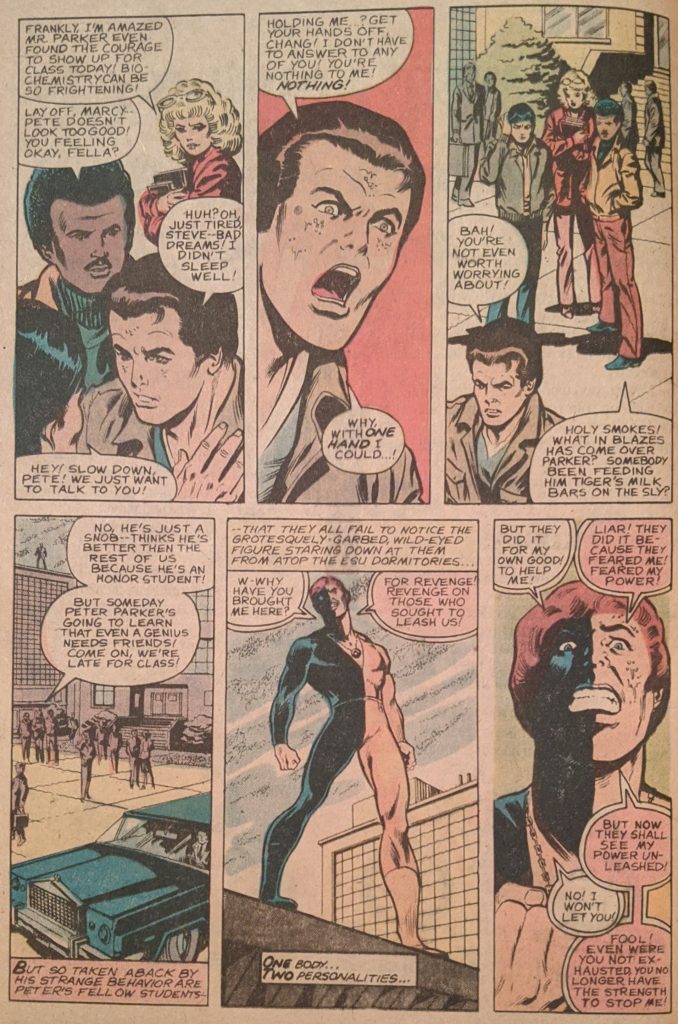 Someday, I want to see a comic where the guy with uncontrollable mental powers that have split his mind and even his face in two takes time to make himself a funny leotard before going off to exact his revenge.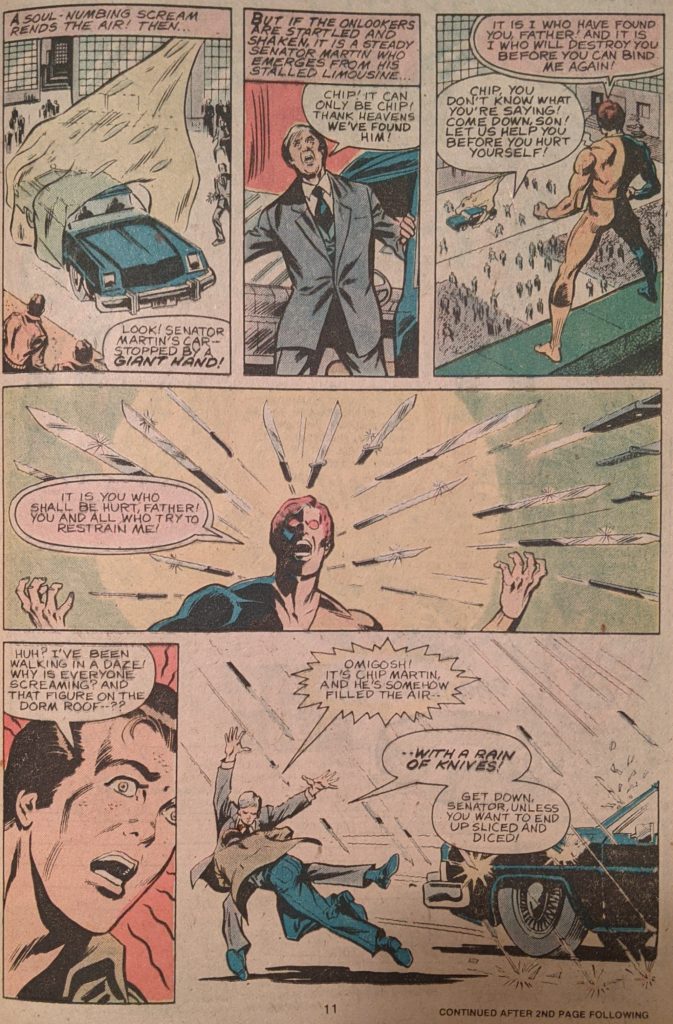 Boy, this is some real generic supervillain dialogue. The ESU gang all see Peter save the elder Martin, and Marcy in particular is taken aback, since she's taken to calling Peter a coward all the time. But then he runs away, confusing her even more. Meanwhile, Doc Connors' full analysis of Spider-Man is complete, and it's bad. "It's as if an invader has entered his bloodstream and begun to wreak incredible havoc!" So the machine that made Doc stop being The Lizard is turning Spider-Man into something. But what? Back at the fight, The Schizoid Man wraps the arriving police up in some conjured tentacles, and is about to use one to make a cop shoot himself when the gun is webbed out of his hand.
Ooooohkaaaay. Spidey makes short work of the ghosts from the 1980s Ghostbuster action figure line while continuing to be kind of a jerk about it. While he does that, we get an origin for the villain:
Good grief, what haven't the done to this poor guy? Experimental drugs, radiation… Not cool! How's our hero taking the news?
Uh-oh. Spidey comes after Chip so aggressively that he's too scared to make monsters, and then Spider-Man just start beating him up in the street as he puts up no defense. Curt Connors runs in and snaps him out of his brutal assault, but Spider-Man feels no shame or guilt. He runs away, saying no one should bother calling him the next time they need help.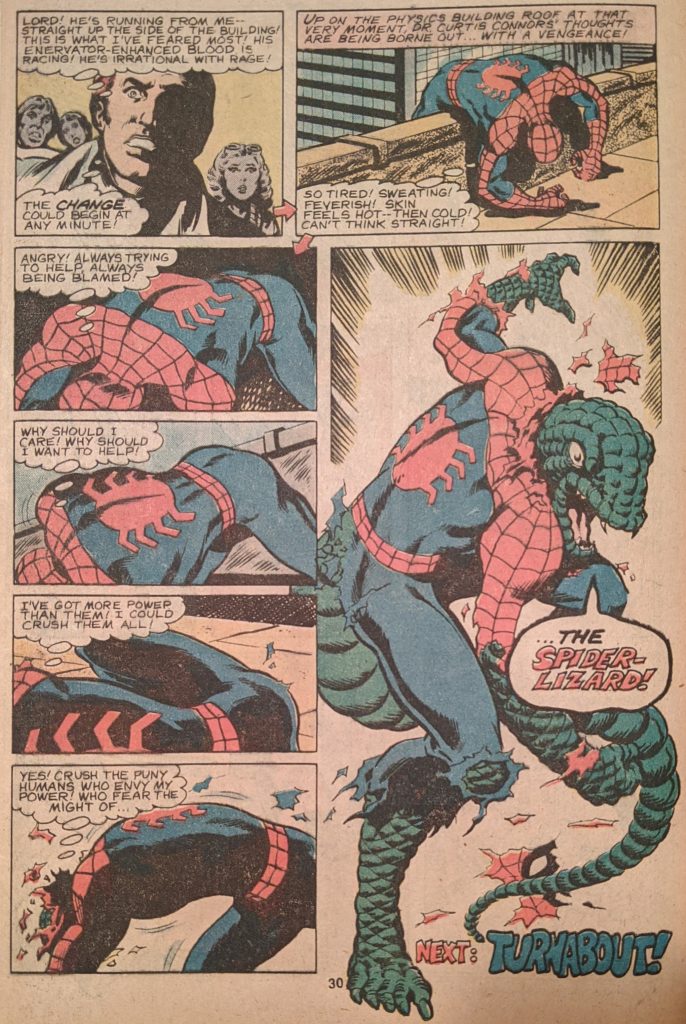 I'm glad Romita was here for this. He can really sell some of this stuff. What could've been a very silly cliffhanger is actually pretty affecting. Will JR be here to see this done next month? I have no idea!