ASM Annual was a book of nothing but reprints for a few years, but this issue is a return to the first story being original content. This one's brought to you by the ubiquitous Bill Mantlo, Don Perlin & Jim Mooney. In the midst of a summer heat wave, Spider-Man sees some cops cars speed past below him and follows them to a big protest at city hall. It's a demo by The Grey Panthers, which, when spelled with an A, was a real life organization campaigning for the rights of the elderly. And guess what, Aunt May is down there swinging a protest sign at some cops! And guess what, she's getting arrested! Spider-Man freaks out and starts to leap in to rescue her, but realizes that would only look bad and maybe terrify her, so he switches to Peter Parker and runs to the criminal court she was hauled off to (After waiting awhile so as not to draw suspicion? Wut?), where he meets Anna Watson & Mary Jane.

"—we shall overcome." They probably shoulda let someone explain what's being protested. And could Peter not have just claimed to be covering the protest? Who would debate him? Weird choice. Anyway, Pete goes to JJJ to ask for an advance to pay for Aunt May's bail, and JJJ yells at him and kicks him out of his office. I don't think Stan's Jonah would've done that under these particular circumstances. MJ tries to console Peter by telling him to come with her to the set of a horror movie where she's been hired on as an extra, "Spawn of the Spider." She must've really been taken with that film set last post!

BLIFISGURGLE! Well, as you might expect, the spider-man falls, catching onto a fire escape that's slowly breaking away from the building, so it's up to Spider-Man to save him. Spidey does just that, but the grateful stuntman and director are cut off in giving their thanks by the irate special effects expert.

Oh please don't let this be a Mysterio story. Spidey had trouble cashing a check way back in the very beginning, causing his short-lived career in entertainment to come to an abrupt end. Spidey swings away and Peter Parker rejoins Mary Jane. Later that night, we meet 3 guys we're told were "master criminals" until Spider-Man put them away, as they meet with a mysterious benefactor (MY GOODNESS WHO COULD IT BE???)…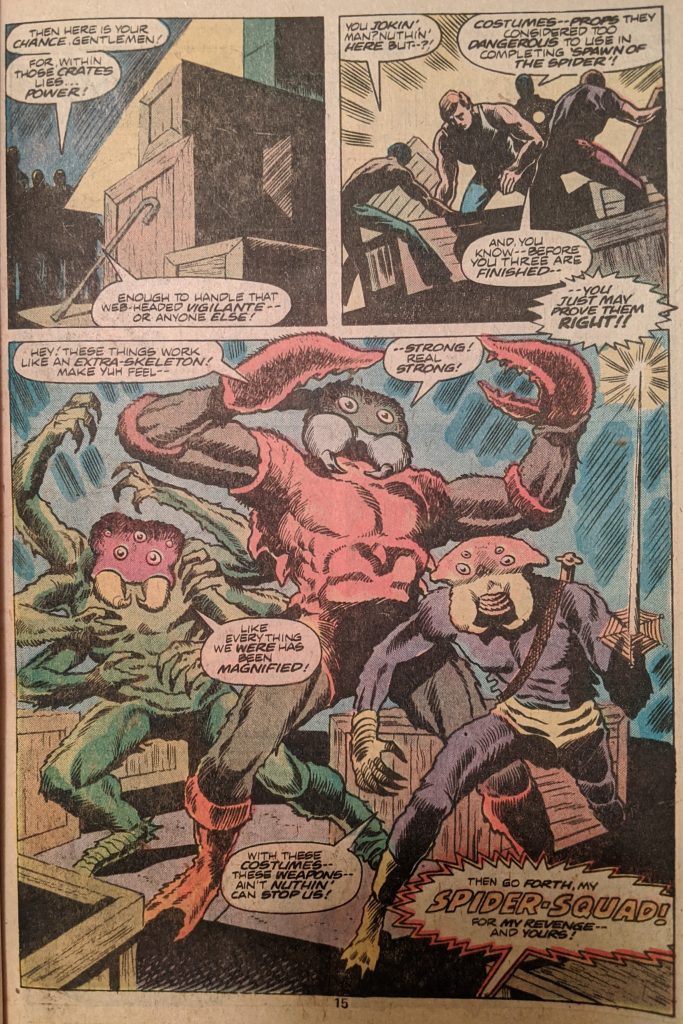 You know what, I take it back, I'd prefer Mysterio. The next day, Spider-Man is about to get into his spider-man costume, being coached by the director, when the set is attacked by the 3 goofballs. Spidey easily trashes 2 of them, but then it turns out the one with six arms can actually use all six arms (WHAT), and pins him pretty good (WHAT).

Has any hero been drugged more often than Spider-Man? As the Spider-Goons escape in a boat (What?), the now groggy Spider-Man dives into the water, missing them completely as they escape. The shaky hero begs off from filming the movie and goes home to rest. That night, rested and having done some research, he goes to Klemmer's hotel room (Some research!), where the Spider-Goons lie in wait like they knew he was coming.

These guys getting serious superpowers from movie costumes is not working for me, man. Spidey gets loose from the big guy, and then one of them sprays him with a sort of webbing (It goes "thwip" and everything) that's just pink goo that buys them time to escape. Sort of. Spidey is out the window before they can get away and puts a tracer on their car, hoping to be led to Klemmer. Spidey follows them to an abandoned farm in Yonkers (That's different), where he sees them run into a grain silo. He decides to go in from the top to surprise them, and bumbles right into a bunch of that webbing (Where are you, Spider Sense?).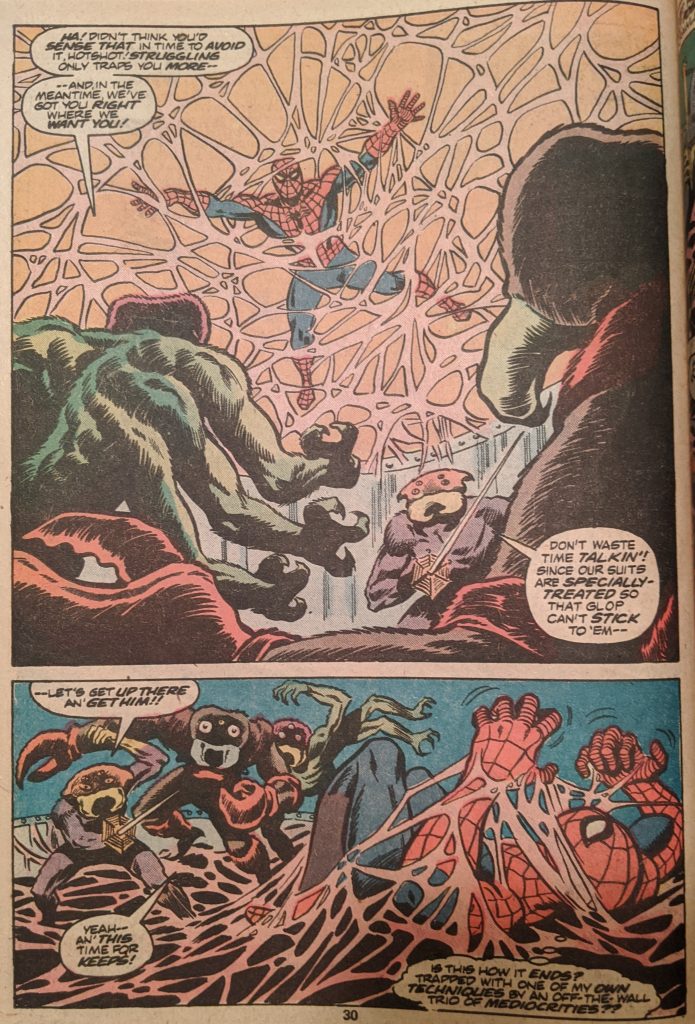 This is absurd. This is peak Mantlo. The 4 spider-themed combatants have an extremely silly battle on the big web, Spidey kicking loose, getting stuck again, and so on, until he starts spinning around in it, which somehow leads to this: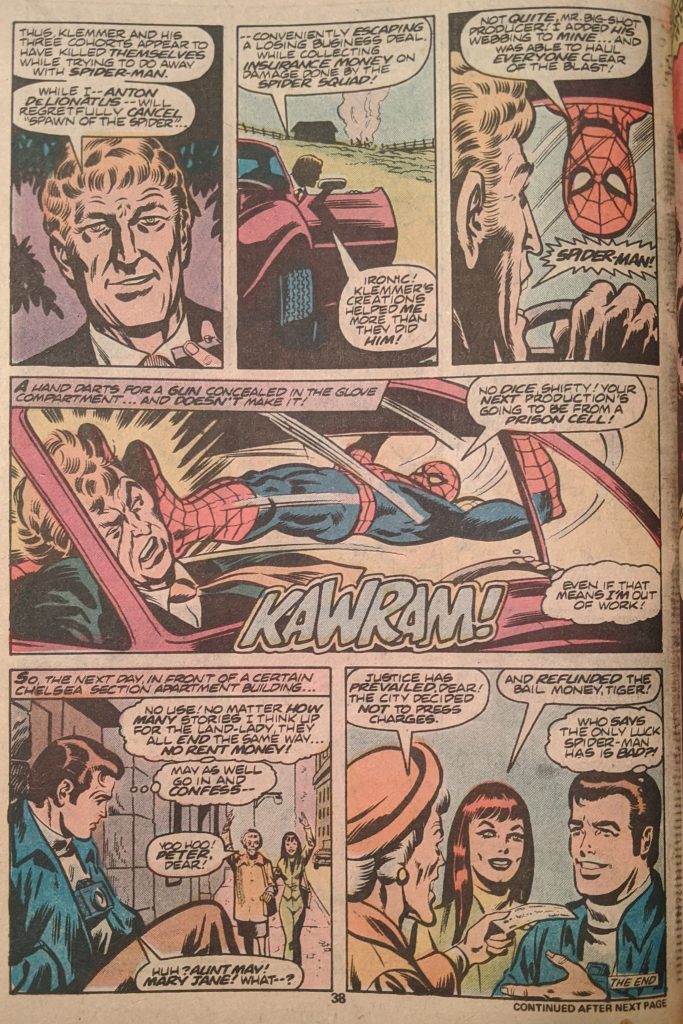 Hoo boy. Ok. Fine. We'll never even know what Aunt May was protesting. Whatever. That was not great! But the book ain't over, and here we have a very special 2nd feature. It's not the most famous Spider-Man story, but this short written by Scott Edelman and inked by Al Milgrom also features…

Yeah! John Romita, Jr.'s very first published job. After growing up with the all-time classic Spidey artist for a dad, what else could he do but comics, and where better to start than with Spider-Man?

Peter tries to sneak away, but the gunman sees him. Before he can get shot, though, Cassidy throws his guitar the would-be assailant, allowing Peter to slip away, and moments later, Spider-Man to appear.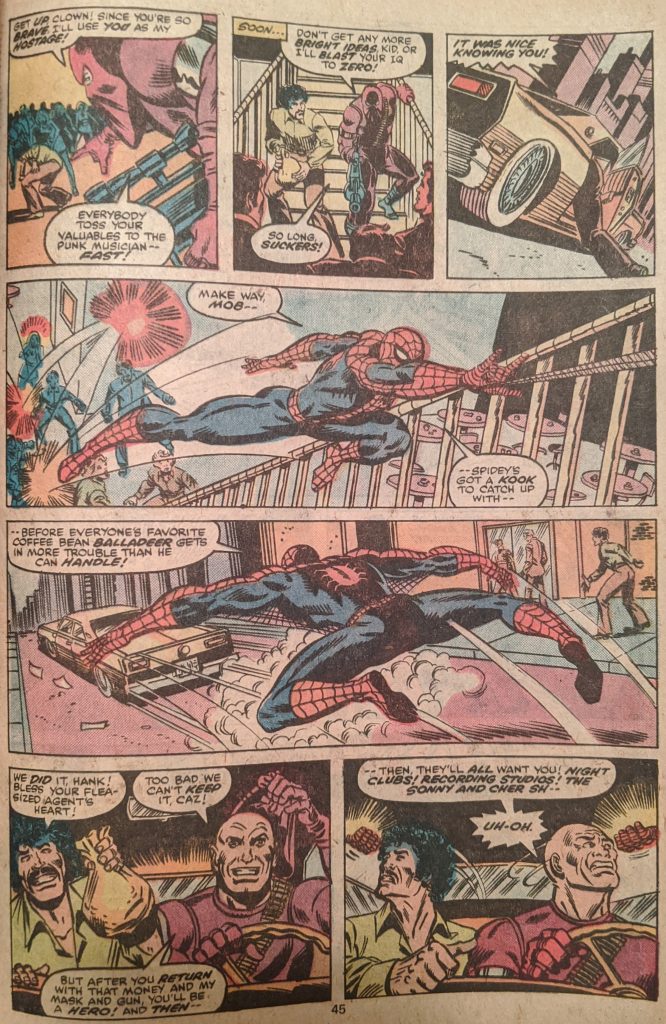 Not the most auspicious debut, sure. And you can't really see much of his style, but he did a fine job. He would go on to a beloved stint on Iron Man in '78 (Where he co-created Justin Hammer, seen previously on the blog). Only 2 years later, he solidified himself as one of the great Marvel artists AND one of the great comics artists period by taking on Amazing Spider-Man AND Uncanny X-Men without giving up Iron Man for 2 more years. I know! He left Iron Man in '82, sticking with ASM 'til 84 and the X-Men until '86, and by then, was unquestionably one of the best in the business. And it all started here. Pretty cool to see.