This month brings the auspicious debut of John Romita, Jr. as penciler. One of the all-time great comics artists, period, in my opinion, JRJR would go on to have an enormous impact on Spider-Man in particular, with memorable runs on the character in 3 decades. And that all begins here with, uh, Fusion, the Twin Terror. Maybe "auspicious" wasn't the word. Denny O'Neil on the script, Al Milgrom & Brett Breeding sharing inks. The first page lets us know this Fusion character was apparently created by fans at a Canadian comic convention… ok… as Spider-Man swings by a traffic jam on the 59th Street Bridge on his way to work. He decides to try to help, but only makes everyone mad at him.
True Spidey luck. Meanwhile, a scientist has decided to operate a dangerous new machine without testing it, and his twin brother, a janitor, thinks that's a bad idea. He does it, anyway, and of course things go wrong. His brother runs in and they begin to merge.
Then Peter, having made it to work, is introduced to The Daily Globe's new Circulation Manager, Rupert Dockery, who immediately says this paper focuses too much on facts. So, this is clearly a Rupert Murdoch analog. The internet tells me that he was buying up newspapers in the 70s, so I guess his reputation preceded him even then. Then Peter is introduced to his new co-head of photography at the Globe: Lance Bannon. Huh. I know Lance as a Daily Bugle photographer in comics coming up pretty shortly after this one. Assuming the weird subplot about Pete's career at the Globe being some kind of plot against him hasn't been dropped (Feels like it has), maybe Rupert "Dockery" is going to run both of them off. It's confusing, but fun, filling in the gaps in my Spider-Man history like this.
Anyway, Pete swings off to visit Aunt May, who in turn is visiting Anna Watson in the hospital. She had gall bladder surgery, apparently. Anna says they just missed Mary Jane, something Peter is happy about, when there's a commotion. Pete runs out, switches into his work clothes and finds himself facing Fusion, The Twin Terror, just like it said on the cover.
Fusion's mere touch sende Spidey flying across the room, and then it jumps out a 6th floor window and lands unharmed on the street.
Cheese a'mighty! They disappear into a subway, where Pinky, the janitor, doesn't want Hubert, the scientist, to cause any more trouble, and manages to separate them, returning them to normal. However, they quickly find if they're apart too long, they grow weak and nearly pass out. Pinky ends up fusing with his brother again to save him from being hit by a train, and then Hubert drives them off to steal all the energy from the Indian Point Power Station (A popular power station in this series). Spider-Man catches up with them, causing his 2nd traffic jam of the day as they drain the energy from all the cars on the street. Spidey tries a few gimmicks to stop them, but to no avail.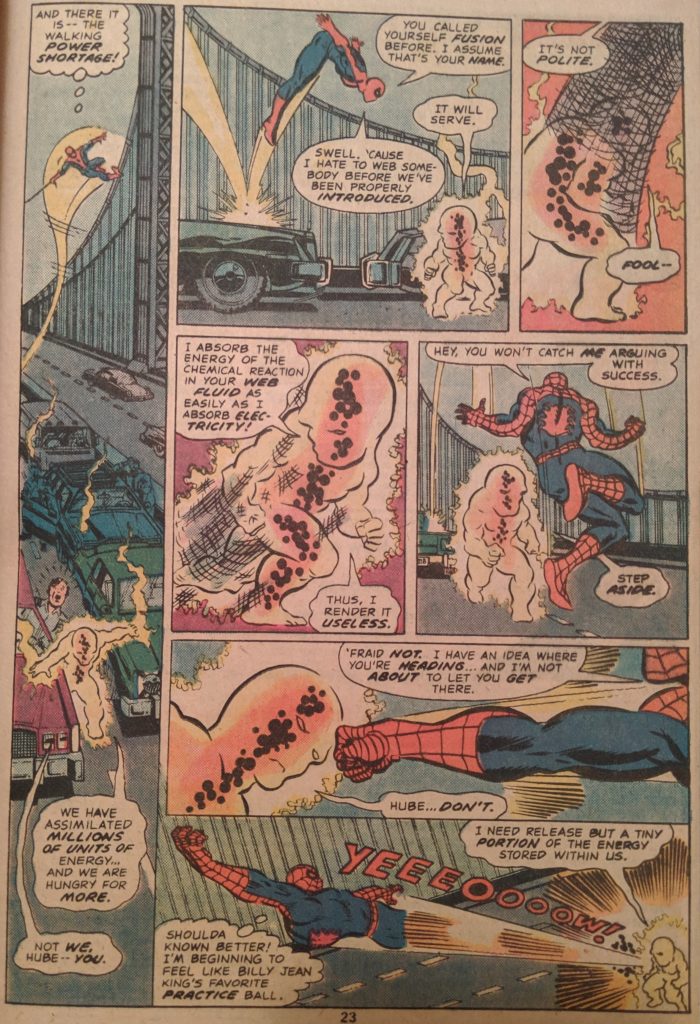 Weird one. Abrupt ending. Charting the dramatic artistic evolution of John Romita, Jr. is pretty interesting. He's still pretty early in his career here, and he approaches Spider-Man with a mix of his dad's style and Keith Pollard's. And yet, there's already unmistakable tells and personal tics in the drawing that it's JRJR. Pretty cool.