This month in credits, Stan Lee is "Author, Editor" (I think for the first time?), Buscema & Mooney share "Illustrators," and John Romita gets "Art Consolidator." Oh… kay. Peter Parker is working on his webbing formula and trying not to think about Gwen when Harry comes home.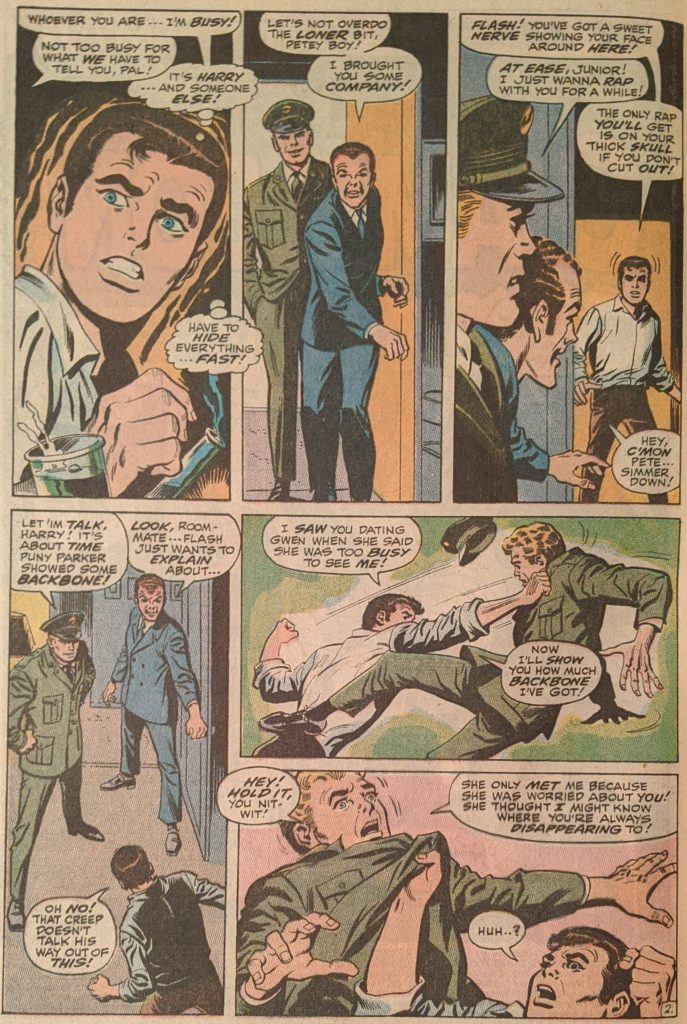 Harry's mustache keeps getting further away from his nose!! Kill it, Harry, kill it! Well, you can certainly see what "art consolidator" really means on these pages. He's redoing most of the faces on these pages. John Buscema is in the top 3 best artists at Marvel right now with Kirby & Romita, and still isn't being trusted to draw the cast of ASM. The same thing would happen to Kirby when he jumped to DC, his faces on Superman were routinely redone to reflect the house style. Imagine telling the greatest comic book artist of all time you're having someone redo parts of his work. Anyway, Gwen offers to let Peter join her at a new museum exhibit this very afternoon, and after thanking the boys, he leaves to do that. Spider-Man arrives at the museum, and Peter Parker walks in, dressed in a fancy suit and everything. He finds his girl, and in panels that may as well have been fully drawn & inked by Romita, they rekindle their romance. But…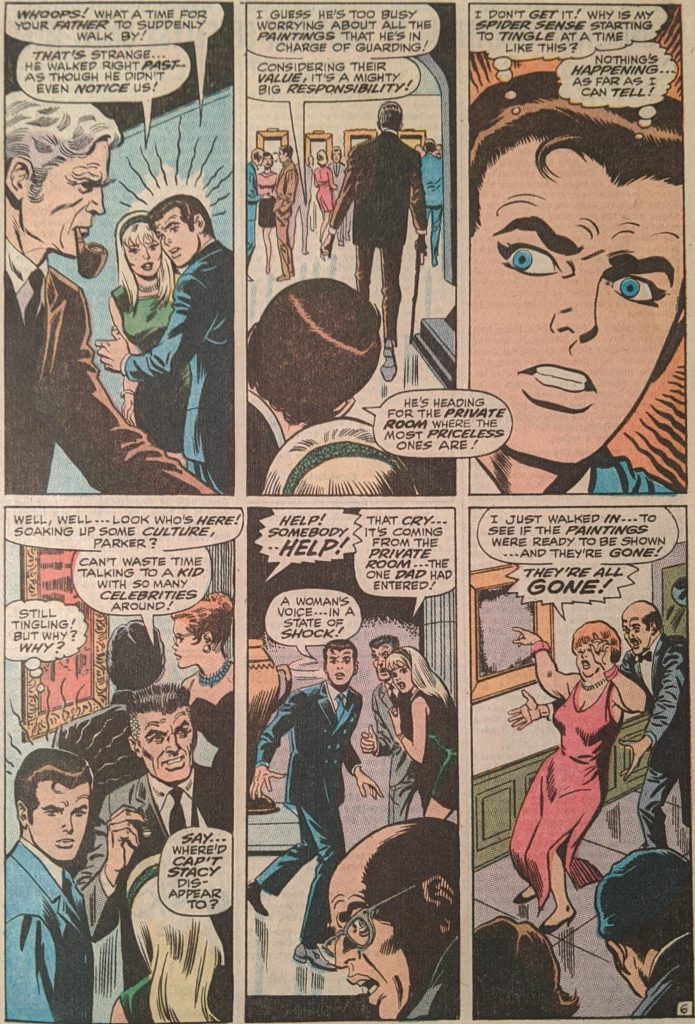 Guards start making everyone prove their identity, and Gwen is worried about her dad, who no one can find. JJJ is huffing around behind them, and soon all 3 of them are in JJJ's car service, Peter hoping to take Gwen home and comeback as Spider-Man, JJJ grousing that no one's even thanked him. But when they get to Gwen's, George is there, confused and saying he never left. JJJ immediately accuses him of stealing the paintings, but elsewhere, another George Stacy is delighted with how things have gone and begins pulling his face off.
While he appeared in a long-ish Hulk story not long before this, Chameleon hasn't appeared in a Spidey comic since ASM 15! Long time! But not quite as long as that caption suggests. I guess even Stan's forgotten Dimitri's role in Kraven's first appearance. Peter leaps up and gets his fightin' outfit on, swinging across town with a plan, and for the first time, but certainly not the last, it involves Joe Robertson. He finds Joe working late, and asks him to plant a story in the paper to help him catch the guy who stole the paintings. Robbie ask if it wouldn't happen to be Spider-Man.
How convenient! It's weird that Stan has Romita redrawing every main character's face in this book except Spider-Man. Peter Parker, yeah, but not Spider-Man. The next day, at the event, JJJ finds Peter taking photos while trying to figure out who's The Chameleon in disguise, and tells him to leave and go look for Spider-Man. This is a perfect segue to becoming Spider-Man and sneaking back in through the air ducts. He finds his way to the meeting and drops down through the ceiling. He yells to The Chameleon that he knows which guy is him, hoping to make him reveal himself, but it doesn't work, and an increasingly panicked Spidey eventually just grabs a guy and pulls his hair, but no luck.
That's fun. Spidey heads outside, hoping to watch as everyone leaves and catch The Chameleon. It's a long shot, but his foe ends up making it really easy for him by impersonating one Peter Parker to make his escape. Whoops! Spidey swoops in to nab his man, but once again JJJ gets in the way, saying he doesn't care much more for Peter than he does for Spidey, but he can't let him hit a kid (Layers, man). He does hit him, tho, as the cops dogpile onto them.
Chameleon drags a dude out of a car and tries to break for it, but Spidey grabs the whole car and turns it over, dumping him out of it like loose change. JJJ again demands Spidey's arrest before he can run away, but a cop points out he could've left any time as…
They wrapped it up in a single issue as promised. I'm impressed by an issue like this. Plenty of time devoted to Peter & Gwen's romance troubles, while the villain also pulls 2 jobs and there's still time for him to get caught. That's a lot of business for 20 pages, but they make it flow pretty smoothly. This months' Bullpen Bulletins mentions John Romita is teaching his son to draw, and it's going great. He was essentially destined to draw comics.