I think it's interesting how many Lizard stories start with "My friend Curt Connors is here, hope he doesn't turn into The Lizard." You know? Like Curt will show up for a couple of issues before he becomes The Lizard, like he did this time. And sometimes, he doesn't turn into The Lizard at all. It's a different dynamic than most villains. He's a ticking time bomb that might not go off, you can't predict what you're getting with the character in an otherwise pretty predictable medium (Especially in this era). That coupled with the fact that he's not used too often (Not seen since ASM 45, not seen again 'til ASM 101) keeps him a pretty exciting character. Salute. John Buscema lays out this one and Romita is totally absent this month, and The Lizard is burst through a wall talking to himself about destroying Spider-Man. 
The Lizard tells no one in particular that he has only one burning desire, to crush Spider-Man, before recapping his last defeat in ASM 45. I guess he's moved on from reptile world domination for the moment. Meanwhile, Spider-Man has just gotten out of a cab with The Connors', and I am sad we didn't get to see how that went. He's taking them to a hotel where The Lizard couldn't possibly find them until he can fix this. As they get settled in, Martha worries that Curt will be hurt or worse, and Spider-Man vows not to harm him as he swings away, wishing he could be so sure.
Unlike recent issues, that single page isn't all the Peter Parker we're getting this month.
George & Robbie wonder if Spider-Man has something to hide as they head into the living room and find Peter there. They want to pick his brain about Spidey, but Gwen says they deserve some time together, and the old fellas leave them be. But George says to come by and talk to him about it when he has time, because he's really interested in Spider-Man's identity. Awkward. Then we jump forward several hours to Peter at home, hearing a news bulletin about The Lizard and leaping out of bed and into action. He follows a trail of destruction, asking random New Yorkers how recently this happened and not getting much help, until The Lizard eventually cuts his webline as he's swinging along. I'm thinkin' John Buscema just isn't familiar with the Spider Sense thing, his issues always seem to ignore it. The Lizard soon dashes down off the roof and right down the side of the building to get into it. Spidey ducks his tail and swings up onto the roof, hoping to gain the element of surprise.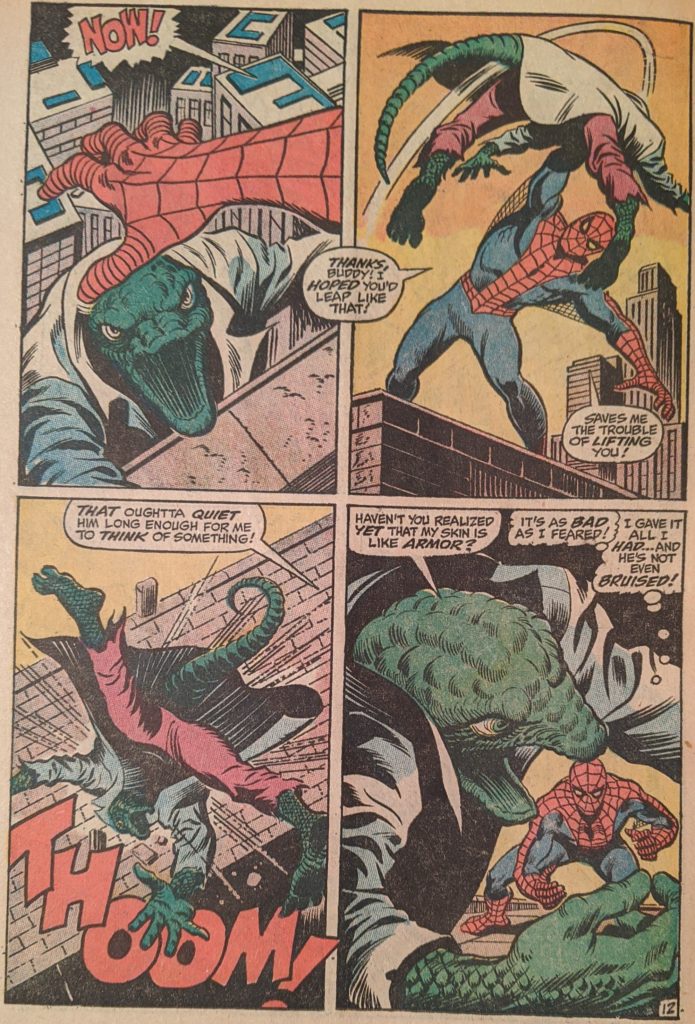 They go at it awhile, with The Lizard getting Spidey's head in a, um, taillock, I guess and throwing him off the edge, only for our hero to swing back in and web his face, but the enraged reptile grabs the web and slings Spider-Man into a brick chimney as hard as he can.
I'd say John Buscema was 2nd only to Kirby in portraying these characters as powerful. His Spider-Man and Lizard and everything else just seem more solidly 3D than Romita's or most other artists. It's interesting to see. And kind of ironic considering John Romita, Jr. would go on to do some of THE most solid, most tangible comics of all time. Anyway, running out of options, Spidey decides his only hope is to pretend to be beaten, and that winds up meaning The Lizard tailwhips him off the building before grabbing his wrist.
Even this cliffhanger is unusual. Who knew The Lizard was such a dynamic character? Torch showing up is quite a coincidence on one hand, but on the other, New York is teaming with superheroes, and it's weirder that this sort of thing doesn't happen all the time. Manhattan isn't THAT big, how can Spidey, the FF, The Avengers, Daredevil, The X-Men and so on not be tripping all over each other? The Bullpen Bulletins in this issue has Stan talking about, since Jack Kirby moved to California, he's faster than ever, and can probably draw yet another monthly next year. This is mid-1969, and Jack is in talks with DC right that second. Whoops. This issue also includes a letter from a dude upset about Stan printing a letter in ASM 72 whose author was happy the ESU riot wasn't a communist plot and putting down the far-right creeps The John Birch Society. He thinks they're good Americans and people should be nice to them. Nothing ever really changes…