More reptile action! It's gonna be hard to smash out with just one arm. My copies of this one and the last are in pretty rough shape, this one especially. I guess maybe since they're the 2nd and 3rd appearances of The Lizard, they command a higher price than I would expect, so rattier copies were the way to go for me. This one's prrrrretty bad, though. Like, the cover came off when I tried to open it. It must've been hanging on by like a centimeter of beaten old paper. It's legible, though, so let's check it out. Spidey webs around with one arm, and manages to break up a pack of goons trying to hijack a semi truck. But he was looking for The Lizard, and this hasn't gotten him any closer to finding him. He ought to try Curt Connors' "laboratory apartment," where Martha's sleep is disturbed by the unwanted return of her husband. Sort of.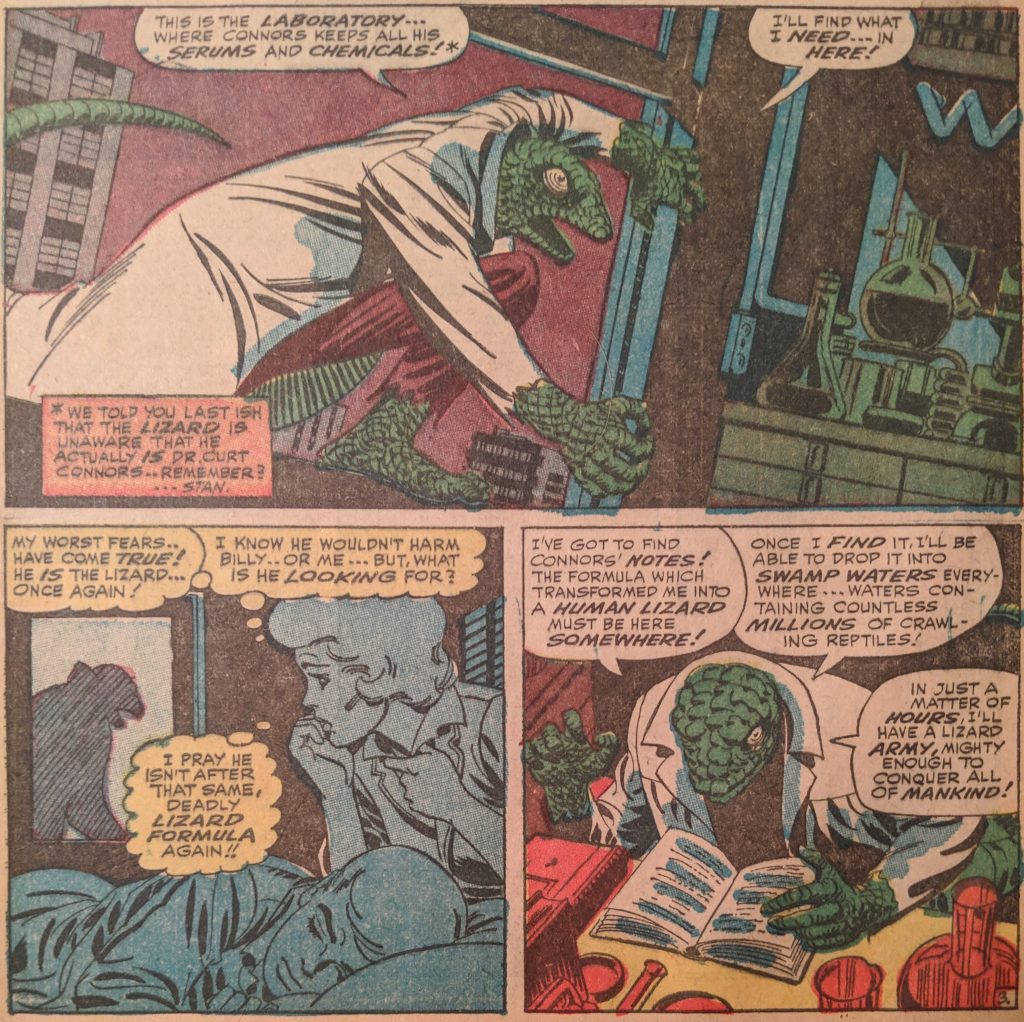 That's actually a pretty intense scene. I bet the horror of it would really be played up in a more contemporary comic. You wouldn't think The Lizard was a "take over the world" kind of villain, but here you go. Interestingly, The Lizard's psychological split from Curt Connors is so severe that not only do Connors' scientific notes mean nothing to him, but he decides to go find Connors and force him to give up the formula. Good luck with that! He leaves, and Martha & Billy are safe, though Martha is probably traumatized for life. The next morning, Frederick Foswell wants to try to follow Peter Parker to figure out how he gets his Spidey photos, but JJJ forces him onto The Lizard story, instead. Peter himself decides he can't just hide and wait for his arm to heal, even though he's worried Peter Parker and Spider-Man having the same arm injury will arouse suspicion, so he goes to school anyway.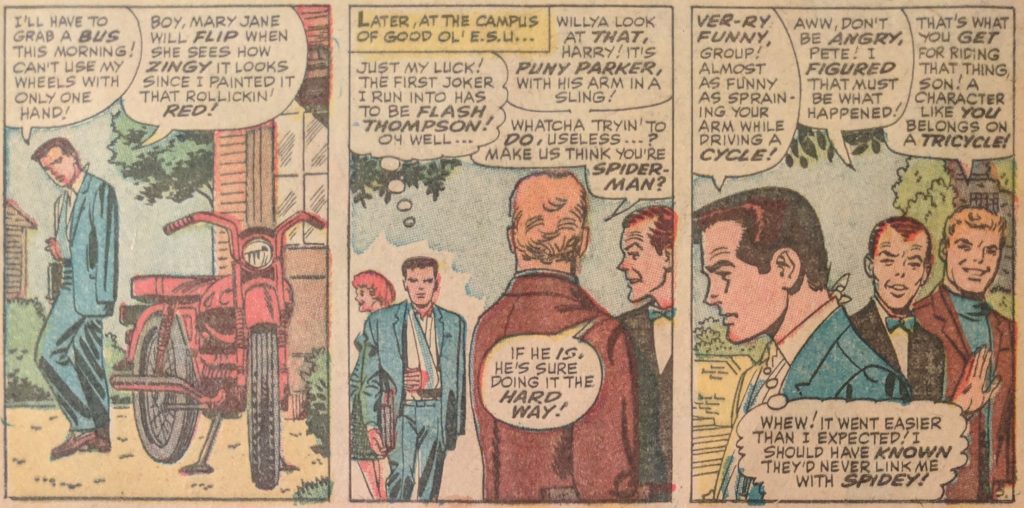 Nailed it. Harry tells Peter Gwen is throwing a party for Flash and wants him to come, and also that he should come work for his dad as a chemist. Two important offers. Peter wonders why he can't stop thinking about Gwen even though they've not really gone out yet and MJ is in his life. Just can't be satisfied, can ya, Pete? Later that night, Spider-Man canvases the city looking for The Lizard, but has no luck… until he decides to check the zoo, where they happen to be having a "World's largest collection of reptiles" exhibit. Guess what.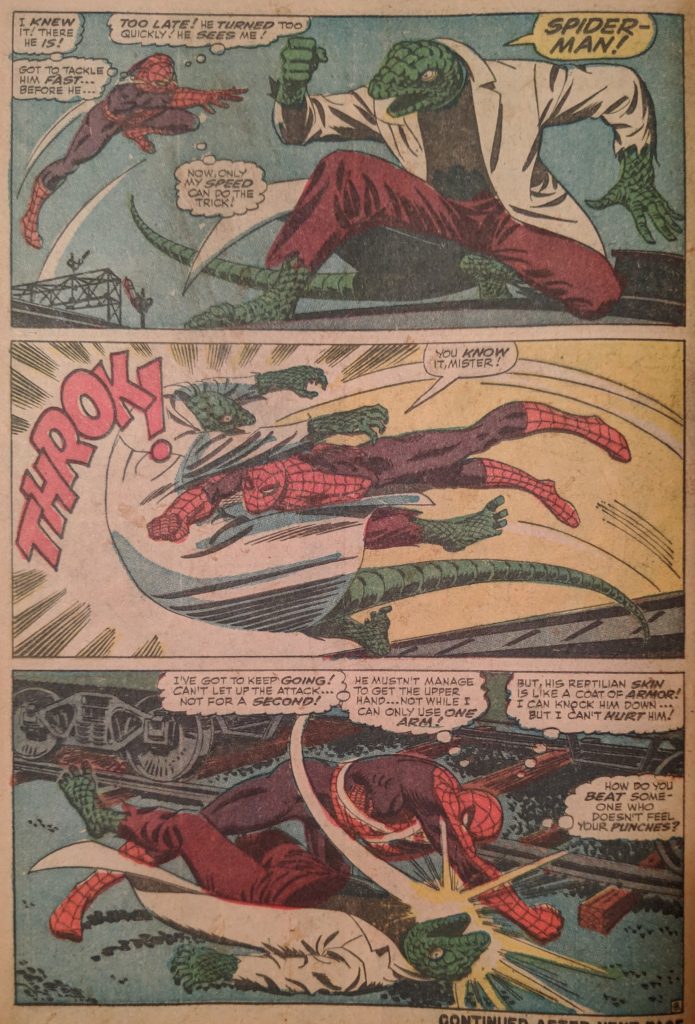 Things go pretty badly for Spidey, though. In a fight that goes on for several pages, The Lizard proceeds to just beat the crap out of him. Then he opens a train car full of reptiles, which he can actually command, so now Spidey's up against an army of crocodiles, snakes and whatnot. Bad times.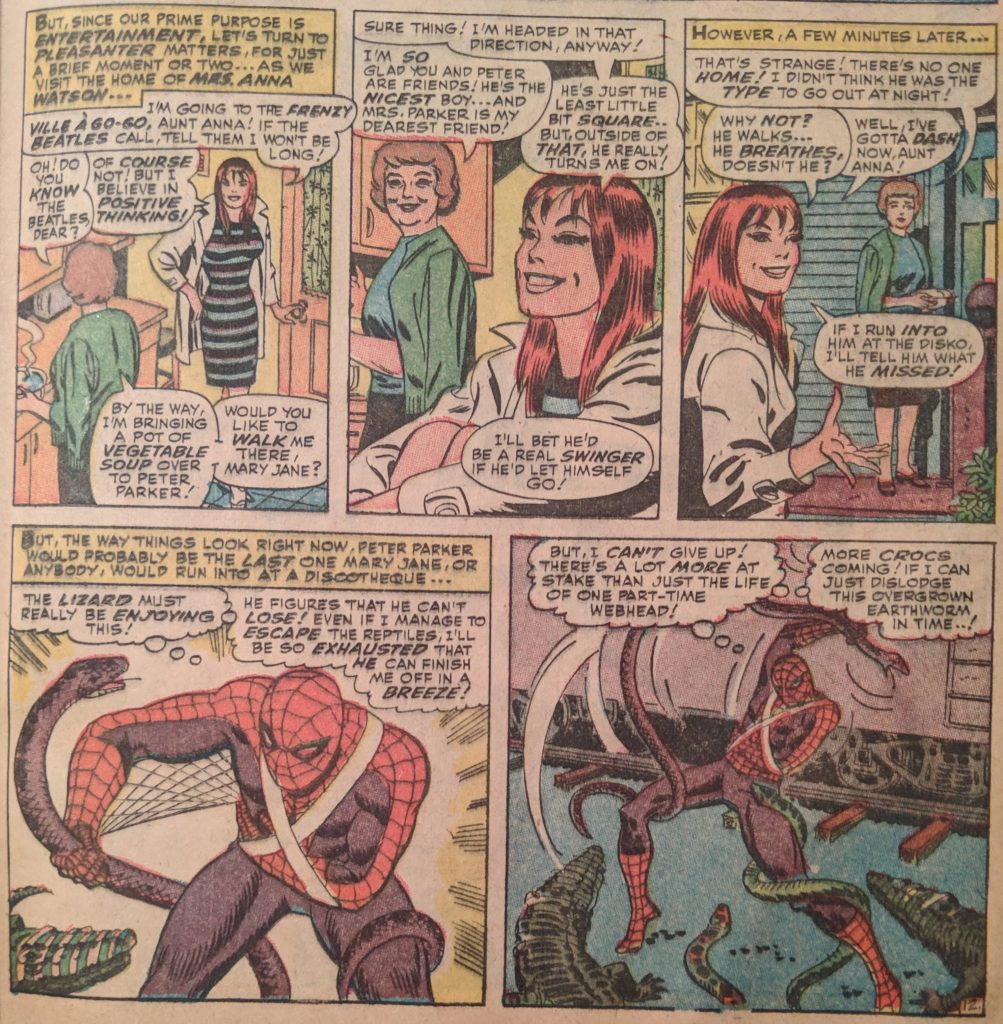 How and why did MJ manage to get into a seated position with her knees up by her head while on her way out the door? Not the most obvious panel-to-panel continuity, there. Spidey grabs a crocodile by the tail and swings it around like a weapon, running most of the reptiles off. But now the train is moving, and The Lizard has packed cars with reptiles to take back to Florida to be his army (I think there's already a whole lot of reptiles in "the swampland," as he put it, but what do I know?).

The keep fighting on top of the train until Spidey has an idea, and locates and lures him into one of the cars.

Good thinking! Spidey webs up his unconscious foe and brings him back to his lab, where he begins working on the antidote. He's successful, and soon the Connors family is reunited. And then… there's this…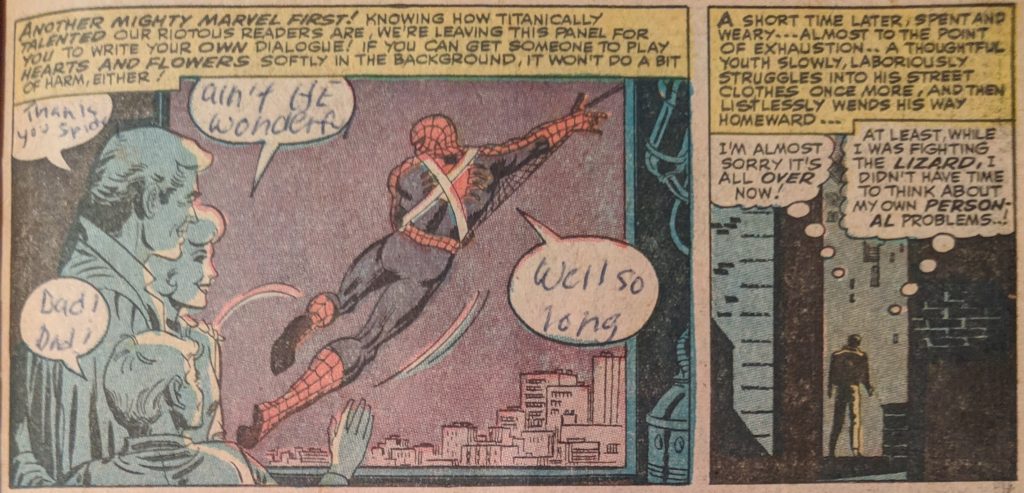 I'll never know who filled this in. Passable dialogue, whoever you were!

Aw, you just have to get to know her, Peter. Aunt Anna catches him on his way in and gives him some food, but he's in too rotten a mood to even eat, ending yet another issue feeling sorry for himself. Across town, The Connors family enjoys their reunion. Curt says he wishes he could repay Spider-Man, but Martha says a person like him probably has everything he could wish for. Because he doesn't! Get it?? The mystery scripter of the above page also wrote the number 5 on the back cover. One of the wackier finds I've had so far. Next time, we see the introduction of another enduring Spidey villain, and a big development in the life of Peter Parker.