Now in full color! I've been wanting to read this for decades! It's been hard not to read it since I got it during The Great Ebay Hysteria of 2018, but I wanted to saved it for its proper place in this big, silly project. And here it is! The weird sort of ghost image of Spidey over the real one at the bottom is the result of a previous owner coloring the origin recap on the inside front cover.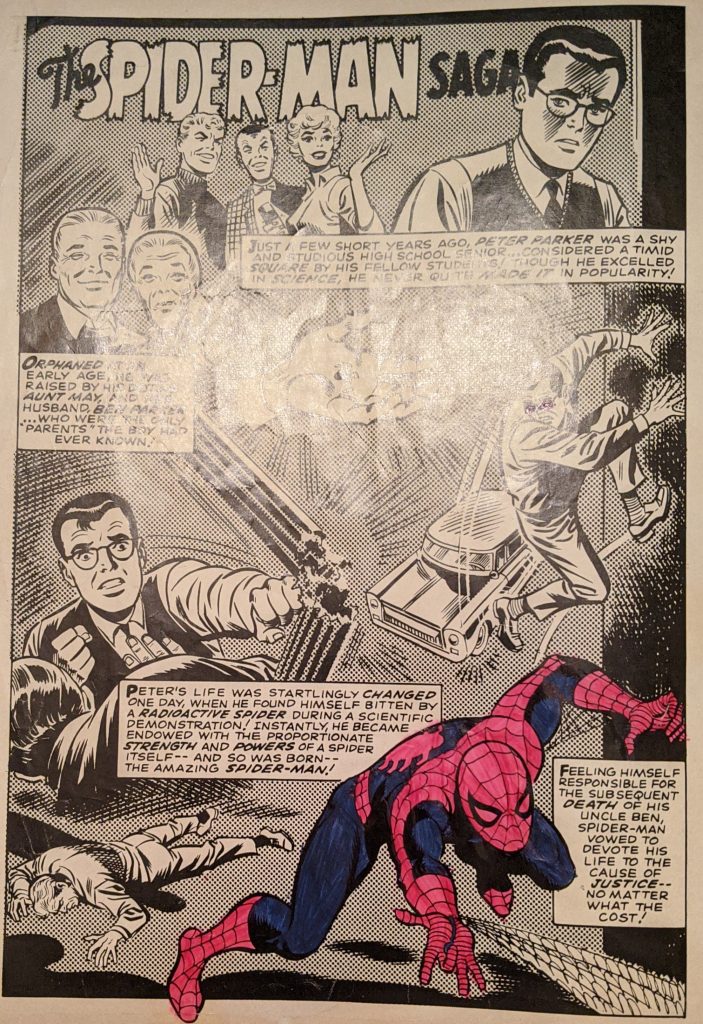 They colored in his glasses, too! So disrespectful. Jazzy Johnny handles full pencils for this one, with inks by Jim Mooney & Frank Giacoia. As with the first issue of the magazine, this one credits basically the entire Marvel staff for something or other, and yet even here no one gets specifically credited for the colors (Tho that's probably what Sol Brodsky's credit under "production and lettering" is for). Color was an afterthought. Anyway, this issue was published the same month as ASM 66, where they teased Norman returning as The Goblin, but obviously can't happen til that Mysterio story ended. As we get going, Captain Stacy is giving a "seminar on the history of super-villains" to the members of The Executive Club, just for fun. Norman Osborn has invited Harry & Peter to this, but seeing a photo of The Green Goblin fighting Spider-Man has made him get sweaty and lightheaded. As he has for many issues of ASM now, he notes he always seems to get this feeling when he thinks of The Goblin or Spider-Man. Peter recaps their history up to a point, how they fought several times, always to a standstill, until their final battle, but he's snapped back to reality by Norman.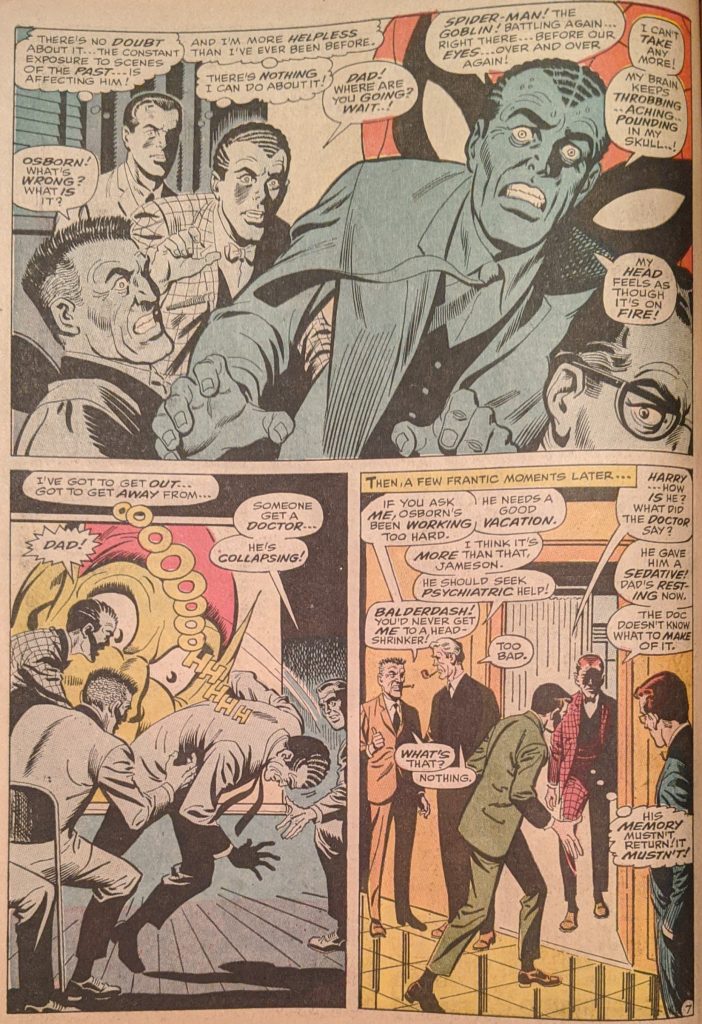 That bit about JJJ seeing a psychiatrist is great. As Peter heads home, he recaps their famous "final" battle in ASM 39-40, wherein he learned Norman had deduced his secret, and they fought a crazy battle that ended with Norman getting amnesia and forgetting he was The Goblin or that Peter was Spider-Man until now. I guess Stan really wanted to make sure you knew all this, we're on page 11 and it's been mostly flashback so far. As he gets home on his bike and finishes his recap, he worries what will happen to Aunt May if Norman ever remembers the truth.
Stan has been running with this "pussywillow" gag for YEARS, at this point. He must really love it.
Uh-oh. Norman bursts out of his hospital room, shoving Harry & Dr. Bromwell to the ground, saying at last he knows what he has to do. He walks almost in a trance to one of The Goblin's old hideouts, the memory still not quite his own until he sees his equipment. Suiting up, he says at last he has a mission: Revenge.
Peter wanders through his day in a fog, and after school, he & Gwen stop by to see Harry and Norman, where they learn Norman took off last night and no one knows where he is. Peter is sure he knows what's up now. Peter takes Gwen home, getting more worried all the time, when a passing kid's paper airplane hits him, causing him to leap into a tree yelling about The Goblin before he realizes what's going on. Soon, he's back home, worrying that even if he can somehow beat The Goblin again without losing his secret, it's still Harry's dad in there, and he doesn't want to do anything to hurt him. Sleep just brings a nightmare of The Goblin unmasking him in front of a horrified Aunt May, so he decides the only thing he can do is suit up and go looking for Norman. Spider-Man checks every Goblin safehouse he knows with no results.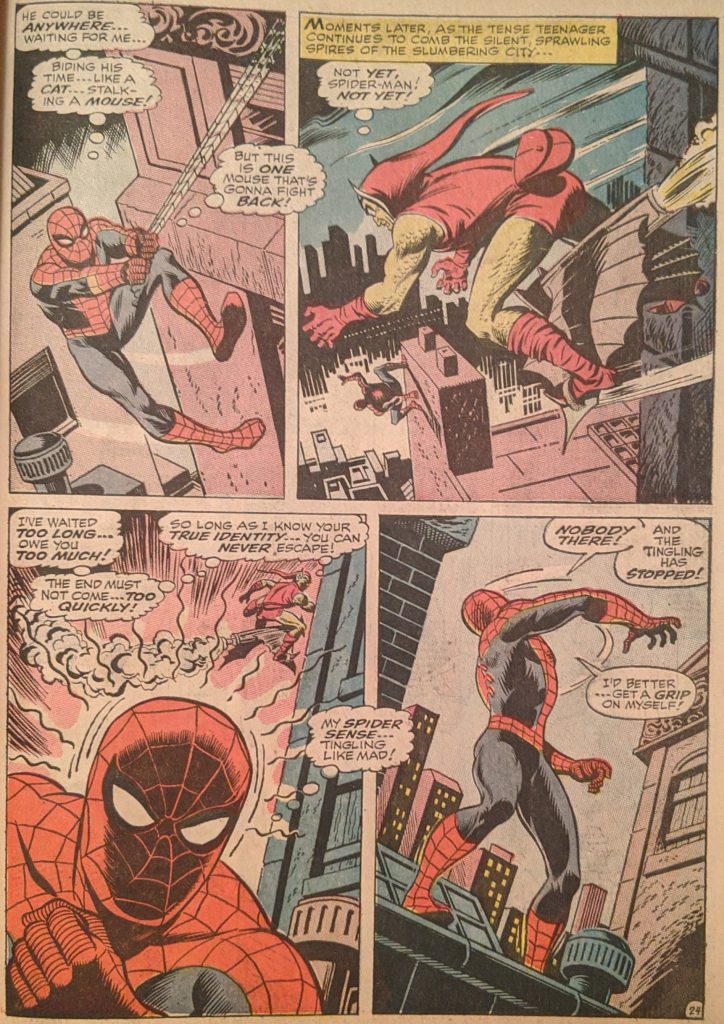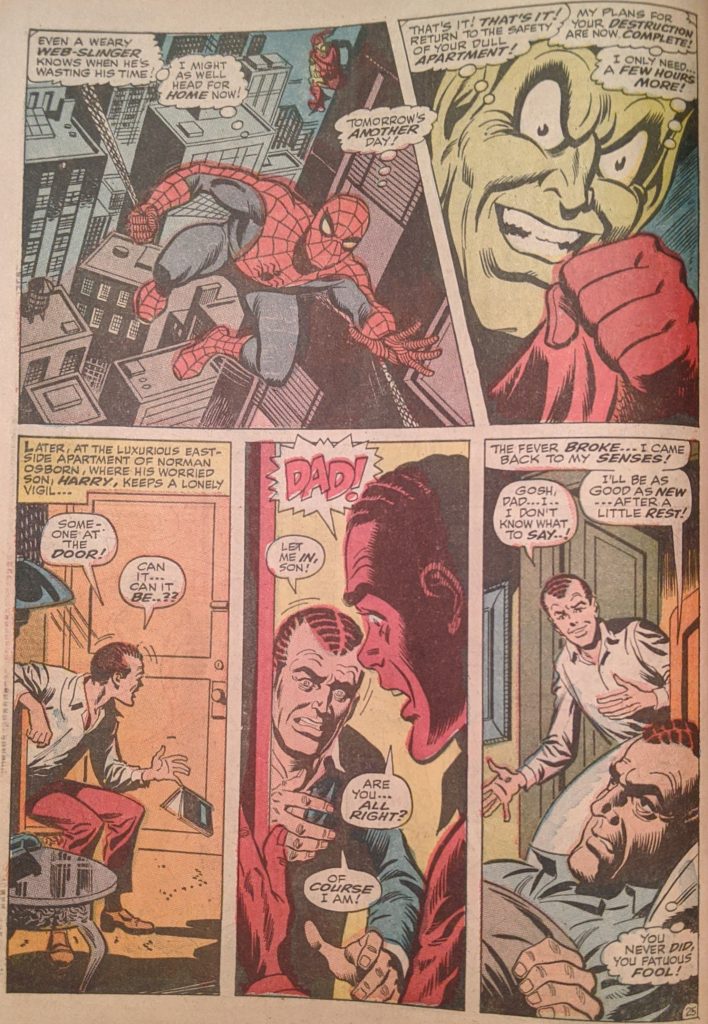 Poor Harry. The next day, Peter gets a phone call. Harry tells him his dad came home, is back to normal, and wants to celebrate with a dinner party, and Peter, MJ & Gwen are all invited. Peter knows no good will come of this, but doesn't know what to do about it.
I swear I've seen MJ in that exact pose, and I wanna say it was during the Ron Frenz ASM run? Yes, ASM 256. Reading all these comics is creating a bunch of obscure and useless connections. Anyway, they head out to the party. Gwen tries to joke around, but Peter is very serious, talking about how she's the best thing that ever happened to him and he wouldn't trade her for anything. Soon, they arrive at the Osborn residence.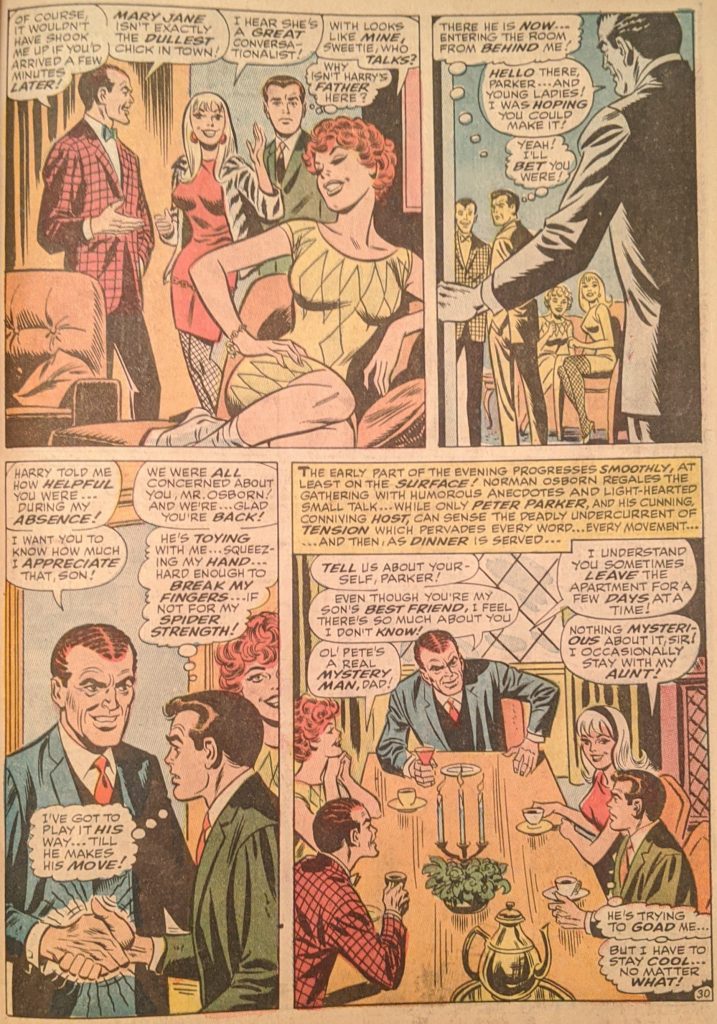 While pretending to talk on the phone, Peter webs up a roll of film and throws it in the fireplace, creating a smoke bomb that will go off when the web melts. Really? I'm not sure if that would work. But as he rejoins the others, where music is now playing and the young people are dancing, smoke does begin to pour into the room, and Peter's scheme works. Harry helps Gwen & MJ to flee the alleged fire, with Peter saying he'll get Norman and follow them. Norman charges through the smoke, yelling that he doesn't even have to look for Peter, because he can go threaten Aunt May to get his attention.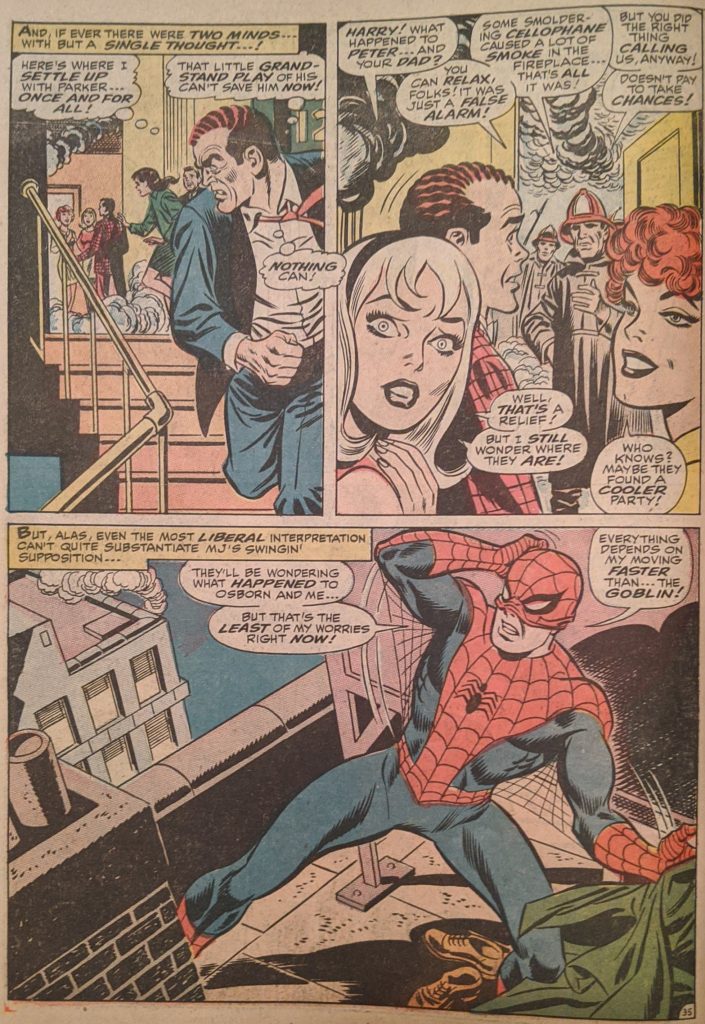 Norman's run down the street to his closest hideout, and soon The Green Goblin is in the air, and the 2 combatants race toward Aunt May's house. Norman arrives first, and is circling the house waiting when Spider-Man dives into him. The Goblin dodges easily before revealing he's added a big drill to the head of his glider.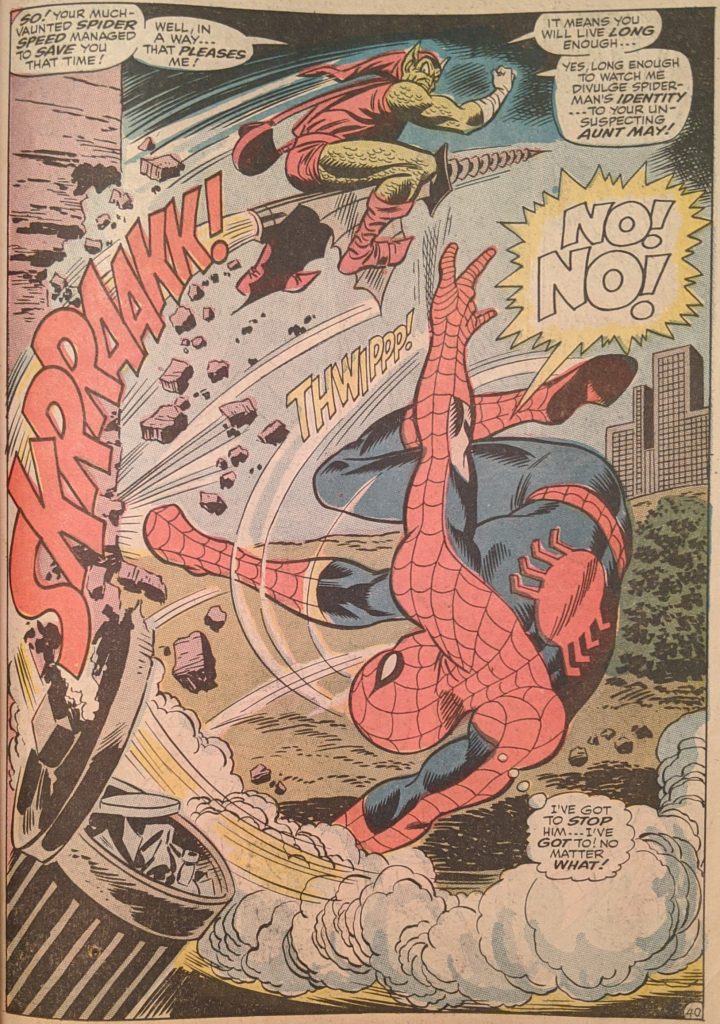 Spidey's web connects to the glider, but The Goblin shoots through it with the zaps in his fingers, causing Spidey to crash to the ground. He plays up how hurt he is, knowing The Goblin won't be able to resist coming in close for the kill, finally landing his first solid hit in this fight, knocking the Goblin off his glider. Spidey agonizes over what to do, not wanting to hurt Norman, not wanting The Goblin to ruin his life.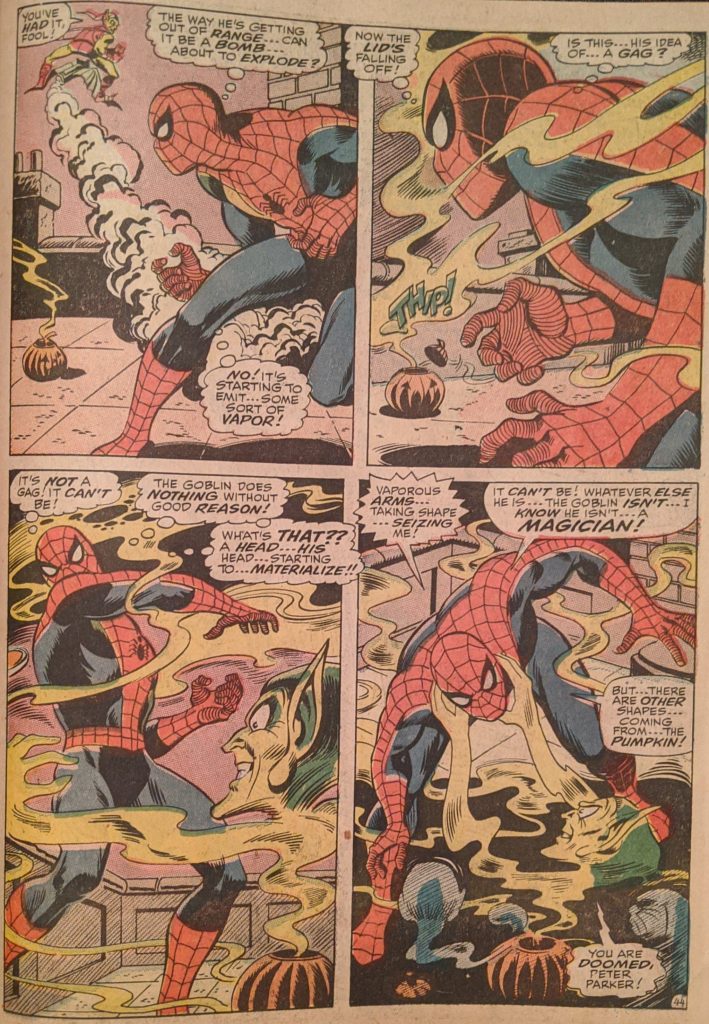 Once again, it's Spider-Man's true archenemy: Gas! The Green Goblin and a lot of more literal goblins begin attacking him, taunting him that they know his identity. Then they all morph into the faces of his family and friends mocking and tormenting him before turning into a collection of his worst enemies, larger than life and coming to kill him.
Bit slow on the uptake there, buddy.
Spidey's fully on the offensive now, diving past The Goblin's attempt to counterattack to steal his bag of tricks right off his arm, and asserting that he's been toying with his foe the whole time, and could have beaten him any time he wanted. The Goblin, shaking with rage, lunges into hand-to-hand combat, with Spider-Man dodging around and landing several hits, trying to disorient him more than hurt him if possible, reminding himself that's still Harry's dad..
Spidey gets Norman by the throat and forces him to breathe the gas, sending him off on his own trip, seeing demons and things much like Spidey did at first, but Spider-Man is yelling directions to his hallucinations.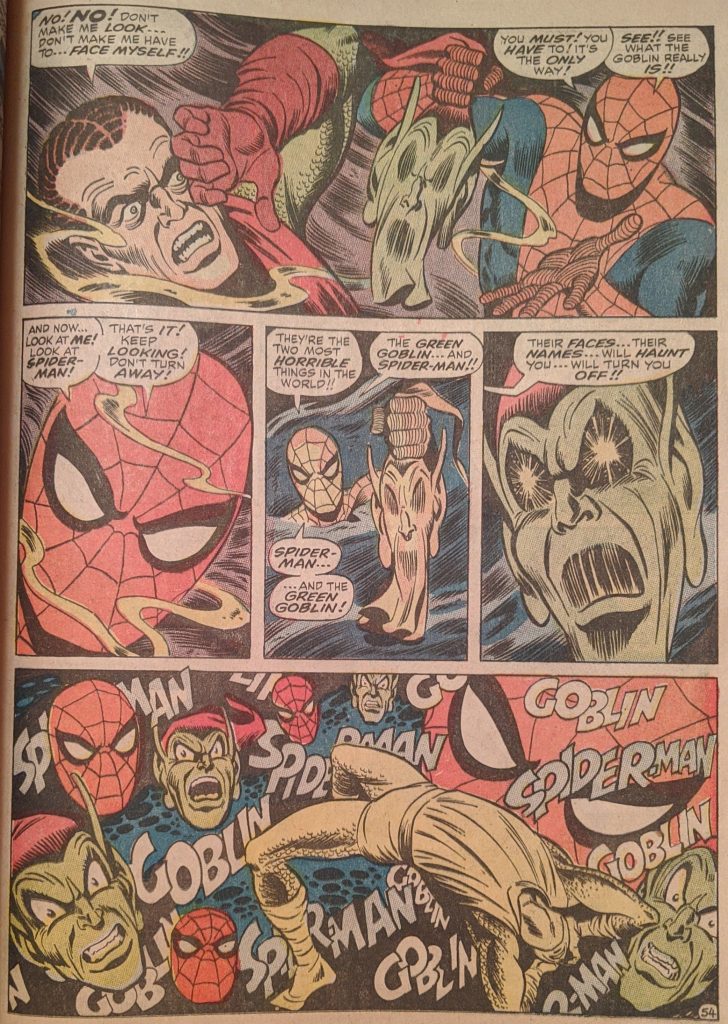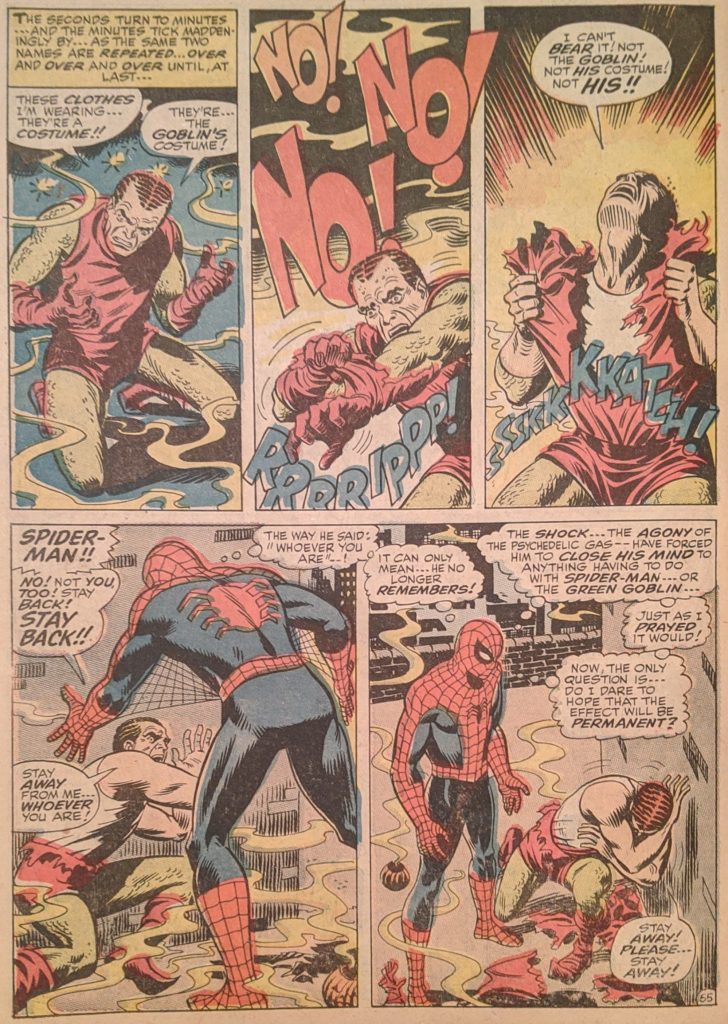 Crazy plan, but it seems to have worked. As a final test, Peter takes his mask off, but the sight of his face elicits no reaction from the quickly fading Norman, no rage or fear like Spider-Man and The Goblin did. As Norman passes out, Peter makes a lot of assumptions, hoping his subconscious will keep him from thinking about Spider-Man or The Green Goblin, hoping his prolonged exposure to the gas will make this permanent, all as he swings Norman's unconscious form away from the battle site, looking for a place to change clothes.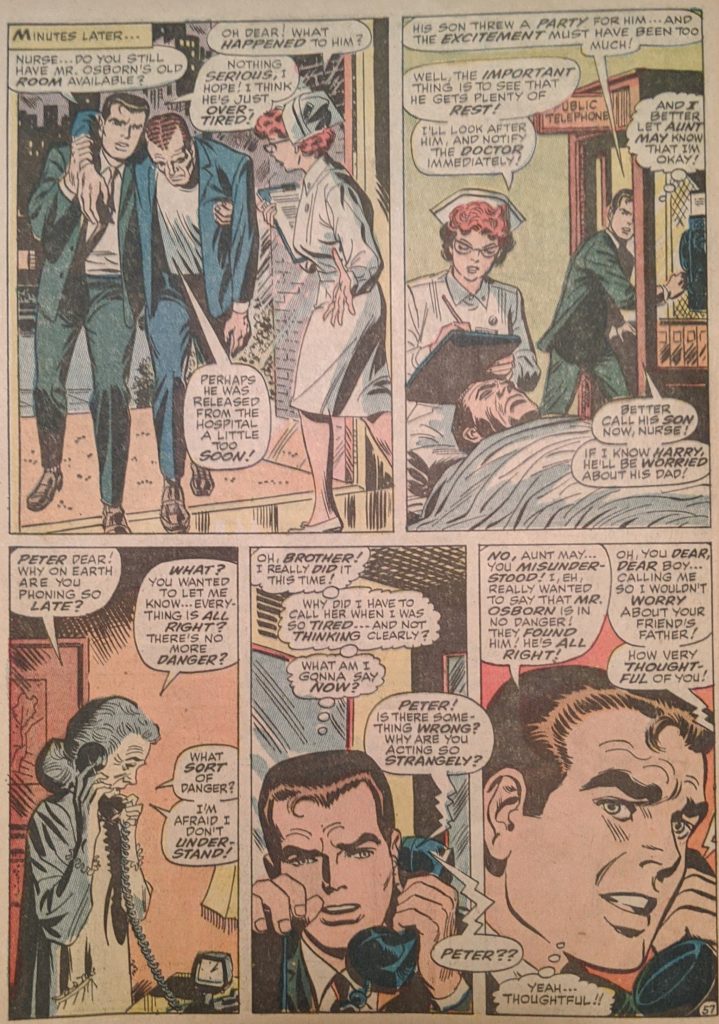 And so, the Goblin situation resets again. As we know, this time, it holds until ASM 91, longer than it did last time. This one was exciting to be because it's kind of a "lost" story. Not appearing in the main title, it was harder to come by, and is never reprinted in chronological order. It eventually saw a truncated reprint in an annual decades from this. Spidey fans know his history with The Goblin, but this chapter is often overlooked. I didn't know about it myself for years and years, and I'd never read it before tonight. Very solid issue. The meandering blandness of the previous issue of the magazine replaced with a relentless story, and while Romita's style shines through in the ASMs he's just laying out in this period, there's no substitute for full pencils at the height of his powers. This was a fun one. The last page is a teaser for issue 3:
But no 3rd issue was ever published. Maybe this thing seemed like more trouble than it was worth. Maybe Stan realized trying to get Romita to do the regular series and this at the same time was a bad idea. The two issues of Spectacular came out 3 months apart. Romita did 54 pages for the first one and 60 pages for this one, all while providing layouts for 30-odd pages of ASM every month. For anyone not named "Jack Kirby," that's asking a lot. Who knows? There's a lot of mystery around what would have been the "TV Terror." It's widely circulated, but never quite confirmed, that The Prowler is a modified version of the villain Romita designed for the 3rd issue. I guess we'll never know.