Romita, Jr. & Hanna are back for the 2nd half of this Morbius adventure. And I know this blog routinely just derails into a John Romita, Jr. fan club, but look at this page!!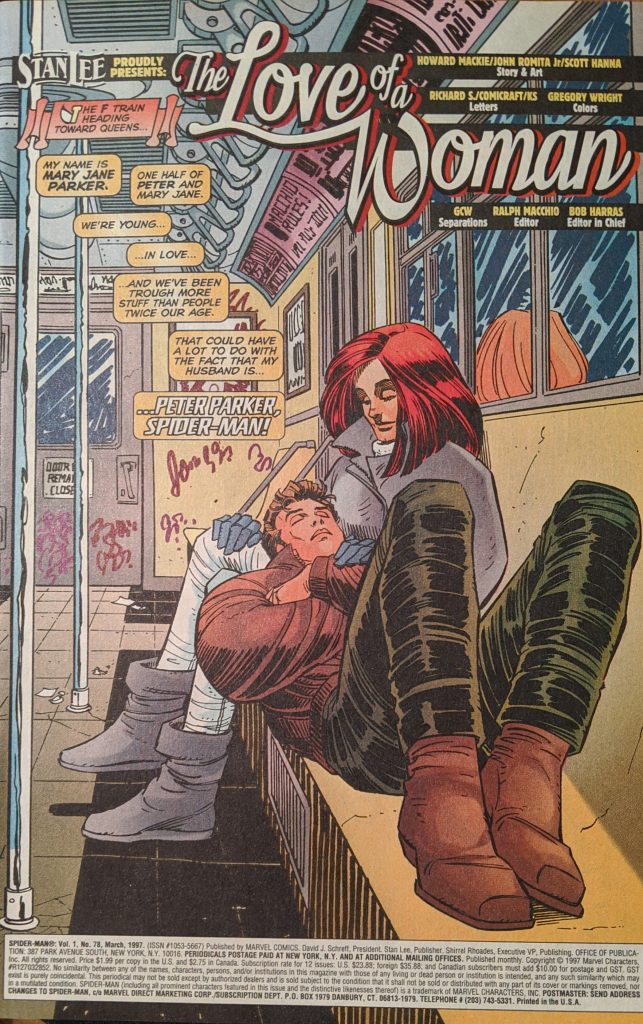 The impeccable, lived in detail of the subway car. The casual intimacy of the posing. I love it. It's been 5 seconds since Peter or MJ reminded us they're "so young!" so we needed that to happen here. I don't know who they think they're fooling. And also, like, the rest of the Marvel U exists. Johnny Storm and the original X-Men were all teens at the same time as these 2. None of those characters is treated as "young" in 1997. In fact, Johnny has also been married. Scott Summers has been married twice and has TWO time traveling adult children! Peter can't be 22 or whatever they're trying to pull here in a shared universe. Even if we're saying it's only been 6 years since 1975, Peter was out of high school in 1965. He cannot be younger than like 27, at minimum. I always assumed he must be past 30 by this point, until they started beating you over the head with how young they are every issue. "SO young! We're basically teenagers! Married teeangers!" Just let it go, man. Anyway, MJ gives a very high level overview of their entire relationship, Mackie goofing the fact she knew he was Spider-Man the entire time, and then…
We covered much of it, but trust me when I say the portrayal of their relationship from '87 through the clone garbage makes sweet moments like this seem rare and welcome, and I like to show them. Meanwhile, Morbius drinks a guy's blood and reiterates to himself that he believes this Dr. Andrea Janson can cure him, and he needs it, because his hunger has gotten worse. So more or less the plot of both MTU 3 & 4 and Giant-Sized Super Heroes #1. Morbius: Not much in the tank! Speaking of MTU 3 & 4, Peter wakes up from a nightmare and MJ says he's burning up. Being bitten by Morbius is once again messing him up. He gets in his suit to go hunt the vampire down.
Maybe leave the vampire fighting to the superhero, MJ, I dunno. Elsewhere, Betty Brant is finishing up a doctor visit after getting injured in pursuit of a story. Flash Thompson is waiting for her, wanting to offer her a ride home. She declines. This is getting weird. I don't remember this, what's Flash's deal? Aaaaand over at Dr. Janson's office, Morbius arrives as she's been reading up on his history and condition. And she better hope he can keep his hunger in check, because Spider-Man is now so sick he misses his webshot and starts to fall out of the sky on his way over there.
MJ is then stopped herself by someone with a bat! But we cutto Morbius. Dr. Janson says his history is what lead her down the road of her current research, so he cuts to the chase and asks if she'll help him. But then Spider-Man shows up, accusing Morbius of not really wanting help.
Very 70s Spider-Man move, there. Anti-mutant hysteria spilling into other comics is good for the shared universe. Graydon Creed, human son of Sabertooth, was recently assassinated while running for president on the same ol' tired anti-mutant platform so many other Marvel politicians have had, you see. Suddenly Spider-Man & Morbius come crashing through a nearby window, and the mutant haters naturally assume they've found foes to fight (alliteration!). Spider-Man says if Morbius really wanted help, he could get blood without killing people. That seems a fair point, but…
It's very accurate writing to depict bigots as being so stupid as to attack a vampire with baseball bats. That feels entirely true to form for hatemongers. Soon Morbius is draining one of them.
You know, that's an interesting point. MJ probably wouldn't have the chance to know Spider-Man is always joking around. Most of the times she's been around Peter in his work clothes, he's been extra serious simply because she's involved. That's interesting.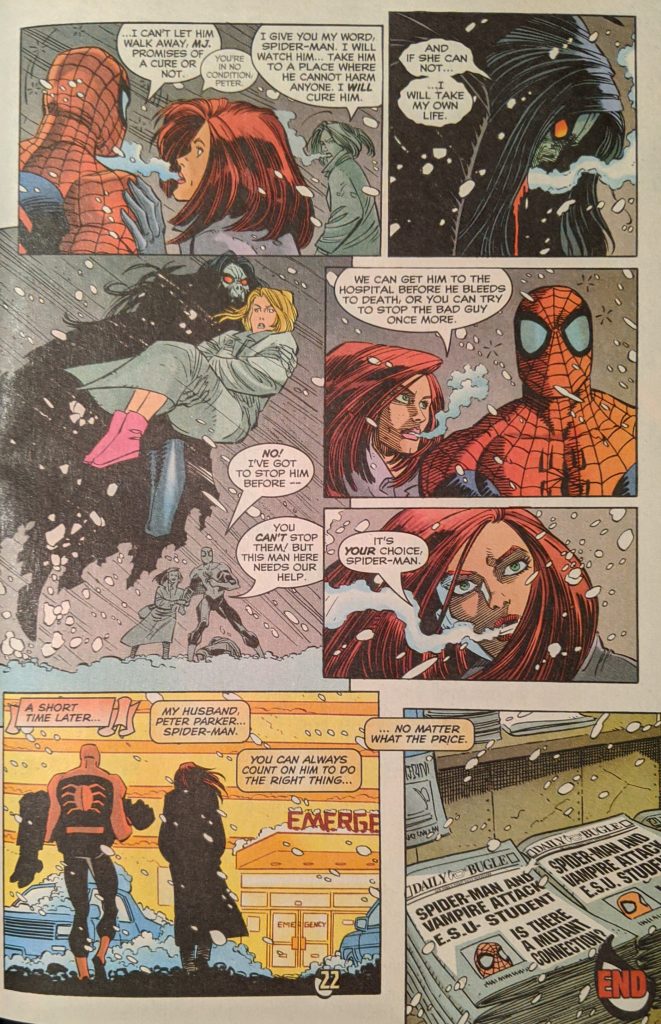 MJ saves the day! I mean, sort of. MJ saves a bigot. Kind of a pyrrhic victory. But she was right to let Dr. Janson try to help Morbius. However, spoilers, he will neither be cured nor take his own life. I know you're shocked.