Here it is, our first issue of Marvel Team-Up! Like that cover, y'all. It's really interesting to me to see that clearly drawn-from-life Spider-Man figure juxtaposed with that exaggerated Morbius behind him. It's ASM writer Gerry Conway, future ASM artist Ross Andru and dependable Frank Giacoia on deck for another round with Spidey's still-new vampiric nemesis. Our tale begins with two brothers arguing about their different lifestyles under a bridge at night, not noticing the pale white hand bobbing in the water near them.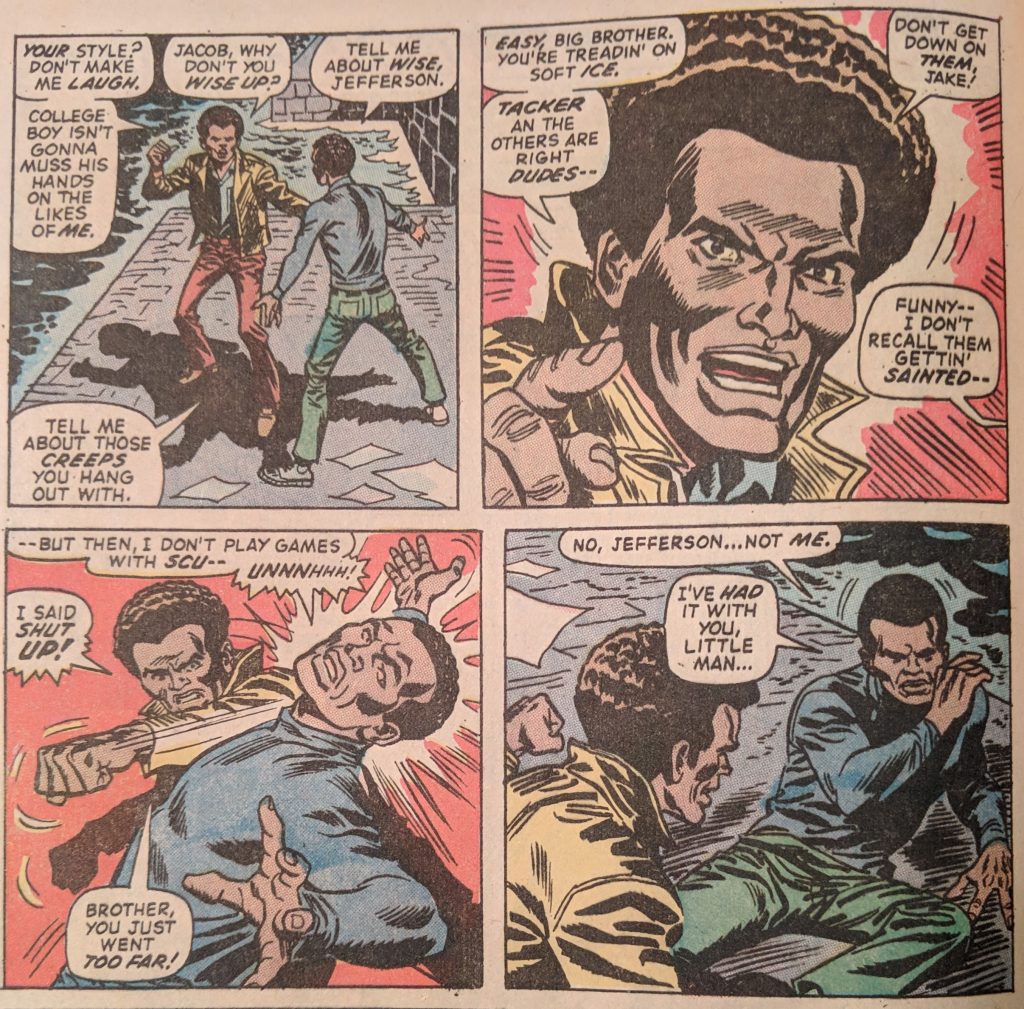 As his brother storms off, we're told the one in yellow is one Jefferson Bolt, and now that his brother's gone, he begins to cool off and notices a guy floating in the water. He selflessly dives in to save the man. This, naturally, proves a mistake.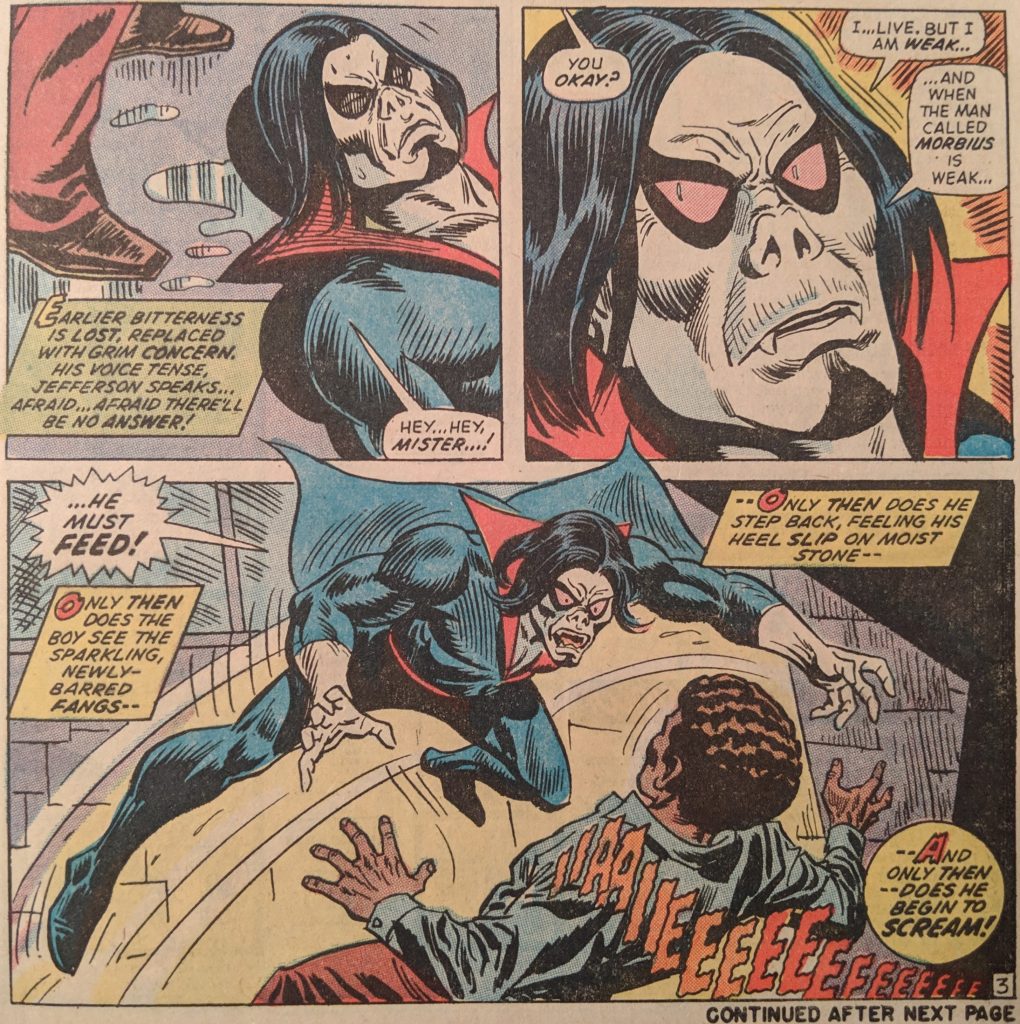 Weeks later, we check in with Spider-Man, swinging over the city, and suddenly having a powerful dizzy spell. He falls right off his web and barely catches himself on a ledge. He finds he's incredibly dizzy and can barely stay upright.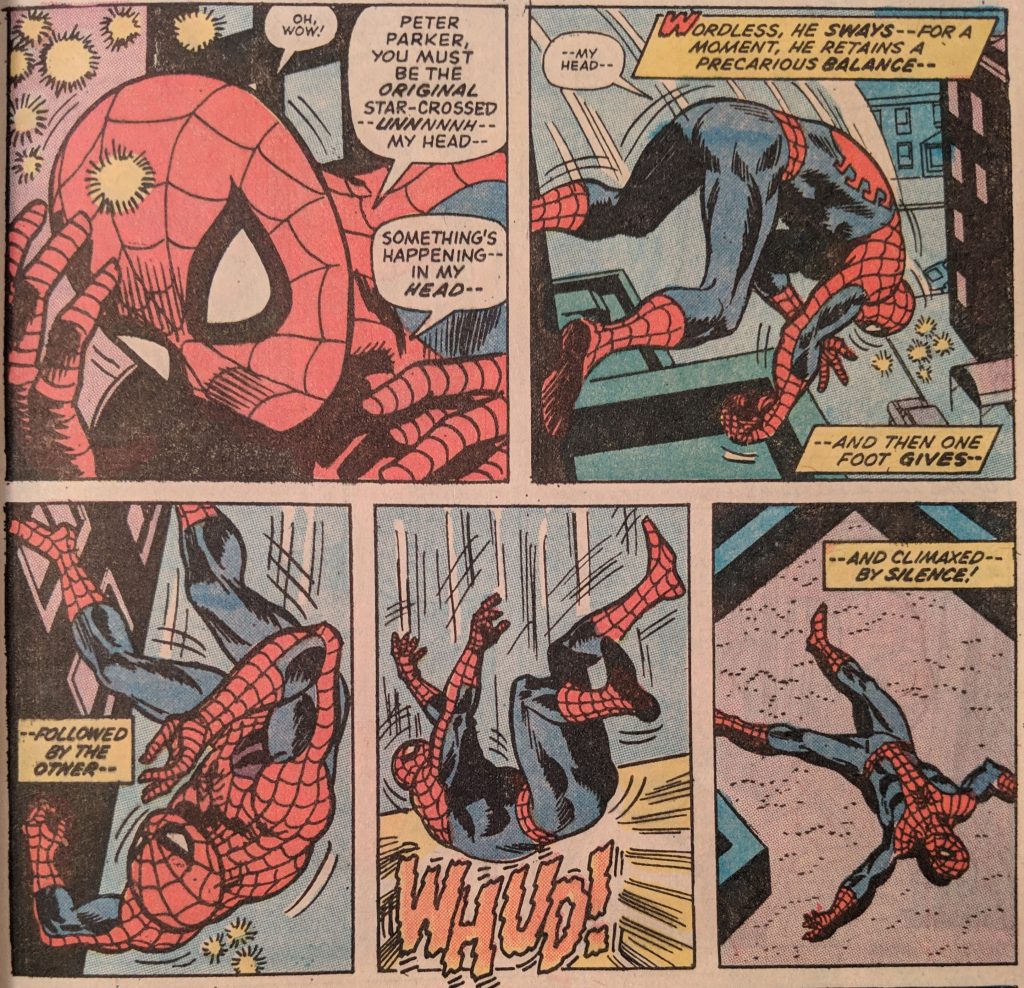 Then we shift scenes yet again to The Baxter Building, home of The Fantastic Four, where The Thing and The Human Torch are arguing about what to watch on TV when the buzzer rings from downstairs. Ross Andru draws a really weird Thing…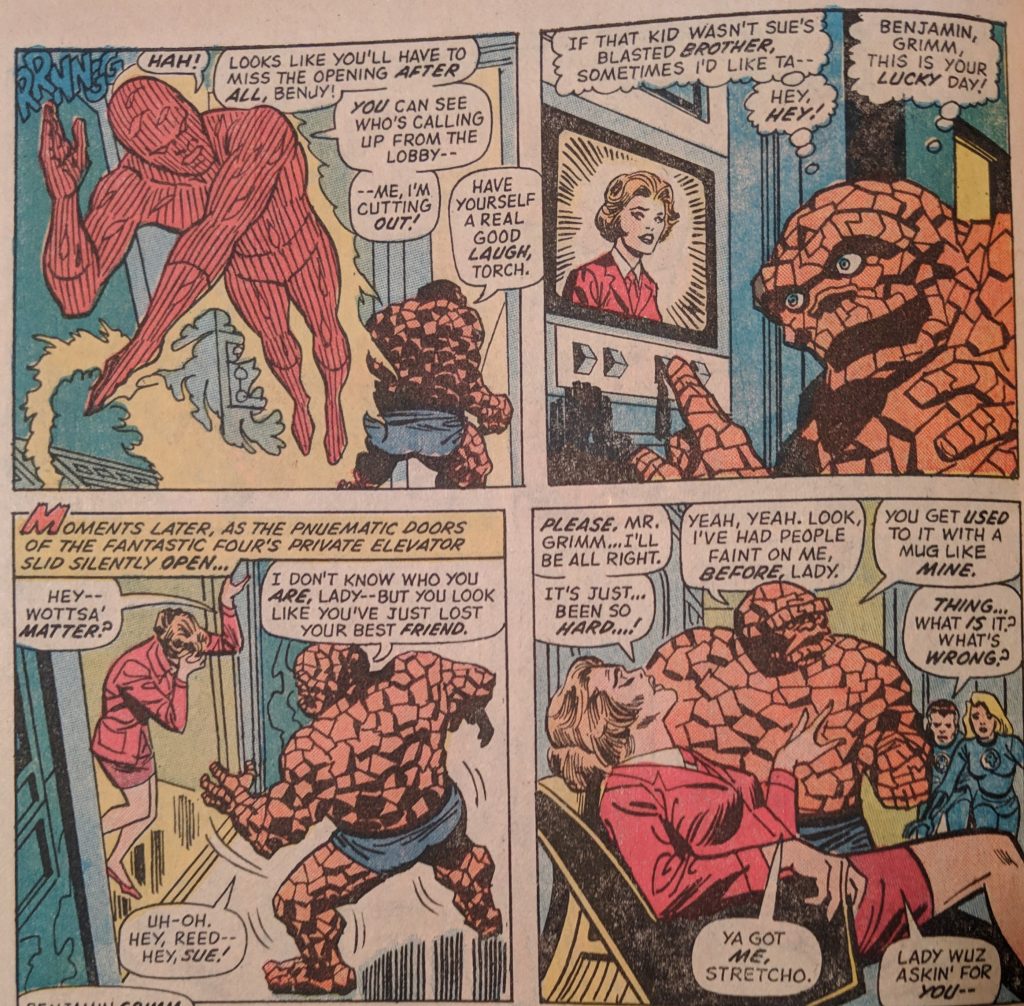 Who's the distressed lady? Why, it's Martine, Morbius' wife! Having escaped his origin story back in ASM 101 alive, she's made it to The FF for help. Turns out, Morbius & Reed Richards knew each other a bit when Morbius was still just a scientist. As Martine tells the gang her story, she mentions she found her husband's letters to Reed and to a Professor Hans Jorgenson at State University. This is when The Human Torch decides to take off. As he flies, he recalls Spider-Man telling him about his adventure with Morbius.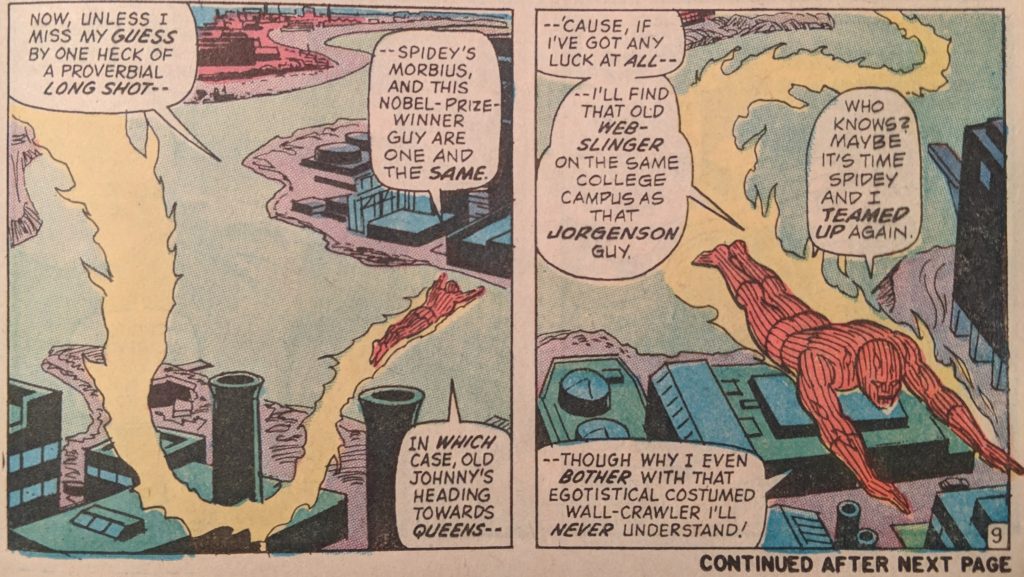 The only thing worse than Johnny pinning his whole plan on a coincidence is the fact that he'll almost certainly end up right. But what's he doing? Why not bring the whole FF? Well, whatever, he'll never know it, but he flies right over an old warehouse Morbius is hanging out in with his new best friend, Jefferson Bolt: Vampire.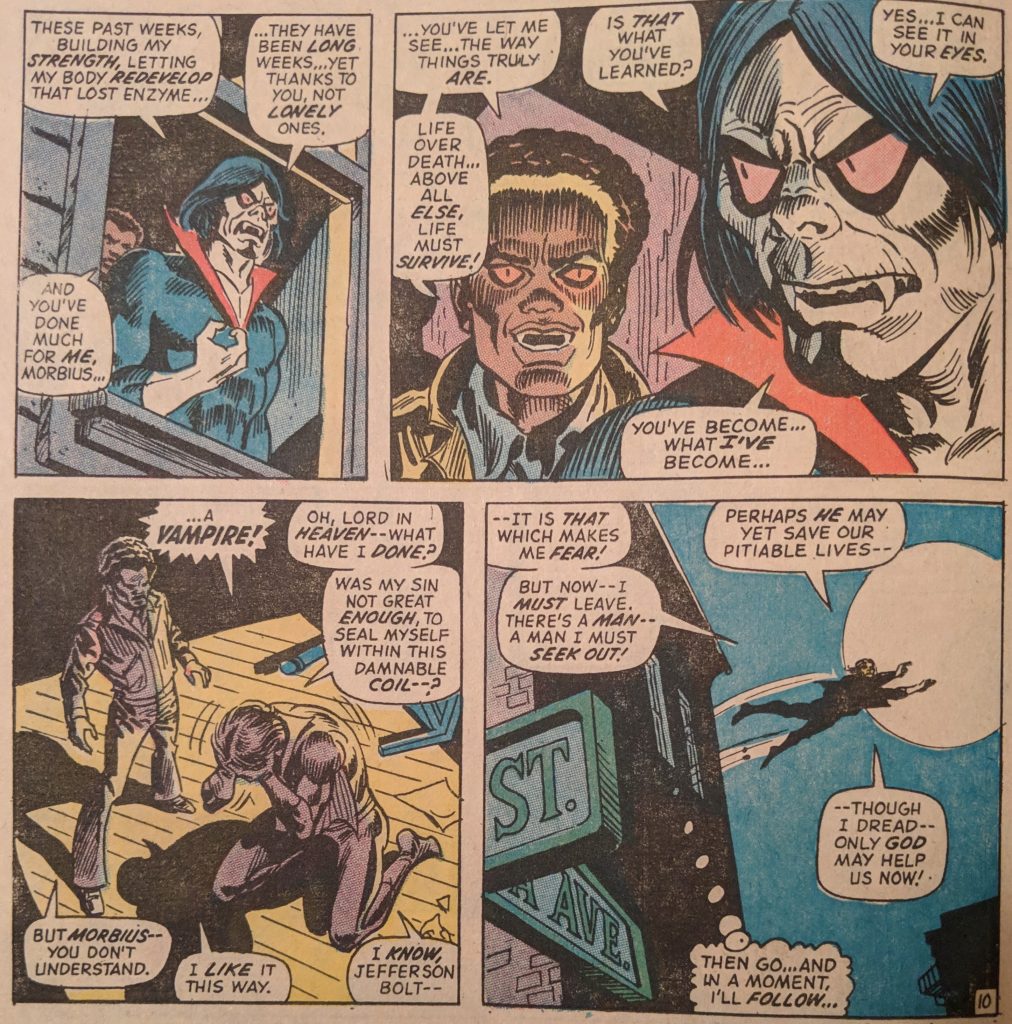 "Oh, I am so sad about the things I will very much continue to do without hesitation!" Bolt seems to be planning to go attack his brother later, which is super not cool. But instead of following him, we look back in on Spider-Man, totally verifying the Torch's hunch on his way to Professor Jorgenson's class.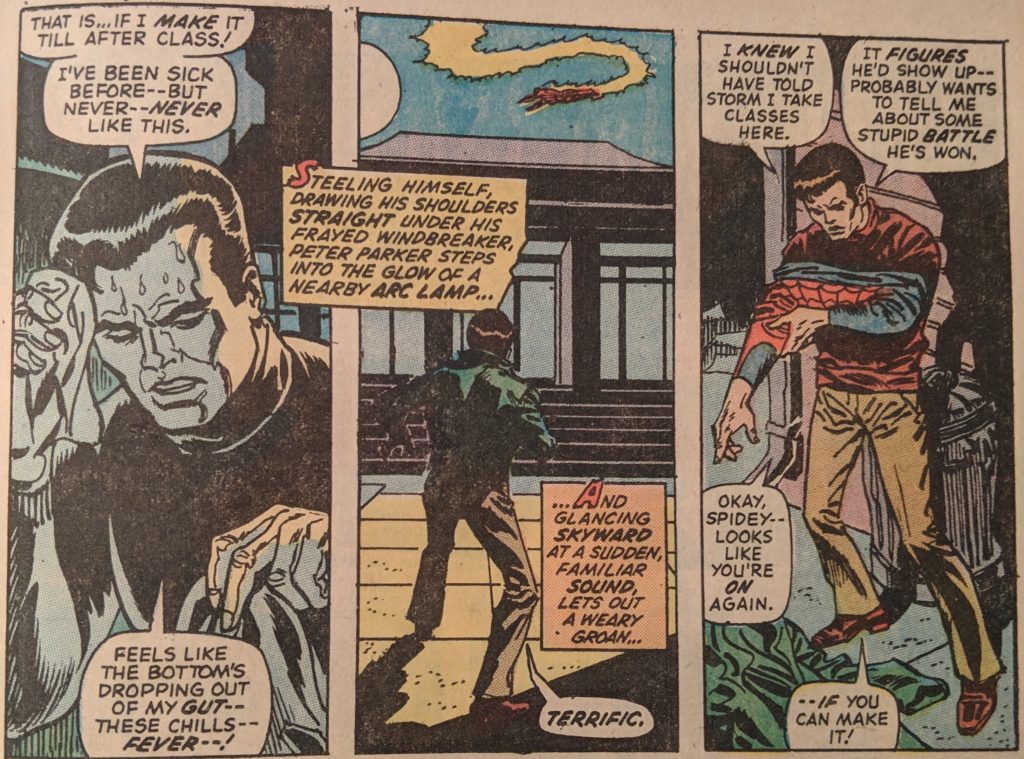 Well, I guess that explains the Torch's motivations a little. One wonders when all these helpful conversations happened. As Spidey decides to swing off after his buddy, we join the class of Professor Jorgenson, as he teaches his students about the findings of Michael Morbius. And is interrupted by The Human Torch flying in the open window to talk to him about none other than…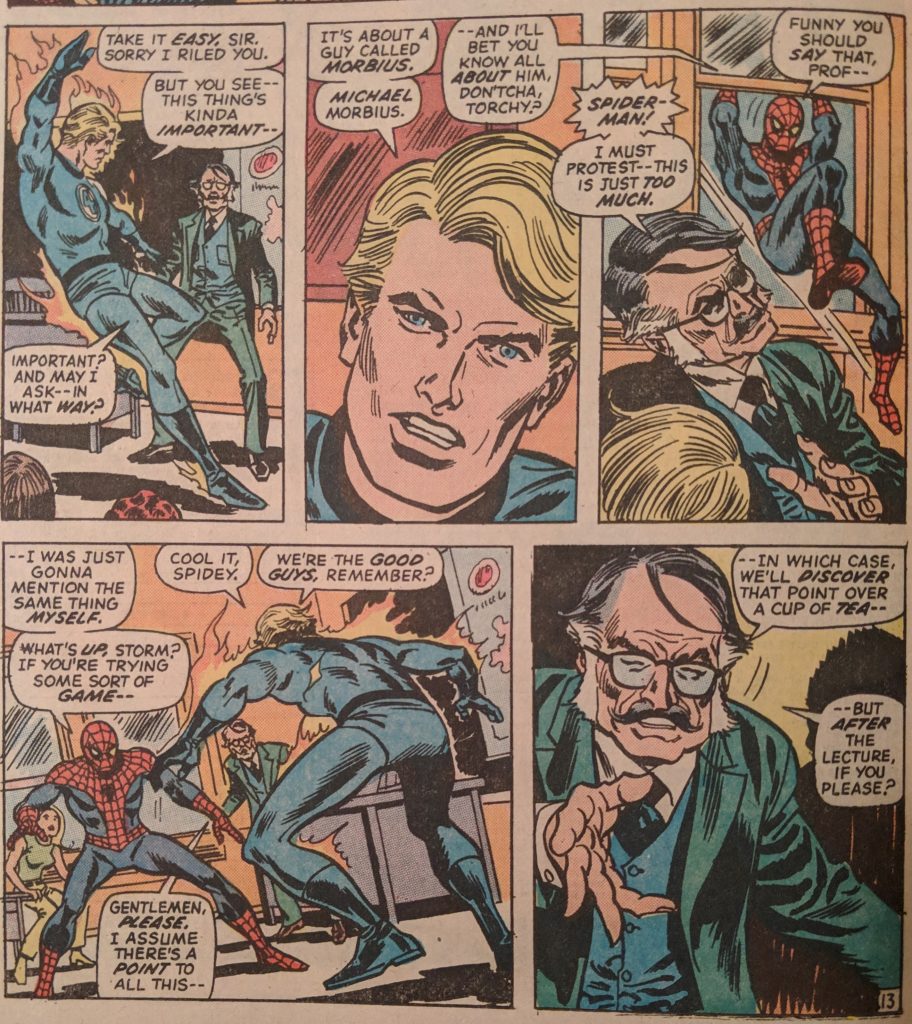 "If you think I'm gonna cancel class just because two superheroes came in the window, forget it!" After class, Torch tries to tell Jorgenson his half-heard story about Morbius, but Spidey interrupts to say Morbius is dead after they fought. No one mentions he was, ya know, a vampire at the time, so Jorgenson is understandably freaking out. Meanwhile, elsewhere on campus, a drained Morbius finds a wino to feast on to regain his strength, and the man's cries drift on the air not only to our heroes, who rush off into the night leaving a very confused professor, but also to one Jacob Bolt,who selflessly runs to the defense of whoever he's hearing.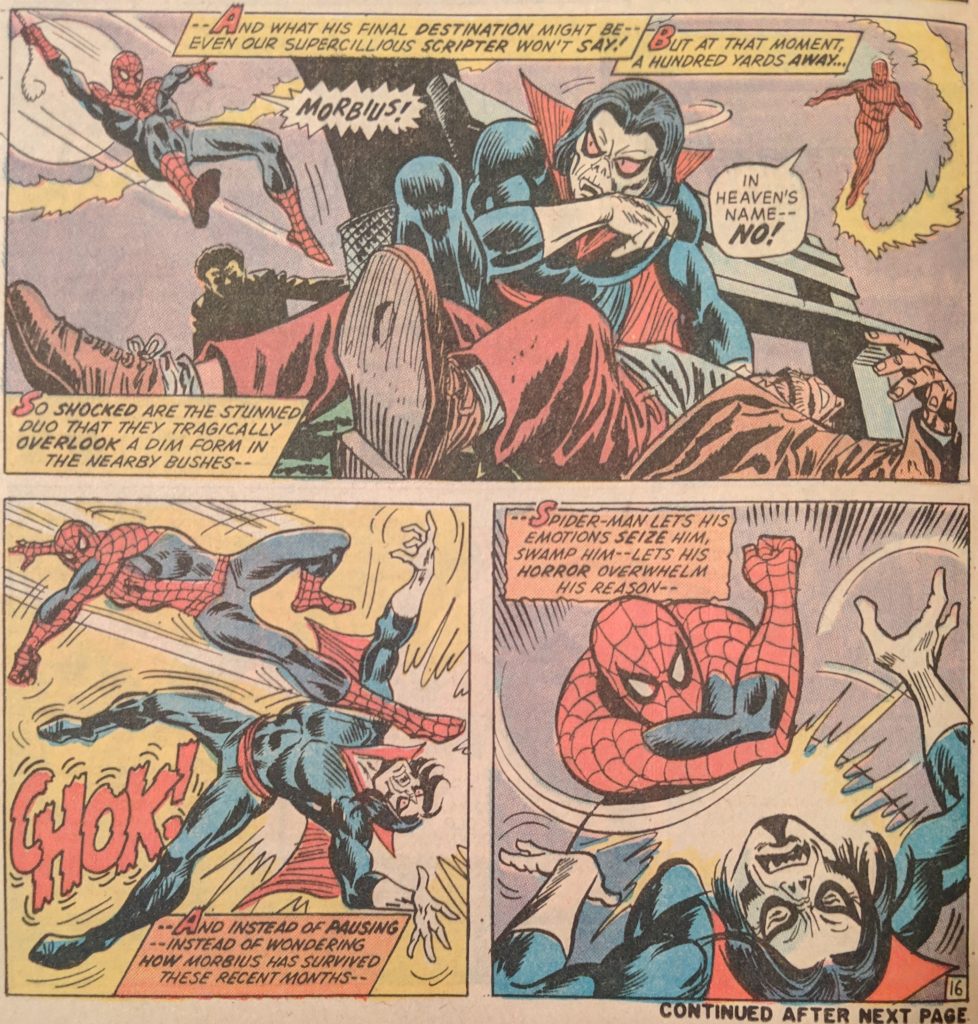 A rare moment of Spidey just being like "Nope. We're not doing this." Spidey just keeps on wailing on Morbius until The Torch pulls him off, saying Morbius has had enough. Spidey rather reasonably protests they caught Morbius, like, killing a dude…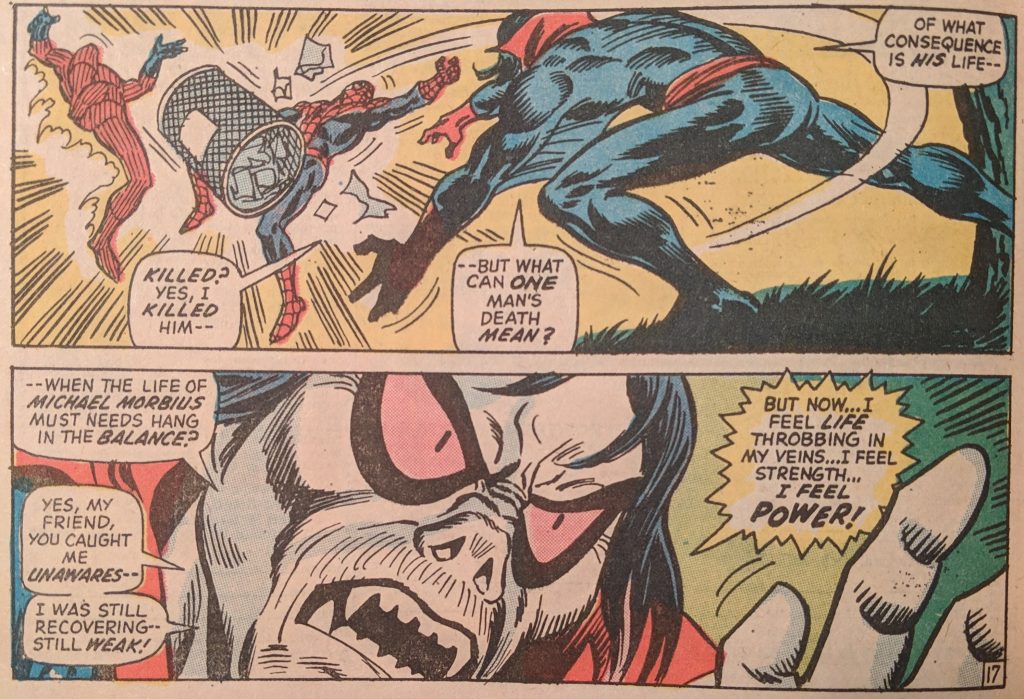 You think Andru means for Morbius to have the world's saddest mustache or that's just some kind of poorly-chosen detail work? Torch blinds him with a burst of flame as Spider-Man blames his earlier bloodlust on his fever.  He tries to web up Morbius, but he's so sick he can't hack it, so he just tackles the guy. And that's when Jacob Bolt shows up, assuming the two heroes are beating up a defenseless… super pale guy in a super weird suit… and tries to pull Spidey off him.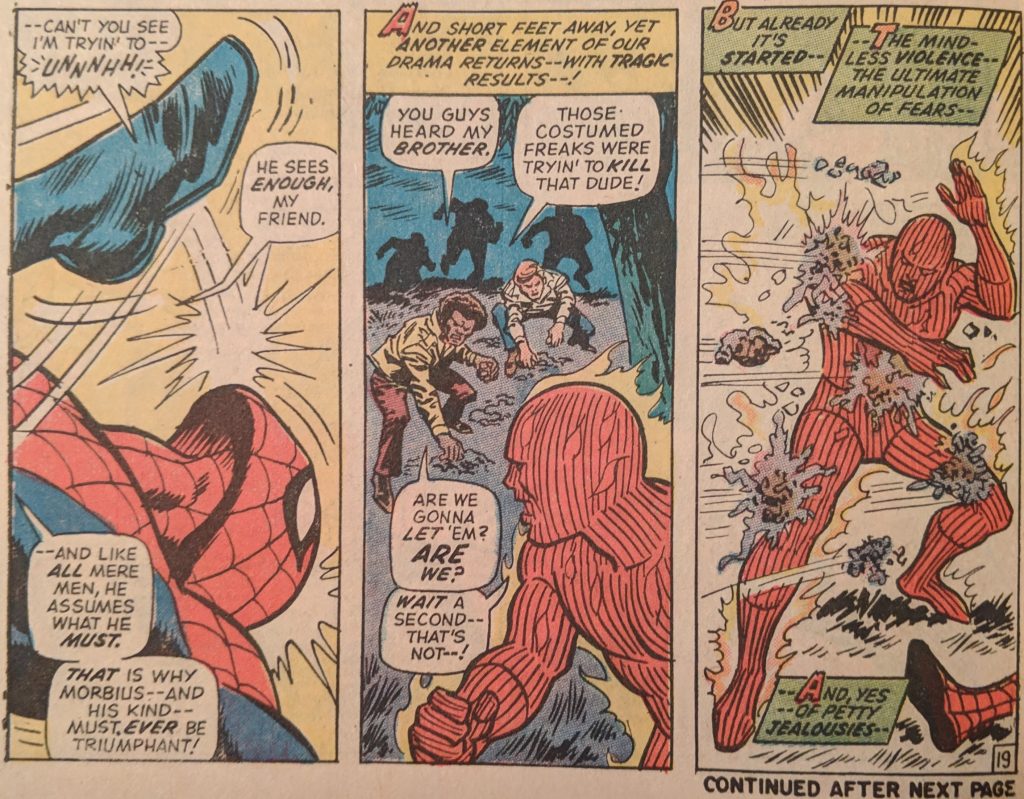 Jefferson has apparently summoned the gang his brother accused him of being in earlier, and they pelt the Torch with so much mud his fire goes out before piling on top of both heroes to beat the hell out of them. This is a very poor showing for two of Marvel's most beloved, brutalized by 5 college tuff guys. But while that's going down, Morbius gets his teeth in Jacob's neck, which brings the ire of Jefferson.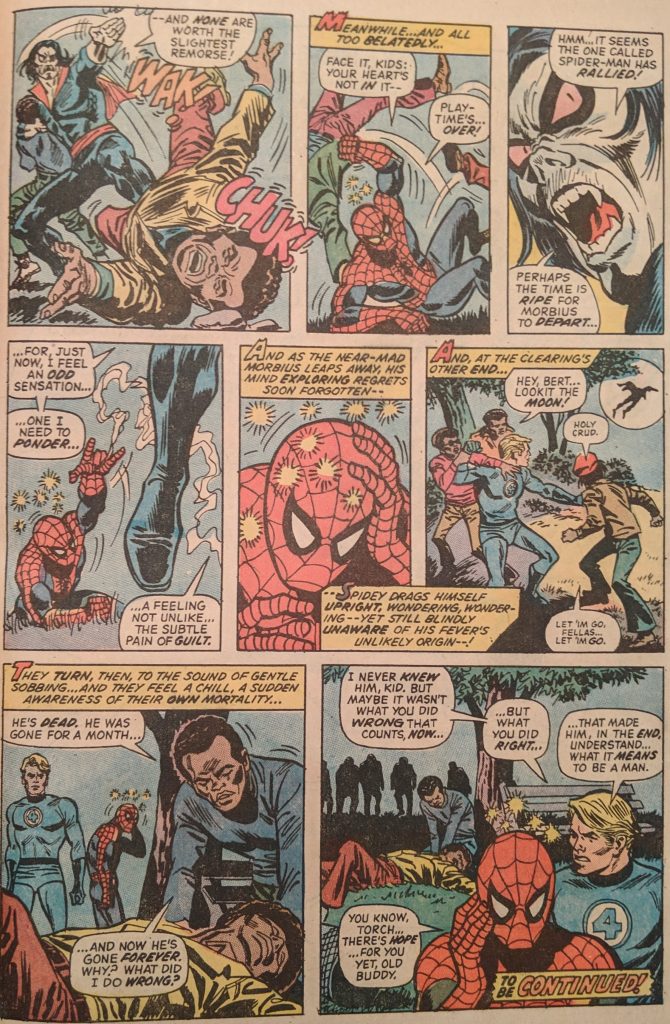 So, Spidey's fever is clearly from having the enzyme from Morbius' blood in his own blood stream, and ol' Professor Jorgenson's gonna have to get him sorted out. But none of that explains how this can be happening right now. This issue was published the same month as ASM 111. Conway's got a plot running fullsteam for months, each issue picking up where the last ended, just like 111 picked up where 110 ended. But he's also going to have Spidey reference the events of MTU 3 & 4 in ASM 113. I have no idea when this story could be happening, so I put it here. I dunno, gang.