Revelations! Internally called Book of Revelations for awhile, but perhaps that was too much. After two and a half years of nonsense spinning out of what was originally intended to be a 4-month stunt, after millions of changes of plan and several false stops, after a shocking amount of reversals within the Spider-Office about just who really was going to turn out to be the real Peter Parker, it's time to end this stupidity for real. That faux-McFarlane Spider-Man surrounded by all those faux-J. Scott Cambpell heads, man. Sheesh. And look: a new logo! I forgot this is when this happened. Not for the first time and not for the last, to celebrate this momentous occasion, all 4 titles are getting unique logos. The "edgy" logo of the 90s is being retired, thankfully, finally. I'll be honest, the new ones are all kind of crappy, but crappy in that "We're still learning digital lettering" way, rather than the just plain terrible way of the edgy 90s logo. Ok, ok, lets get into it. Todd DeZago, Luke Ross, John Stanisci & John Kalisz in the cut. I feel like it's been a million years since the disparate elements of the clone plot last appeared on the blog, but we've learned Gaunt and Scrier work for some mystery man, and that Seward Trainer works for Gaunt, which seems like bad news for our heroes.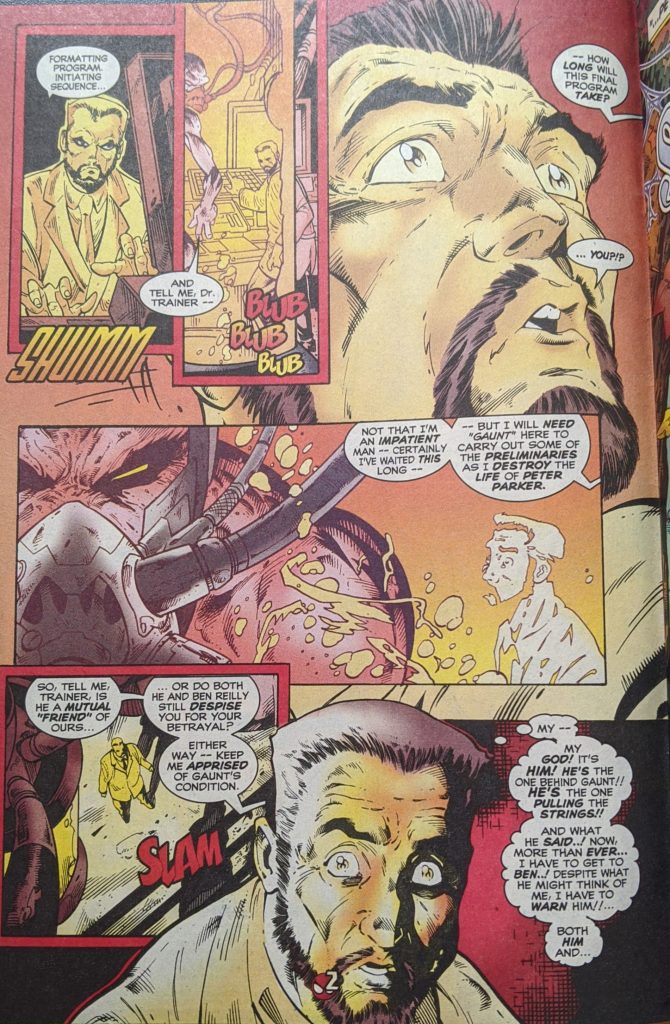 Who could he be? If you don't know the answer, trust me, it sucks. It's interesting to me how the inking on this doesn't look utterly inept and horrible. I think it indicates just how little Stanisci was getting from Buscema before. It's Halloween in New York, and Peter & Mary Jane are sharing a moment of domestic bliss in Aunt May's front yard, playfully arguing about Bugs Bunny cartoons.
That sign is VERY AGGRESSIVE. MJ heads off to go shopping with Aunt Anna as Ben arrives to hang out with his "cousin." The irony of all this is, at this point, I feel like I was mostly ok with Ben being around. We all knew "the one true Spider-Man" was coming back from press and hype, but Peter having a friend who truly understands him was kind of a nice change of pace. Meanwhile, at The Daily Bugle, Ben Urich gets a mysterious black envelope with no return address. The letter inside is from Liz Osborn, who says she has information he may want, and to meet him at The Bugle at 10pm. What he doesn't know is Glory Grant got one, too. And she's not the only one.
I mean, is that not just giving the game away 7 pages into part 1 of 4 part story? Not who's behind it all, but if he's lied to Peter & Ben about who's the real Peter, then… it's Peter. The explosion was caused by Gaunt, now in a big goofy robot su8it very much of its time. But while he rants away at Trainer, he discovers Trainer actually escaped in the blast.
Seems an odd time to add a new face to Ben's cast. Or is it? Ben's not there, tho, he's at Aunt May's with Peter. Peter's called him here because MJ & he have decided to clear out some clutter, but all the stuff in the attic is as much Ben's memories as Peter's, so he thinks Ben should have a say. That's pretty nice! Ben talks about he he's learned to forget the past, but also tears up at a photo of Young Peter with May & Ben.
While the boys get emotional, Trainer flees through the city, thinking maybe he can find Peter at The Daily Bugle even as Gaunt catches him and starts blowing stuff up. Then there's this surprise twist…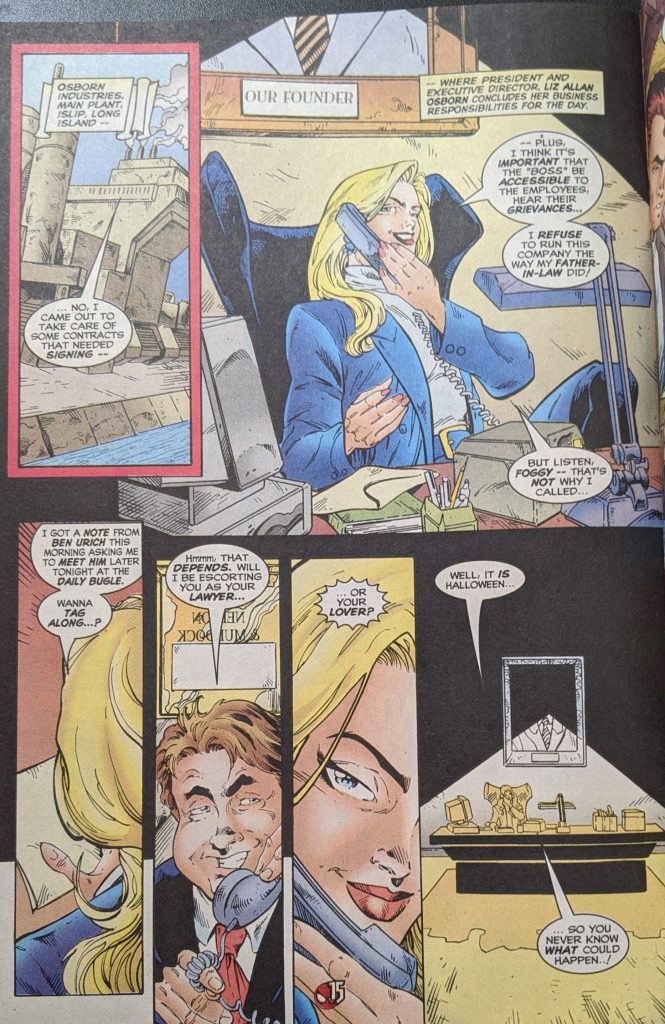 Not the envelope, that's to be expected. I don't recall Liz & Foggy hooking up. Weird pairing, but why not, I guess? Peter & Ben keep being sentimental as they sift through the books they read as kids, and Peter tells Ben for the first time that Aunt May told him she knew his secret in ASM 400, saying he unconsciously kept it to himself to feel more like a real person, and Ben totally understands, because we need these two to be very best buddies before things go wrong. At The Bugle, a staffing guy says 5 of his men mysteriously quit on him, and he needs these new guys to start today, which shouldn't be a problem given their glowing references from Oscorp & Multivex. Trouble's brewing very quickly. A block away, Trainer is in sight of his goal when a big metal hand grabs his head.
I had hoped that I would come out of this dreary period of Spider-Man with a better understanding of Seward Trainer. Who is he? What's his relationship to Ben? How did they even meet, let alone become so close? I figured I just forgot or didn't buy the right books. But now it just seems no one ever bothered to say. How insanely sloppy. So long, dumby!
I mean, there's been ads in the Spider-Titles this month saying SM 75 will see the return of "the one true Spider-Man," shown in his original suit and all. Everyone knew it was coming. Hard to build a lot of intrigue with that on the facing page of your cliffhanger. But we're in it now. In 3 posts, Peter will be Spider-Man again. All that's left is to see how, and unmask his foes. All answers will disappoint, but we're committed.