The bad guys are huge! Spidey doesn't stand a chance! Sorta reminds you of the cover to Uncanny X-Men #4. With cover inks by the great Walt Simonson, no less. Terry Austin's back for interiors on this one, which begins with poor Nathan's funeral. While him getting killed still totally sucks, seeing the old boarding house cast show up to the funeral is a nice touch. Or it should be.
This Nathan slander is offensive! The composition of May & Peter looking at each other in the close ups is fun, if totally unnecessary.
Ock is back to shooting for the moon! No petty bank robbery this time. Not even just poisoning all of New York like in ASM 295 & 296, we're poisoning the whole Earth, baby! And wouldn't you know it, using Peter's college experiment to do it. What a coincidence! Elsewhere, Pete & MJ are walking home from the funeral, with MJ trying to get him to say what he wants to eat, even suggesting a dead rat to prove he's not paying attention, and Peter is so upset he kind of acts like a jerk, yelling that he doesn't care what they do for dinner and to leave him alone. MJ is upset, but understands… but the mysterious figure watching from across the street notes that Peter seems abusive. What's that about, eh?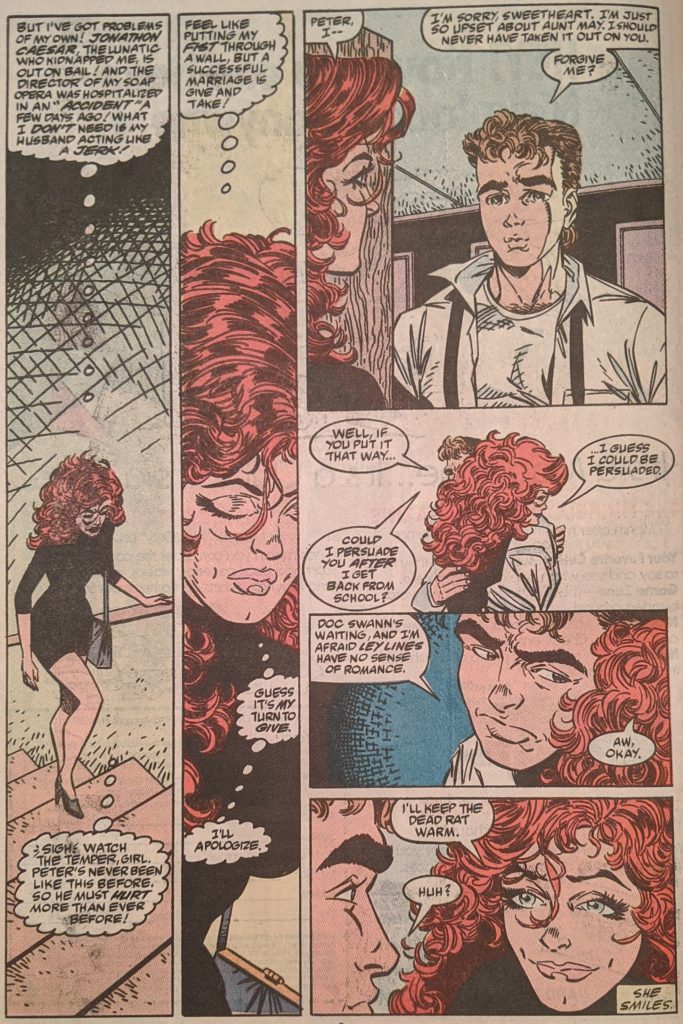 Creators will tell you at length that Spider-Man can't be married because kids won't relate to them, but I gotta say, stuff like this showed lil' 11-year old me that a relationship is hard work. That's a good lesson. Soon, at ESU, a scientist is examining the Burindite when Mysterio & Hobgoblin show up, and Hobby quickly makes enough of a ruckus to alert a passing Peter Parker, so Spider-Man soon comes through the window.
You think someone on campus noticed how Spider-Man was always around until Peter Parker left, and then suddenly always around again when Peter Parker came back? That could've been a fun storyline. The villains escape, and if that's not enough, people in the crowd hear on a radio that "There's whole war going on at Governor's Island!" so Spidey has more work to do. But we turn our attention to Flash & Felicia walking down the street, Flash talking about how amazing she is, Felicia thinking about how she's gonna use him to hurt Peter. But then four muggers come for them. Flash initially tries to give them Felicia's purse, sayin they don't want trouble, making her think he's a wimp, but when they make advances toward her, Flash the boxer starts mixing it up with four guys at once.
"All my life, I've been on my own, except for living with my Mom the whole time, but no one's ever stood up for me, except when Spider-Man literally talked the cops into dropping all charges against me!" But, whatever, there's a twist in that plot. Vultch & Sandy are there to steal an experimental amphibious assault vehicle. Spidey arrives on the scene thanks to a ride from a friendly boater, and when he sees Vulture, he wants revenge for Nathan. But Sandman has slithered into the vehicle, and tho he doesn't want to, he shoots out a net from it to stop Spider-Man.
Still don't get the cameos, still enjoying them anyway. There's a quick cut to Jonathan Caesar planning to kidnap Mary Jane to a private villa in the Caribbean, and then we're back with Spidey as he catches up to Electro, who's escaping with a briefcase and blows up a heating unit to create some chaos.
The warning light! Not seen since ASM 296 or something like that. You'd think it would've come up more. With no webs, Spidey tries to just knock Electro out, and gets badly zapped for his efforts. Before he can regroup, Doc Ock's spaceship appears, and Electro escapes.
Has he really not put together that The Sinister Six has reformed yet? I guess he's been busy. Fighting almost all of them in 3 separate back-to-back incidents feels like it should be a tip off. I dunno. 2 issues to go in this one.