That cover copy feels really perfunctory. "Force of Arms." What's that got to do with this weird image? I'm also very interested by the "1985" next to John Byrne's signature. This cover is 2 years older than the comic it sells. Wonder what the story is on that. At any rate, after 9 issues and 3 months of very weird journeys into 2 kinds of psychological horror, we suddenly find ourselves reading a normal Spider-Man comic. What a strange time this has been. Both Kraven's Last Hunt and Life In The Mad Dog Ward are prrrrrretty unusual for their time, and they ran back-to-back. I wonder what the average reader thought. The whole gang from before Kraven's Last Hunt is still here: David Michelinie, Alex Saviuk, Vince Colletta & Bob Sharen. I assume they just kept working while the crossover ran, getting a nice 3-month lead. And they begin with a cold & miserable Spider-Man walking down the street.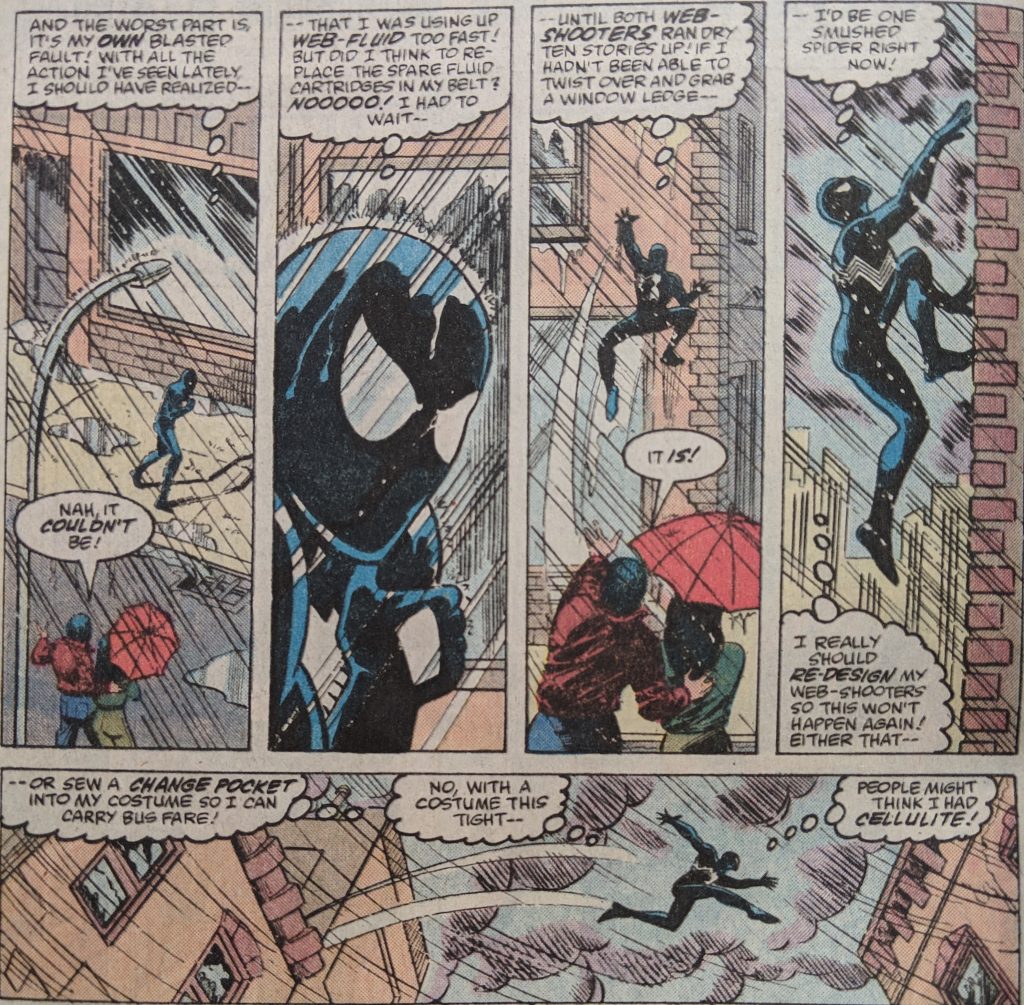 It seems some amount of time has passed since last time, as MJ is now on a gig in Aspen instead of Paris as Peter gets home, makes some tea and passes out. But it could also be read as a comic written with no knowledge of the last 3 months of publishing, directly following ASM 292. You be the judge. As Peter passes out, we turn to a South Brooklyn psychiatric hospital, where Doctor Octopus is a patient. Drs. Jefferson & Barnum watch him as he sleeps hooked up to some machines, and dreams about Spider-Man. By this point, Doc Ock has lost his arms, and had developed a paralyzing fear of Spider-Man in the process (We'll see why in a later post), so his dream about defeating Spidey in their first encounter quickly turns to a nightmare.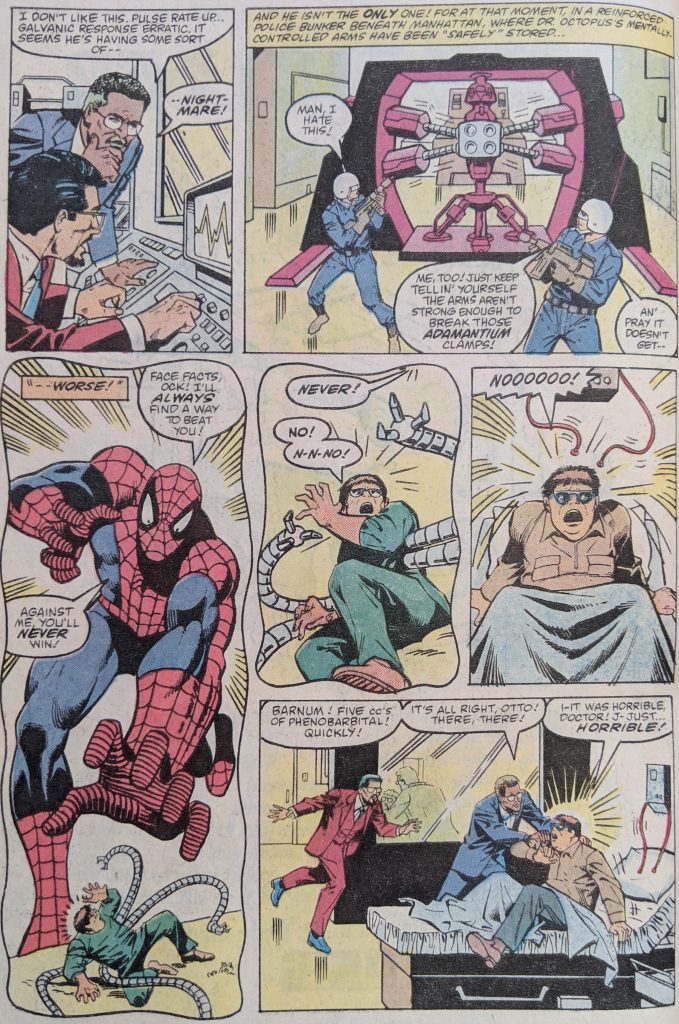 We've seen Doc separated from his arms before, but Adamantium and his new phobia will make the inevitable reunion a bit trickier. Otto hugs Dr. Jefferson, saying part of him wants to be a model citizen like he used to be, but part of him wants to pound Spider-Man into "meat jelly." Jefferson says they'll try again tomorrow. I come away from this with no idea what they were trying in the first place. Jefferson keeps saying Otto's genius and his "compassion" could help people if he's freed of his psychosis. I mean, what's he working from, there? Was Otto Octavius known to be a super nice dude prior to his accident? 'Cuz he's been a murderous psychopath since Peter Parker was in high school. Even on Marvel's sliding time scale, he's been a horrible danger to sometimes the entire world for years, at this point. The next day, Peter Parker is awake and working on a new design for his webshooters. He wants something that will warn him when he's running low so he won't have to repeat last night ever again, and something made of plastic so he can get through metal detectors. But the materials he'd need would be costly. He calls up The Bugle looking for work, but there's nothing going on. So he just swings around all night looking for marketable trouble, to no avail. Meanwhile, Otto is going back down for another sleep therapy. His dream is pretty amusing: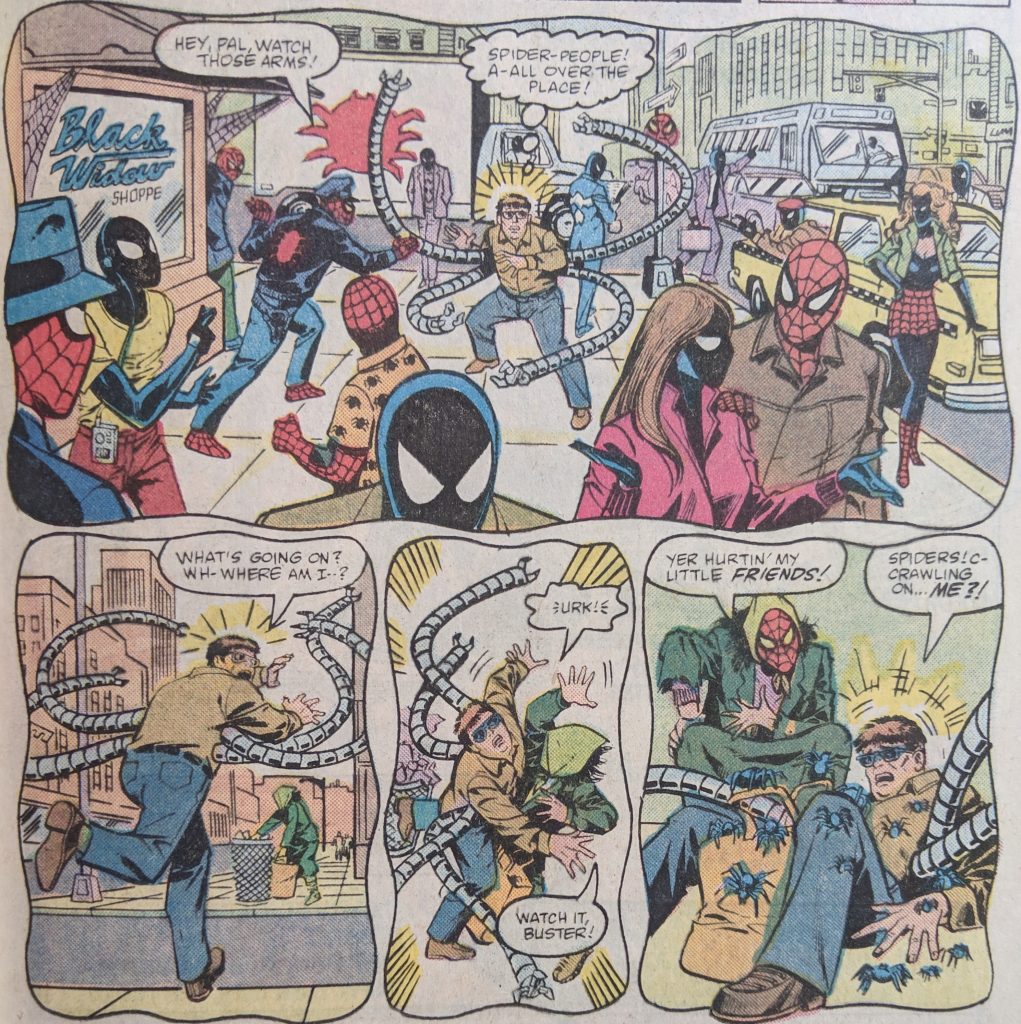 He runs in fear, right into a big web, where he's menaced by a somewhat more realistic giant spider man than the one on the cover, but in more or less the same image before waking in terror. But, in the facility where his arms are stored…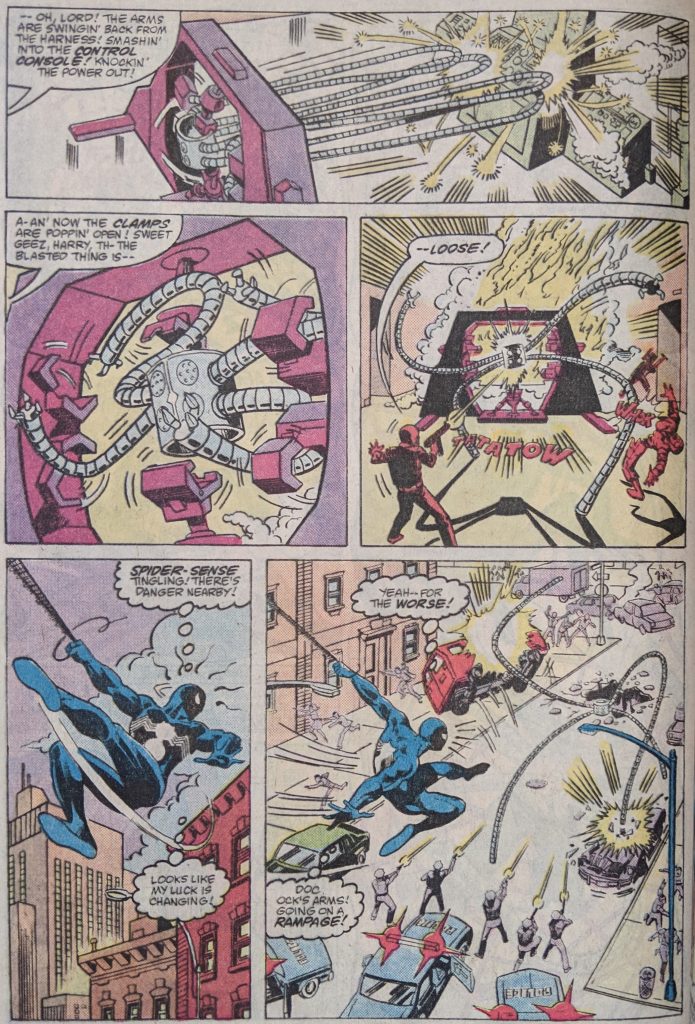 Spidey follows the rampaging arms down the street, helping people as he can, but he fails to hit the arms with a tracer, and then while he's saving people from a collapsing storefront, they escape. It's not long before the arms get to where Otto is, and smash through the wall into his room…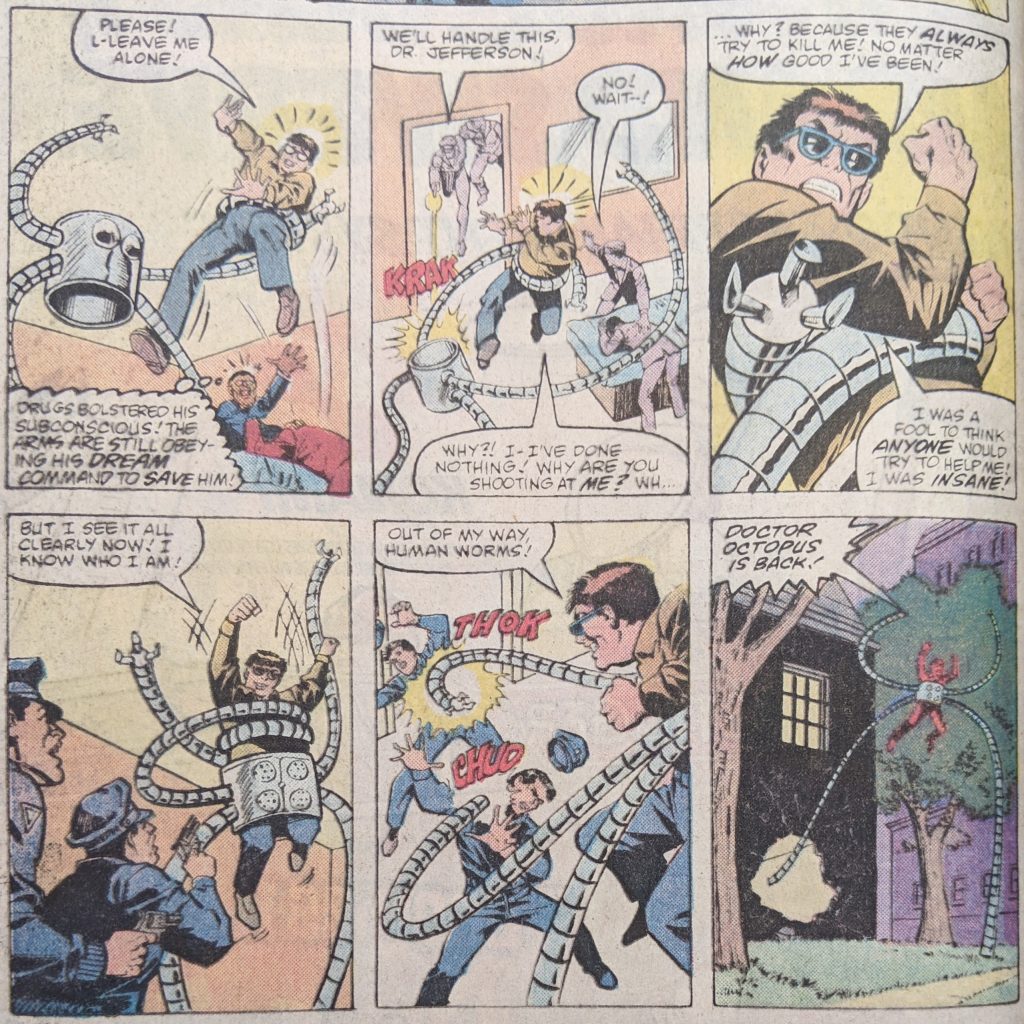 I believe he's been out of the picture for several years at this point, but he's back. By the time the cops and Spider-Man make it to the hospital, Ock's long gone. He's gone back to one of his old hideouts, where some of his old goons have just returned from a successful job.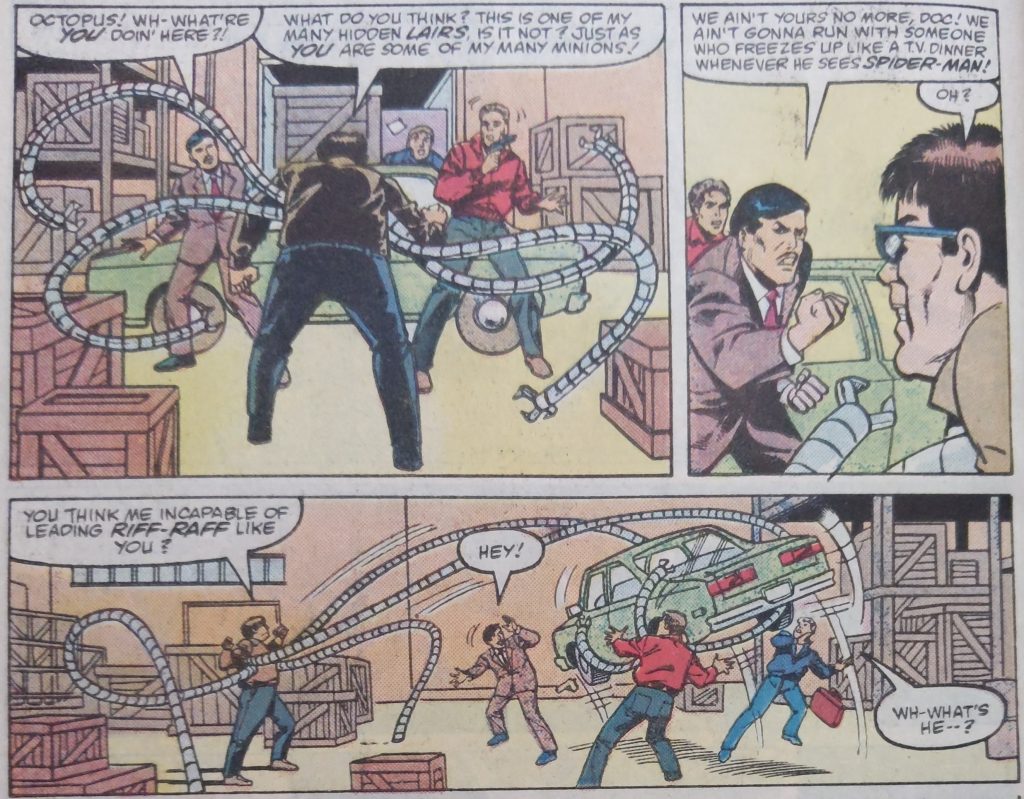 Ock rips the car in half, and no one argues with him anymore. Elsewhere, Spidey's having no luck finding him, so he drops in on Daily Bugle City Editor Kate Cushing, I believe making her first appearance on the blog, but obviously not in the books, as he drops Doc Ock's name.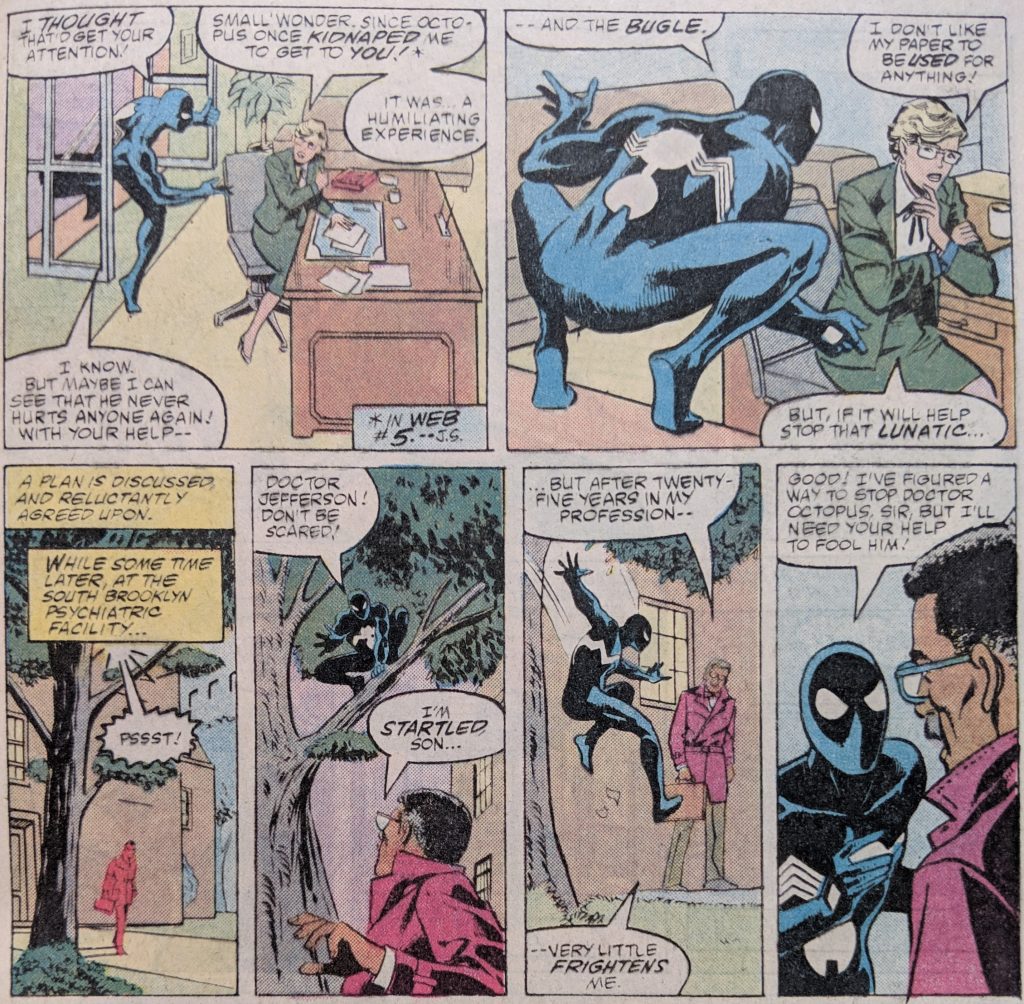 Thus, tomorrow's Daily Bugle says Dr. Jefferson is writing a tell-all memoir about treating Doc Ock. He sees it and flies into a rage before heading to the hospital. When he finds Jefferson, he just yells "He's here!"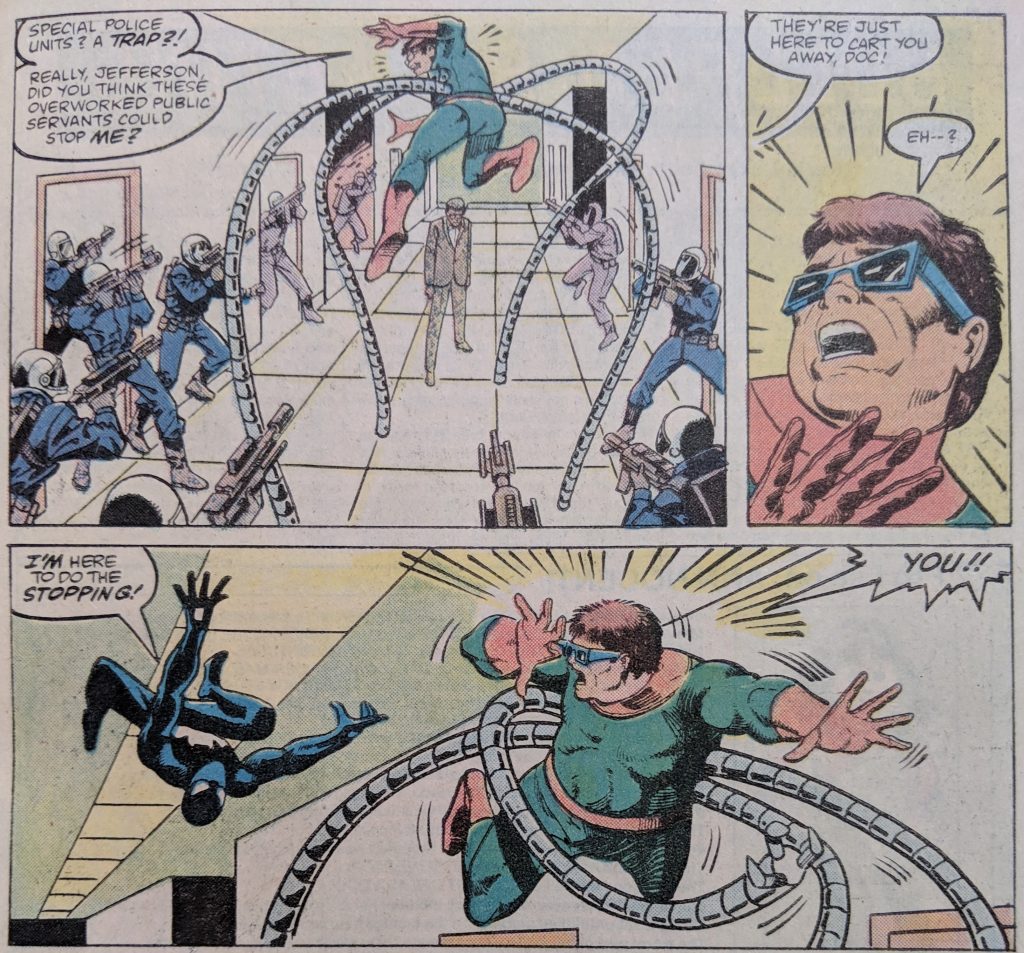 True to his current rep, as soon as Ock sees Spider-Man, he freezes up. Literally, as weird as that looks, totally stiff. But his arms keep on swingin'. The cops and Jefferson clear the area, leaving Spidey to try to figure out what to do.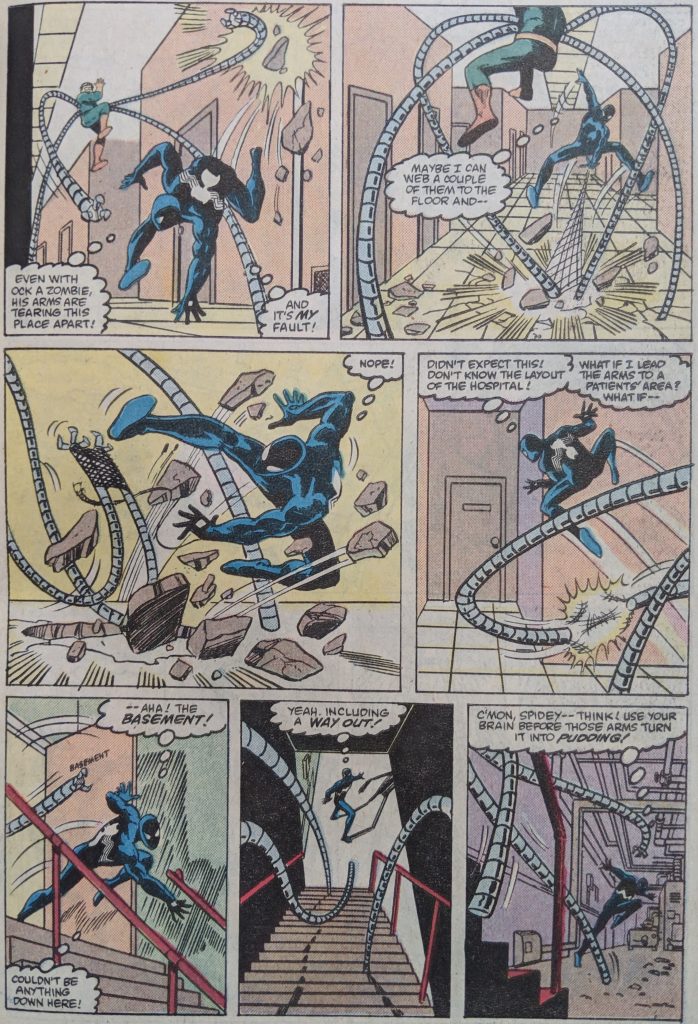 He thinks that Ock is obsessed with killing him, and hits upon the idea that the only thing the arms will prioritize over killing him is saving Otto, so he breaks a pipe, letting scalding steam fill the room, and the arms retreat, taking Ock with them, of course.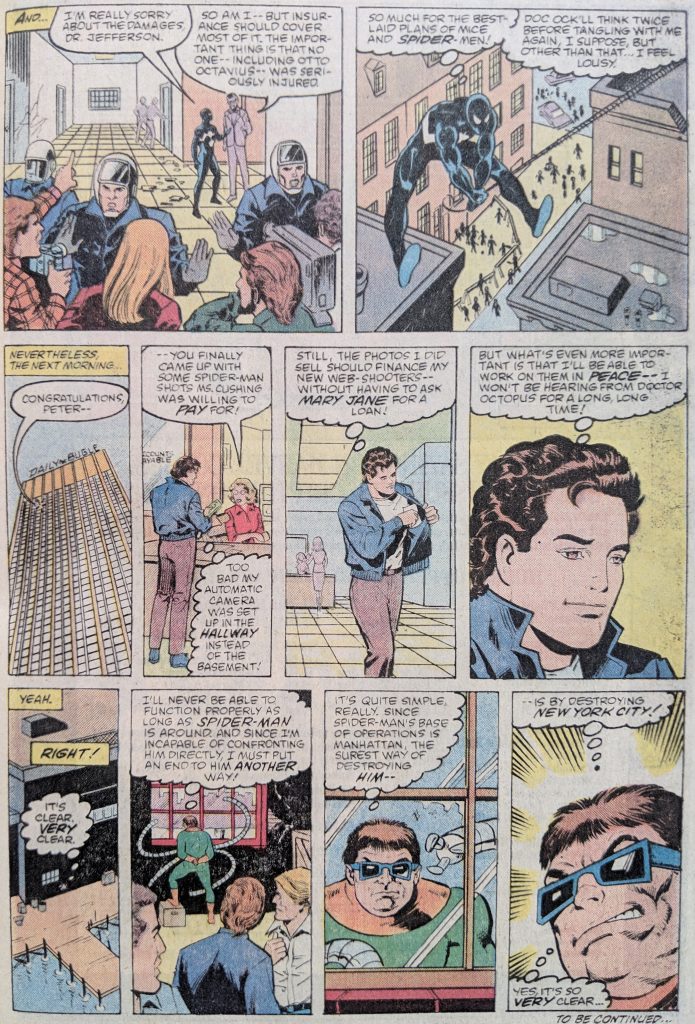 That sounds like our Doctor Octopus. We'll see what his plan is next time.