For the record, I have no memory of buying or ever reading ASM 296 & 297. I think I've had them for many years, but I don't really know. Some evidence suggests I got 296 and the Mad Dog Ward issues from the same place, but I just don't remember. Sounds like Doc Ock's gonna get his groove back in this one. Janet Jackson is back on colors this month (As ever, not that Janet Jackson). We join an elated Spidey swinging around trying out his new webshooters. In addition to being lighter, more flexible, and plastic, they have an LED that flashes red when they're almost empty, which he's testing now.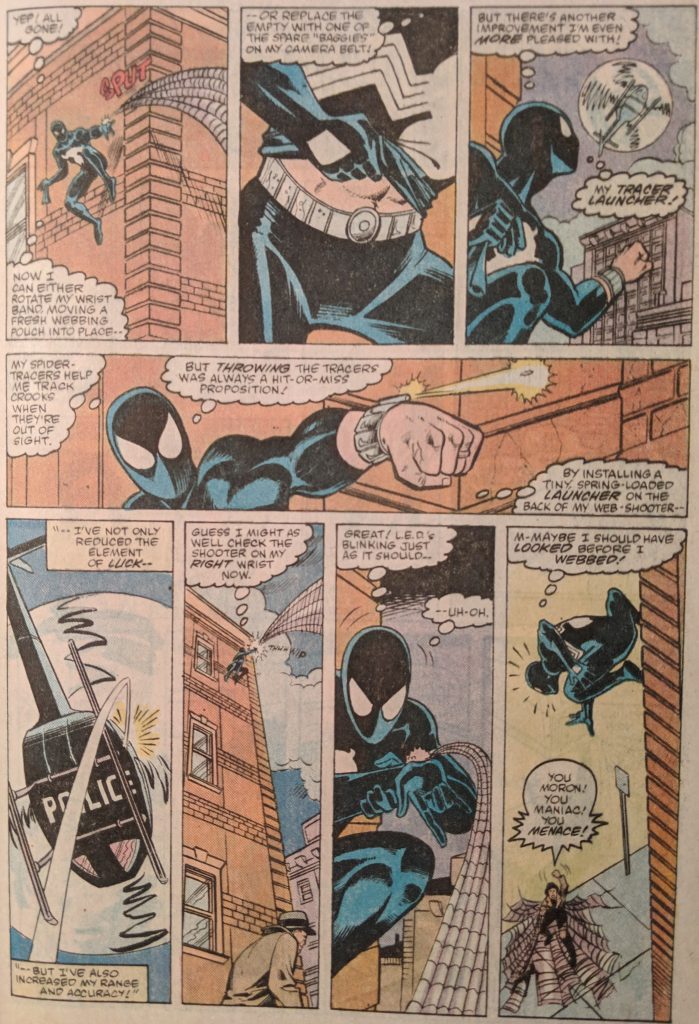 A very embarrassed Spidey says it'll dissolve in an hour, apologizes, and swings off. JJJ was right! Meanwhile, Aunt May & Aunt Anna have made an unannounced visit to his place, hoping to take him out to dinner since MJ's still out of town. May says Peter gave her a key for emergencies (THAT seems like a mistake!) so she lets herself in just as he's dropped in through the skylight (SEE??).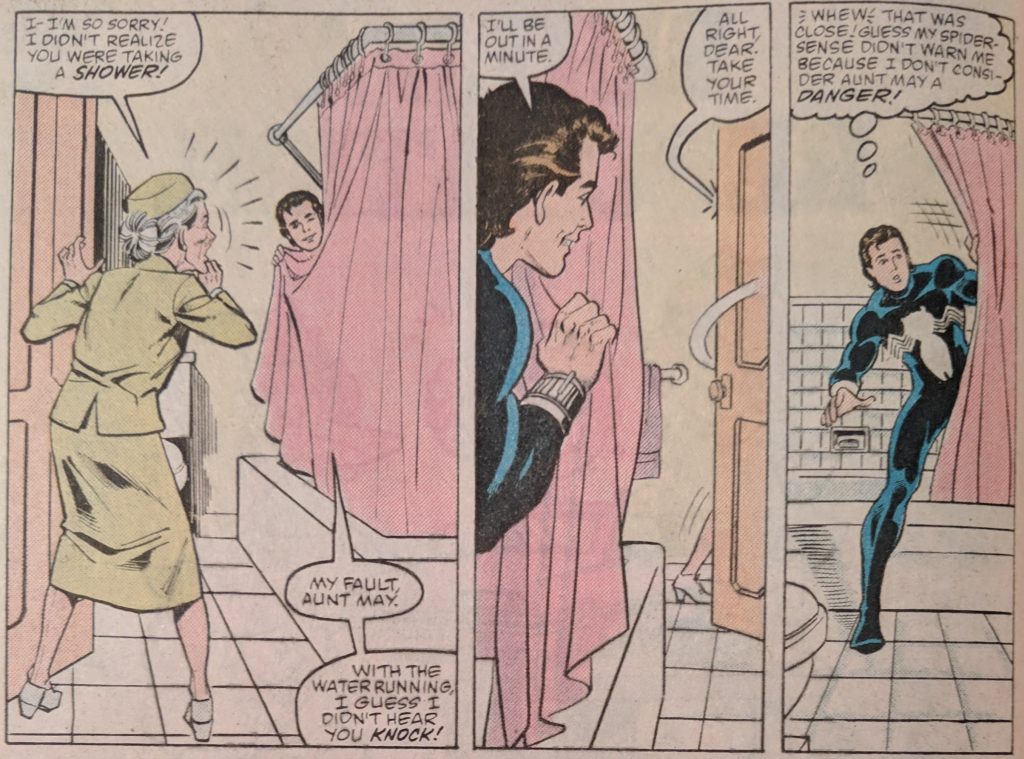 Meanwhile, at a New Jersey airfield, an obscured figure in a car is trying to rent a crop dusting helicopter. When the owner says his pilot is booked up for the month, Doc Ock's arms snake out of the car and crush said pilot, as he suggests the owner let his goon fly it. Yikes. The next day, Peter visits The Daily Bugle, and after he mentions to Joy Mercado (Have we met her yet?) that he's nearly broke, Robbie calls to him.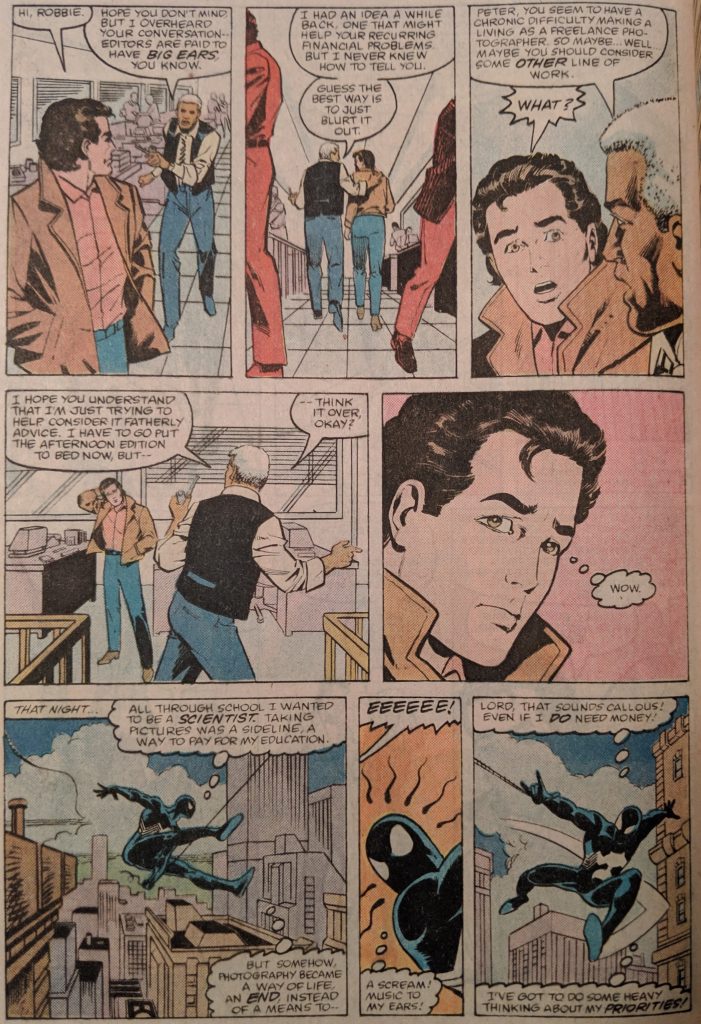 I've mentioned elsewhere that Alex Saviuk will be drawing Spidey for a long, long time. I am far more familiar with his take on the red & blues. But there's no mistaking his work even on the black suit. Seems like most Spidey artists come up with a handful of stock poses for Spider-Man, and Saviuk certainly has his. Sidey swings over to a high society robbery, masked goons holding up a party full of rich people, and begins to do his thing.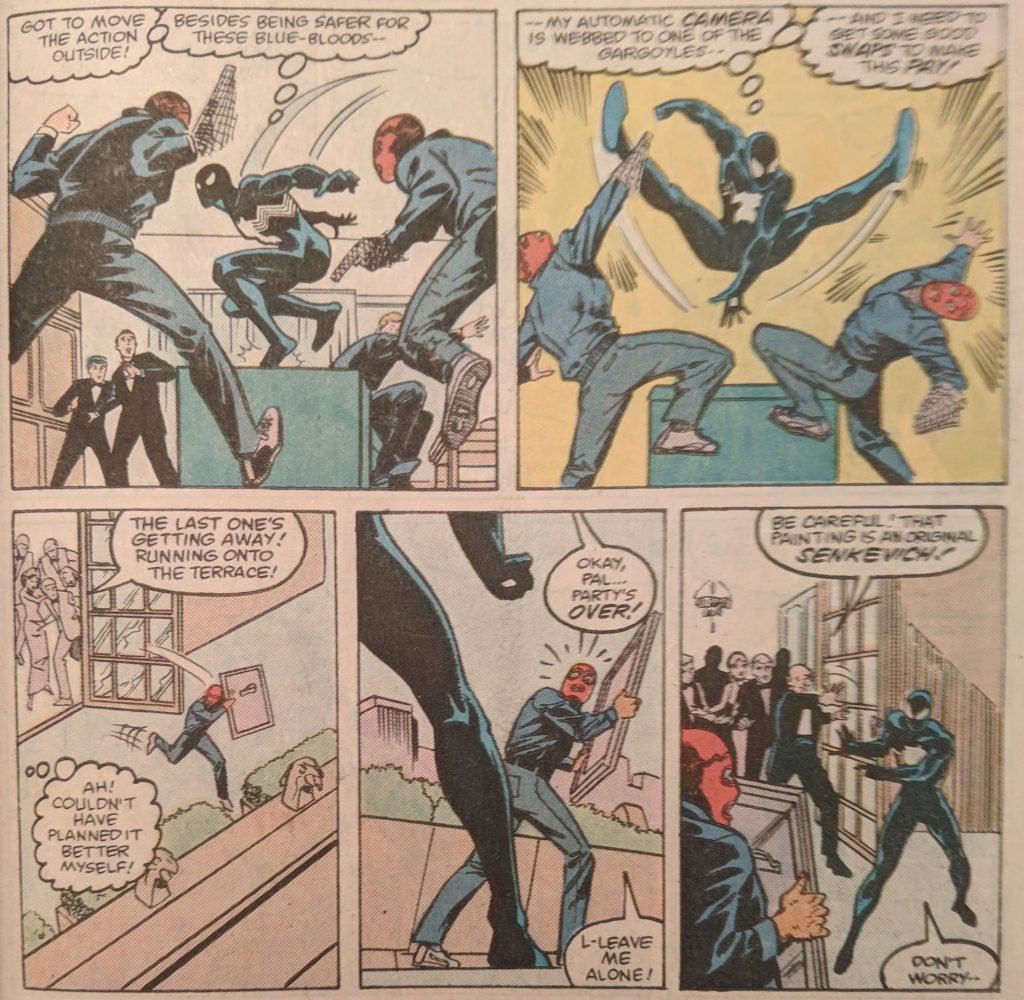 Bill Sienkiewicz's name is so notoriously hard to spell that even this obvious friendly shout out is marred by the attempt. Somebody named "Michelinie" should know better. Anyway, Spidey webs the goon, who promptly falls through the painting, and the owner is furious. Spidey gets mad and punches a statue, which the guy says will be added to his lawsuit, and Spidey takes off before he can mess up and worse. He thinks he should find Doc Ock, because the way he freezes up would help his ego, giving us a segue to go see what he's up to. Now he's on Long Island, breaking into a military facility to steal a chemical weapon described as possibly "the deadliest weapon this country has ever devised!" So, he's got a crop duster and a chemical weapon. I trust you see where this is going. Meanwhile, Peter Parker gets a phone call: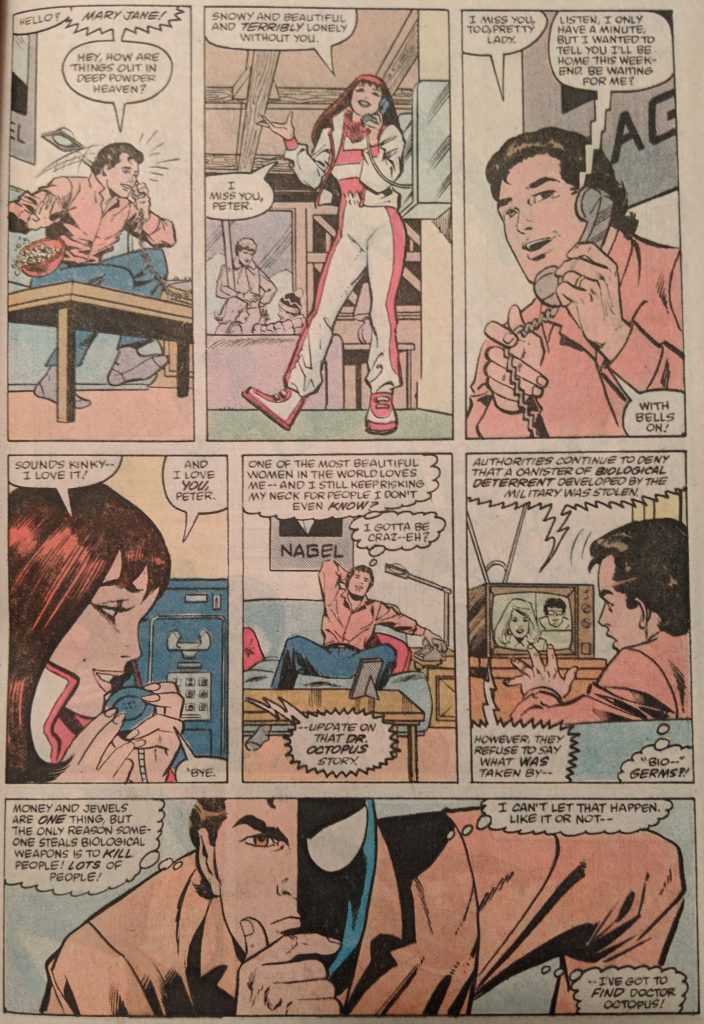 "GERMS?!" You can tell he's a man of science. He's pretty worried about what Ock will do with a chemical weapon, and begins canvasing the city beating up goons for information until someone rats Doc Ock out. He's in a location that is retroactively awkward.

Remember that psychiatrist talking about how Otto Octavius' compassion could benefit the world? That guy should lose his license. LOVE the goon outfits. Anyway, Ock gives the order to kill everyone in Manhattan just before Spider-Man can smash through the window. At the sight of him, Doc Ock freezes up as always. Then Spidey whips the mask off one of the goons and tells him to stop the attack, but he's informed only a coded message fro Doctor Octopus can do that, and Ock is now a statue. Then his arms start lashing out, and an increasingly desperate Spidey has a plan:

Ock's arms start really wailing on Spider-Man, and his one of his goons yells "Doctor Octopus is beating Spider-Man!"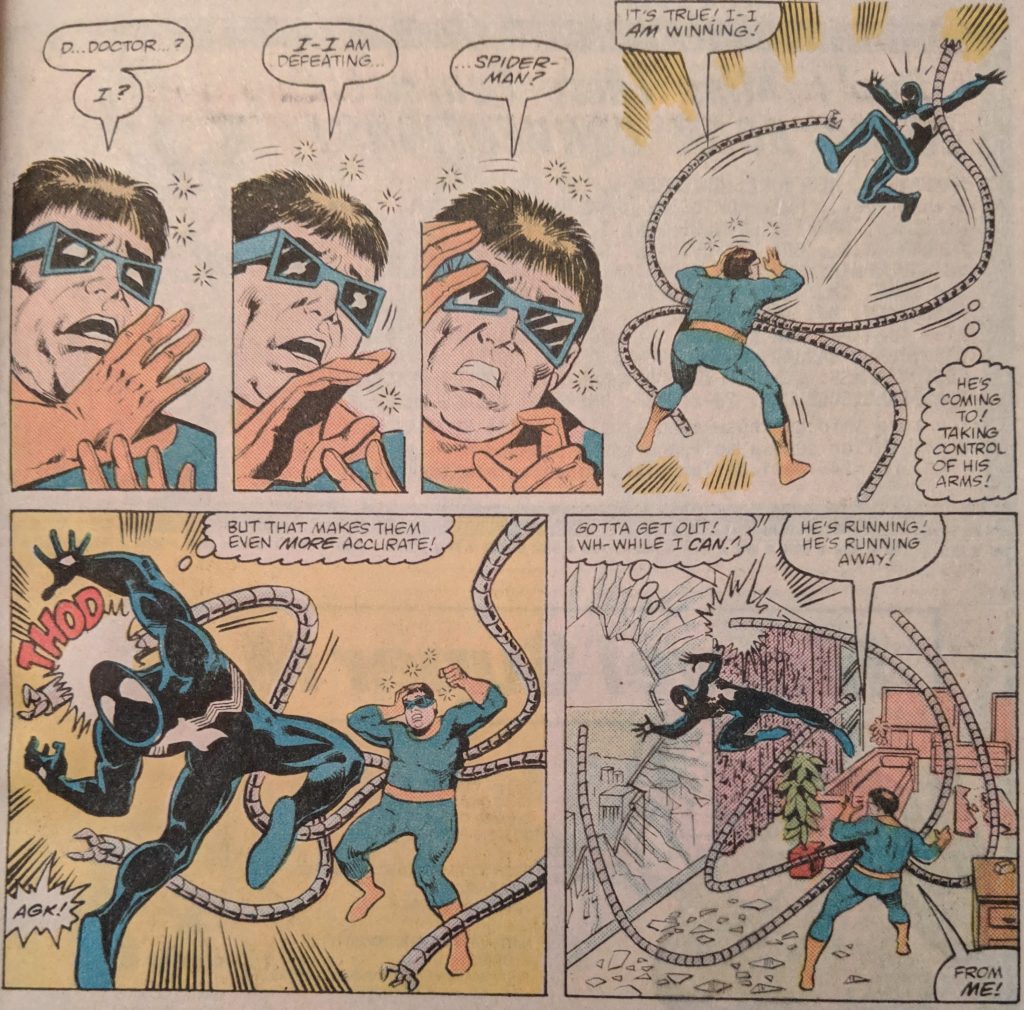 Dock Ock chases him all the way to the roof of the tower to continue the beating.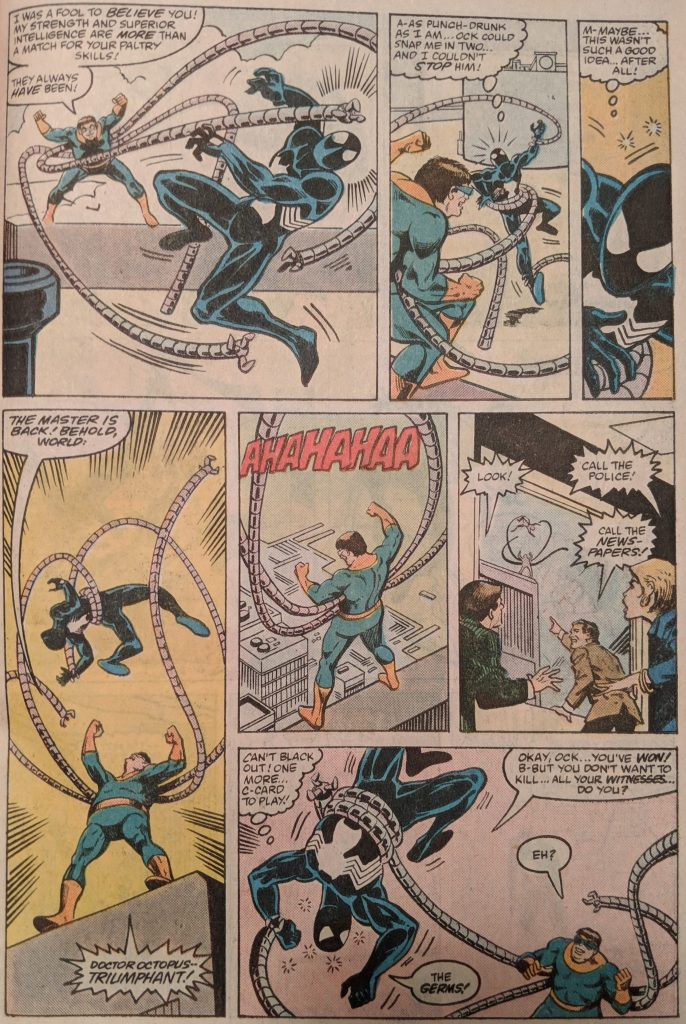 Spidey's appeal to Ock's ego works, and he drags Spider-Man back down to the room the cancel the countdown. He doesn't even want to kill Spider-Man anymore, saying he lived with his humiliation, and now Spidey can live with his, and leaves. Spider-Man is no shape to follow, and barely makes it home.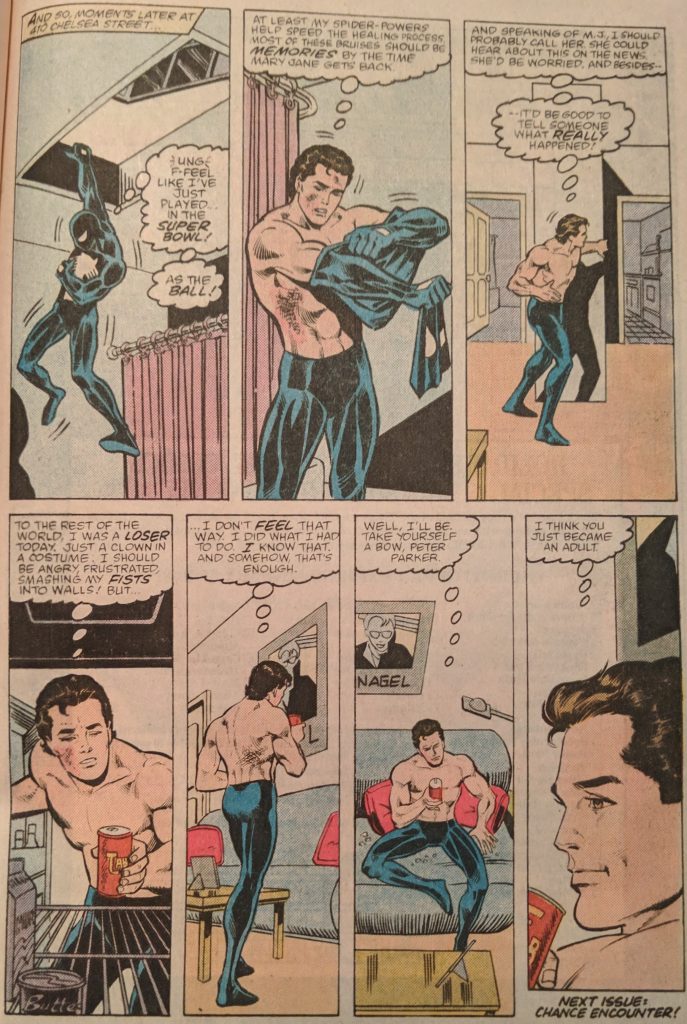 Doc Ock is finally restored to his full power. But, with that in mind, you might be surprised how long it is before we see him again.