Pretty striking cover! Here's another one I've had forever. I almost feel like it was in the magical box of Marvel comics discussed elsewhere on this blog, but it seems too old. I'm not a Hulk guy, I wouldn't have bought it just 'cuz he's in it. I have no idea. This feels like a last minute fill-in. Peter David writes, Sal Buscema clearly doves very loose pencils, and Armando Gill does finishes. Bob Sharen, of course, is everywhere. It starts pretty weird!
Barely recognizable as Buscema on page one. It gets more obvious quickly, but Gill is certainly doing a lot.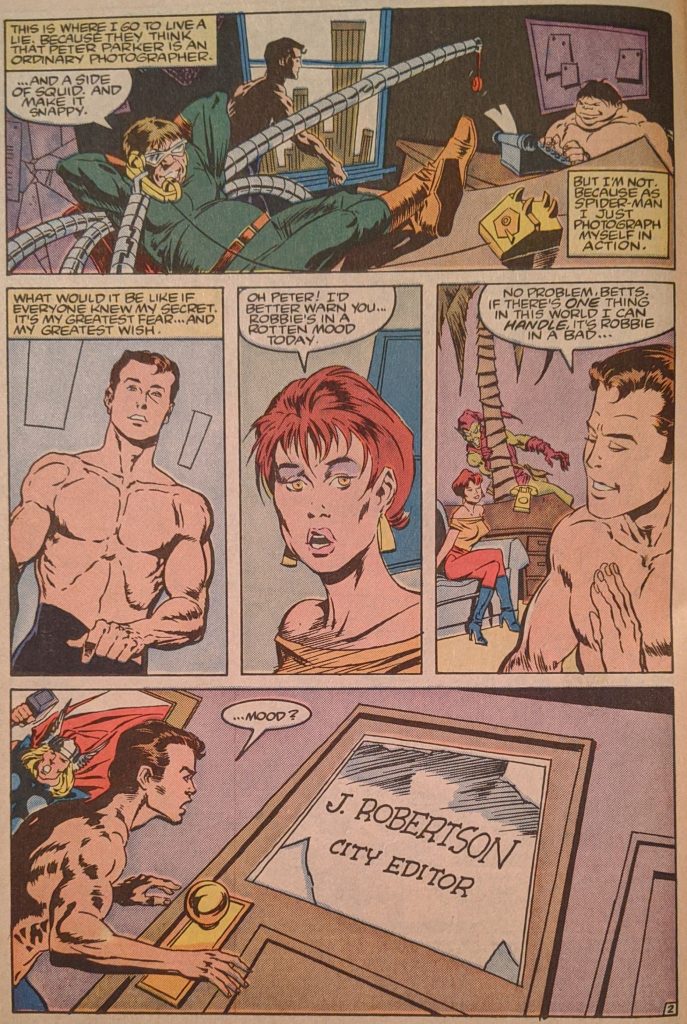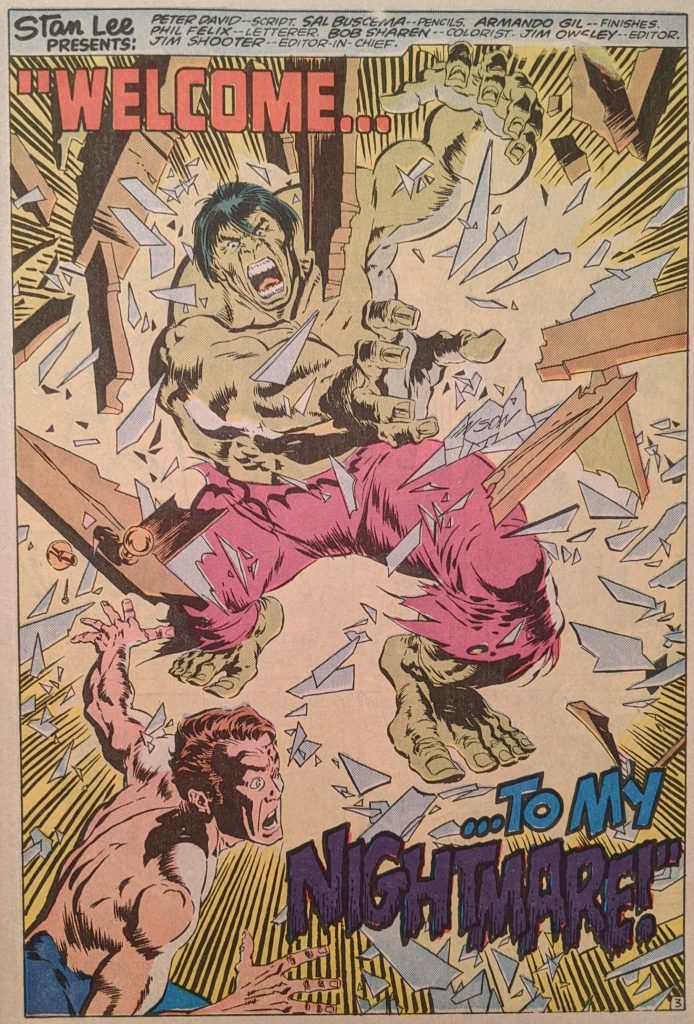 So, this is what we're doing. Everyone runs in a panic as Spider-Man's costume appears on Peter. The Hulk attacks him, and he keeps switching between red and blues and black suit as he runs and swings out a window. Then The Bugle collapses. Hulk explodes out of the wreckage.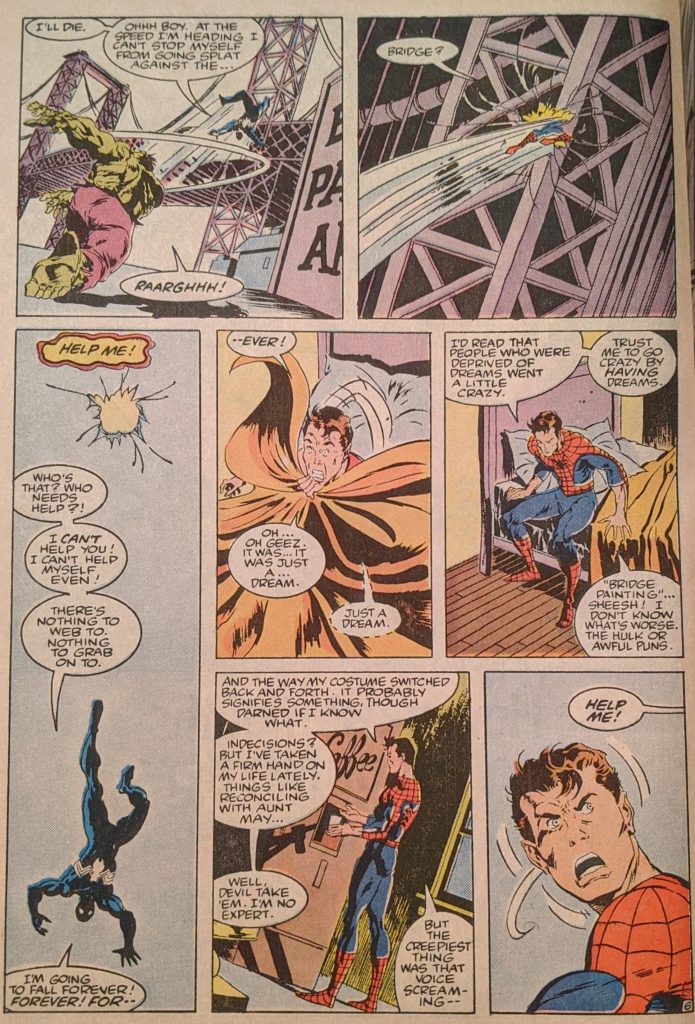 Guess what, he's still dreaming. He keeps hearing the cry for help, and looks out the window to see it's coming from Aunt May's house. He arrives in time to see The Burglar gun down Ben, May, Captain Stacy, Gwen Stacy, even Mary Jane & Betty, and they're not really dead. The Burglar says he's given him what he wants, because guilt defines him as they run into the end of Amazing Fantasy 15…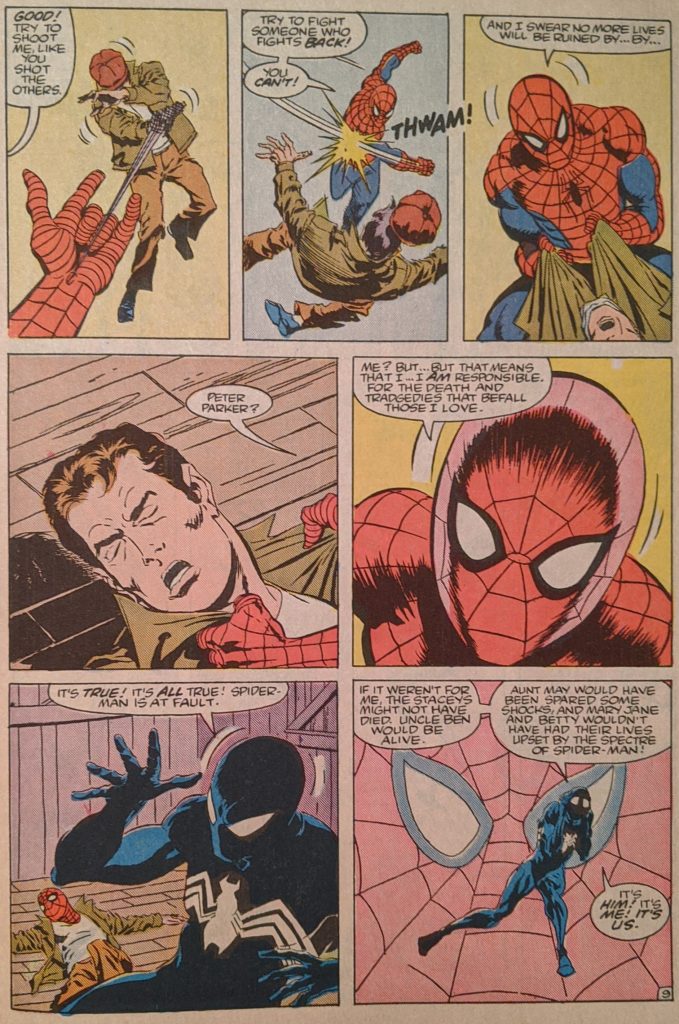 Hulk catches up, and Spidey almost let's him crush him, but then they go falling through space into some water. Spidey keeps hearing the call for help, and then this all starts to make some sense.
There's more fighting as Nightmare, the lord of, uh, Nightmares, there, tells Spider-Man if he dies in the dream, he'll die for real. Hulk throws a manhole cover, which Spider-Man rides to the Statue of Liberty, which they demolish.
There ya go, it's not just a dream issue. Spidey and Nightmare run to the edge of his realm, and the Hulk pursues. With nowhere left to run, Spider-Man resigns himself to fighting, webbing Hulk's eyes and boxing his ears to enrage him further, but it doesn't help him much.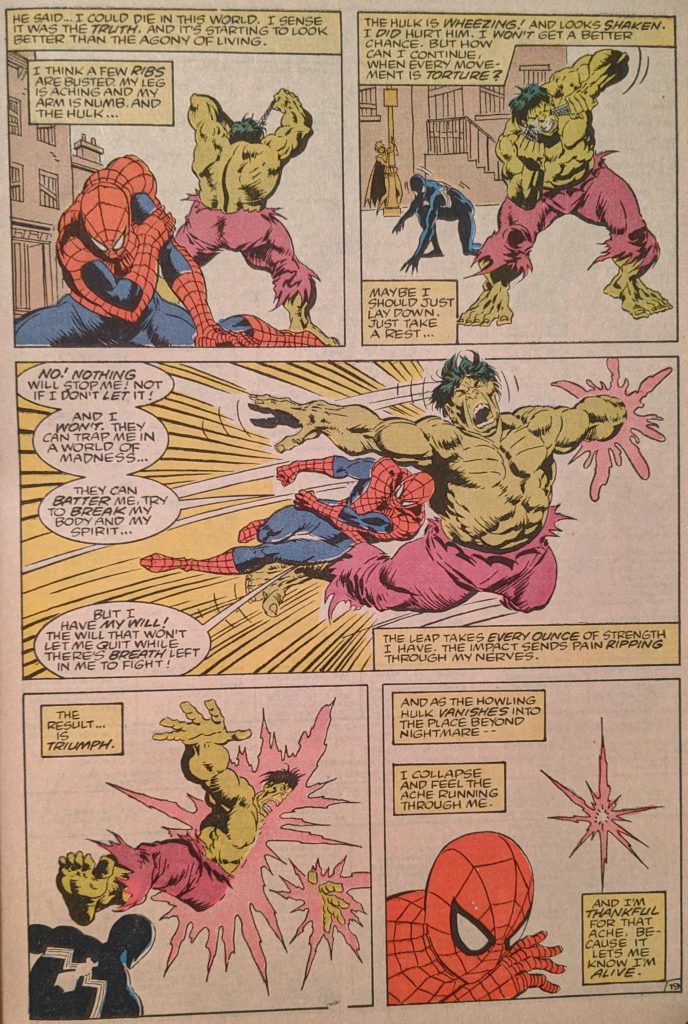 Nightmare celebrates the victory by getting back in his usual supervillain outfit. When Spider-Man tells him to send him home, Nightmare refuses, saying he's proven a great champion, so he'll trap Spider-Man here to work for him forever. But as he's saying all that, Hulk's hand reaches back in through the void…
Wacky one. Total filler, but at least interesting. Peter David was into his 15-year or something like that Hulk run by this point, so I assume Hulk being trapped in the land of madness or whatever would've carried over to his book, but that's not our concern.