Secret Wars, while not strictly, uh, good, was a massive success. Massive. The toy line it was created to market was a big hit, the comic itself was a big hit, new characters launched out of it, Spidey's black suit (sort of) launched out of it, it was a big deal. Well, then, gotta try to do it again, right? Secret Wars II is rather famously a debacle. Jim Shooter and Al Milgrom told the story of The Beyonder, the mysterious, god-like being who kidnapped all the heroes and villains to his "Battleworld" in the original, deciding to come to Earth and learn what it means to be human. The main series lasted 9 months, and Shooter rooted it firmly in-continuity, with plot points from regular titles spilling into SW2 and back out into the main books. There's a lot of Spider-Man tie-ins, starting here. We're picking up after the events of Secret Wars II #2, when The Beyonder, having chosen a male, human appearance and wandering Earth, found Spider-Man, someone he recognized from the previous series, and tried to learn about humanity from him. In perhaps the series' most infamous moment, Peter Parker taught The Beyonder how to go to the bathroom. Really.
Then he teleported out of Peter's apartment, got up to various hijinks, and eventually found himself in debt to Luke Cage & Iron First, Heroes for Hire. To repay them, he turned their entire office building to gold, then he, IF & Luke promptly vanished. And the building began to collapse under its own weight. With people inside! And that's where we come in. The art team is pretty wild this month, with layouts by Mike Harris and finishes by Mike Zeck, Bob Layton, Dave Simons & Jim Mooney. We open not on the gold building situation, but on Wilson Fisk trying to decide what to do about it.
No mistaking the hand of Mike Zeck there. Meanwhile…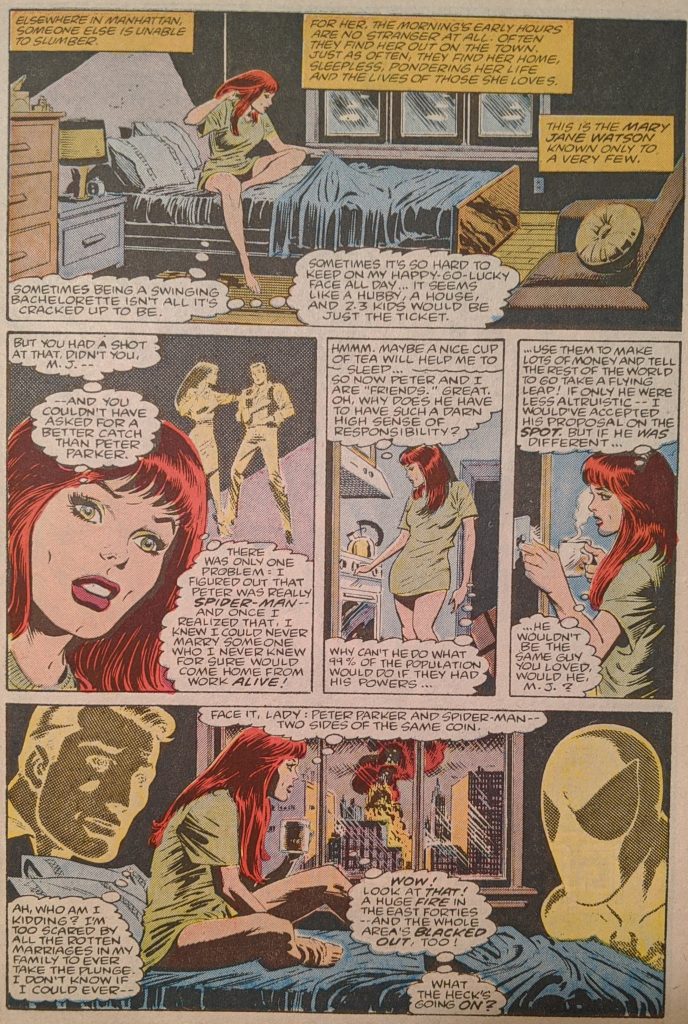 MJ thinking about how it sucks to be single and maybe she shoulda married Peter. For people who didn't want Pete & MJ to get married, the creative teams of the 80s sure laid a foundation. Anyway, we finally check in with Spider-Man as he approaches the gold building in shock and disbelief. There's a brief recap of Secret Wars II #2, and then we get to it.
The previous 3 pages were by other people (I'm thinking 2 by Simons and one by Layton), but we're back with Mike Zeck here for sure. We cut away to various New Yorkers reacting to the building. Some scared, some intrigued, many just sleeping through this. And The Kingpin is getting impatient. He called in the feds to come contain this situation, but they're taking too long, so he says he's going to send in his own men until they get here. Yeah, Fisk is making a deal with the US government, with a guy called Bainbridge who then reports directly to the president. Pretty crazy.
I'm guessing Jim Mooney for this page. Look at that cop's tiny gun. A federal agent shows up and instructs both the cops and crooks to begin forming a perimeter around the building, just as the owner shows up demanding to know what's going on. The fed says he's got a check for the guy in the amount of the building's previous value, but the owner is obviously not interested. That's where Spider-Man gets the guards outside, and recognizes some of Kingpin's goons in some pages I'm guessing are Dave Simons.
Somebody opens fire on Spider-Man as Jim Mooney takes back over. The fed, Anderson, says they're not playing around, but Spidey goes back in, anyway. Anderson thinks he hopes the building collapses on him. We cut to Aunt May & Nathan pondering their financial woes in case you forgot, then back to the building, where the army has shown up. Narration tells us Washington has decided this whole building must be dismantled and sunk into a trench in the ocean where no one can reach it, and so they begin that work. The news has finally shown up, too, and they've been told a gas main exploded and they can't get close. While all that's going on, Spider-Man is just focused on helping, pulling another 5 people in pretty bad shape and one dead from the wreckage. By now, it's 4am , and he's exhausted. He sits down for a moment, marveling at all the regular items now worth a fortune, from packing peanuts to a notepad, when he hears a faint voice calling for help.
This is a pretty complicated situation. Spidey saves himself & the guy, of course, and the guy decides to leave his stuff. Spider-Man is not happy about this, but more concerned with helping the guy out. Meanwhile, Fisk appears outside to speak to Anderson.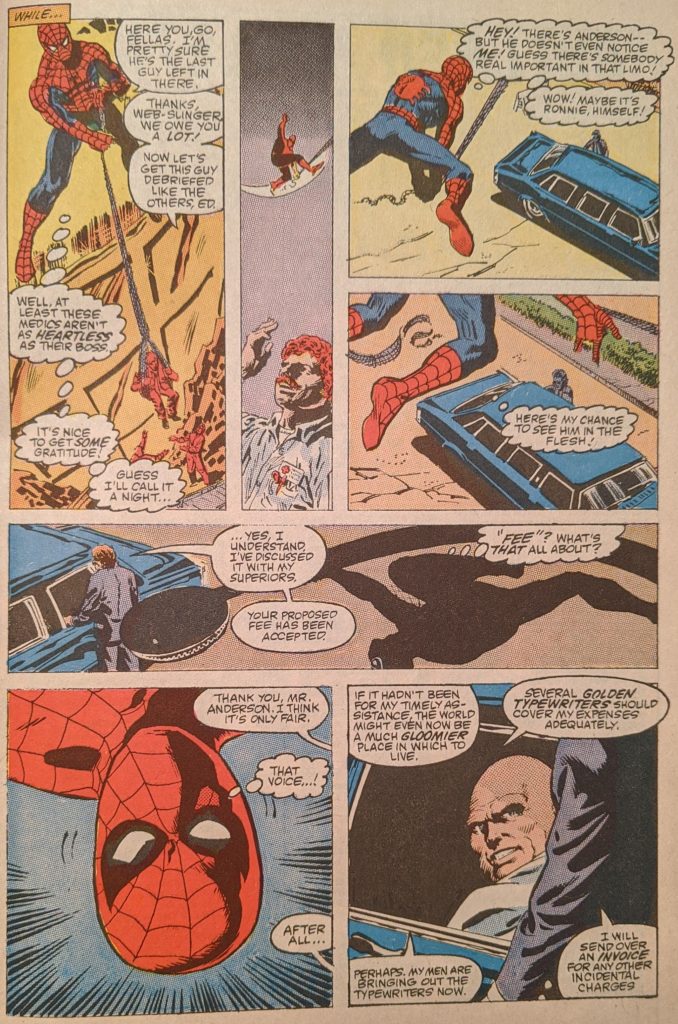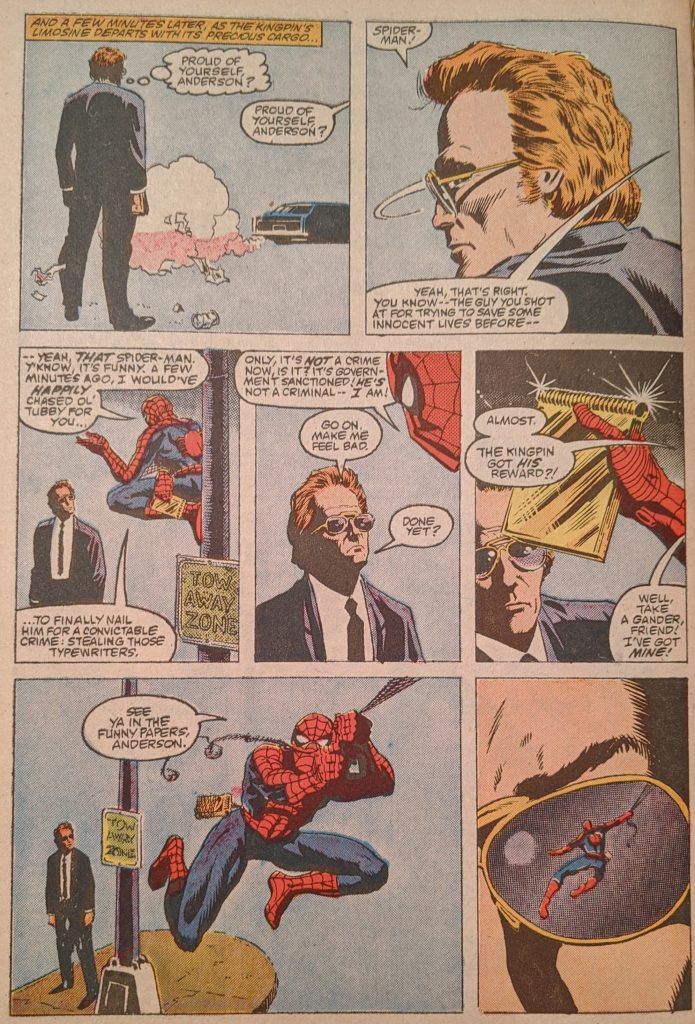 This begins the very strange subplot of the golden notepad. You might not think it seems like that big a deal, but the entire staff of the Spider-Man line disagrees with you. I think it's weird, and we'll see more of it next post.