More Cloak! More Dagger! More Punisher! What a bargain! By now, Frank Miller has recently created the famous rivalry between Punisher & Daredevil, and 3 years before this, Frank appeared in a single issue of Luke Cage and a single issue of Captain America. But rather incredibly, 9 years after his wildly successful introduction, he still hasn't graduated to his own comic yet, and remains primarily a Spider-Man villain/friend/anti-hero/antagonist/whatever. 9 years out, he's appeared in less than 25 comics. That is a remarkable amount of restraint shown for what has been a pretty popular character from day one. Kinda funny to think 10 years from this, he'd be starring in three monthly titles. At any rate, we start with him, looking down on the rainy city and doing his usual kinda internal monologue. Then he hears a commotion and looks in a window across the street in time to see a guy slap his wife.

I'm not sure what to take from this. Am I supposed to think Punisher overreacted? Am I supposed to think shooting up an apartment building is heroic? Both? Neither? Shooting domestic abusers seems like a good use of Frank's time, but he could've easily hit people in other rooms and on other floors with that random spray of bullets. Oh, wait.

Boy am I not comfortable with domestic violence and littering being put on the same level! And the purpose of this sequence seems to be "Punisher is crazy," but like, that first incident was literally someone who should be punished. Murky water, Bill. Punisher shooting up the cab draws the ire of a cop, so he runs for it, saying cops don't understand him. You don't got any moral high ground after opening fire twice on the street, buddy! Frank reiterates his plan to kill The Kingpin, and then we go catch up with Spider-Man, Cloak & Dagger.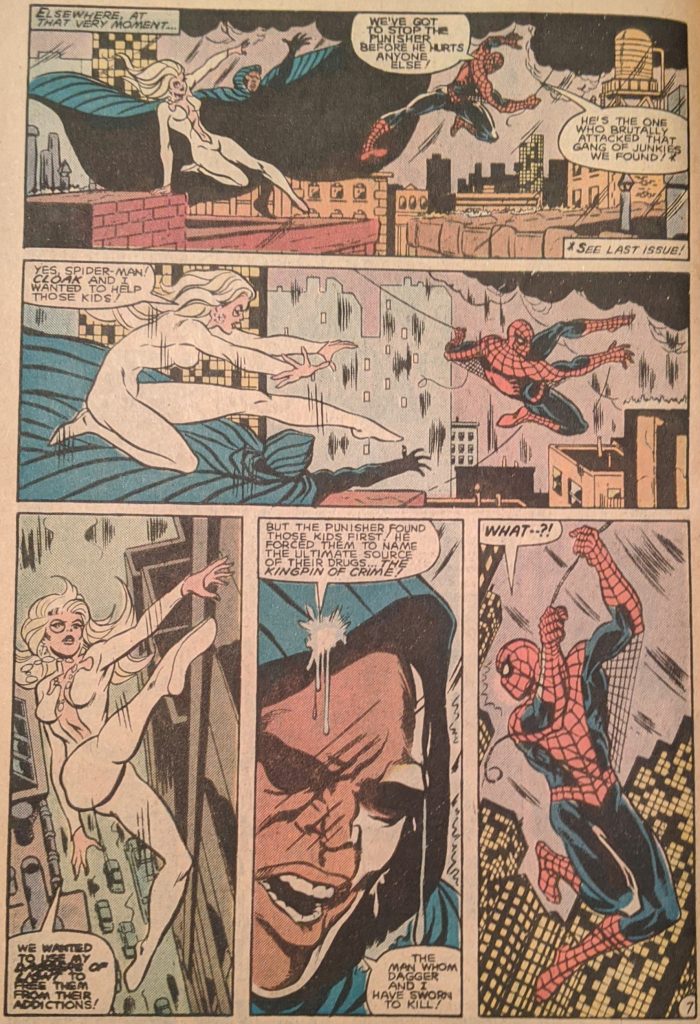 It's everyone kill The Kingpin day!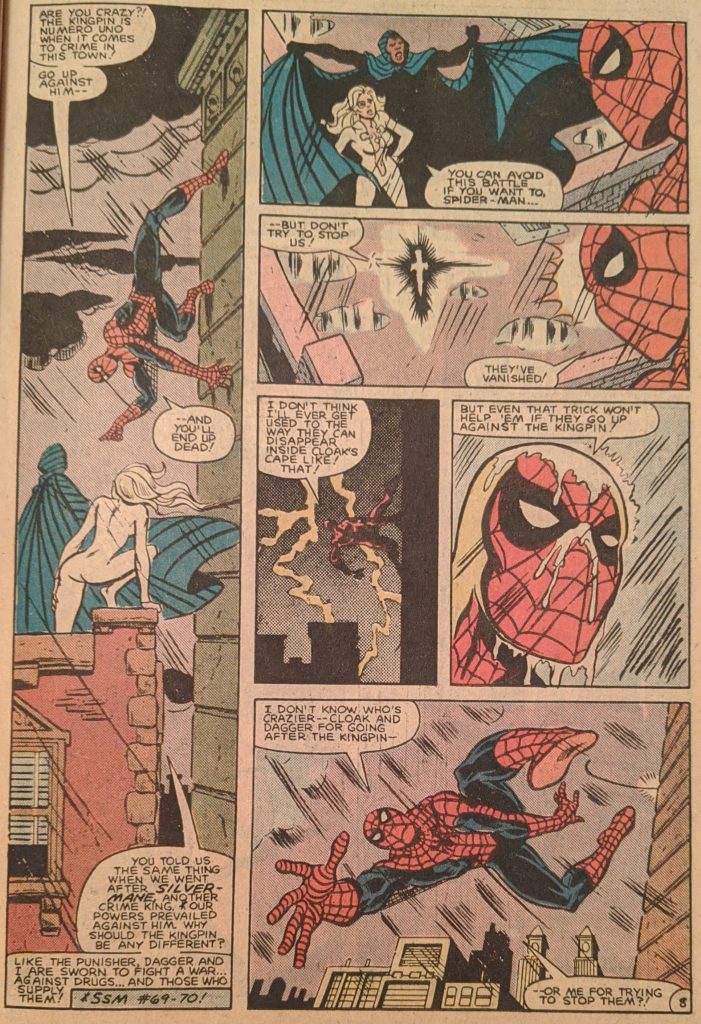 Spidey swings off wishing he had time to go see Black Cat, and that segues to us watching her sneak out of the hospital in her supersuit, bored and ready for action against doctor's orders. Seems like that won't end well. Meanwhile, Spider-Man has reached Kingpin's tower, and sneaks into Kingpin's office as he so often does. Kingpin not only knows Spider-Man's there, but knows he's come to warn him about Cloak & Dagger. How in the world could he know that? Then they teleport in. As Kingpin predicted, Spidey can't them kill him, so they pronounce him just as bad as Kingpin, and the fightin' starts, allowing Fisk to escape in his private elevator. Well, to escape those 3, anyway.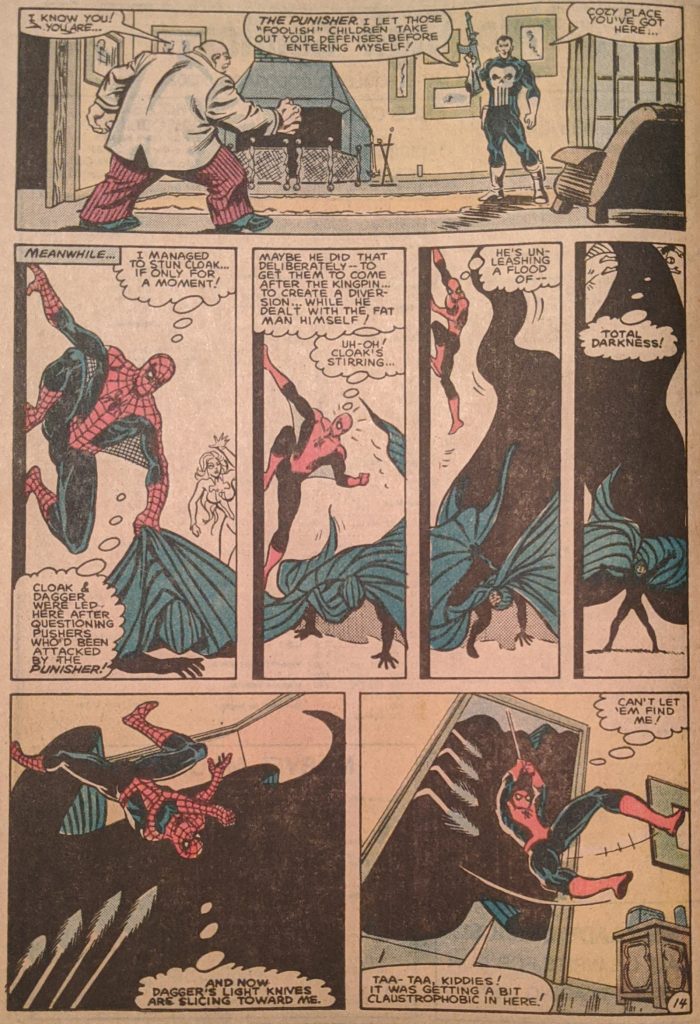 Spidey swings right into an army of Kingpin's goons, but they're soon swallowed up in Cloak's cape. Our guy tries to reason with the kids, but has no luck, and is soon sucked into the dark dimension himself.

I've never much liked The Punisher, myself, but this particular version of him is a pure villain. Elsewhere, Spidey is freed from Cloak's darkness by the still-homing light knives of Dagger. C&D make it pretty clear Cloak "feeds" on the people he envelopes, and Dagger says Spidey owes her one for saving him as they blink out to find The Kingpin. Sheesh, everyone sucks in this comic. Spidey has to fight more goons before breaking into Kingpin's secret elevator and making his way down to the last page of this issue: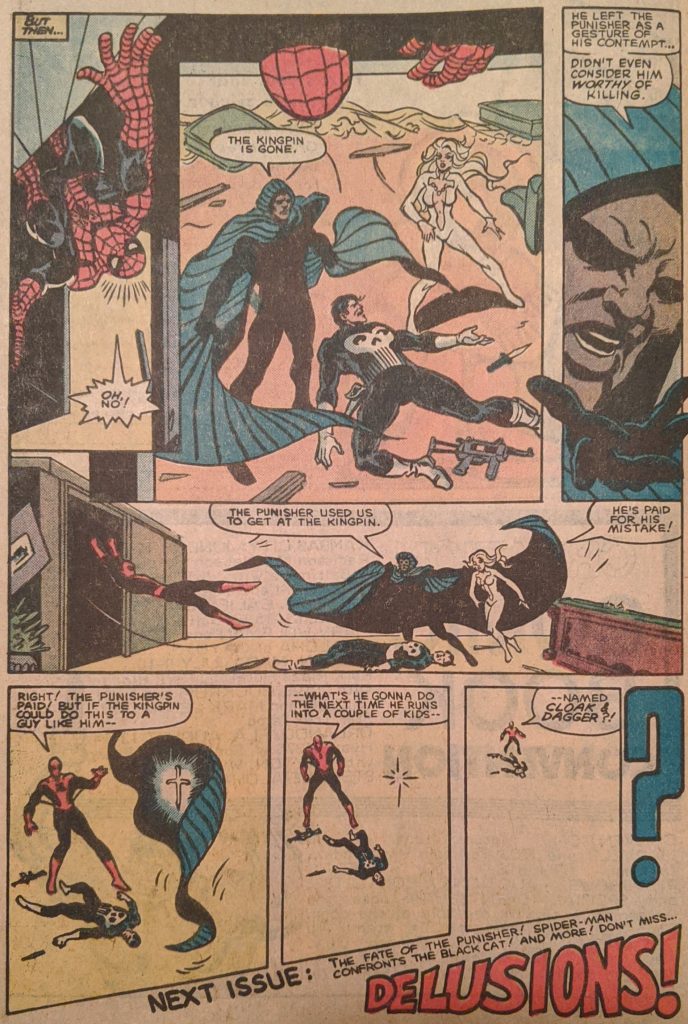 Kingpin not killing Punisher makes zero sense. It makes negative sense. And why Spider-Man somehow thinks Punisher is a more formidable foe than 2 kids with superpowers also makes no sense. There is no sense to be had. Maybe there will be some sense next issue. But not next post!