This looks like it's gonna be a busy one. Today's adventure is brought to you by Bill Mantlo, Ron Frenz, Kevin Dzuban, and Bob Sharen. Weird that it's the exact team from TAC 80. As Spider-Man descends on a seedy looking dockside warehouse at night (For the 2nd issue in a row by the same creative team), it's once again clear that Dzuban is doing finishes over layouts, because there's not a hint of Ron Frenz on this page.

Spidey keeps on recapping Cloak & Dagger's deal as he looks into a chop shop just in time to see Cloak & Dagger zone in to fight the dudes inside. How convenient! C&D start taking apart the goons while Spider-Man narrates what their powers can do just in case you don't know (Spider-Man is, like, their biographer, at this point) before finally jumping in himself when Dagger gets surrounded. The teen heroes seem to react more positively to Spider-Man than they usually do, and then it's time to mop up.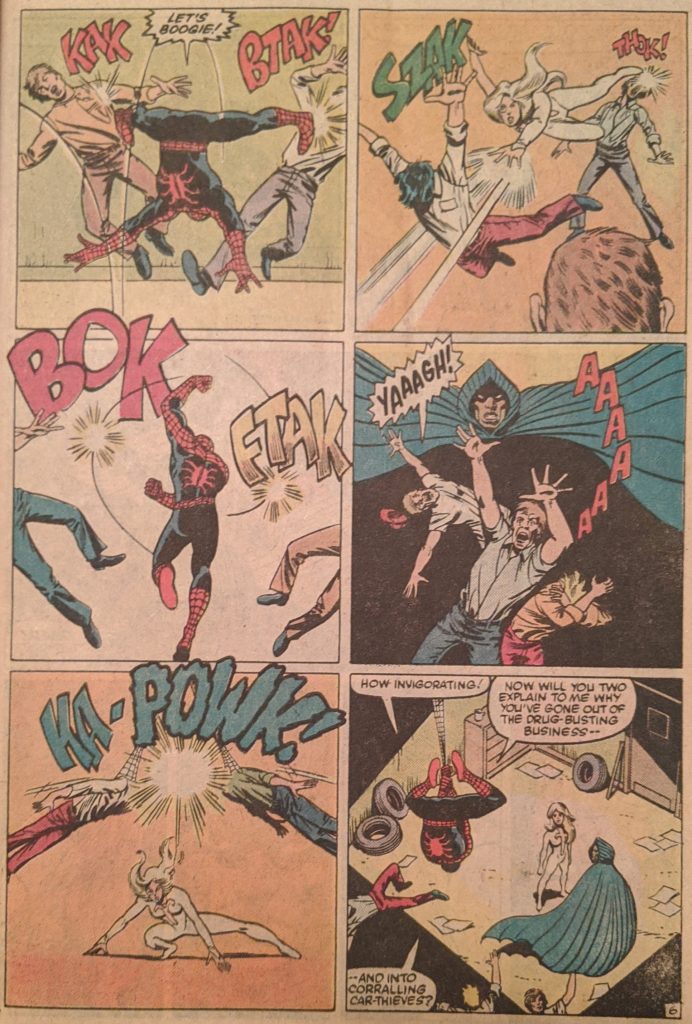 The art doesn't look much like Frenz, but his devotion to copying Ditko fight scenes is certainly here. C&D say they've heard this car theft ring is just a front for drug runners, and in the backroom, they find a bunch of people dead of overdoses. Things always get unusually grim around these parts when Cloak & Dagger show up, especially given Mantlo's propensity to write goofy Spider-Man comics. C&D say they believe the people who accidentally created them are now trying to do it on purpose, to create superpowered agents to work for them. Then they disappear. Spidey thinks he'll see them again soon, and I bet he's right. But now we'll check in with The New Mutants.

I believe Cannonball is the only member of the team to appear on this blog previously. Oh wait, no, Karma was created in MTU 100 before moving to this team, though she doesn't seem to have joined yet. They're "The New Mutants" because they were the first class Professor Xavier took on since the 70s. One might think they could use a better superhero name, but one doesn't get to decide these things. They're supposed to head right back to the X-Mansion after their night out, but Roberto's not interested in going home, and soon leads the gang into an arcade. WIthin moments, some dude has tried to hit on Rahne and pulled a knife on Bobby for getting offended, so the mutants' powers are revealed in short order, and they flee the arcade.

Now we're getting into sillier Mantlo territory. Why is a literal army of dudes after them? How'd they rally so fast? Why are they all more scared of Cloak & Dagger than the kids currently beating them senseless? Who knows? But wait:

So Sunspot and Wolfsbane get kidnapped after being jobbed out prrrrretty hard, and Psyche & Cannonball have to try to find them. Meanwhile, Spider-Man tracks Cloak & Dagger to the church they secretly hideout in. While they're talking to a priest who helps them, Sam & Dani run in. What? What an insane coincidence, why would they go into a church looking for their kidnapped teammates? Sam says they had to get off the street because they stand out in their costumes, but… Sheesh. They recognize Cloak & Dagger from the vision Dani gave the goons earlier, and after almost getting into Ye Olde Two Heroes Fight Over A Misunderstanding, Spider-Man walks in and suggests everyone be friends.

Spider-Man explains Cloak & Dagger's origin for the 2nd time this issue, and then C&D vanish to go look for the missing mutants. Without their teammates or Spider-Man. That seems dumb on their part. Spidey leads the remaining kids out to look for them, and we cut to Roberto & Rahne, held captive in a meat packing plant by a guy with silly Wolverine hair. Various other nefarious types gather around. Berto tries to power up, but he gets his energy from the sun, and he's been inside at night most of this story, so he's not doing too well.

"Obviously!" Unfortunately for everybody, the drug has done its work, and now Wolfsbane is a giant glowing wolf monster, and Sunspot is overpowered and has sharp teeth for some reason. They start terrorizing their captors as Cloak & Dagger look on in horror.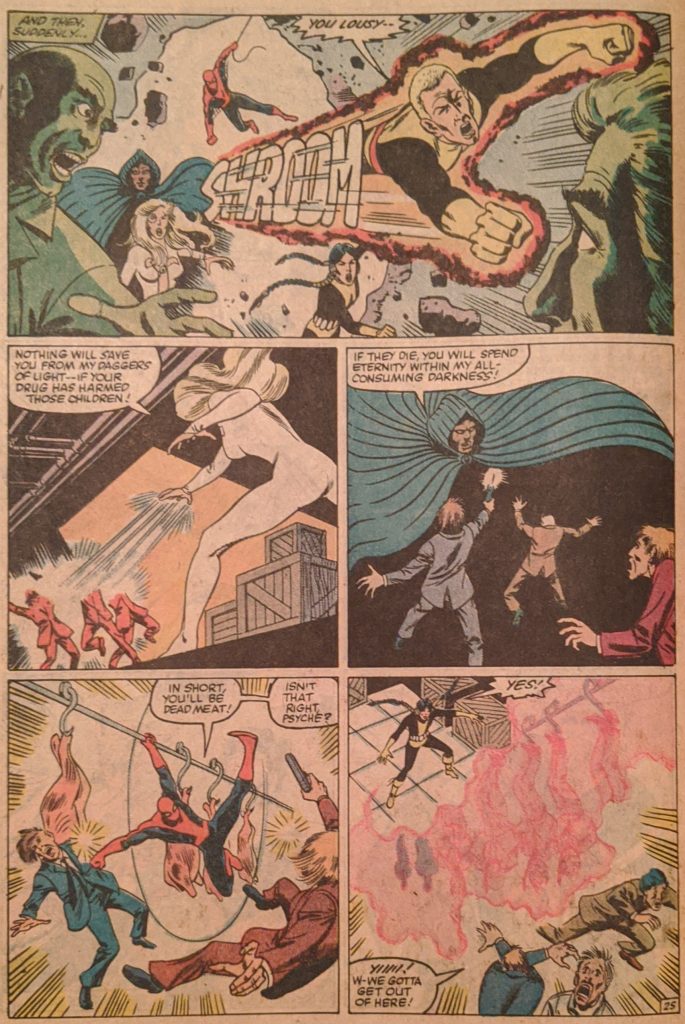 Whoops! That drug sure is powerful. Cloak absorbs Roberto and spits him back out cured, but now both Cloak & Dagger are amped up on the drug. How did Cloak get infected, it's not like his cloak's "dark dimension" is part of him. I dunno, whatever, they start attacking each other, which is actually an attempt to purify each other, and…

Well that doesn't make much sense. But I guess if they'd gone to live with The New Mutants, they wouldn't be able to come right back in our very next post. The rest of the book is a brief gallery of villains who've been created for Marvel Team-Up. I've noticed this year's annuals are only 40 pages instead of the standard 64. I can't say I'm complaining, tho, as at least ⅓ of all the 64 pages ones is pure filler. Anyway, come back next time for even more Cloak & Dagger.