In this era where cover artists weren't credited, sometimes it's hard to know who did what. I dunno who did this, but check out that John Romita, Sr. impression, wow. Nailed the eyes. A tiny box partially hidden by the UPC sez "VCG." I can't think of a comic book artist with those initials. The mystery may never be solved. Anyway, the great Louise Simonson is here! Just some of "Weezie's" contributions to comics include co-creating Apocalypse, Archangel, Cable & Power Pack, she's got a lot of hits to her name. And she's the new "regular" writer on Team-Up, even though 150 will be the last issue. She's joined this month by the great Brett Blevins, as regular penciler Greg LaRocque is drawing the double-sized 150th issue. It's a star-studded issue! Mike Esposito and George Roussos hang in there from last issue. They kick things off with a young couple on the ferry, watching it come in to dock, when they're shocked to see a corpse in the water! This is like some real Law & Order type stuff! Soon the authorities are fishing the body out, but it's pitch black, and no one knows what to make of it.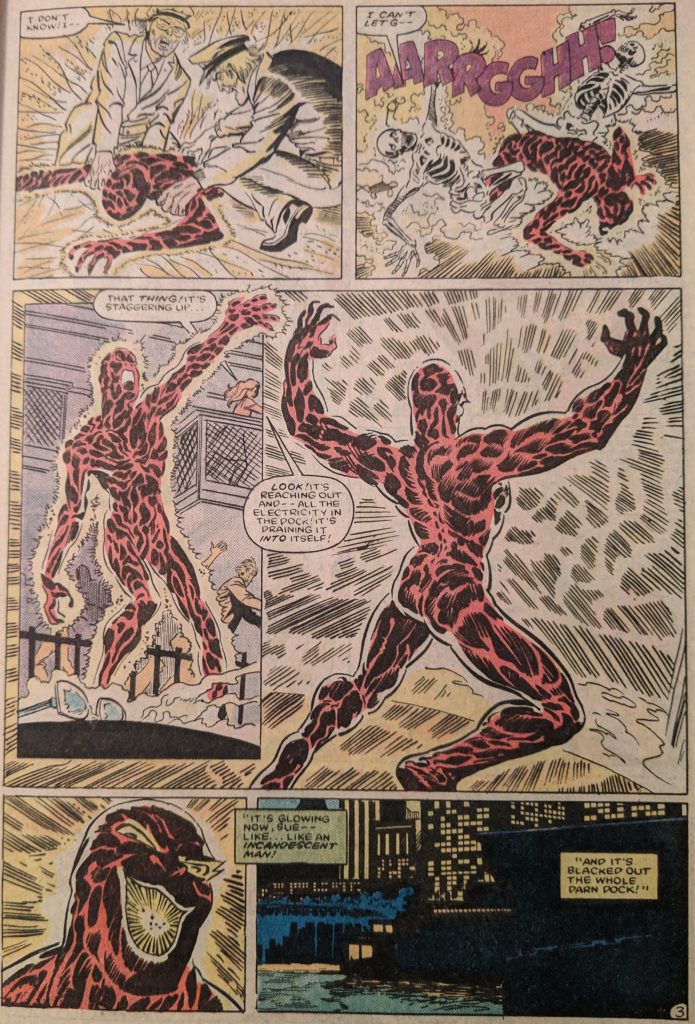 Man, that bottom left panel. Give it to 'em, Incandescent Man! Kind of a mouthful for a supervillain name, but let's run with it. At that moment, Sam Guthrie, the New Mutant known as Cannonball, is downtown, buying a fancy hat for his Mom from Saks.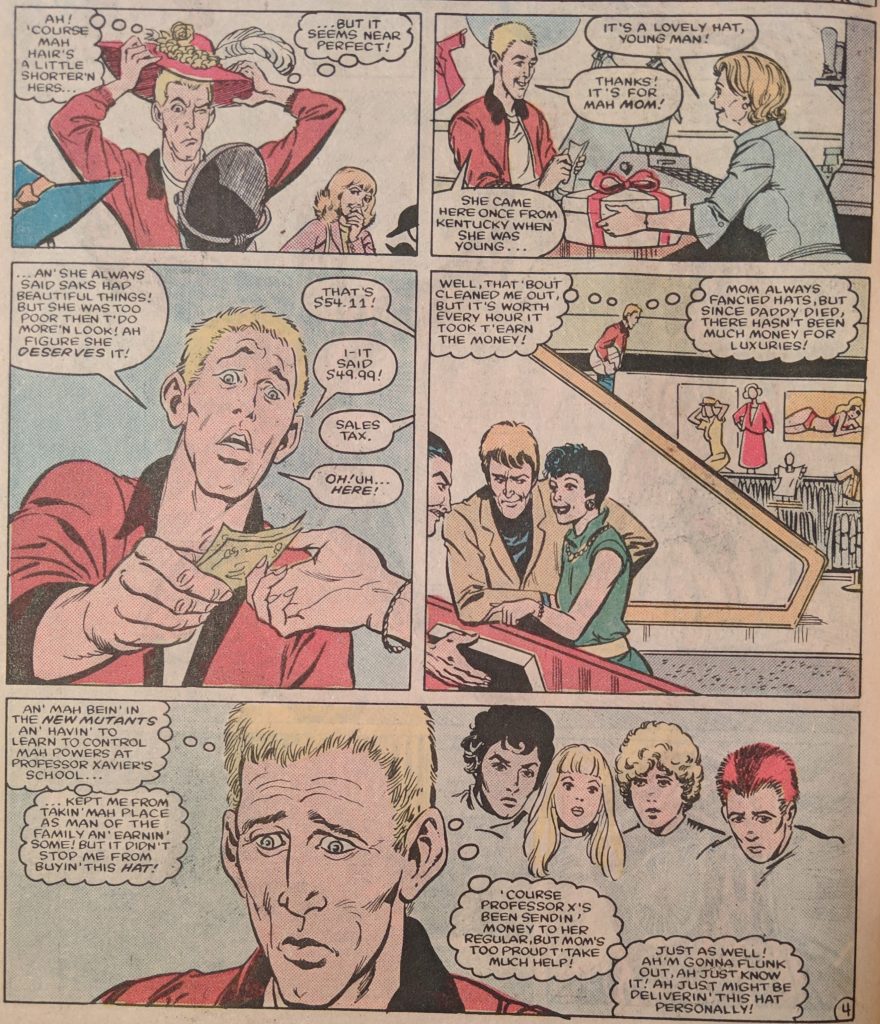 Out on the street, Sam looks up and sees The Amazing Spider-Man doing his thing, and is a little starstruck. They met in MTU Annual 6, which I do not have, but he still thinks of Spidey as a celebrity and figures he probably doesn't have a care in the world. Naturally, that lets us segue to Spidey worrying about money and quitting school and Aunt May being mad at him and so on. You just never know, Sam! He heads over to The Daily Bugle to turn in some photos, but Robbie reiterates his position that Spider-Man is old news, so when he sees them…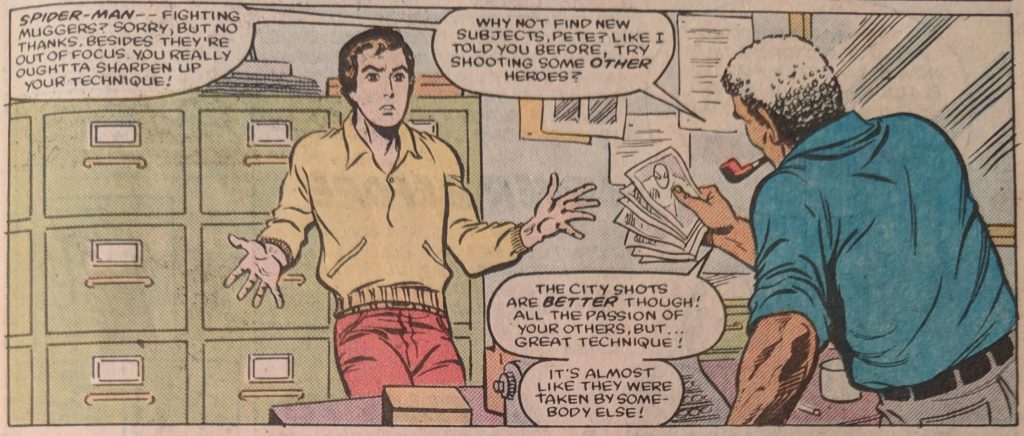 Of course, the ones Robbie likes were shot by Peter instead of a camera webbed to a wall. Swinging home, Spidey is frustrated, but then he notices his whole part of town is blacked out. Care to guess why? The Incandescent Man is wandering the streets syphoning off the electricity from the buildings he passes.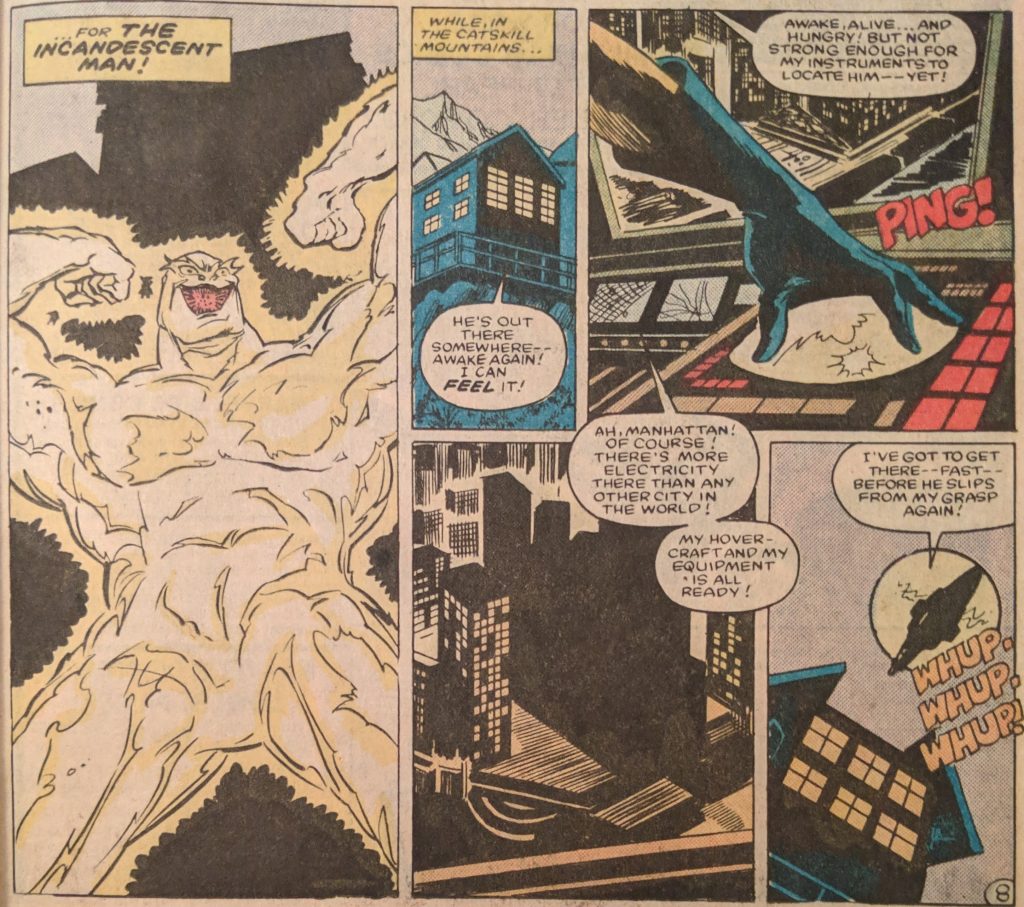 Not far away, Sam Guthrie's internal monologue is interrupted by a stampede of fleeing people. And then the owner of that mysterious hand, wearing a whole mysterious outfit, is in a helicopter, chasing after IC, and saying once he or she reaches him, Project Pegasus will be sorry they created him. Spidey swings over Sam's head on his way to see what's causing the riot, and then Sam takes off, getting there first. He manages to knock some cops out of the way before they can get zapped, but he can't steer himself too well while he's blastin', so he also knocks into a fire hydrant.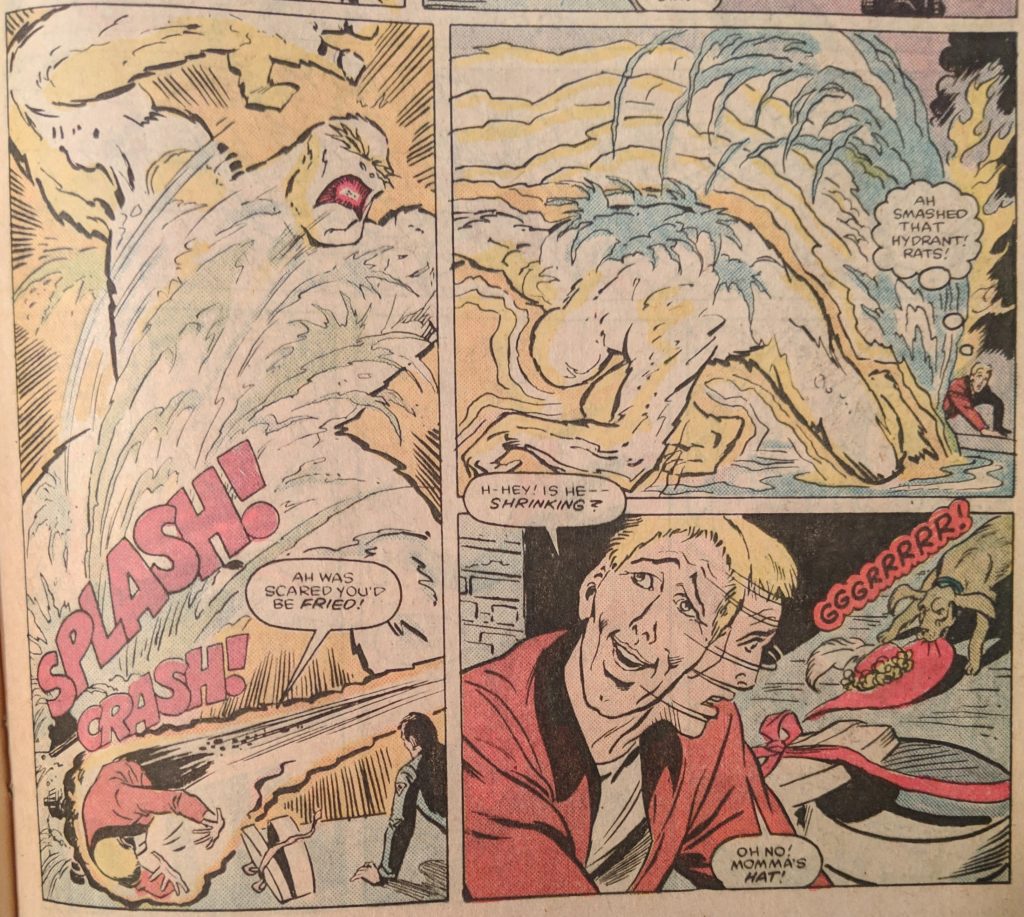 That's kinda great. What's Spider-Man doing in all this? Taking professional photos of Cannonball fighting the monster, that's what. A guy's gotta make a living, I guess. He's pretty excited about what he's getting, too, but he doesn't forget his real job here.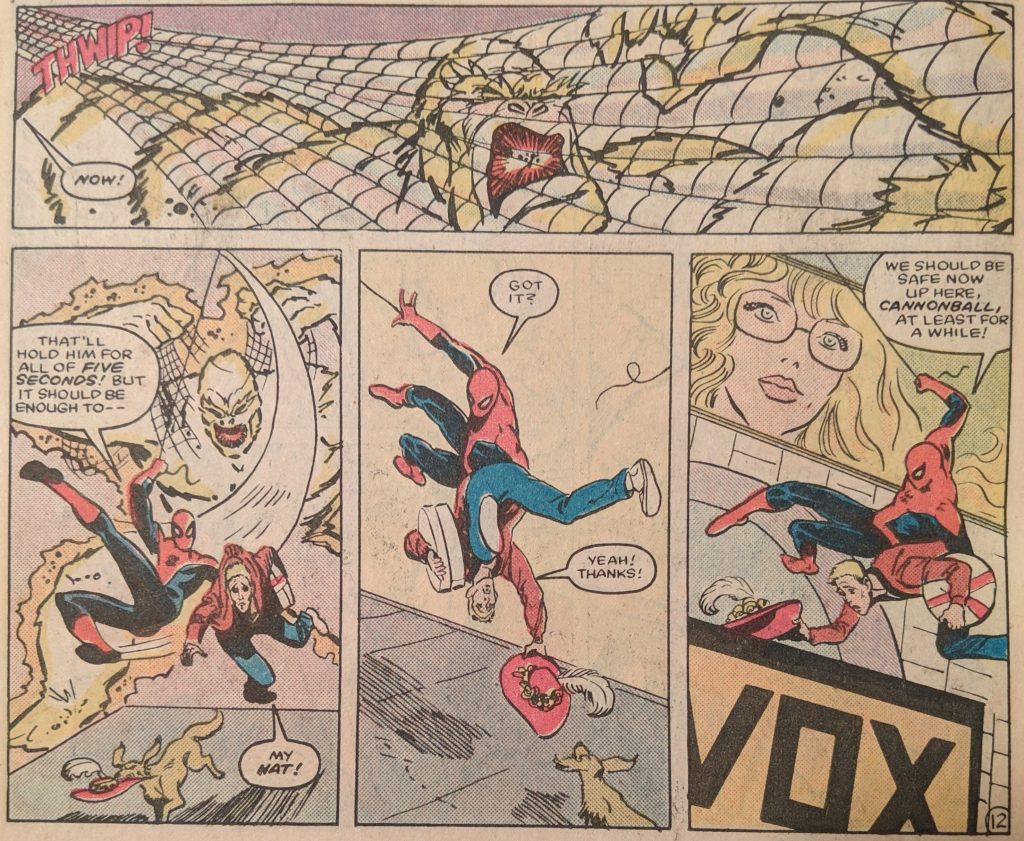 I love that Spidey helped him save the hat! That's true character. Sam is shocked that Spider-Man remembers him, and as he gets his uniform out from under his street clothes, all his worries that he's a crap superhero and Professor X is gonna flunk him come pouring out. But Spidey says it looks like he's doing ok, noting The Incandescent Man continues to shrink. But then he makes it to Times Square, and that gives him a bigger power source than ever, making him enormous. Our heroes don't know what to do, and then that helicopter shows up. It kicks up a lot of wind.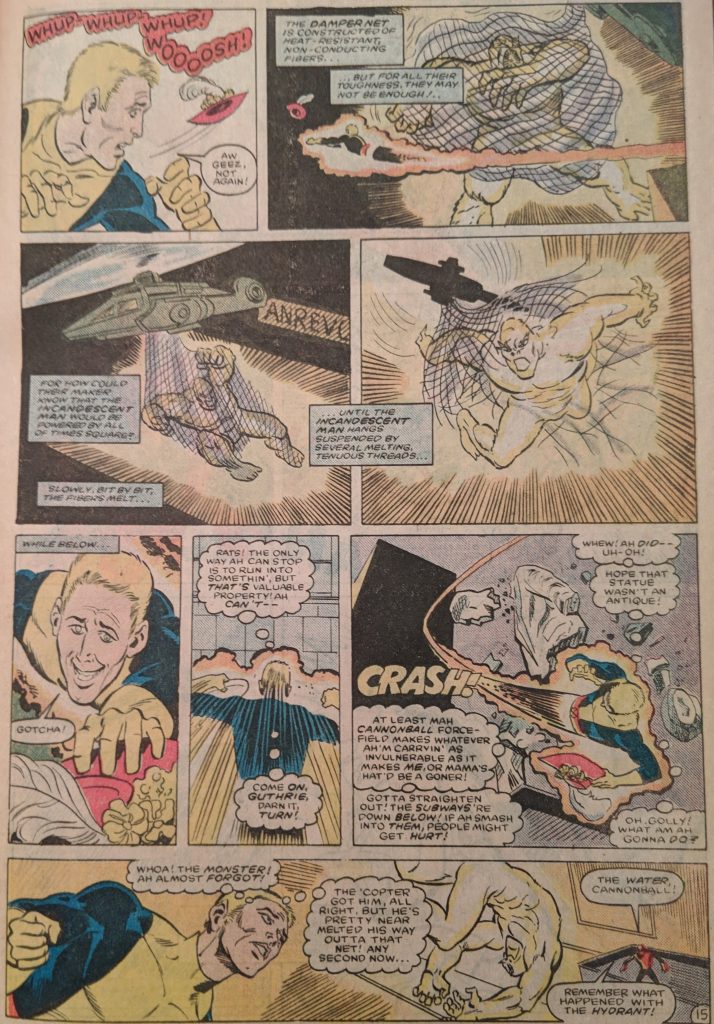 Ok, the hat gag is maybe getting out of hand now. Spidey suggests Sam tackle the big monster into the Hudson River to take him out, while also planning to take a great photo of it. Sam drops off the hat with Spider-Man, asking that he make sure Sam's mom gets it if he dies (WHAT), and then gives the plan his best shot.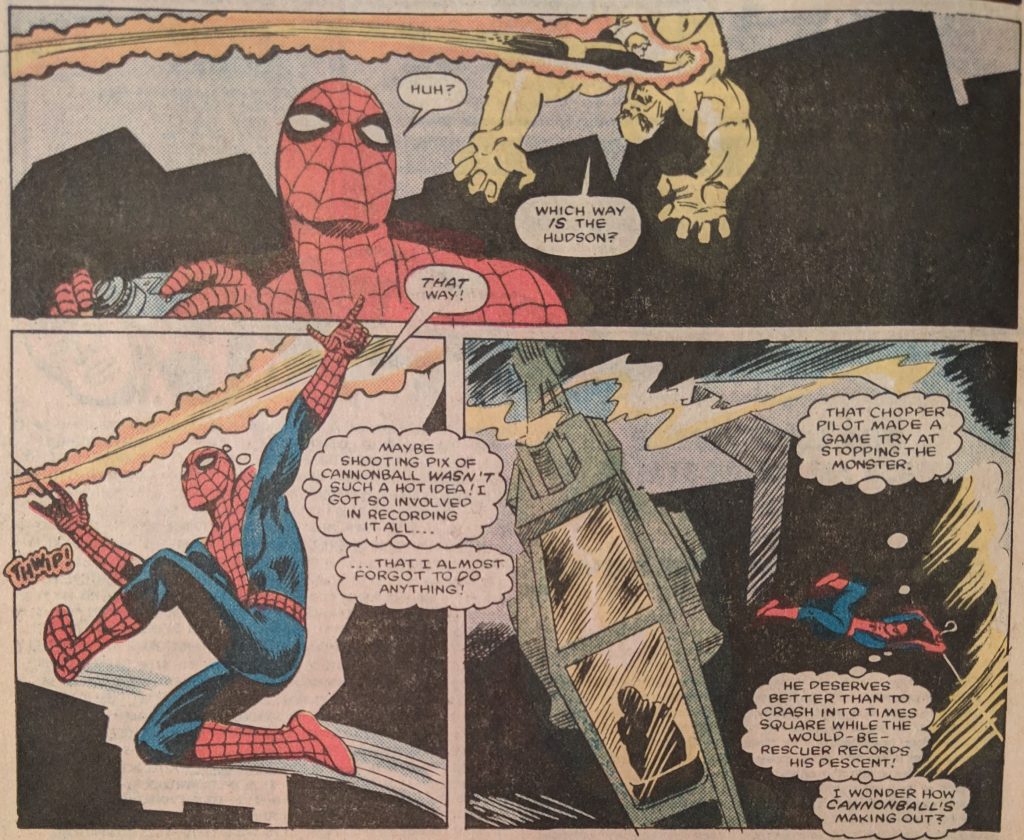 Spidey tries to rescue the pilot, who says all the systems are shutting down and they're locked in, but when he rips the door off, the helicopter rolls violently, throwing its pilot out. Meanwhile, Sam manages to successfully dump IC into the river, but now he's once again having trouble controlling his flight, and is worried he'll cause a lot of property damage.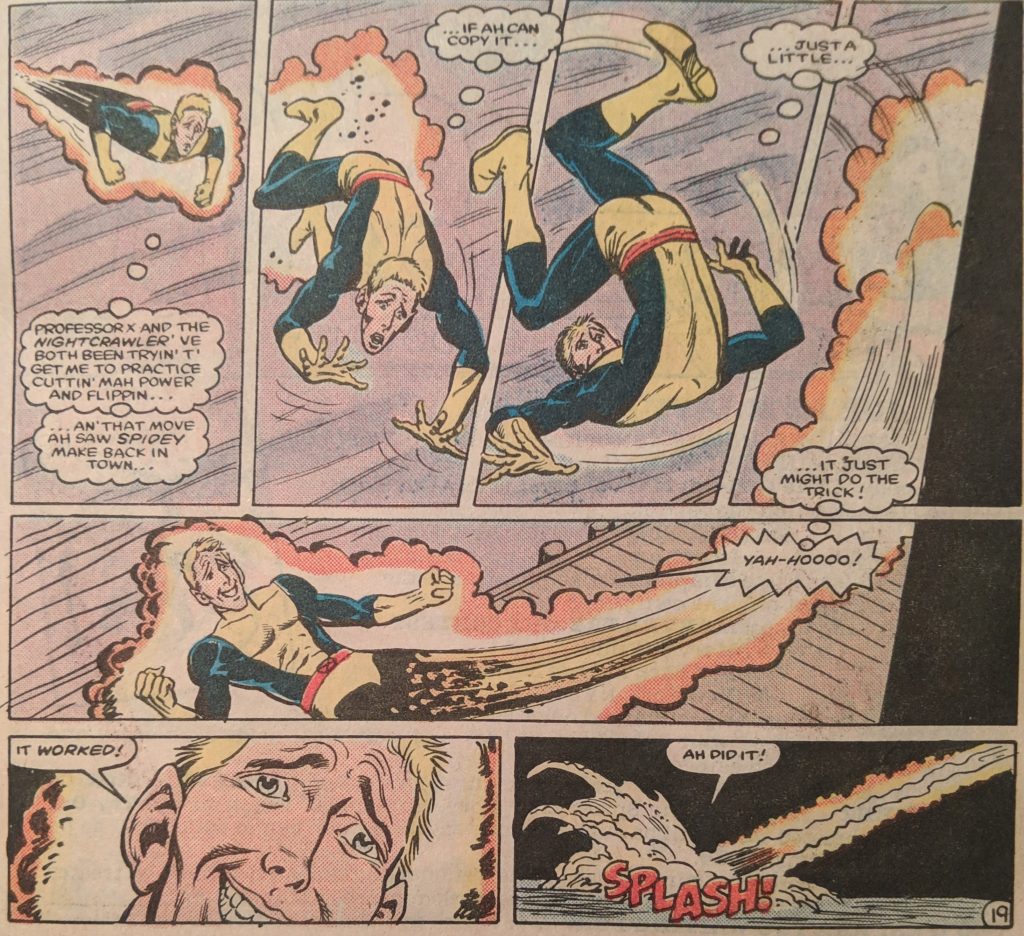 Good for you, Sam! Back in Times Square, Spidey webs the pilot to a safe landing, and then decides to try to force the chopper down in a spot where no one will be hurt.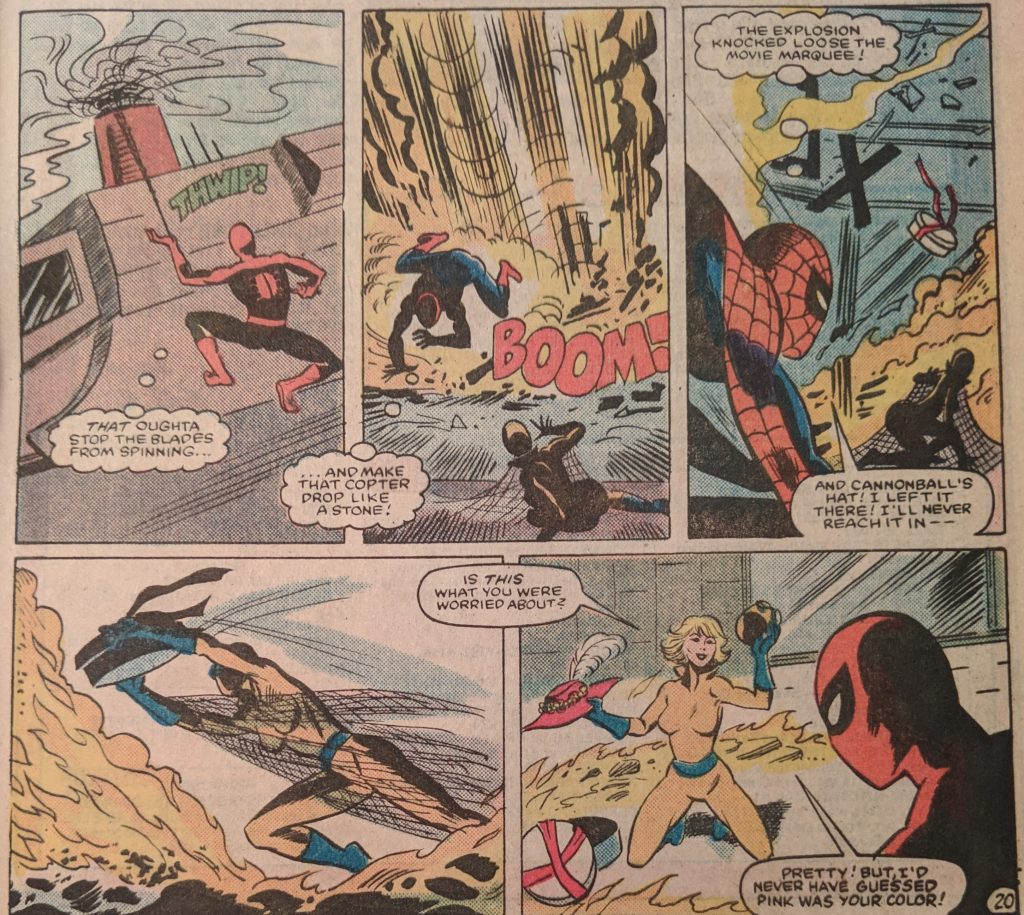 You might think this lady would introduce herself now, but you'd be wrong! Instead, they go to the pier and find Cannonball swimming in the river, worried IC will drown, which is nice of him. But the mystery lady says not to worry and gives us the exposition we crave, saying he was part of an experiment with bio-conductors…
The boys get around to asking, you know, who is this, and she reveals she's IC's twin sister, and she plans to capture him one day and use his power to destroy Project Pegasus for what they did to him. And then… she just leaves off panel, and no one stops her, and none of them even say goodbye to each other. Weird. Instead, we fast forward to Spidey & Sam talking on the pier.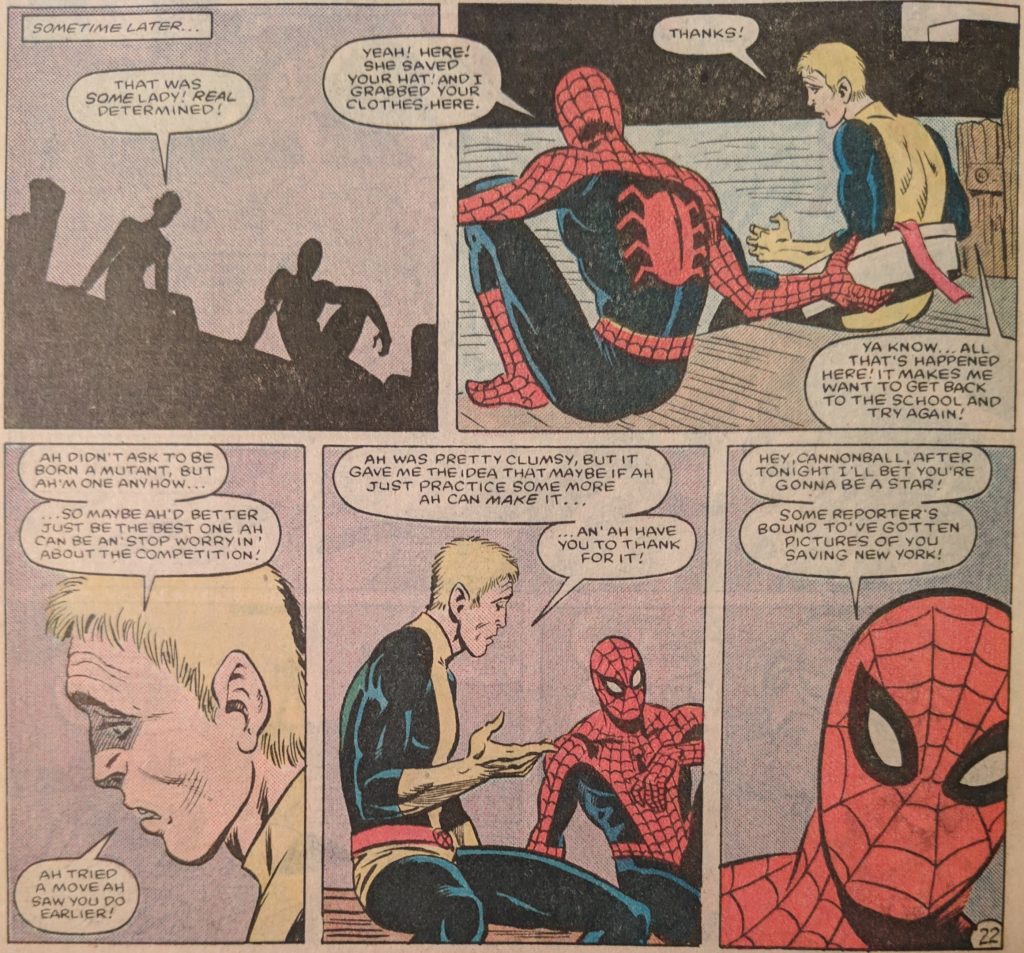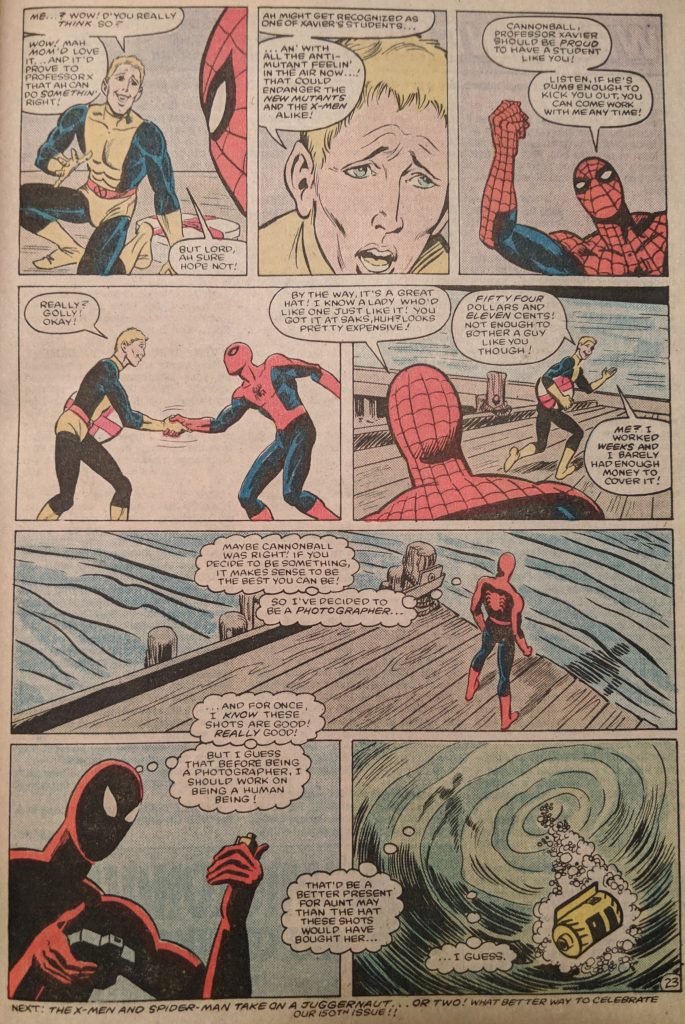 There you have it. You knew Spidey was gonna have to trash the photos the whole time, didn't you? In the letter page, Spidey group editor Danny Fingroth reveals that 150 will be the last issue of Team-Up, but also that it will be replaced by Web of Spider-Man, a new monthly series by the newly minted regular MTU team of Louis Simonson ,Greg LaRocque and Mike Esposito. However, I happen to know that Weezie won't actually stay on the book for too long. But that's skipping ahead.