You think someone really counted all the panels? I'm not about to. This is another 77 for $44 book. It's still Tom Defalco, Herb Trimpe & Mike Esposito, with Jim Shooter helping out on the story. I'm gonna be honest, I have never been a Herb Trimpe fan, and DeFalco made last issue a chore, so I am… not excited, but let's get to it.
Aaaaalright. Is this gonna be a Patty Hearst kinda thing? As she enters the courthouse, we cut to Matt Murdock & Foggy Nelson who… do nothing. Foggy says it could be dangerous and Matt says he's leaving. There's a plug to go read Daredevil #172. Sure. Then we go back to lawyer Jen Walters, secretly The Savage She-Hulk, who flashes back to how Hildy came to her for help.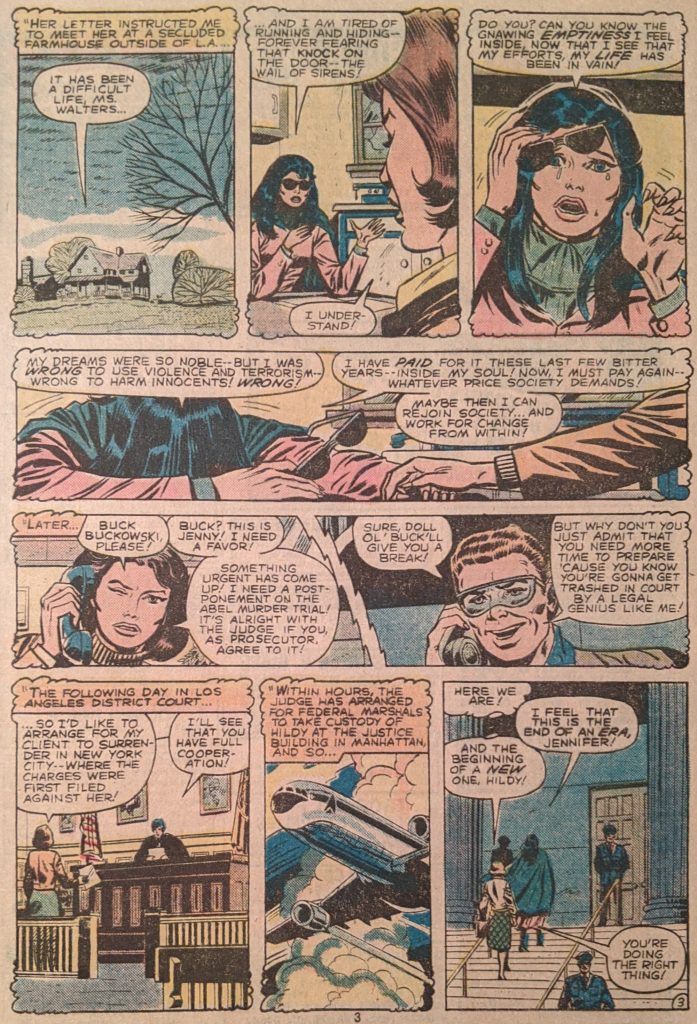 I don't know about all this, man. Jen points out she's not licensed to practice law in New York (Yet it was her idea for Hildy to turn herself in here?) and recommends Nelson & Murdock. Then a big red spaceship attacks. It must be Tuesday in New York.
Holy spit, y'all. DeFalco just has everyone spitting exposition at you in these. Exposition in dialogue is common in this era, of course, but there's smooth ways to do it, and then there's this.
Oh man. This just keeps getting worse and it's only page 6. Yes, Man-Killer. From way back in MTU 8. More or less the same ridiculous vehicle, now that I know that. Literally no one was demanding this return. Why is this happening? She & Spider-Man fight awhile, her goons mysteriously absent as soon as they got out of the vehicle. Then this happens.
I am right there with you, Jen. Oh, hey, here come the goons now, kidnapping Hildy in an attempt to rescue her. Jen figures she has no choice but to reveal her secret, but before she can get big & green, she gets a rifle butt to the skull. M-K and her goons get away with Hildy, and Jen runs over to blame Spider-Man as Lance Bannon, the photographer who used to work with Peter at the Daily Globe, gets pictures of Spidey stuck in a car. At their hideout, M-K tells Hildy what she wants:
Well, I didn't expect this to happen here. Lance will be a regular fixture and rival for Peter at the Bugle from here on out. Back at the Man-Cave (Eh? No? I don't know), M-K has wired a van with tons of explosives, and then she gets in it with Hildy and drives somewhere. Always a good idea to drive your exploding van around. Meanwhile, Jen finds one of Man-Killer's bases and decides to Hulk out and get to work on it. She does this in the clothes she wore to the court house. If you can become a Hulk on purpose instead of by accident, why ruin your good clothes?
The thing about early She-Hulk is, no matter what she was wearing as Jen, She-Hulk is wearing this ripped up white dress thing, which is just weird. Spier-Man sees She-Hulk harassing people he knows are bad guys, but he decides he better web her up, anyway, because… Well, because. He hasn't got much of a reason, and they've never met before. She-Hulk grabs the web and pulls Spidey right off the wall, slamming him into a pile of crates. He eventually returns the favor, dropping a much larger pile of crates on top of her. Good thing there's all these crates around! He worries she's hurt but she is not.
This is painful. They jump in the flying machine from earlier (She-Hulk driving, of course, as Spider-Man is a noted terrible driver) and use it to get downtown in a hurry, while JJJ shows up to the club that M-K and her goons plan to blow up. Spidey & Shulkie get there just in time. She-Hulk fights M-K while Spider-Man terrorizes her entourage. JJJ is giving a speech inside, and that's not going to end well…
Spidey seems especially manic in battle this issue.
Seriously!? That's your ending? What role was Hildy going to play in M-K's plan? Why was she even here? And then she commits suicide to stop Man-Killer instead of letting the two superheroes apprehend her? And I don't even wanna get into the politics of it. This issue was barely coherent! Sheesh!