Marie Severin and Jim Mooney are back on art duties for this one. It opens with Spider-Man happening upon a car chasing and shooting at an ambulance! Spidey doesn't like that, so…
That's different! Day saved. Except it's not, because Spidey's police nemesis, Lt. Keating, is in the car, and the ambulance was stolen by Maggia goons kidnapping a witness. Whoops! Keating wants his boys to arrest Spider-Man, but he webs up their guns and promises to get their ambulance back. Inside the ambulance, we find The Smuggler, doped up and unconscious, with his captors. The Maggia fears he's gonna talk in court, so they want to get rid of him. Spidey catches up to them easily, so they do the time-honored villain move of endangering civilians to make good their escape, this time shooting up a big sign until it falls toward a sidewalk full of people.
Speaking of time-honored moves, the ol' matchbook clue! Right then, Spider-Man's sort-of-friend on the police force, Sgt. Snider, shows up with several cars of cops to arrest whoever's in the ambulance.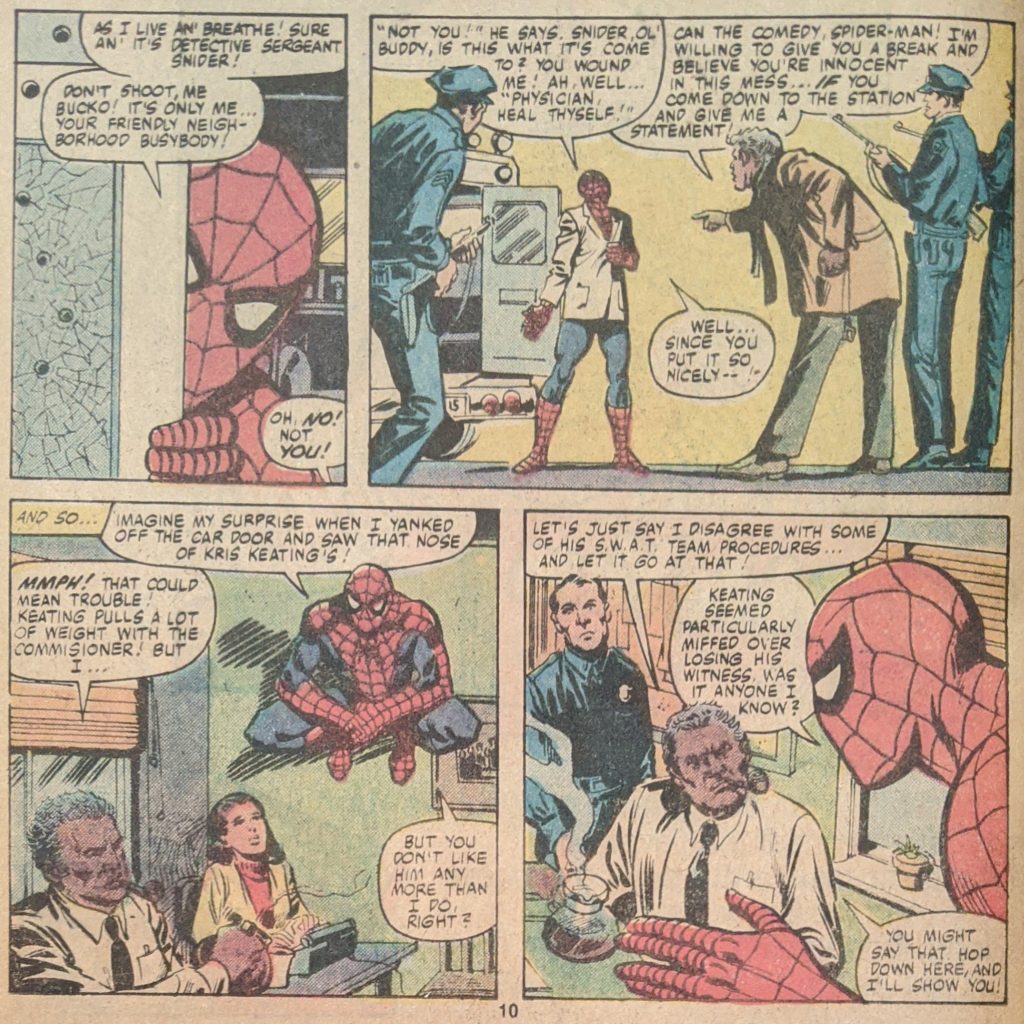 I love how silly Spider-Man is here. The last time Snider asked Spider-Man to come down and give a statement, he ran off. This time, he goes along. You know what that is? Growth. Snider reveals The Smuggler was in the ambulance, and then relays his backstory. He used to go by Power Man and fought the Avengers early in their career. Then Luke Cage took the name "Power Man," and he showed up to fight him for it. And lost! (I like that. Kinda want to read the Cage issue) Then he joined Count Nefaria's Lethal Legion and once again fought the Avengers, and now he's started over as "The Smuggler." Spidey beat him up (In TAC 50, covered 1000 years ago), the cops got him, Keating convinced him to rat out the mob, and that's how we got where we are. Check. Then Keating bursts in demanding Spidey be arrested.
Real "cop shop" stuff up there. Somewhere, someone is only 2 days to retirement. That footnote down there is a problem. This issue was published the same month as ASM 216, but as we saw a 1000 years ago, that issue was part of a long storyline that left no room for the other titles to be happening. This literally cannot take place after that issue, so… Man, this is not the tight ship Marvel Comics will become a couple years from this issue. Anyway, Marcy Kane stops by to be mean to Peter while wearing a turban, claiming it's "the start of a new fashion"… not so new in India, colonizer… and then Steve Hopkins, Comic Relief, beckons Peter into his cubicle, head poking out from around the corner like a Scooby Doo character.
Oh, sure, ask Phil Chang if he's ever heard of a Chinese place, Parker, real good. I guess Phil did work at one. Anyway, what's up with Marcy? You wouldn't believe me if I told you, but we'll get there. That night, a fancy boat takes people to the fancy Japanese restaurant, which is on a fancier boat. And soon, on that boat…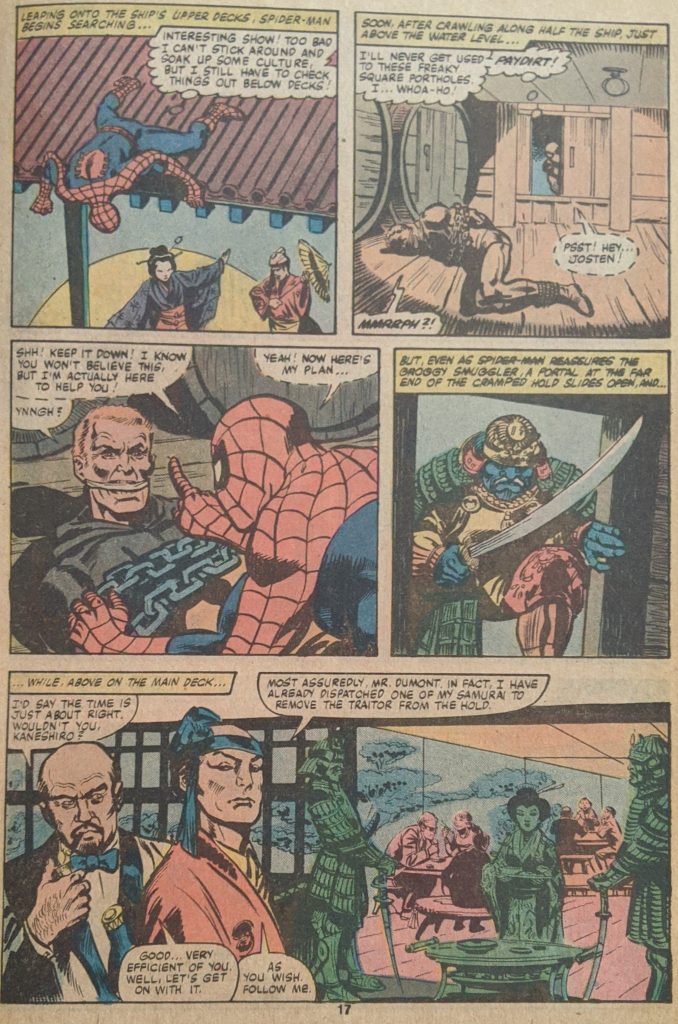 All the bad guys gather in the place they're keeping Smuggler, and Kaneshiro says their assassin is mute, so he could never betray them. Then they open a cabinet and find their guy tied up in there, sans samurai outfit.
Spidey and Smuggler battle their way up and through the boat, interrupting the dinner entertainment, on their way to dive over the side and swim for it. But just before they escape, one of the goons shoots Smuggler.
Snider and his men figured out where Smuggler was being held, but didn't count on Spider-Man being there. Smuggler is going to make it, so the police board the boat… where the owner (gun still webbed in his hand) tells the cops to arrest Spider-Man for trashing their boat. The guests all back up his story of Spider-Man terrorizing them…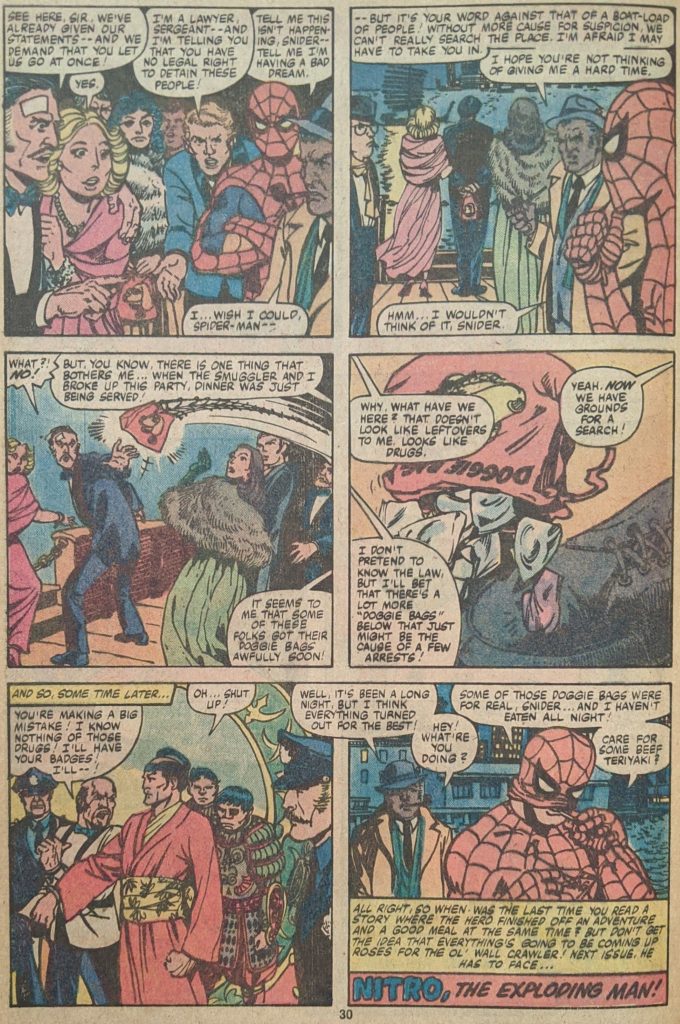 Another fun ending. THE EXPLODING MAN! Sounds like a guy who can only do his thing once!