Same creative team as of late, picking up where they left off last issue. Let's see how Spidey's doing on… a Spring morning? In spite of it being November last issue and a scorching summer day a couple issues prior?

Not doing so good, as it turns out. He's still beat up and woozy from last issue, and decides to go see Deb.
I dunno about this. His attitude about her seems to fluctuate so wildly from issue to issue. On the subway, he ruminates about how he didn't think he could really get involved with anyone since Gwen died. WHAT? And then calls his entire 60-odd issue romance with MJ a "rebound!" Aw, geez, Denny, yer killin' me, here. But he thinks maybe he could make room for Debbie. He's really psyching himself up for romance, here, so I have to assume things are about to go very wrong as he finally hobbles up to her place.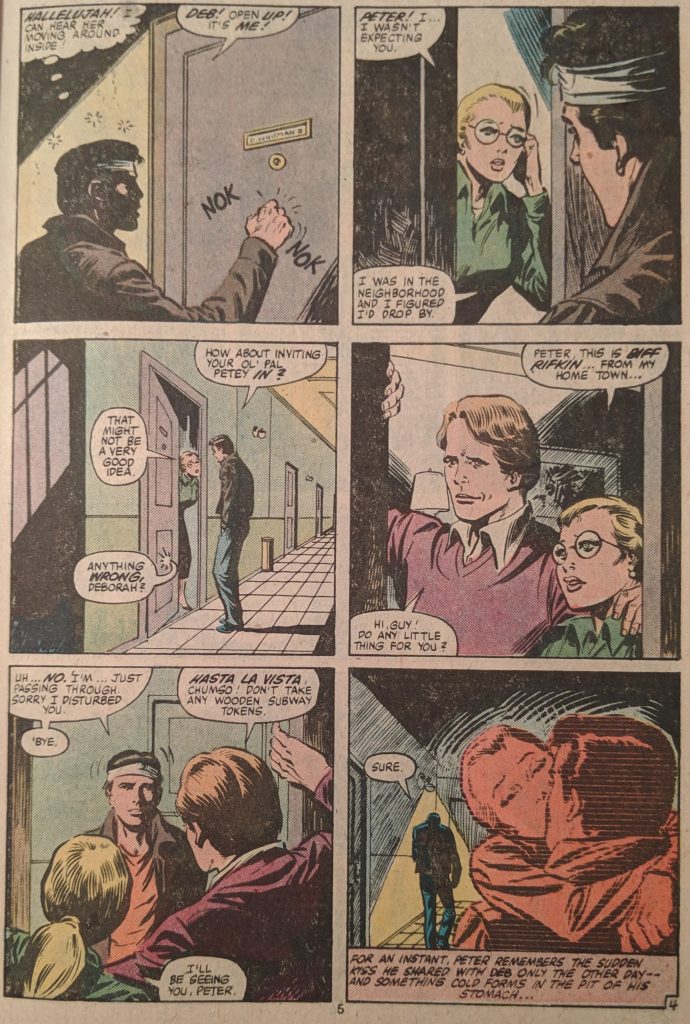 BIFF RIFKIN!? I can't handle… I can't handle this name. Oh, man. Biff Rifkin. What is even happening right now. To his credit, Peter can't blame her. He sees now that he's been wasting her time for a long while and feels like a jerk. Good for him, you know? Self-awareness is good. He decides to web on over to the hospital to get his injuries looked at, and then there's some weird exposition about the First Annual Spring Marathon coming up, so I guess our story is headed there soon. At the hospital, Peter learns his foot's not broken, but badly sprained. He's told to stay off it for a week. And then the doc leaves to get bandages and he overhears some dudes talking about killing someone. He hobbles after them, but can't see who they were. He goes back to get bandaged, sees some injured runners, and realizes the goons talking about taking someone "out of the race" must be planning to kill someone at the marathons. So Peter makes a very reasonable decision: He calls Madame Web and asks her who's gonna get killed. I mean, if you have a real psychic's phone number, why not? Unfortunately…
Pete goes home to his apartment, repairs having been completed since the fire, and discovers they didn't fix the interiors. So his place is all messed up, and his clothes reek of smoke. Also, his neighbor is singing a country song about the fire burning up his favorite cactus. Life is pretty bad right now. But he resolves to do whatever he can to try to stop someone from getting killed at the marathon tomorrow, anyway, because he's a good guy. The next day, the marathon is about to begin on the Verrazano Narrows Bridge, with a very Spider-y security guard hovering overhead. Suddenly, a car comes smashing through the barricade. Spidey webs the tires before it can hurt anyone, but…

As the race continues, Spidey stops a wheelchair-bound participant from being knocked over the side by his fellow runners, and swoops down on what looks like an assassin but turns out to be a guy with a banjo. All kinds of stuff happens as Spider-Man follows the race into town. A fire escape collapses and he catches it, he webs up a pickpocket, he takes a guy who has a heart attack to an ambulance, and all the while emergency phones along the way keep ringing. Even this happens: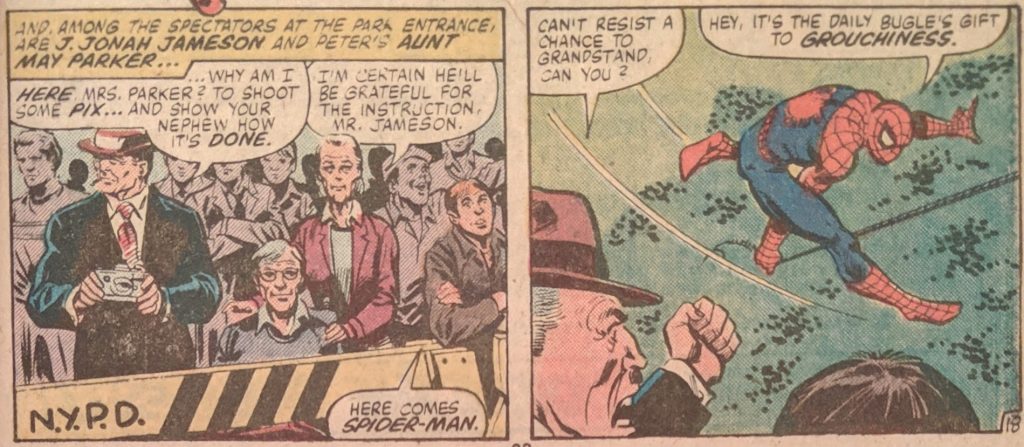 Then a guy answers one of the phones and flags Spidey down, saying it's for him. It's Madame Web. She sez "the psychic vectors have aligned," and she now knows 2 guys with automatic rifles are waiting to kill a Congressional candidate who's scheduled to greet the winner. The goons were talking about a different kind of race entirely. The goons are on a water tower, and start machine gunning as soon as they see him. So, our battered, exhausted hero digs into his reserves of strength, like he often has to do, and pushes the roof of a water tower over on them.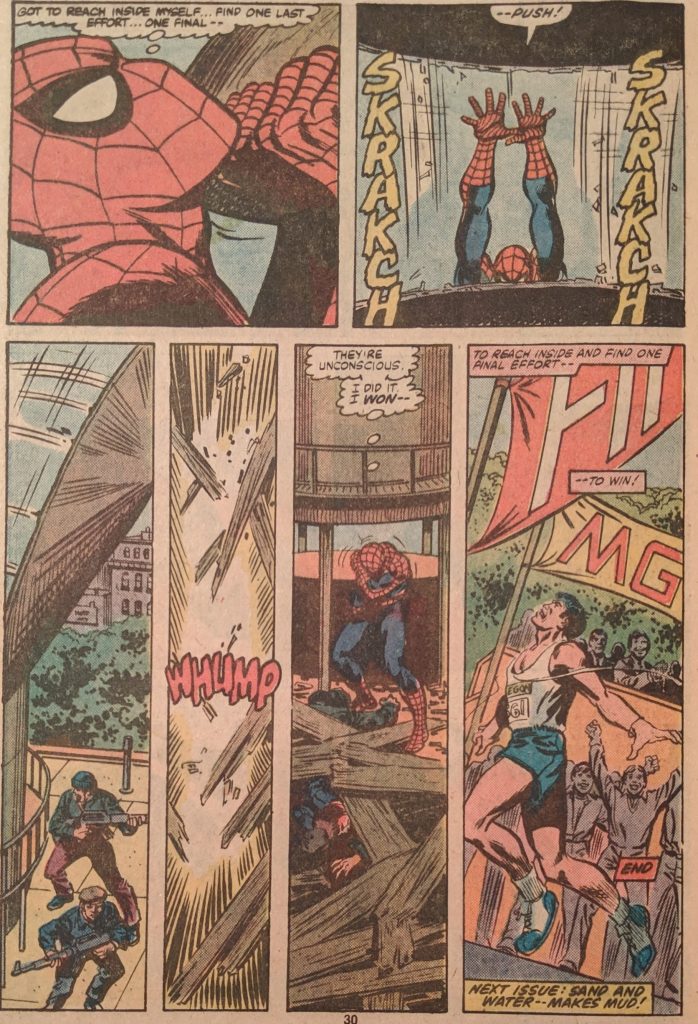 And that's our show. I'm glad Peter's poor treatment of Deb got some attention here, and it was cool to see him pressing on past a laundry list of problems to do the right thing. And it was fun, the increasingly absurd situations he had to deal with at the marathon were a good bit.
After the weirdness of the last few issues, this was a good reset, I think.