Whoever had the nerve to call this Spidey's most deadly battle is really desperate. Behind that crisp Keith Pollard cover, it's still the art team from last month. Man-Wold runs off with JJJ, and Spider-Man finds a great time to run out of webfluid. He's got spares on his belt, though, so he's after them eventually, Man-Wold just has a head start. Spidey has already decided this has to be related to all the goings-on in previous issues, which is correct, but kind of a reach, at this point. But while he zeroes in on his prey, a little robot is zeroing in on him…
"It is absolutely not my fault, no sir!" JJJ wakes up just as Man-Wolf smashes them through the roof of a car show. Spider-Man follows them in, and then Man-Wolf throws a car at him before belting his dad for trying to talk to him. This gets a rookie cop nervous and ready to shoot.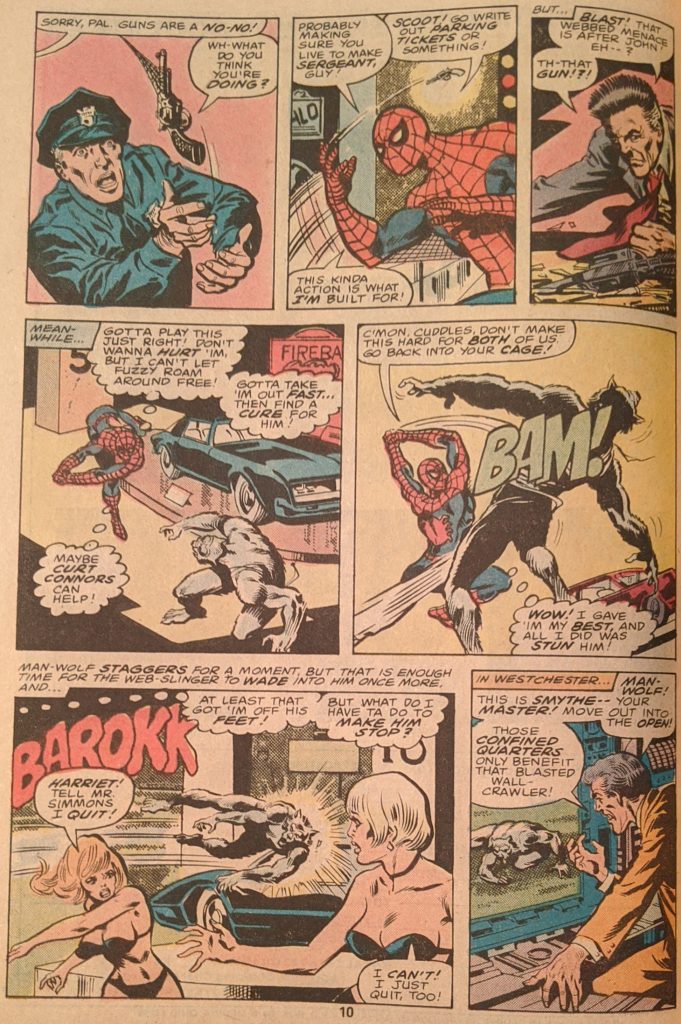 Of course John Byrne, comics' most creepy horndog of the era (And that's saying a lot!), somehow manages to get a bunch of bikini clad women in there. Man-Wolf then wrecks a stage featuring "Wyoming Bill Kelso," which the internet tells me is maybe a reference to a character in a Peter Sellers movie called The Party? Seems obscure even for its time. Man-Wolf takes off with JJJ while Spidey makes sure the collapsing stage doesn't hurt anyone, then keeps chasing them. All the way to Times Square, where Spider-Man gets the drop on Man-Wolf and makes him let JJJ go, but Jameson is froze in fear, "rooted there with his mouth hanging open like an ad for Jaws 2!" as Spider-Man puts it, so he's in no less danger as the battle continues. While the super folks fight, Jonah flashes back to how John told him the moonstone is poisoning him to death, so that's why he was in cryogenic freeze until Smythe got involved.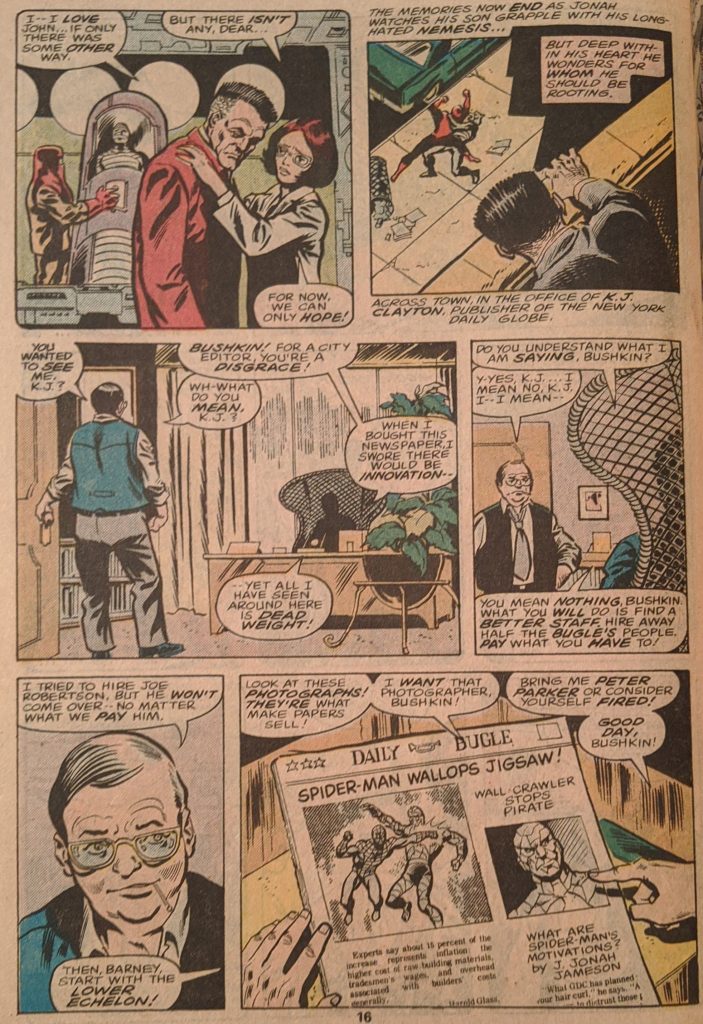 Hey, is The Daily Globe gonna try to poach Peter? Have we seen whether that happens or not yet? I'm so confused. Back at the fight, JJJ has the cop's gun from earlier, and when Man-Wolf gets the better of Spidey and rushes him again, he even thinks about using it, but he can't shoot his own son. So Man-Wolf picks him up and carries him off yet again, now to The Brooklyn Bridge. With little else to do, JJJ starts telling his son about their life together, going to baseball games, his school career, and so on…
I feel like JJJ has said he was both father and mother to John in every issue since John was frozen. Whatever Smythe did sends M-W into a rage again, and he drags JJJ up to the highest point on the bridge, but luckily, Spider-Man finally catches up to them.
Weird ending. What could Smythe have planned for John? Oh, uh, I mean it's a shame he's dead now. Mm hm. Too bad we'll never see him again.
I gotta say, Byrne's panel-to-panel continuity is really shaky in this. Maybe he was in a hurry.or something.