Wait, Giant-Size Super-Heroes #1? It's true. Marvel tried this "Giant-Size" line for awhile, bigger comics with additional content. You may be familiar with the name of the most infamous of them, the one that has been a comic book in-joke for decades, "Giant-Size Man-Thing." Spidey got one, too, which ran for 6 bi-monthly issues, the first of which came out a month after this one. But first, this, the first and last issue of Giant-Size Super-Heroes (featuring Spider-Man). Which was apparently going to be the 2nd issue of Giant-Size Super-Stars, which debuted with a spotlight on the FF, but instead came out as this. Why? I'm not entirely sure. Inside, it says they'll be adding a 3rd Giant-Size title, Giant-Size Super-Teams featuring the Defenders. But as near as I can tell, that was never published, Giant-Size Super-Stars became Giant-Size Fantastic Four with #2, and Giant-Size Super-Heroes was just scrapped in favor of Giant-Size Spider-Man. Messy. But, anyway, Midnight means Man-Wolf & Morbius, so I guess it's gonna be a creepy time inside!

This one is brought to us by Gerry Conway, Gil Kane & Mike Esposito. Looking at it, I'd say either Kane did very loose pencils and Esposito did a lot of the finishing, or Esposito was in a hurry, because this stuff looks pretty simple compared to most Kane comics. There are undeniable Kane touches, but this is not the best he's ever looked. But, anyway, look how scary this is going to be: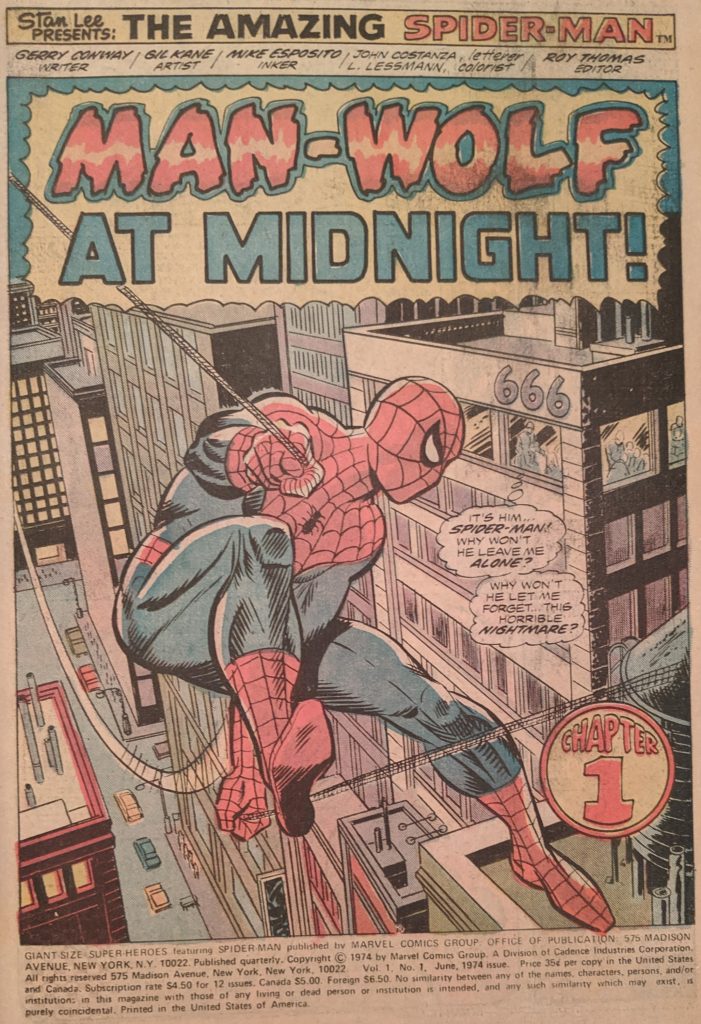 Someone living a horrible nightmare in building 666? That's aggressive. The man living the nightmare is none other than John Jameson, out to dinner with his beloved, Kristine. The sight of Spider-Man turns him white as a sheet, and he thinks about how Spidey is one of only 2 other people who know his secret shame as The Man-Wolf. He recaps the events of ASM 125 in his mind real quick as he asks if they can cancel dinner and sends Kristine home in a cab. He walks, but is soon in terrible pain. Even though he doesn't have the Moonstone that turned him into a werewolf anymore, it feels like he's going to change, anyway. Meanwhile, a few blocks away, Spider-Man happens on a jewelry store robbery. He makes quick work of the goons, but one of them is pretty mad after:
This actually gets to our hero, as he swings off to the Daily Bugle, wondering why, in fact, he does "go after penny-ante crooks." I mean, probably because that's a lot more helpful to society than pointless grudge matches with The Lizard, but let's not overthink it. At the Bugle, it's late, and only Joe Robertson is still working. Pete says hi and Joe shows him some photos he got earlier of a string of homicides happening on a path to New York. Every victim has puncture wounds in their neck. Robbie also has a picture of the suspected culprit. It's Morbius, of course. You knew that, you saw the cover. Joe says he met him once when he was just a scientist and Joe was a reporter, but Joe heard he died at sea a year ago. Suddenly, the exposition is interrupted by a strangely friendly J. Jonah Jameson…
Pete has no idea what that was about, because Robbie says no one's gotten the chance to tell him yet that he's been nominated for Photographer of the Year. Well, that can only end well for Peter Parker. At that moment, John Jameson bursts into a diner begging for coffee for his terrible headache, and only seconds later, transforms into the Man-Wolf.
See? There's no mistaking this is Gil Kane, it just feels… less polished. Man-Wolf runs outside and down the street, drawn to a warehouse on the waterfront. Where he discovers one Michael Morbius is the reason!
"Duel of the Demon Duo! (Or something a good deal LIKE it!)" Conway wrote a lot of weird captions. Man-Wolf resists Morbius' control, and there's a brief fight, but Man-Wolf is outclassed. Morbius puts his Moonstone back on him, and then bites his neck, which Morbius says will give him total control over the beast man. That's rough. Poor John. The next day, Peter Parker walks across campus at ESU lost in thought, thinking about Morbius, the Molten Man, Doc Ock, and still worrying about that the goon said last night.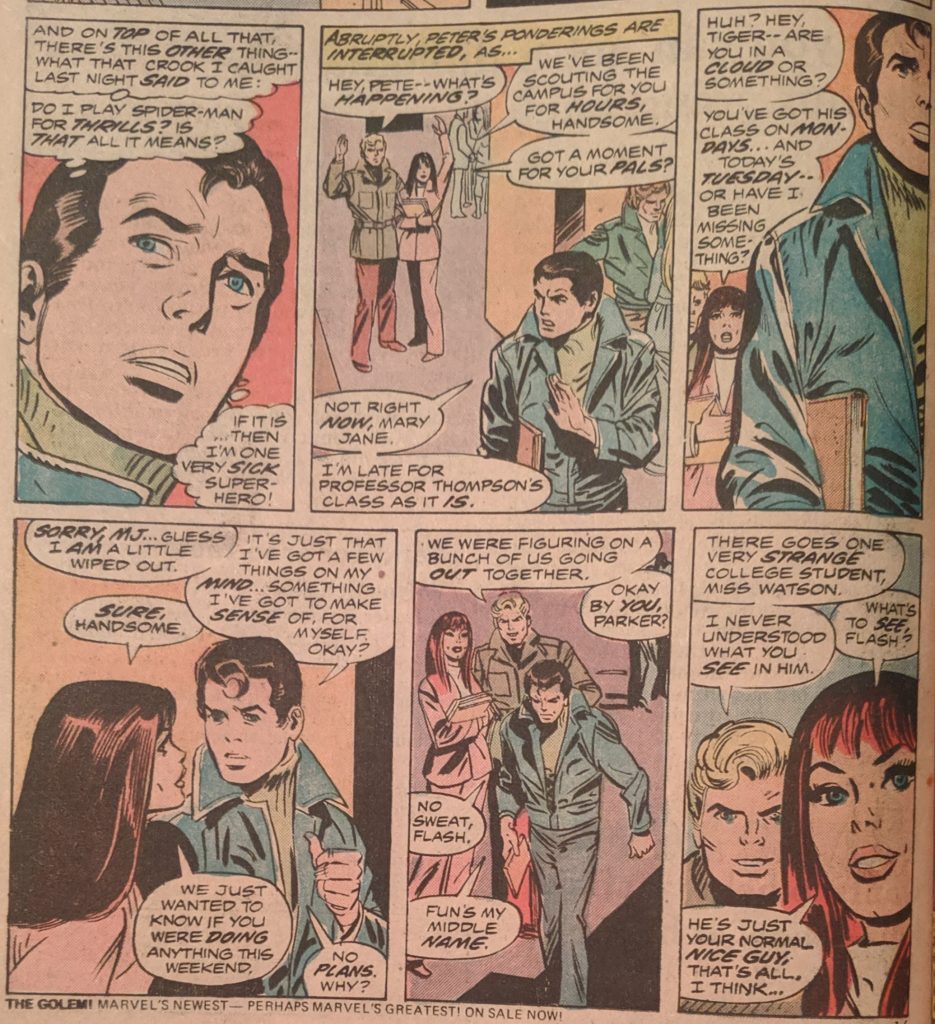 What a guy! Later, at sunset, John Jameson wakes up in the warehouse, now in his Man-Wolf costume, supplied by Morbius. I thought his suit was supposed to somehow stop him from changing, why would Morbius put him in it?
Only a fool doesn't believe in werewolves! Too bad our old pal, Nathaniel the Drunk wasn't alive to be in that flashback. Morbius says he's been following John around, letting the Moonstone corrupt him again, until he finally changed. And as Morbius says he needs Man-Wolf to help cure his vampirism, John changes again. Now he's under Morbius' full control, and they head out… to ESU, of course, where a tired Peter Parker is trying to go home.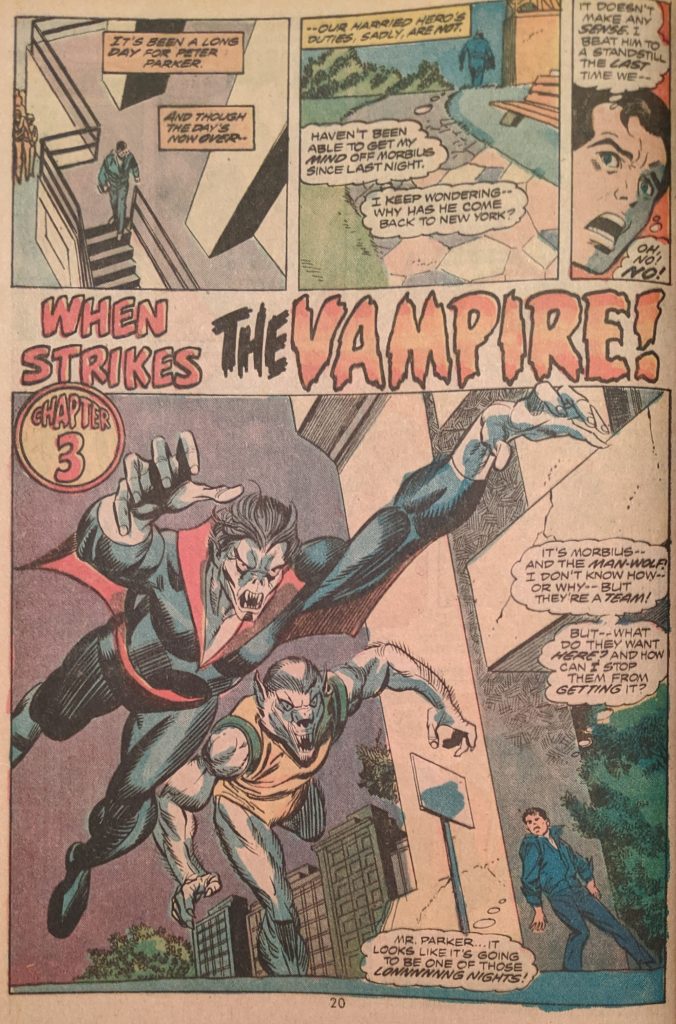 Most people seeing a Halloween store run by would be, I dunno, horrified or worried or something, but Peter is relieved. This is why he fights crime, he thinks, to deal with this weird stuff the cops couldn't handle. Well, that little bit of soulsearching didn't take long. Seconds later, Spider-Man dives into the fray. He fights Man-Wolf and Morbius just flies away.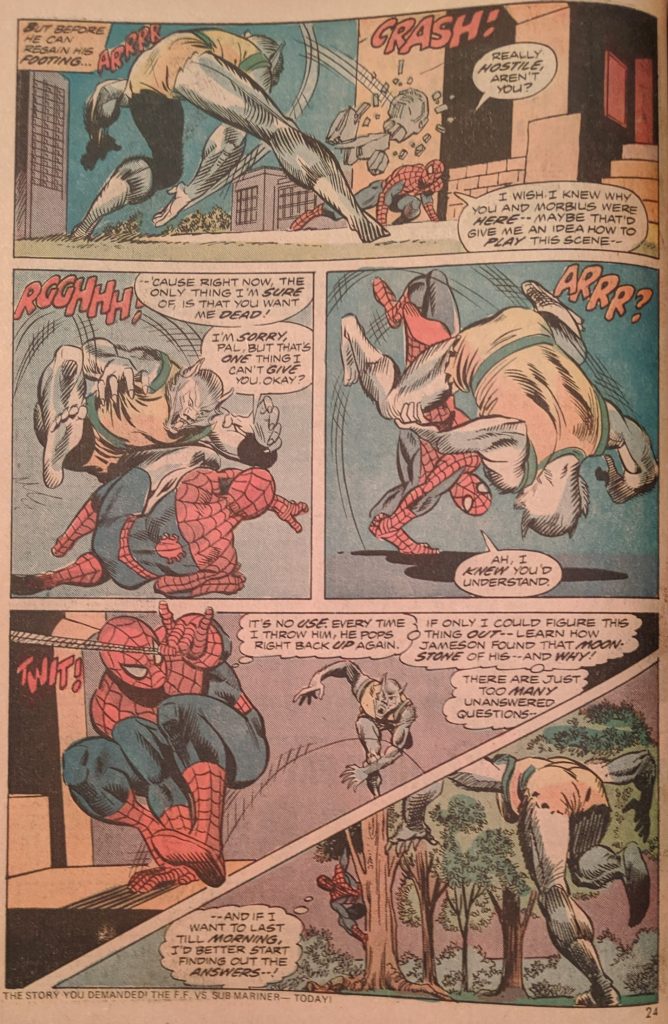 They fight across campus until Spider-Man is able to trick Man-Wolf into a big web, trapping him for awhile. Then he runs off to find Morbius. Spidey recalls Marvel Team-Up 3 & 4, when Morbius tried to kidnap a professor of hematology here to try to cure him. That guy doesn't work here anymore, but Spider-Man finds the guy who does, who happens to be working on a cure for leukemia. Spidey swings off since Morbius isn't there, finding Man-Wolf has been freed from the trap.
But don't worry, Spider-Man was waiting on the ceiling. As he makes a hasty exit, the doc asks Spidey to be careful, and says if they destroy the equipment in the room, his work will be set back 2 years. So, I mean, obviously…
Spider-Man… just lets him go? After his little speech to himself about how this is what he's Spider-Man for, he just lets an actual vampire go? From there, Spidey swings over to the Daily Bugle to tell JJJ he's looking for John. JJJ lies and says John has been with him all night.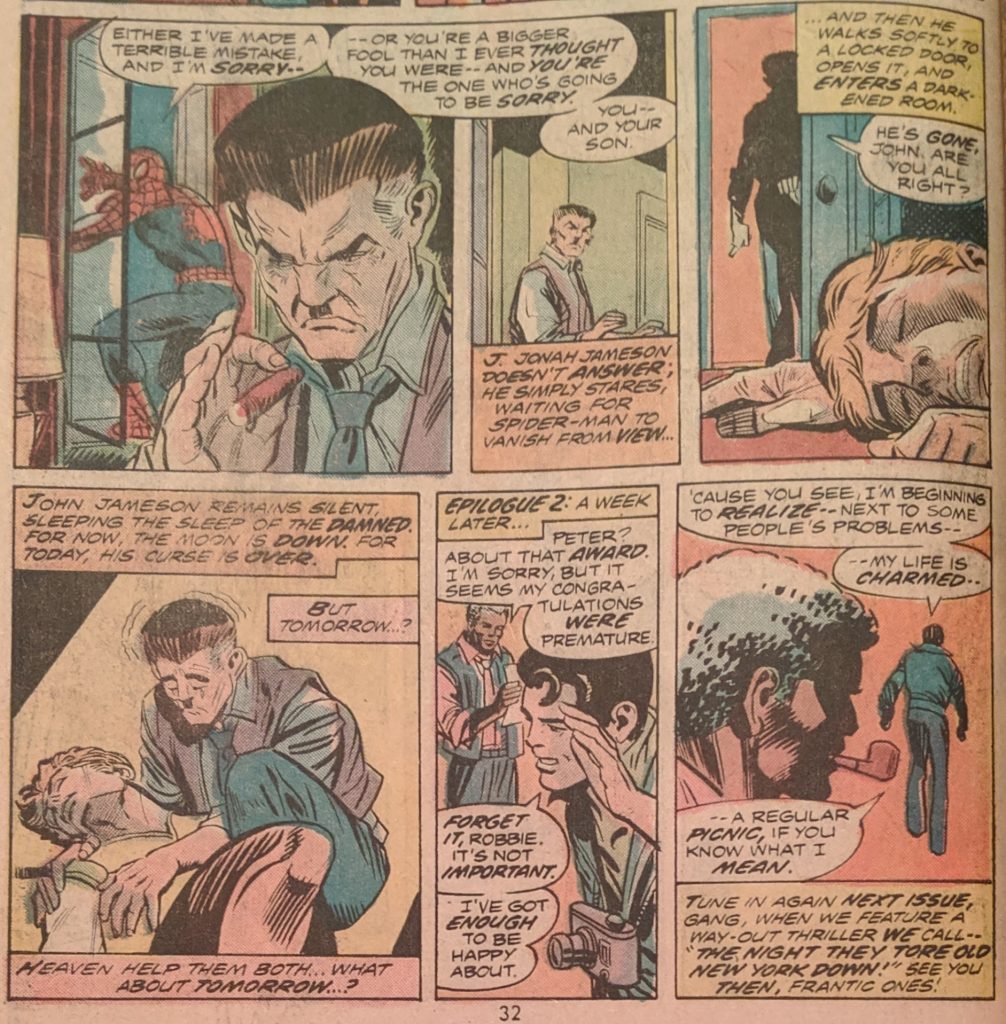 And there you have it. That caption at the bottom is advertising a second issue that doesn't exist. I'm pretty sure that's not even the story in Giant-Size Spider-Man #1. But we'll find out together soon enough. The rest of the book reprints Steve Ditko's gallery of Spidey villains and a 3-page gag story about how Ditko & Lee came up with Spider-Man stories, all originally printed in Amazing Annual #1. That last bit is kind of weird to print here, 11 years later, but I guess it fit the page count. And we're out!