It's the Spidey debut of the great Mike Weiringo! Real talk & full disclosure, I was not the biggest fan of his in this era. His stuff is a bit too cartoony, a bit too boxy for me in this period. But he would very soon evolve into one of the absolute best in the biz, if you asked me, and one of the finest Spidey artists of the 2000s. In any era, he brings crisp lines, an open style and tons of energy to a book, and especially considering some of the terrible trends happening around him, he's a breath of fresh air. Mike comes to us (I'm pretty sure) directly from a long and critically beloved run on The Flash. We saw his work previously in the Spider-Boy Alamgam one-shot. He will settle into a run here on Sensational, then a creator-owned book with Todd DeZago at Image called Tellos, then a run on Superman, then one of the top 5 all-time Fantastic Four runs, among other things, but he'll keep finding his way back to Spidey throughout his tragically short career. He would die of heart problems in 2007. I still miss seeing his work. But at least we can revisit what we have, so let's hit it. The new team for SSM is Todd DeZago, Mike Weiringo, Richard Case & Gregory Wright. As we get rolling, Spider-Man has been combing the city for that Lizard who is apparently not The Lizard, and is also contemplating other business…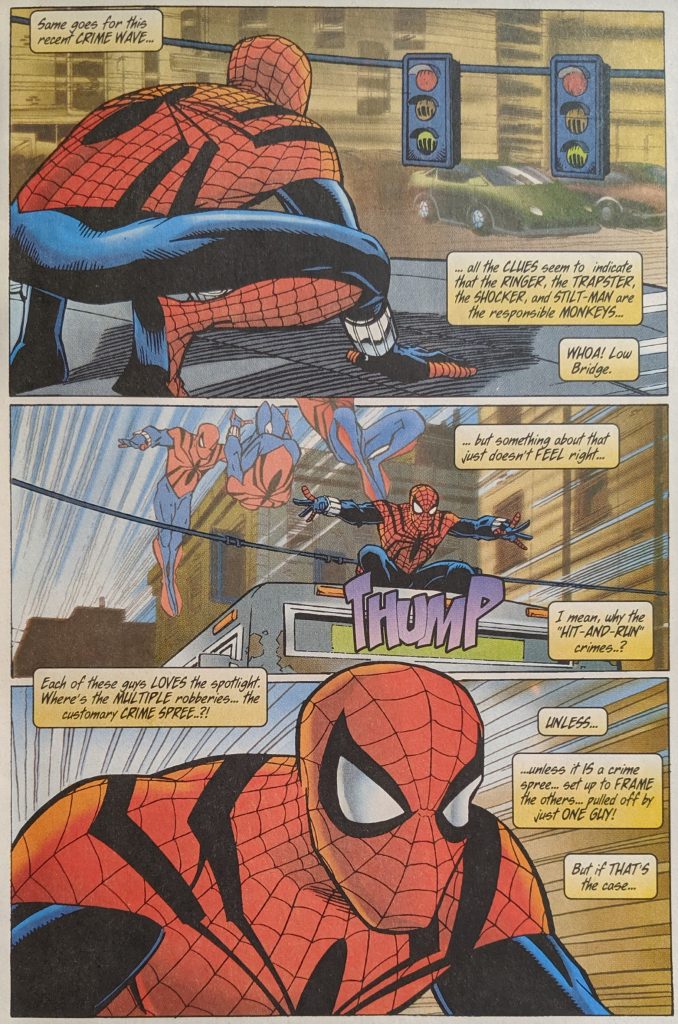 Who indeed?

You remember The Looter, aka The Meteor Man, from previous posts, perhaps. Probably. Did those go up yet? Who can say? I mean, I guess me, but whatever. Fester here was the guy who snuck into Iron Rock in TAC 236, and he stole a bunch of other villains' gear while there, so he could commit crimes that look like the work of someone else. Not a bad gimmick, actually. He says (very much to himself) that now that he's amassed all these riches, he can finance his true plan, which will help him "unlock the mysteries of the universe." Aim high! Elsewhere…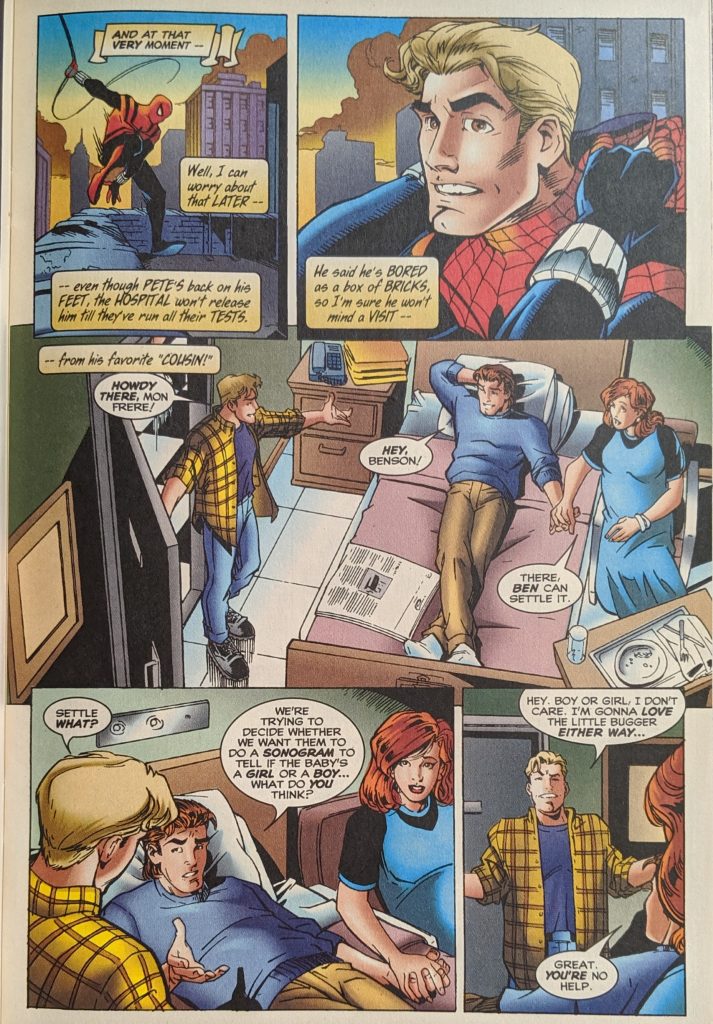 Ben starts discussing the recent robberies with Peter to get his take, and they go through a bunch of piled up Daily Bugles on a hunch, when Ben notices an ad that gets his attention.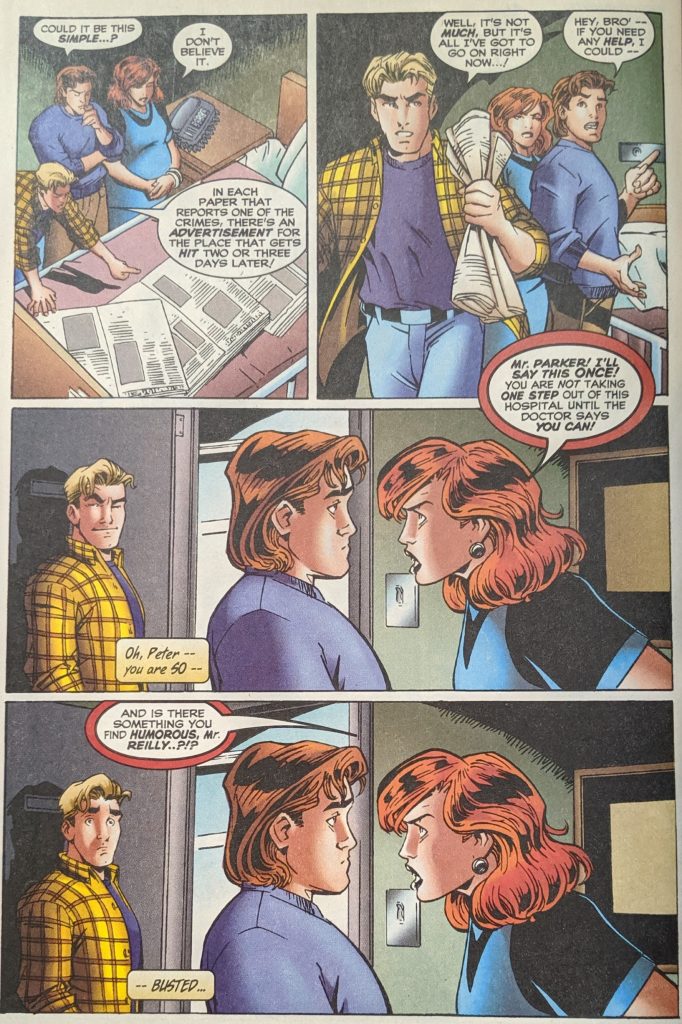 Later that night, Spider-Man stakes out the place he believes will be hit next, and he's right, as a villain who would seem to be z-lister The Unicorn uses the energy beam from his… Unicorn horn… to blow the place up, sending cars flying and forcing Spidey to reveal himself as he saves a street vendor. Out in the open and lifting a whole car, Spidey's an easy mark for another blast, and passes out.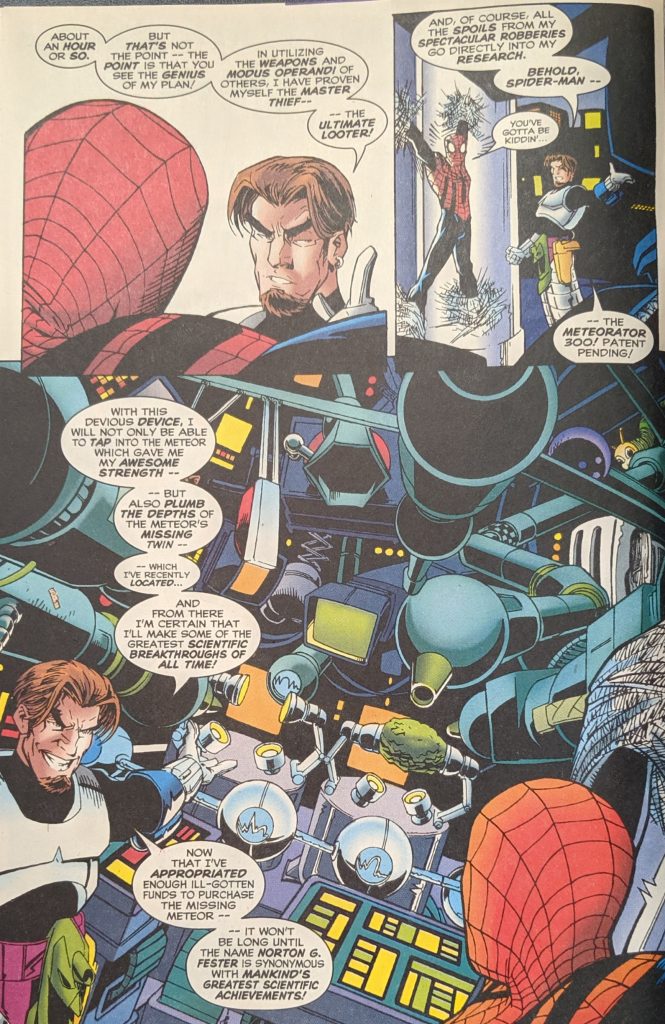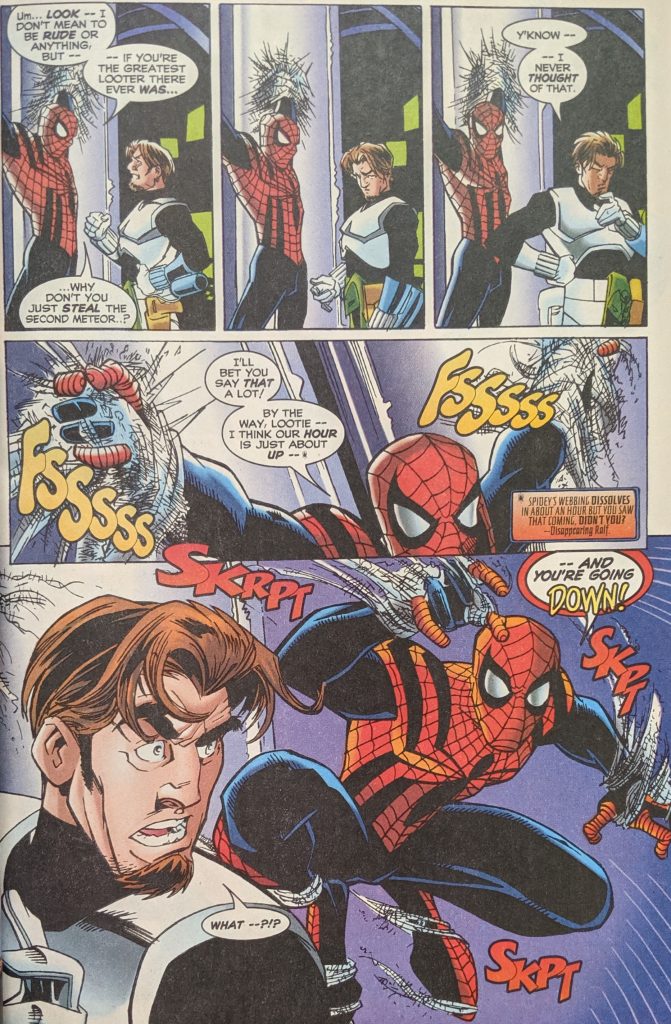 Ok, I looked it up. The Looter/The Meteor Man has only appeared on the blog once so far, but he's got many other appearances coming, specifically a MTU story where he's after the 2nd meteor that he's talking about here. Seems like… that should be referenced. I dunno, whatever, it's fightin' time, as The Looter grabs up all the stolen villain gimmicks he's got and comes after Spider-Man with a whole arsenal.

Spidey tricks his foe into accidentally zapping his whatever machine, which distracts him long enough for our guy to break the Stilt Man legs out from under him.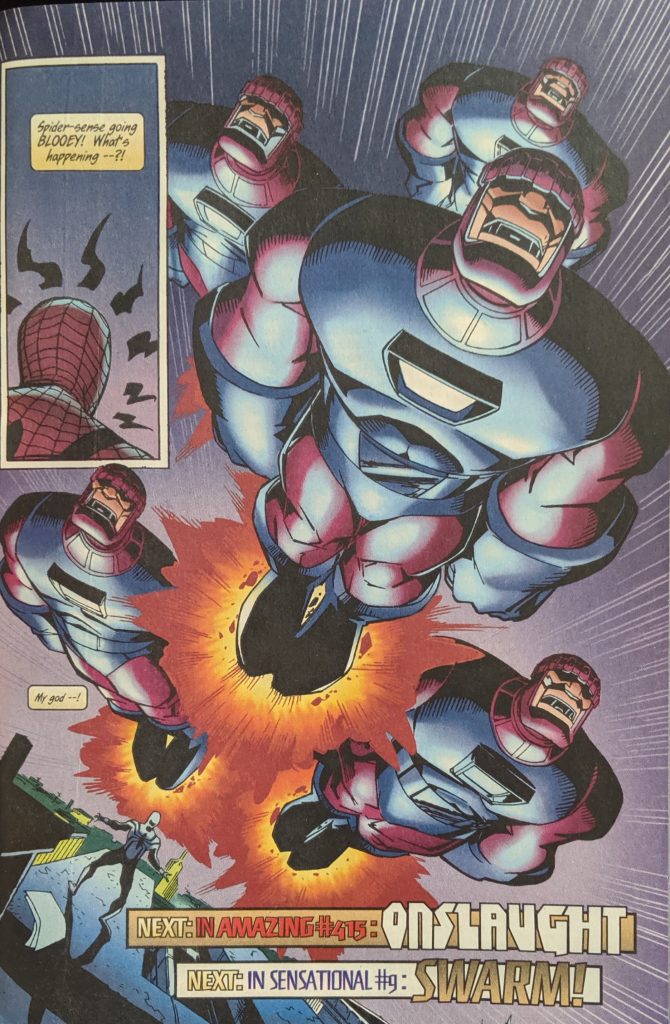 It's been looming for awhile, and it's finally hit the Spider-Verse: Onslaught. More on that next post. I wonder if there's ever any follow-up on The Looter's meteor. I do not recall.

So, yeah, the art is a little boxy, but fun, light, consistent, and more than welcome in these trying times. DeZago seems to have rethought his approach to Spidey, ditching the dreadful attempts to be hip seen in the last block from this era and going for fun over everything, which I totally approve of. Maybe Mike just brought out the best in him from jump.