Alright, let's see how the TAC gang wraps this up. Sal Buscema only provides breakdowns this month, and Art Thibert & John Stansci team up on the finishes, and… you can really tell it's 2 different guys. We begin with Ben back at home, raging and whatnot.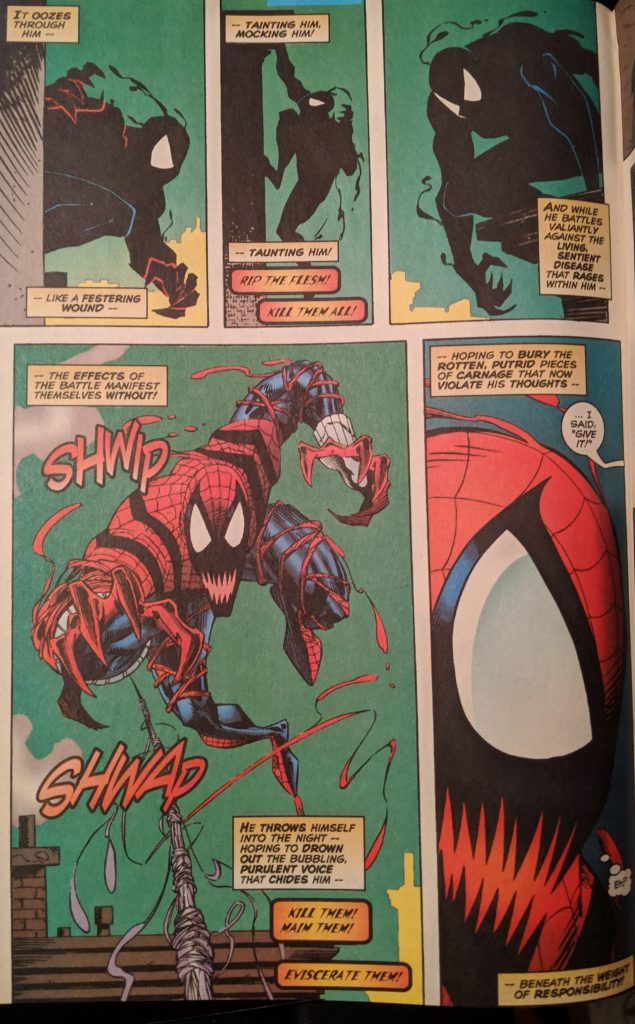 SHWIP SHWAP! He happens upon a mugging, and actually tries to help as a monster. He brutally attacks the comically large gaggle of goons (At least 6 of them) while the symbiote makes him imagine tearing them to bits.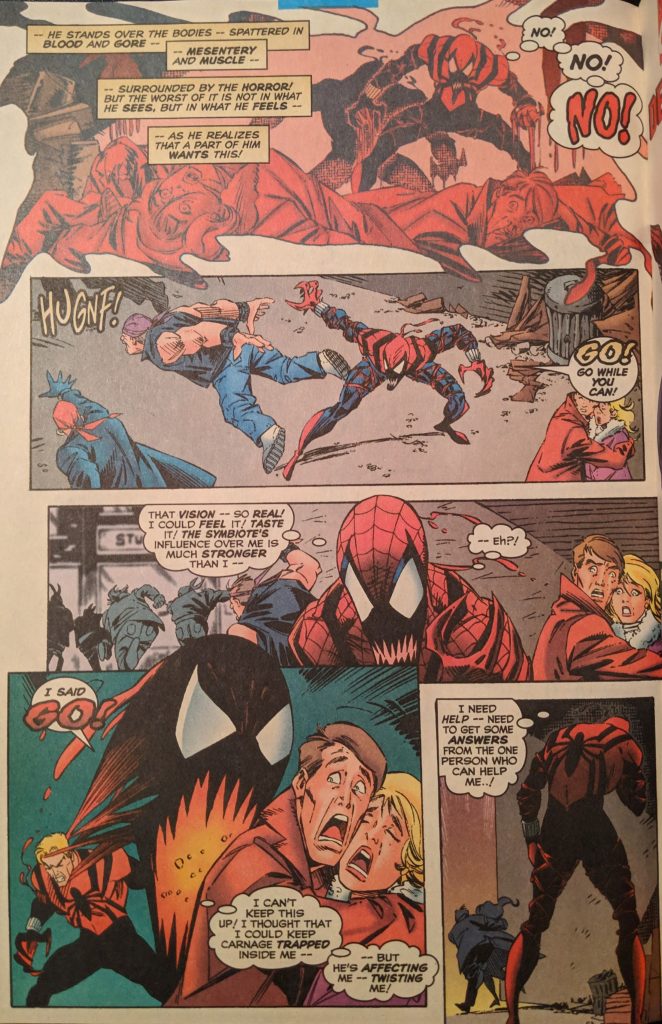 I'm guessing that panel is 100% funnier than intended. To see the crazy difference in the two inkers, look at these two consecutive pages as we turn to Peter Parker…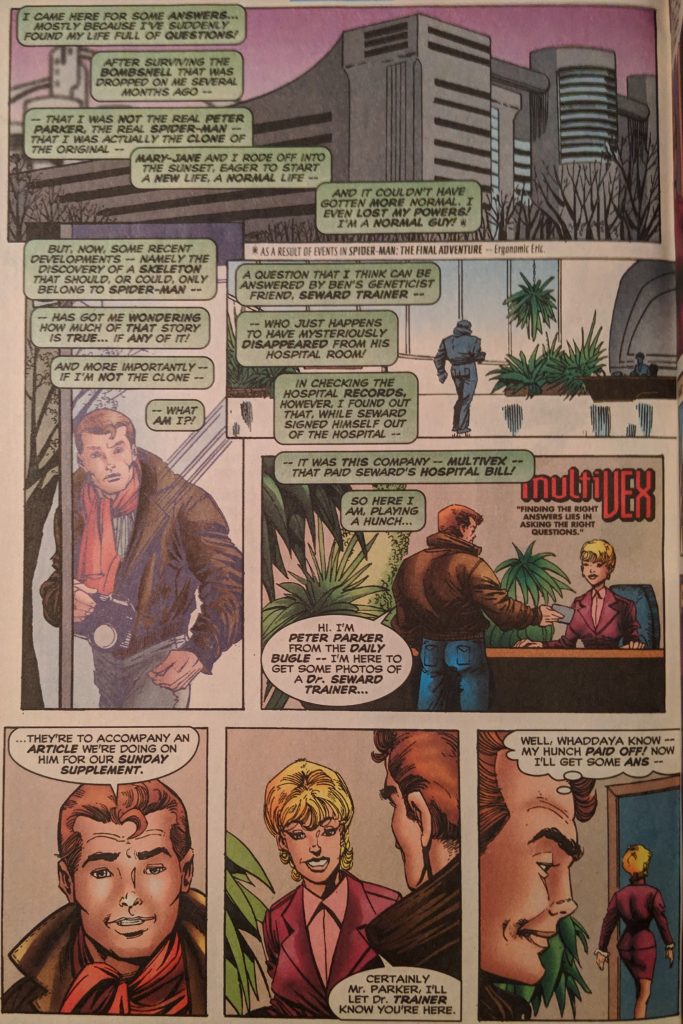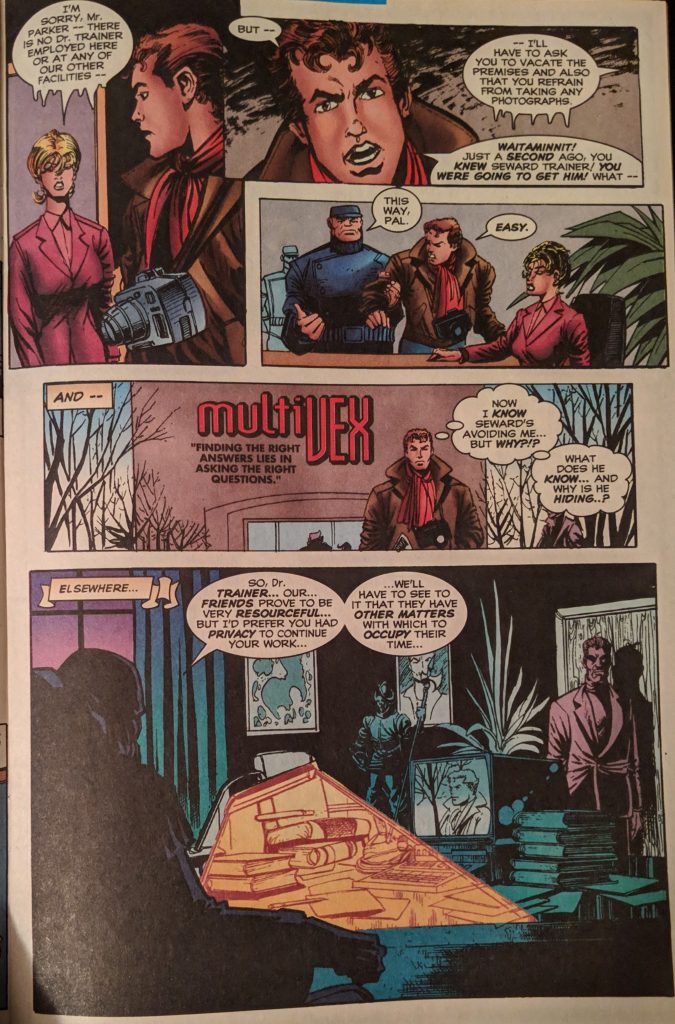 I mean, that's crazy, right? Also crazy: that Multivex logo. Digital lettering is even more primitive than digital color at this point. Who's that mystery man? As mentioned previously, whoever he's supposed to be here, he's going to wind up being someone else by the time his identity is revealed. Awkward, awkward stuff is in the future. We check in with Jessica, failing to salvage any of her film from the Spider-Carnage attack, and then hop back to Ravencroft, where it's revealed Cletus Kassidy is dying because he's been separated from the symbiote. At this point, once those things bond, it's for life. Of course, in the future, they'll slap the Venom and Carnage symbiotes on all sorts of people, but right now, there are rules. Dr Kafka & Jameson continue to watch him freaking out, but then Spider-Carnage rolls up to the institute, so they have to deploy their defenses that never work on anyone. Guess what?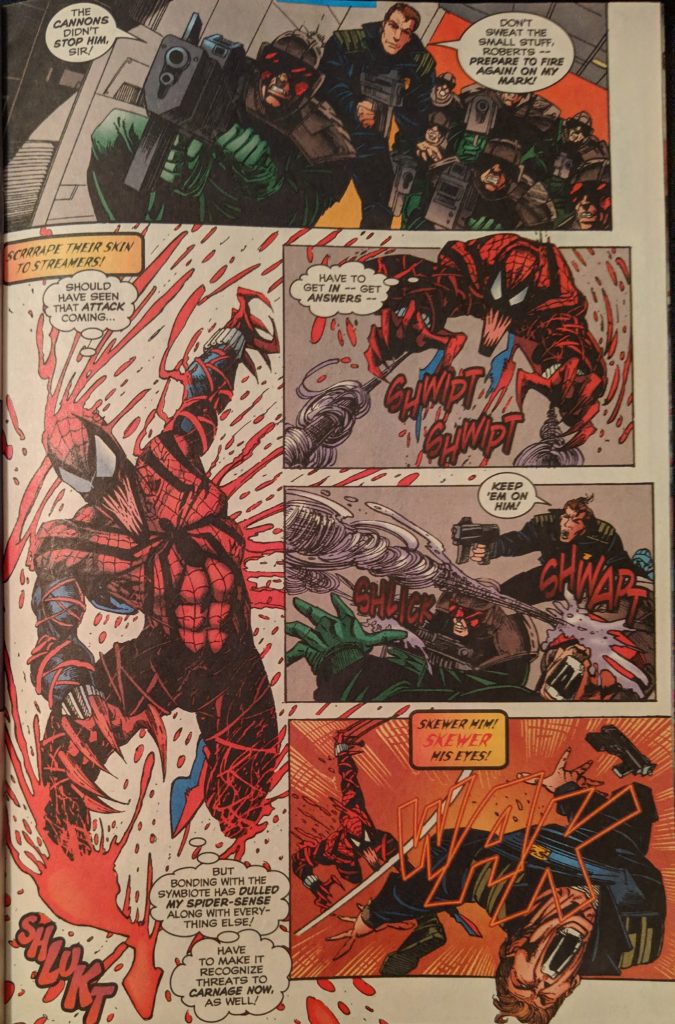 Days without incident: 0. He easily eludes the defenders, barely avoids killing John, and tells him to back off. Security isn't going to listen to a monster's advice, so they gear up to head for Dr. Kafka's office, since that's where Jameson assumes he's going. He's got it wrong, though, as always. Spidey's trying to find Kassidy so he can learn how to control it.  This has been weird. Ben never even thought "I should get rid of this thing." His first thought has been "I can control this, sure." That's just ridiculous to me. At any rate…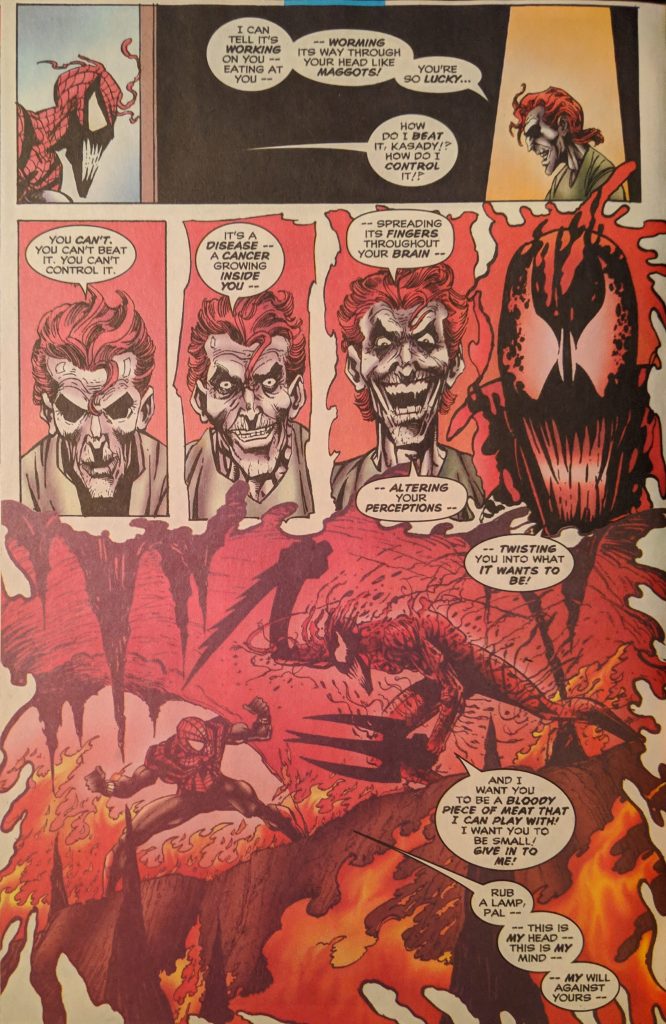 So he's doing this so it can't bond with Kassidy again. I mean… this is not a good plan. Also: why'd he allow them to come here, then? Kassidy begins luring the symbiote off of Ben, leading to this crazy page: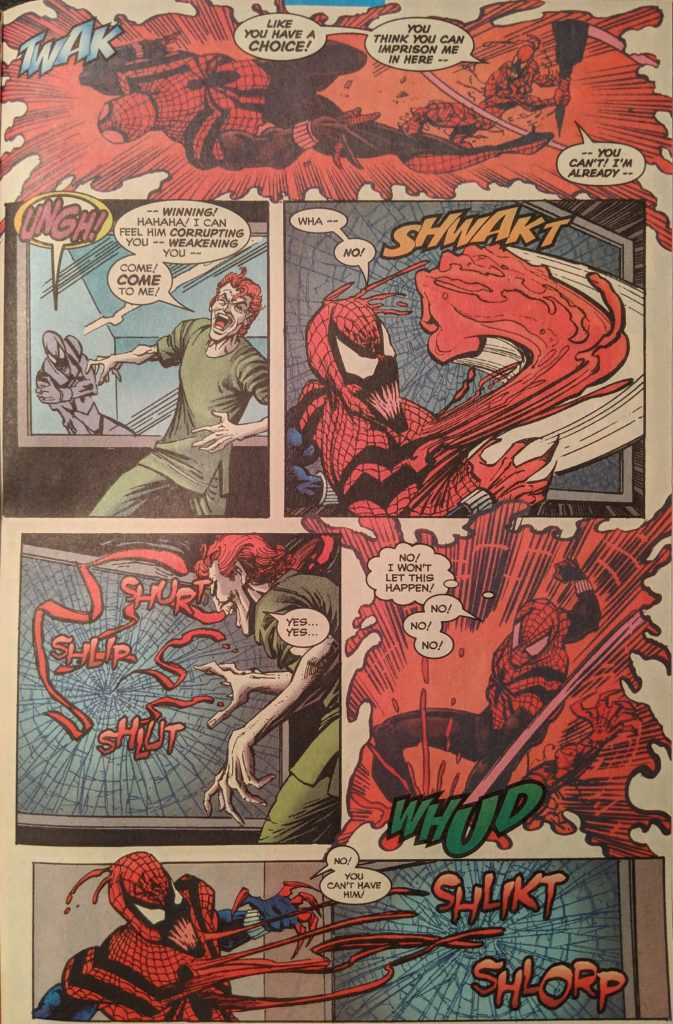 But Spider-Man retains control. Jameson runs up, and Spidey says to lock him up so Carnage can never rejoin with Kassidy. Really? That's your plan? So they put him in a cell with the same microwave transmitters that were (not) containing Kassidy, and the microwaves begin to weaken the symbiote. It's eventually forced off of Spider-Man, so it slithers into the sink, and…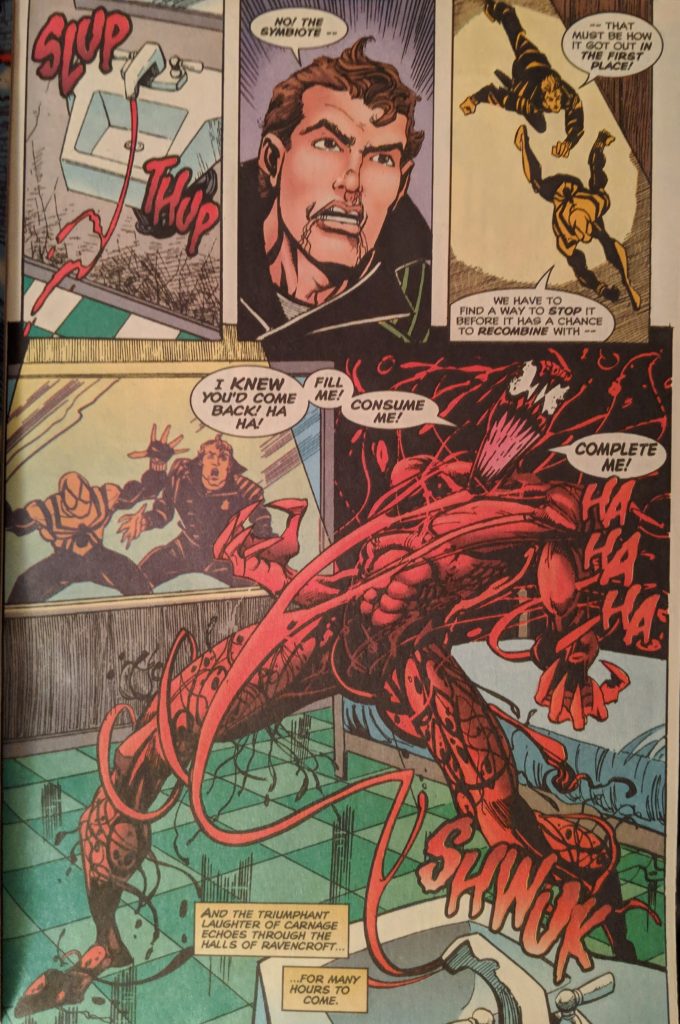 But… why did it leave? And if the answer is "to abandon Kassidy for a stronger host," why did it come back? What sense does this make? Later, outside the gates of Ravencroft, Spider-Man & Jameson discuss what happened, and how they didn't know the symbiote could travel through the plumbing (I will show you a symbiote doing something way stupider and more improbable than that one day), each of them feeling like they failed, largely because they did.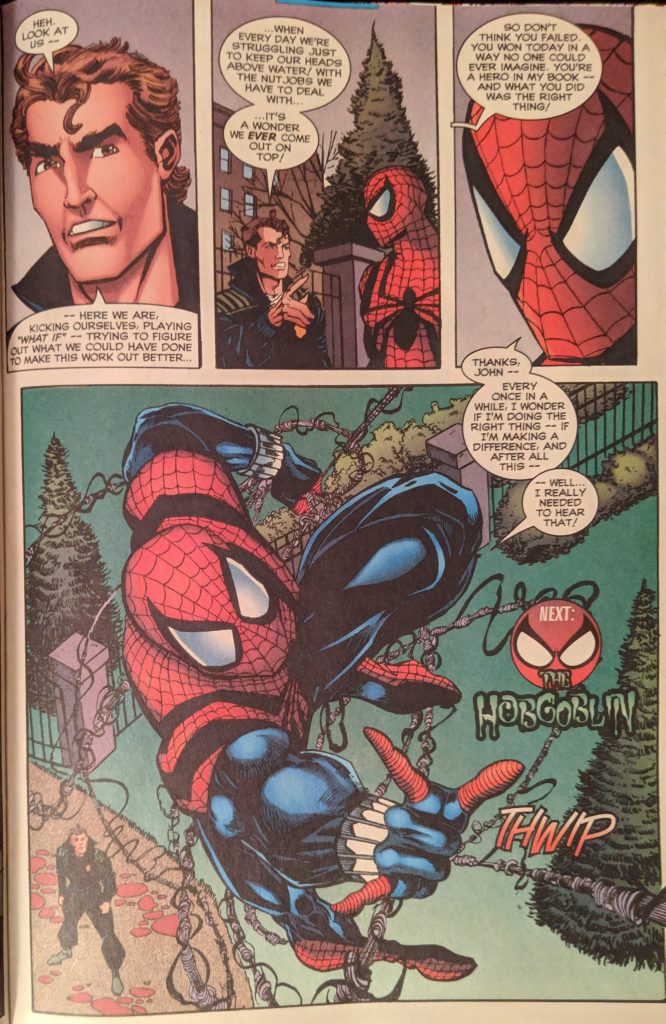 "Instead of taking the symbiote to any number of super scientists to capture or destroy it, you brought it back here to give a serial killer superpowers again. Sounds like a win to me!" What a dopey ending to this mostly dopey story. Next SSM begins a big 6-part story, but first… a very unusual detour.