A great cover. Such mystery! Rick Leonardi hangs in there for one more issue, joined by new regular inker Joe Rubinstein and new regular colorist Christie Scheele. This story begins by revisiting some loose ends from ASM 251, which we haven't talked about yet, as the city is hauling The Hobgoblin's Battevan out of the river. You know what, for once, I have a good reason to show the recap…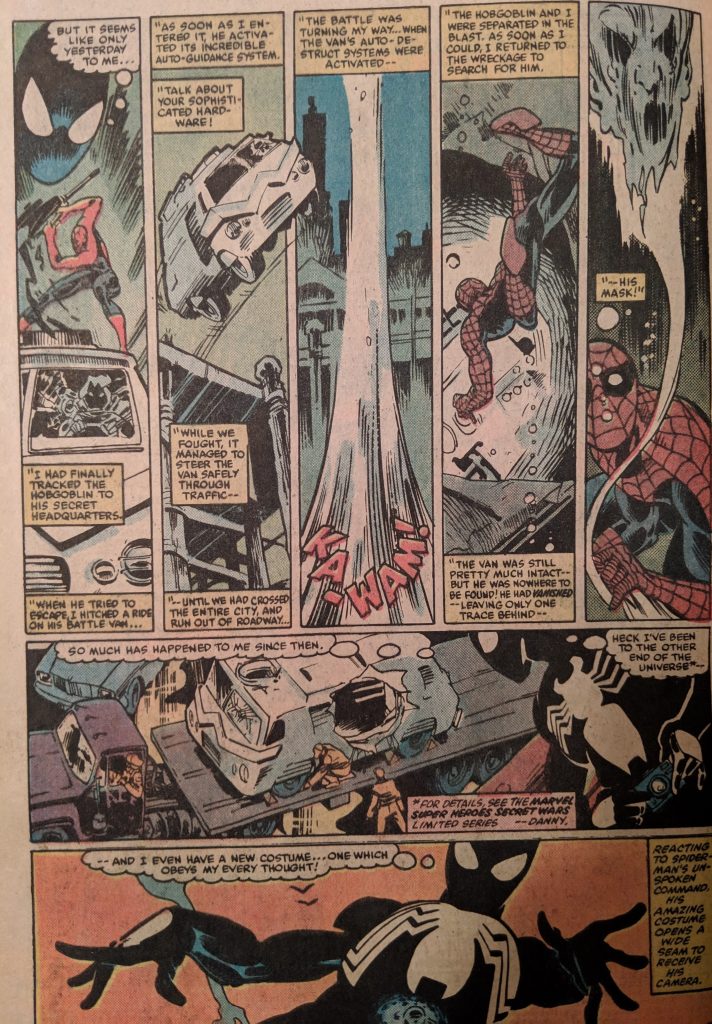 There we go, got it? Due to my jumping around, we haven't seen The Hobgoblin yet, but we're sure going to, because the mystery of who he is frankly dragged on way too long. But that's later. Right now, he's the coolest new Spidey villain in like 15 years, and it's been 3 months since he disappeared. Spidey tags the van with a spider tracer just in case and takes off, while a guy in coveralls radios a mysterious man with a pumpkin on his table about where the van is being taken. Spidey swings over to a pay phone to call Aunt May, but one of her boarders answers, and when she's told Peter is on the phone…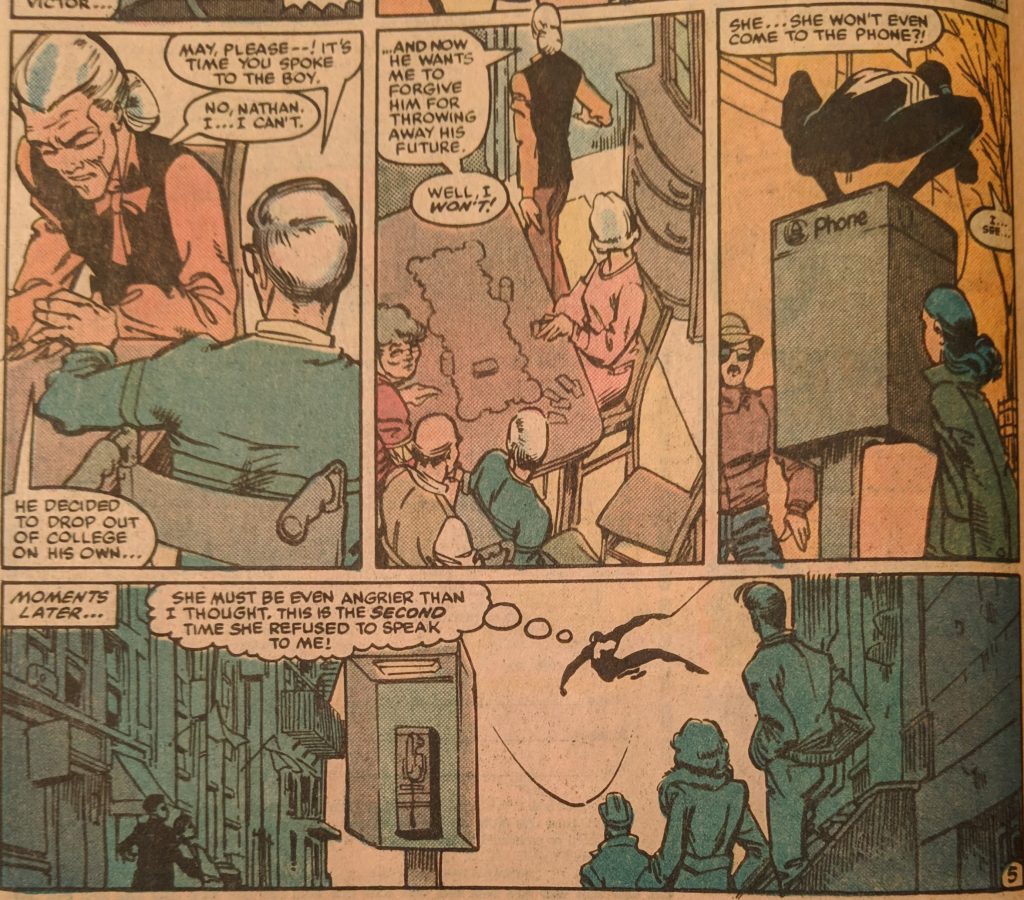 Leonardi's extremely bendy Spider-Man heads over to The Bugle…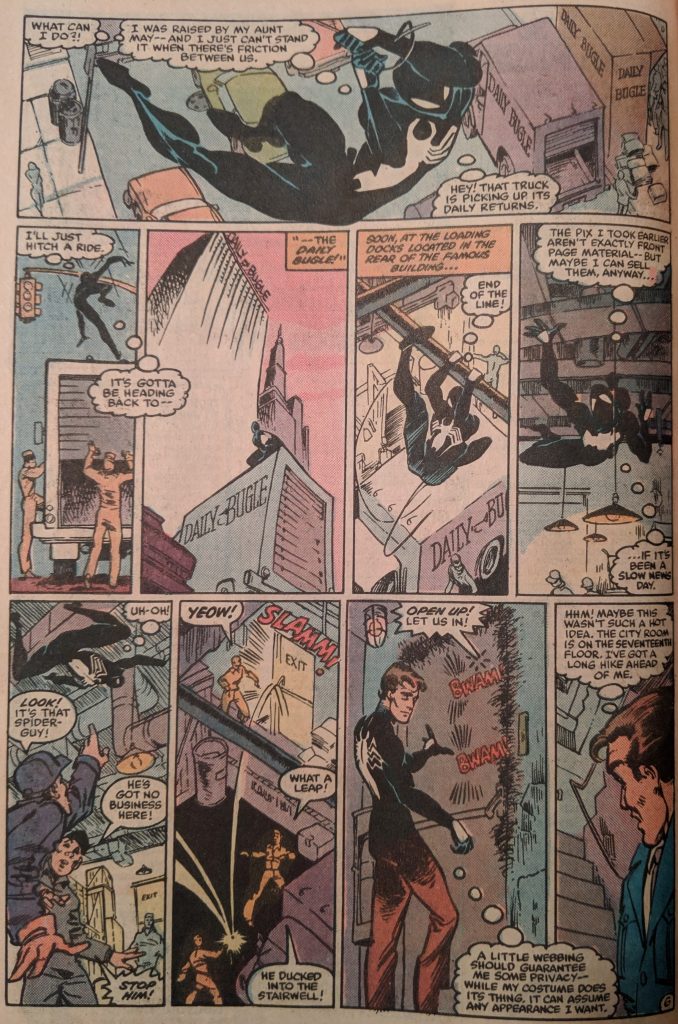 He was so ahead of the game, man. We check back in with that Battlevan moving through traffic, as the mystery man's agents continue to give reports about its location and cause an accident to remove its police escort. Then they distract the drivers with a sexy lady in a convertible while an electromagnetic crane just plucks the van off their trailer, and they never notice. This is a complex gig. Back at The Bugle…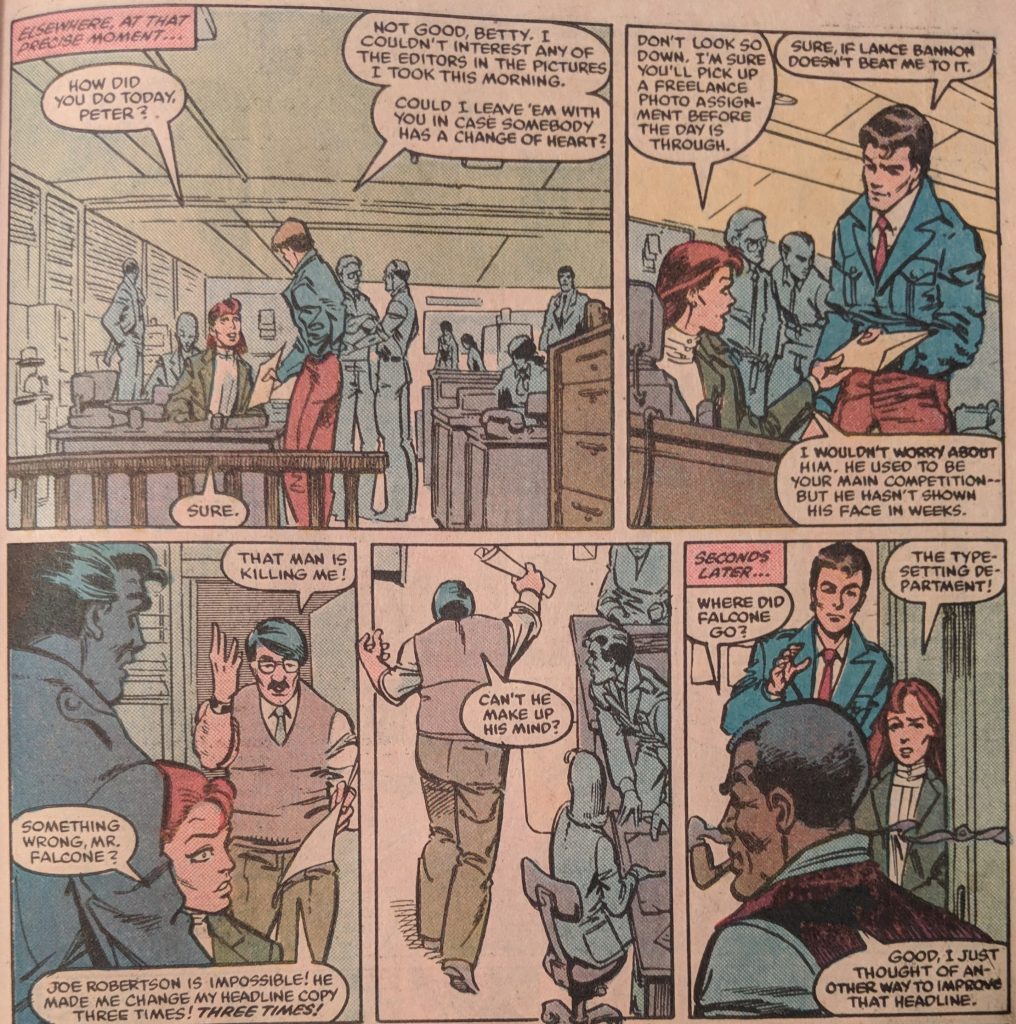 "Mr. Falcone" is based on Tom DeFalco. That's fun. As mentioned before, the thing about The Hobgoblin was the book was inviting you to guess who he was, so little bits like Lance Bannon not having checked in for weeks while the Goblin was also missing were very intentional. Is he the Hobgoblin? Maybe! Believe me, a ton of people will be in the running before that one's resolved. Robbie is kinda driving everyone crazy as the new Editor-in-Chief. Then Peter gets a phone call. It's Nathan Lubensky, who has snuck away from Aunt May while they're out to lunch, and who tells Peter both he and May are acting like fools and they need to squash the beef over him dropping out, so he tells Peter where they're having lunch. Peter really appreciates it, and starts to head down there, but then Wendy Thorton from last issue flags him down and asks if he's still interested in The Hobgoblin's van.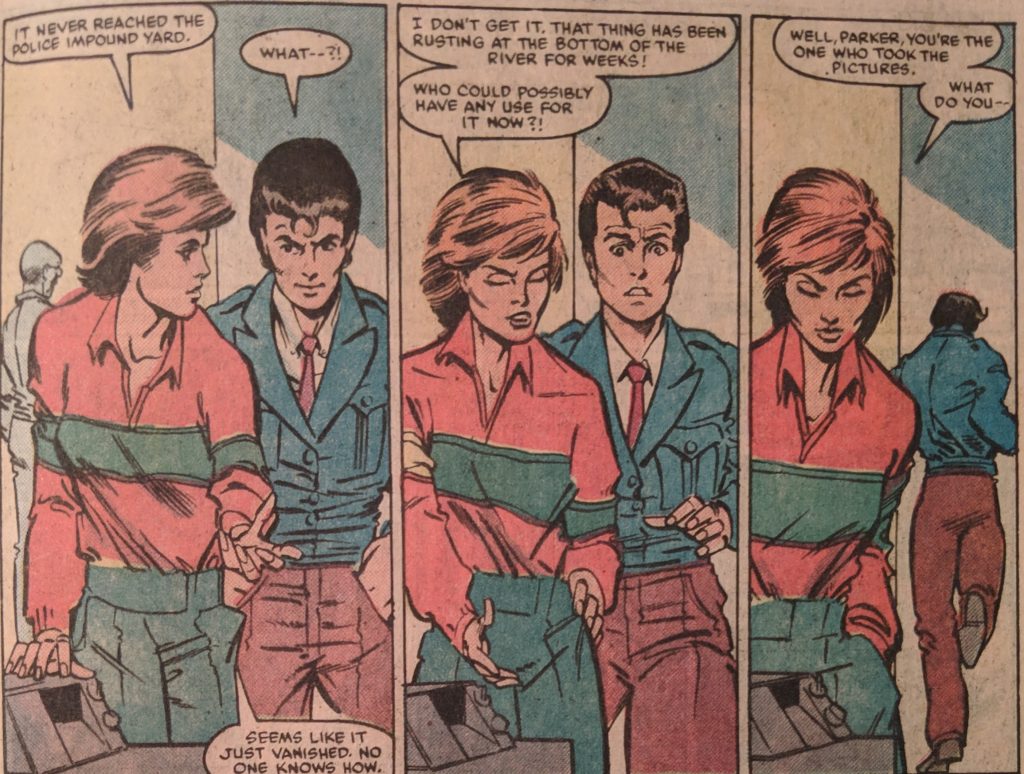 Peter is truly torn between patching things up with May and making sure The Hobgoblin isn't back, but in the end, this is a superhero comic, you know what he's gonna do. Some goons are stripping down the van in a junkyard somewhere when Spider-Man shows up. He tangles with the goons for a minute before barely dodging an explosion, only to find…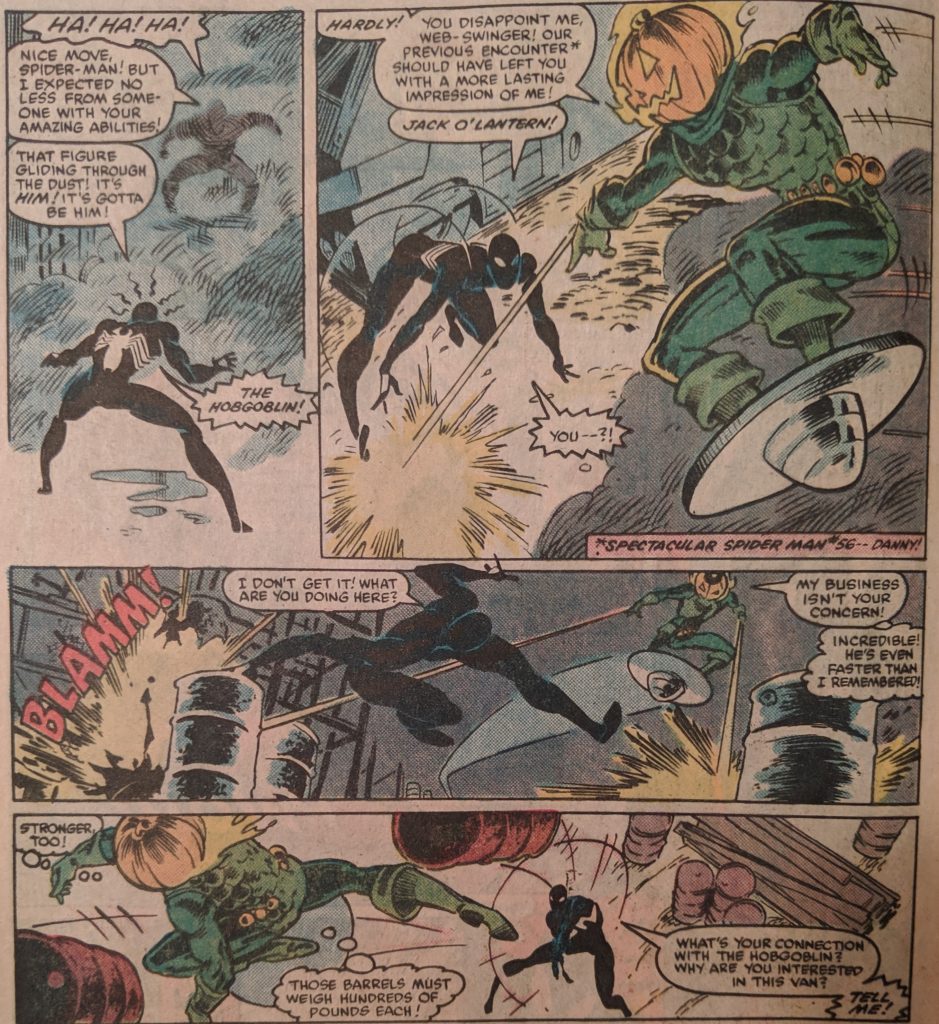 Yeah, it's our old pal, Jack O'Lantern (I think he's our old pal, have we talked about him yet?), trying to up his game by stealing Hobgoblin's stuff. Pretty spot-on for a 3rd rate Green Goblin. He wants to lead Spider-Man away from the van so his guys can keep looting it, but Spidey's not worried since he has a tracer on it, and gives chase. As soon as he's gone, though, the control console of the van lights up, and it drives off all by itself, leaving Jack's confused goons behind. Just like last time they fought, Jack is continually impressed by Spider-Man's powers…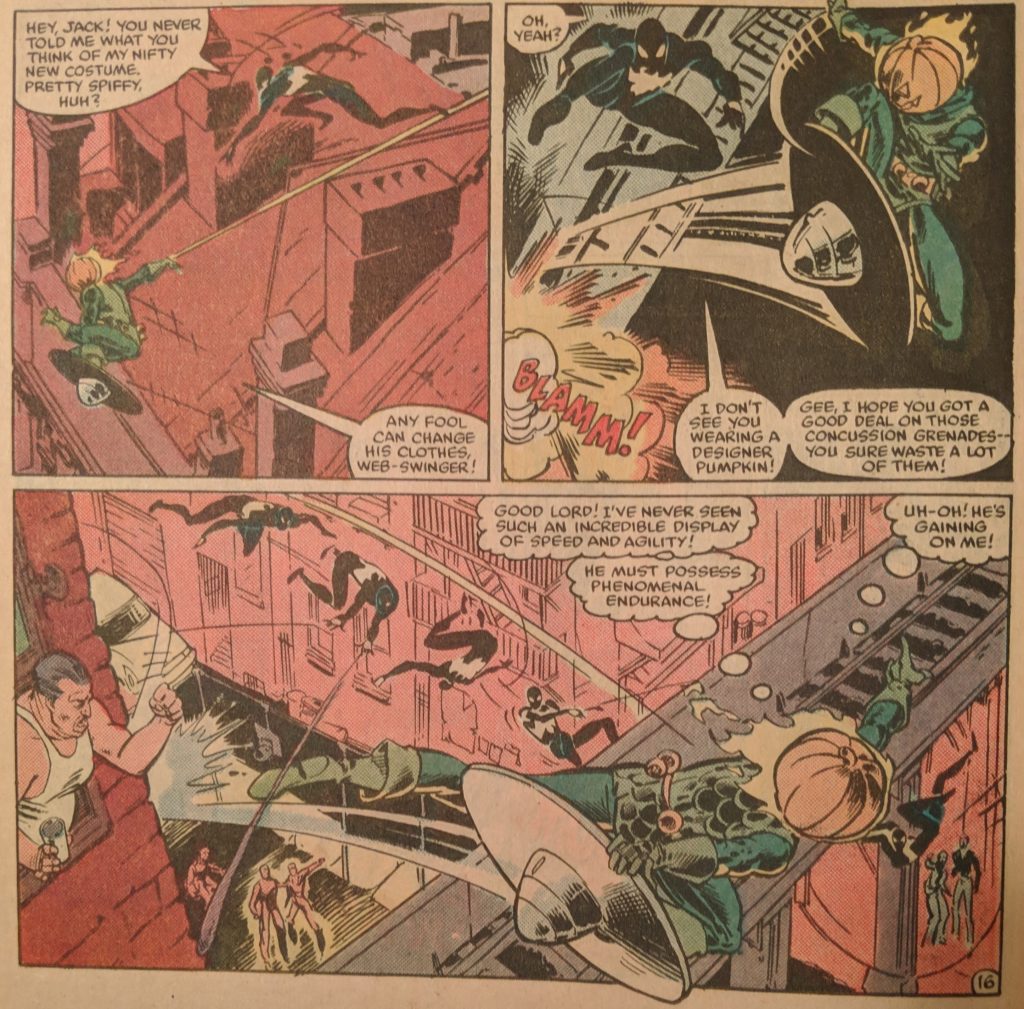 I like that DeFalco is continuing Stern's subtle move to Spider-Man's foes often being in awe of him instead of just jobbing Spidey out to any ol' lame for faux suspense like they did so often in the 70s. You know, Doc Ock, Electro, Hobgoblin, that's a dangerous fight for Spider-Man. Being taken down by Rocket Racer twice in one issue, that's just embarrassing. So it's nice when the lower tier villains appreciate how badly outclassed they are. As the chase continues, Spidey realizes he was supposed to meet Nathan half an hour ago, but doesn't see how he can give up on Jack O'Lantern now. Back at the restaurant, Nathan makes it too obvious he's waiting on someone, and May can guess who it is.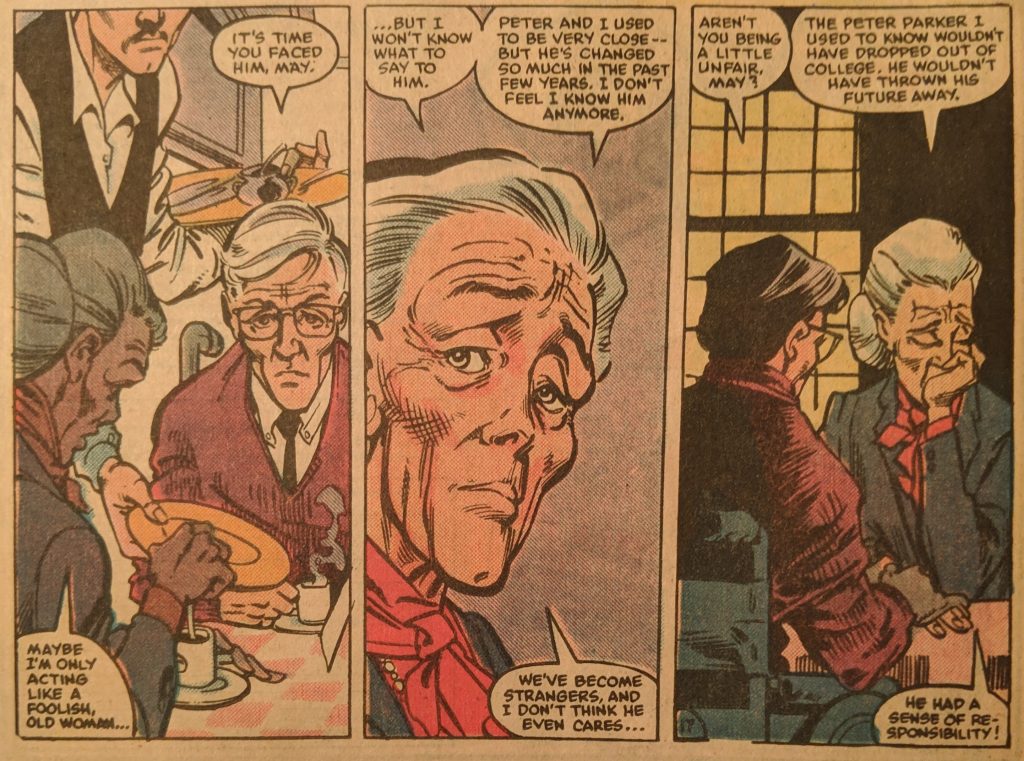 Aw, that's rough. Elsewhere, Jack O'Lantern realizes he's outclassed, and dives into a toy store, hoping the close quarters will give him an advantage. But even endangering civilians to distract Spidey only gets him so far, as Spidey manages to leap in front of him and then…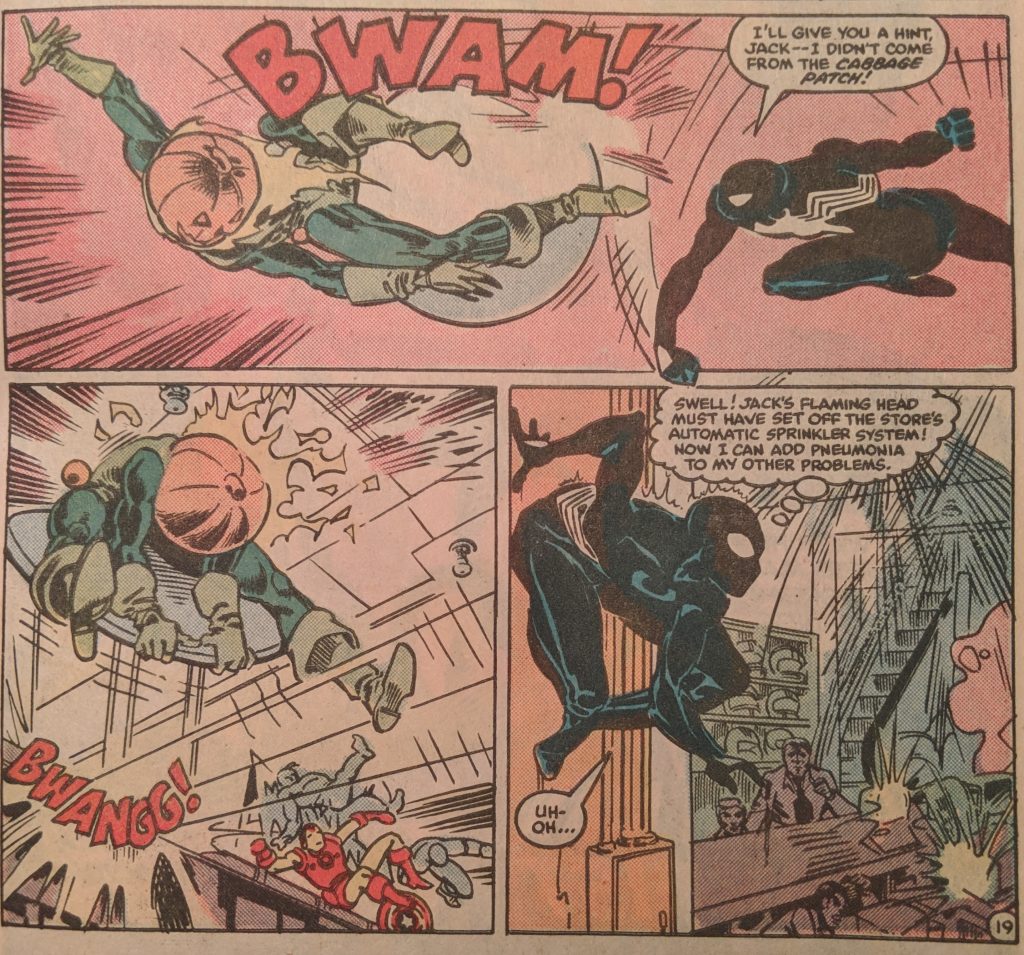 Jack is still kicking, so Spidey finally webs his ridiculous "pogo platform" out from under him and takes him down. He wants to know Jack's connection to Hobgoblin, and Jack says "the answer will startle you," but rather than explain, he just zaps an electrical box, causing live wires to explode out around the people trapped in the store, and finally gets the distraction he needs to escape.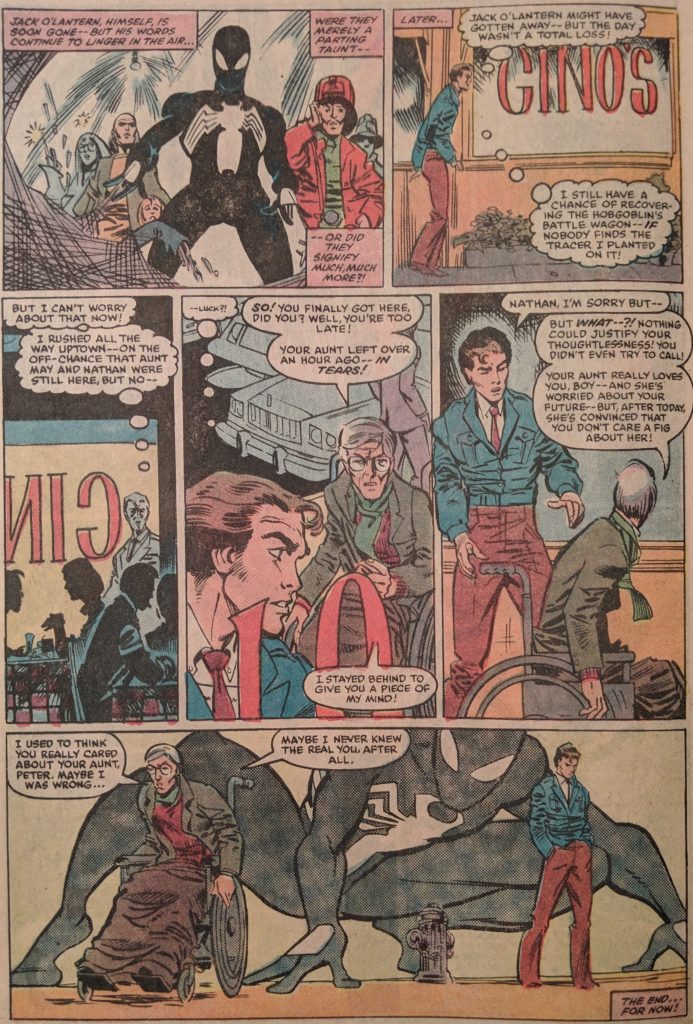 Some days, you just can't win. Much as I wish he could've done this whole run, that's it for Rick Leonardi. Ron Frenz is back next issue, and with his return, the creative team for ASM is in place all the way into the 280s.
So, the black suit's real origin is pretty unusual. A fan named Randy Schueller submitted an idea for a comic script, and it included the idea that Spider-Man would get a new costume. Jim Shooter actually bought it off him, but the script never wound up becoming a comic. Eventually, though, the basic idea of Schueller's suit wound up becoming the black costume. They revised it for print. The biggest change was all the white parts were originally to be red. And while the design was publicly credited to Mike Zeck rather than Schueller (Who didn't really tell his story publicly until 2007), the artist who did the turn around and other sketches to show Marvel artists how to draw the new suit was… Rick Leonardi. He plays an important role in this even before drawing these two issues. Pretty cool stuff.