Picking up from last issue, Denny O'Neil, John Romita, Jr., Jim Mooney, it's going down. Literally, the crew from last issue are lowering the generator into the ocean in the new location Namor suggested. Spider-Man is still crazy itchy from the brine. And then a live wire breaks while they're lowering the thingie. What is with "Cheese a'mighty?" O'Neil puts one in every issue. Is this just amusing him? Who says this?
No way! Are you telling me Spider-Man creates Hydro-Man??? I've seen Hydro-Man in a lot of things. He was in one of the first ASMs I ever read, #315, and quite a few since. There's a great and memorable comic in Christopher Priest's Black Panther run with Hydro-Man. But I never knew where he came from. I can't believe it. Spidey, you doofus. So, yeah, this deckhand guy gets knocked in the drink with this untested and malfunctioning energy generator and guess what? Super science has birthed yet another monster. Well, not yet. First, as soon as Spider-Man finds out someone fell overboard, he dives in, even though it's been "four, five minutes" and he's probably dead. But then…
Spidey brings one Morrie Bench back aboard and he's taken to sick bay. He's totally fine against all odds, but he's getting agitated because no matter how hard he scrubs, he can't dry off.
And he's a sweetheart, too! Meanwhile, Spider-Man is swinging home, complaining about the heat out and the itching in his suit. But he comes home to his country-singing neighbor at it again, so it's not a happy return.
JJJ wants pictures of "kids frolicking in the fountain and that garbage," on a freelance basis. Pete accepts. And there it is. It was a weird ride for quite a while there, but Peter's back to working for The Bugle, and all is right in the world again. He calls up Deb Whitman to see if she wants to run around Manhattan with him, and of course she does. She says she does even if maybe she didn't, because she's Deb Whitman. Meanwhile, Morrie Bench is at a bar, and he's looking pretty soaked. His sunny disposition chases off a woman who claimed to be his "troo lady luv," and then…
Is this the craziest reaction to superpowers ever? That man turned into a puddle, ran outside, and reformed into a dude, and he goes "Yeah, yeah"?? Like it's nothing?? Insane! I can't get over it. Then of course it's time for revenge. So he goes to the apartment of a cop who busted him one time, and he is just REALLY acclimating to this whole "Hydro-Man" thing way too well and too fast.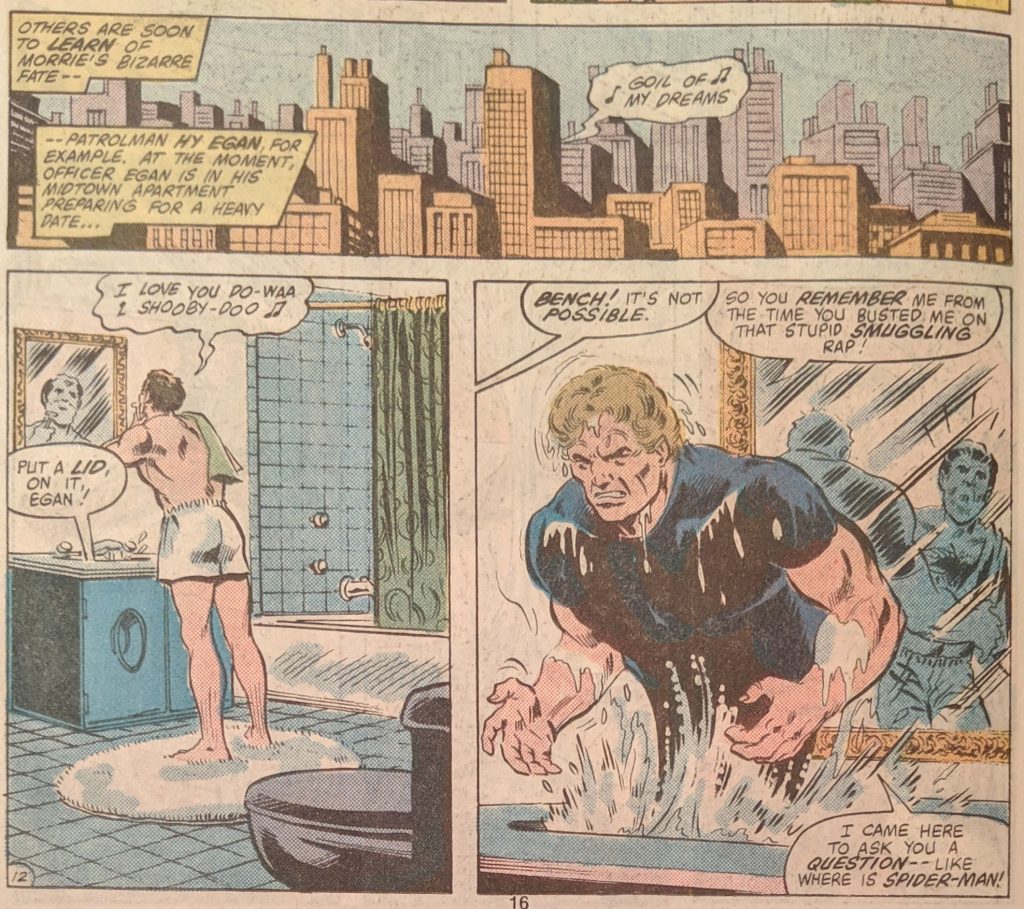 Just coming up out of the sink! It's like he's been doing this his whole life. He realizes this isn't going to get him anywhere and decides to just scour the city for Spider-Man, "room by room" if he has to. Then there's a montage of him… showing up places with water, "traveling through the sewers and pipes and drains of New York."
How did he get in a bucket?? Did he need the element of surprise to hassle some random janitor? Insane. Meanwhile, Peter is back home at The Daily Bugle, Deb Whitman in tow, checking in with JJJ before heading out, but…
Well, you know what that means. It's time for Peter to cancel plans with Deb. As usual. As always. And then talk about how bad he feels. As Spider-Man, he swings over to the area Hydro-Man was last seen, and just… heads into an office building to look for him. Alright.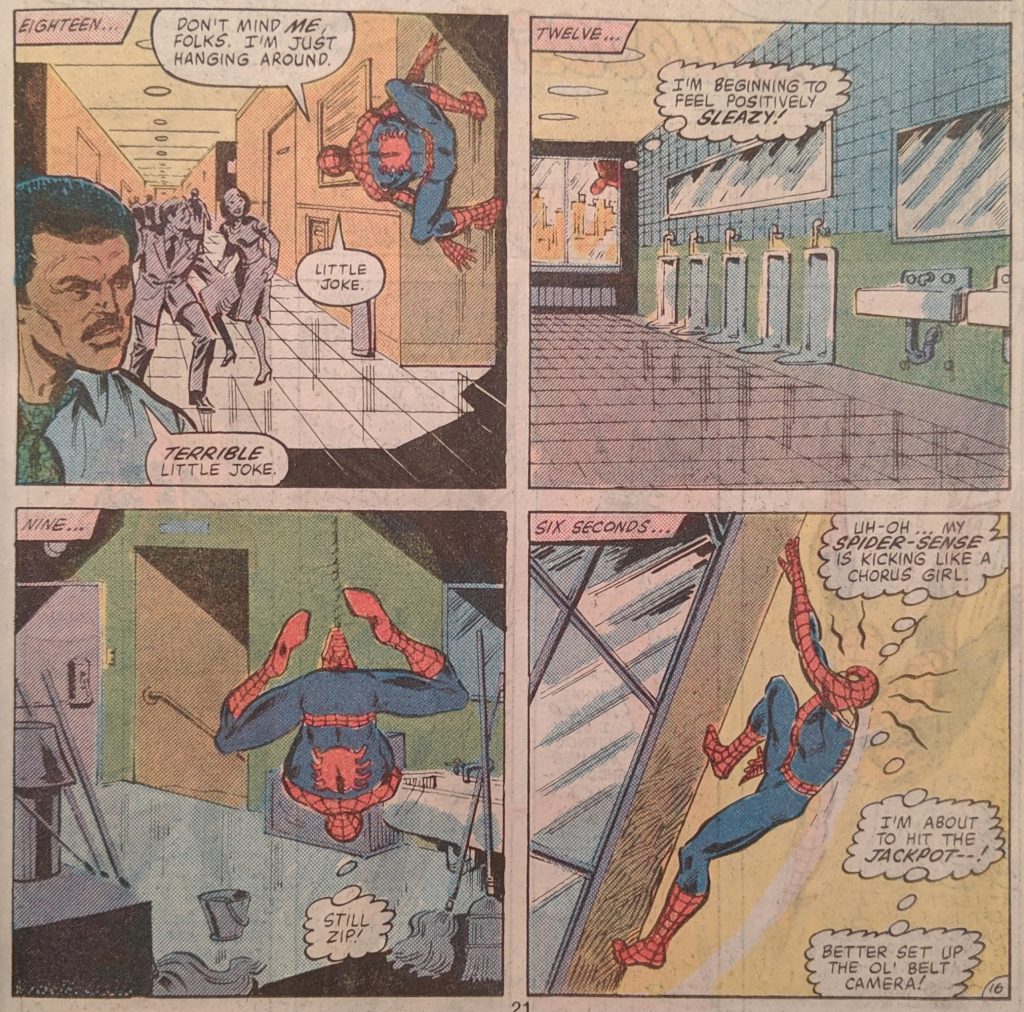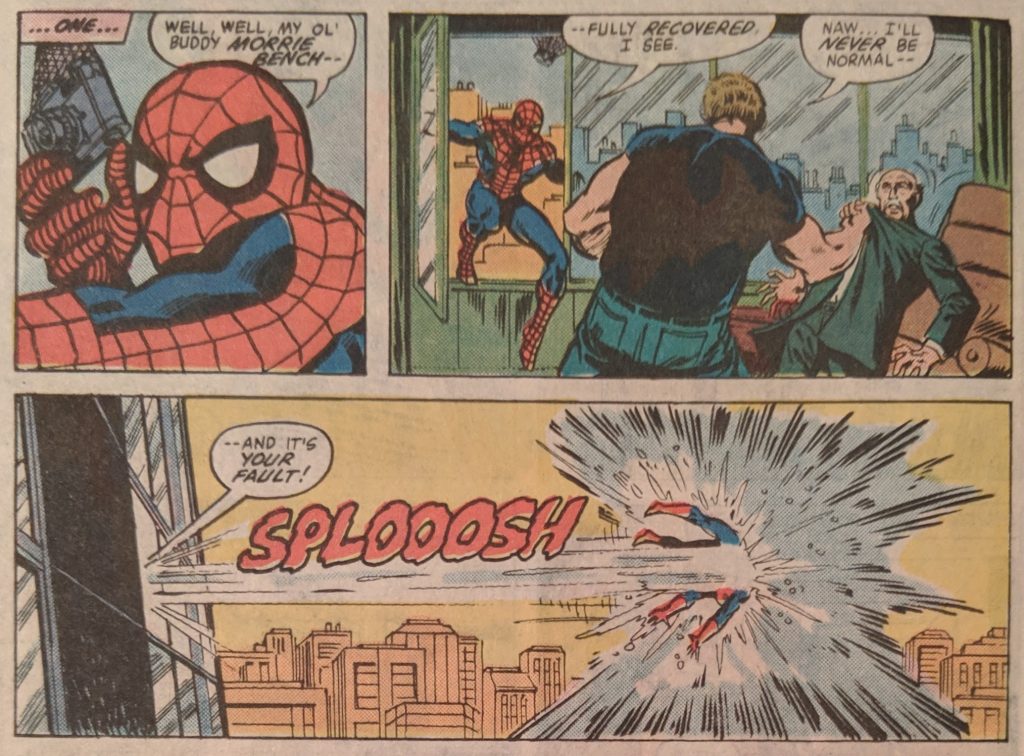 I mean… not wrong, really. Spidey's fine, don't worry, webbed a flagpole. But while he was gone, Hydro-Man escaped down a sink. So Pete takes the photos to JJJ and says Spider-Man asked that they run an add challenging Hydro-Man to a showdown on top of the Katen Building. JJJ is all for anything that will put Spidey in danger, so that's set. Hydro-Man's all for it, too. Cops surround the building to keep the public out of it, and then it's show time.

Spidey switches tactics, leading Hydro-Man on a chase across the rooftops, letting the sweltering sun beat down on him while running him through a clothes line and throwing old newspapers at him, making him lose water any way he can. Not bad, actually. Hydro-Man is feeling it, but refuses a truce, and when Spidey goes to defend himself…
And that's it for Spidey's first battle with Hydro-Man. Pretty crazy ending. What a crazy issue, in general. Given that Hydro-Man is exactly like Sandman, only with a different part of the beach, it's kinda hard to believe it took this long for someone to think of it.