Hey, look, it's Marvel Team-Up. My first issue since 95, been a minute. And that price tag marks it as a recent acquisition from the dude at the flea market. Ah, Machine Man. What a weirdo. He was created by Jack Kirby in the pages of his 2001: A Space Odyssey comic (There's a lot to unpack there, I'll give you a second), but like Kirby's other creation from that short-lived continuation of the movie, Moon-Boy & Devil Dinosaur, eventually found his way into the Marvel Universe. Now Marvel has long-since lost the license for 2001, and continues to use Kirby's additions. Weird situation. Especially Moon-Boy, since he's one of the primate guys from the beginning of the movie. Anyway, we got Jerry Bingham and Mike Esposito on art, and making his first, but FAR from last appearance here on the blog, we got Tom DeFalco on the story. DeFalco will be a mainstay here, writing or editing multiple titles for decades, and serving as Marvel's Editor-in-Chief for several years, too. Let's see where they take us.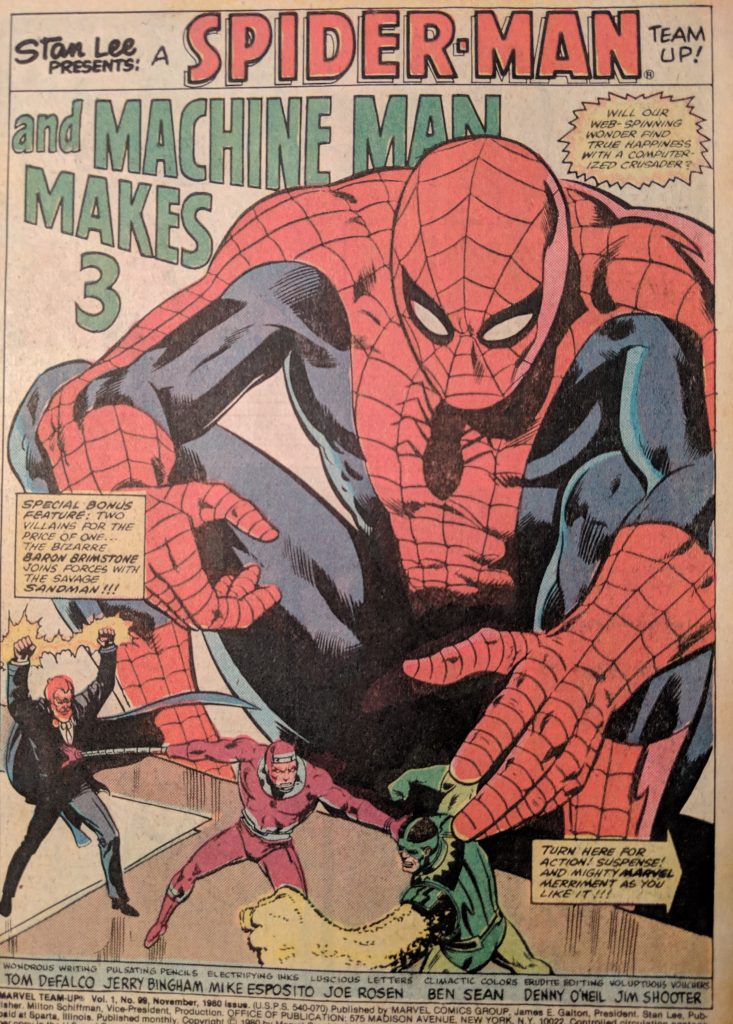 Ok, so this is just gonna be bizarre from page 1, got it. How does Machine Man make 3 in this picture of 4 people? Does Spidey not count because he's huge? Anyway, as Peter Parker takes a break from prepping his student teaching lessons to go out for a swing, this is going down at a prison that also houses The Sandman…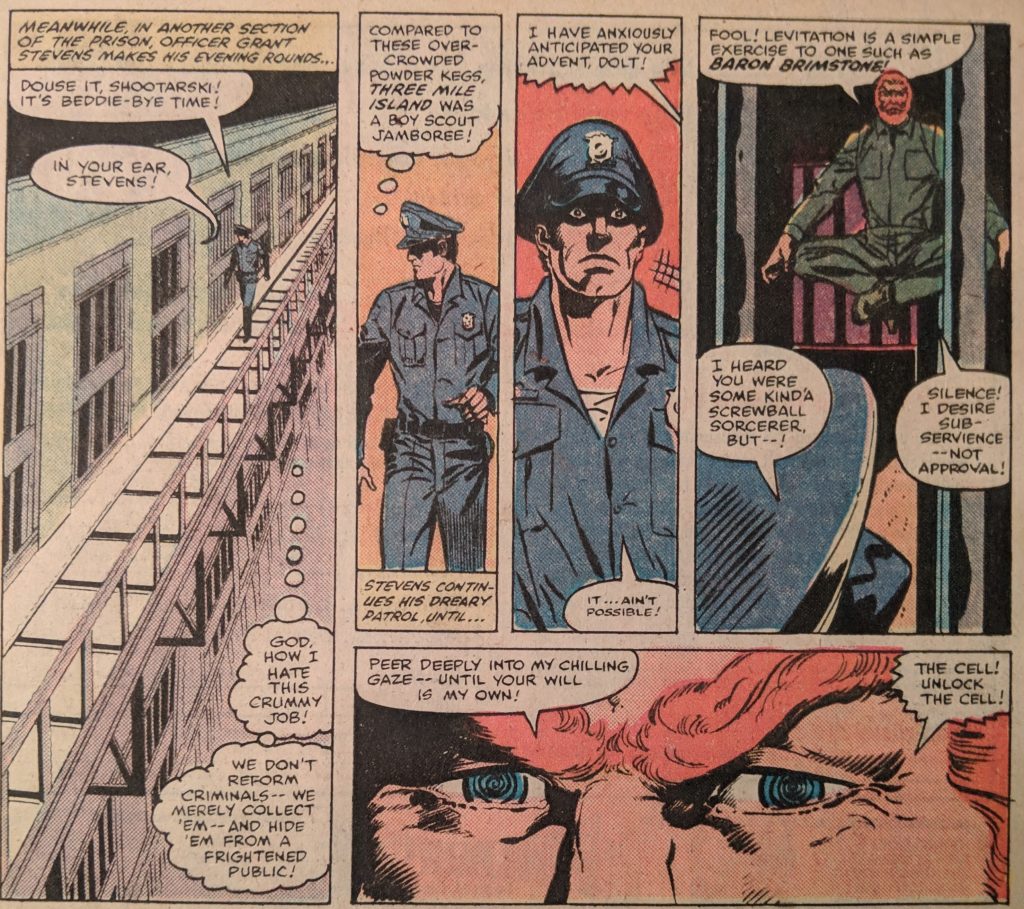 I don't know this guy. I assume he's Machine Man's. He takes down a bunch of guards and tells Sandman he'll free him if he agrees to help with "a matter of personal vengeance." I am already reading all this guy's dialogue as Dr. Orpheus from Venture Brothers. He then teleports them to his "upper Westchester estate — my retreat from when the rigors of crime become too pressing!" Dr. Orpheus, only evil. Let's back up a second. Was this guy in jail? If so, how long, if he could just do this any time?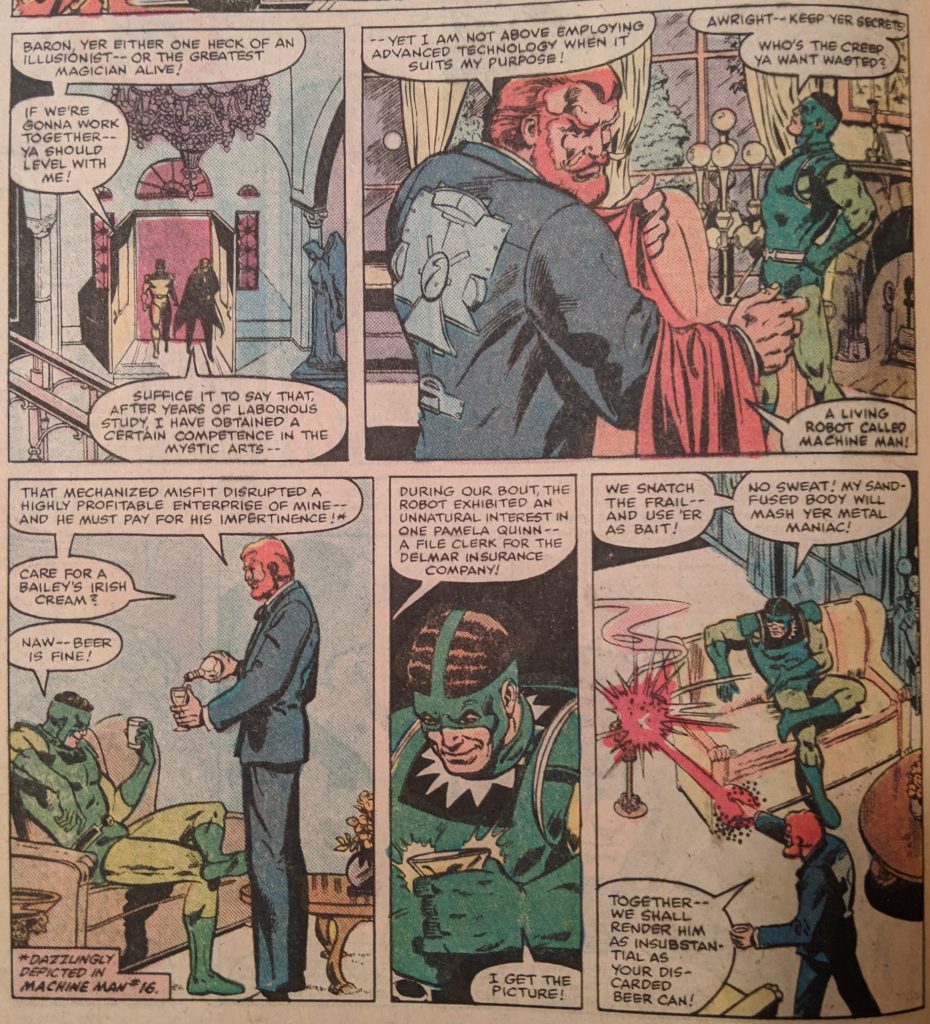 This issue brought to you by Bailey's Irish Cream. Bailey's: For when you just teleported out of jail. The next day, Peter Parker gets another 3-panel cameo, long enough to hear a news report of the prison break while at school, and then we meet the guy who makes three: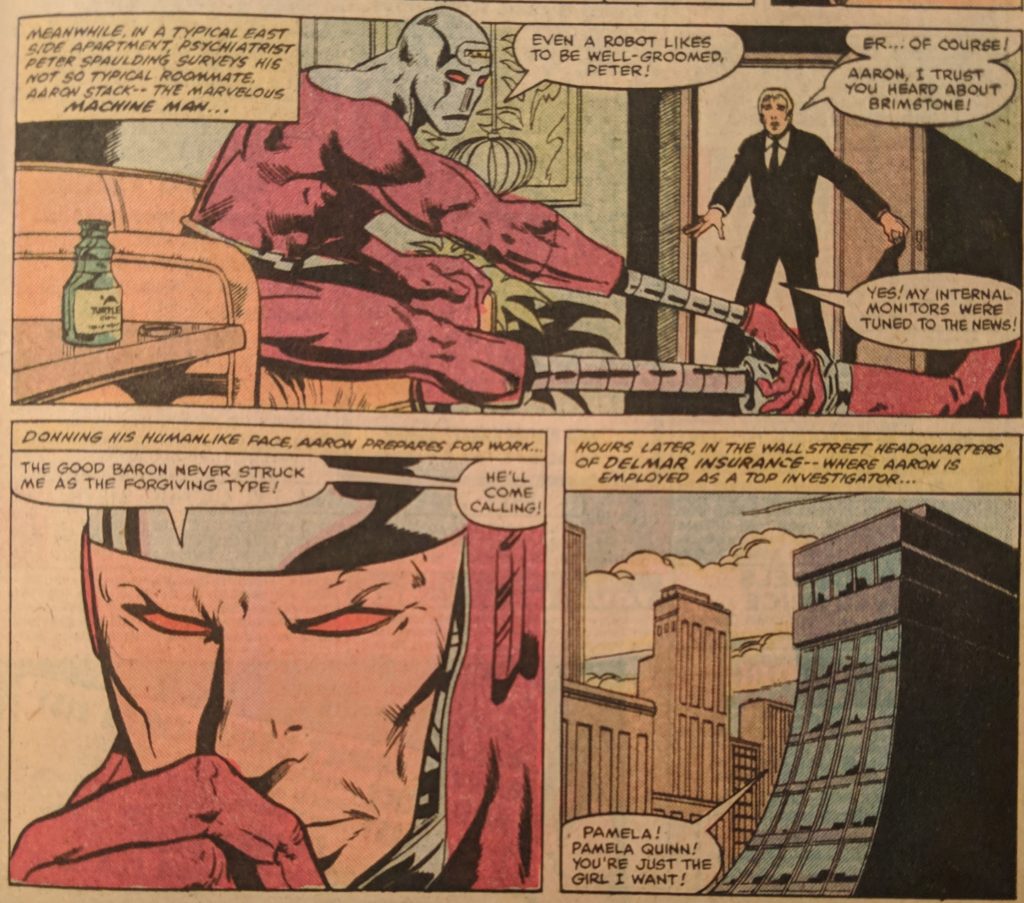 As Aaron Stack, he works with the aforementioned Pamela, who is currently being bothered by another coworker with a get-rich-quick scheme, when the villains teleport in. They tear the place up, and Aaron tries to stand up for Pamela and gets punched through half the building by Sandman, giving him a chance to become Machine Man. At that moment, Spider-Man swings by, and his danger sense tells him to check out this "oddly shaped building" (Glad it wasn't just me thinking that)…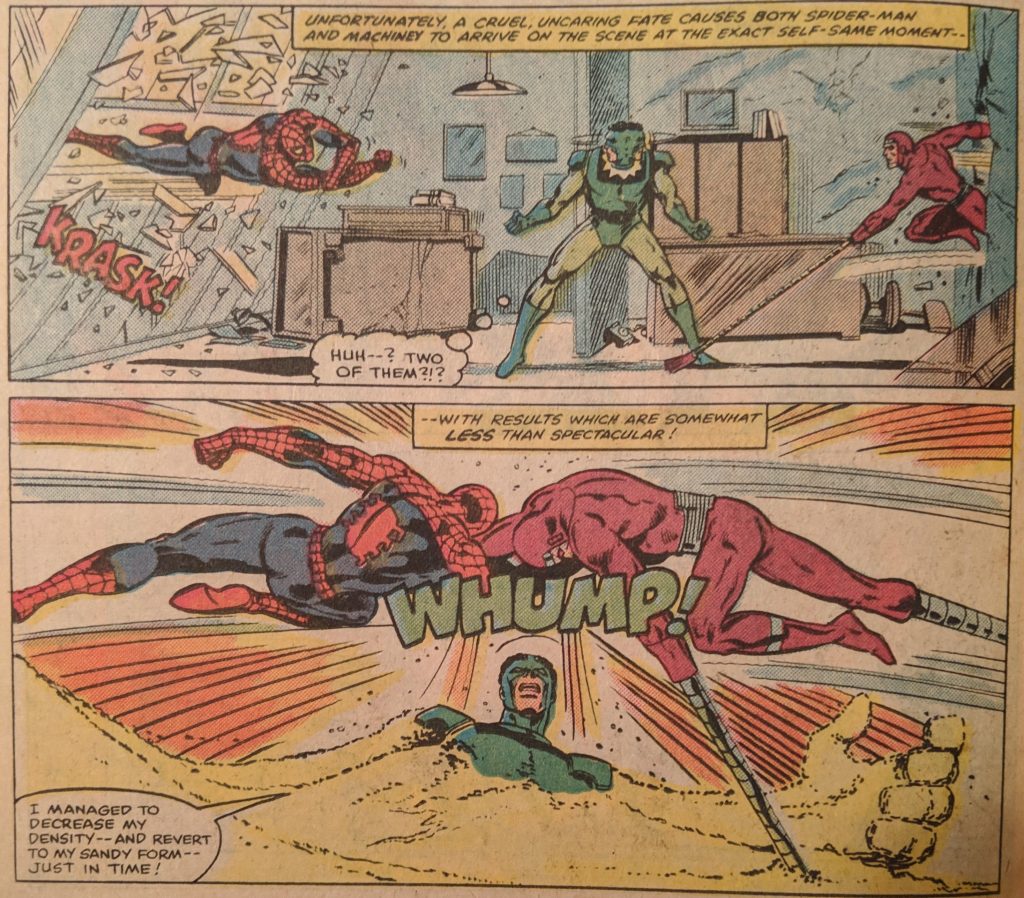 Hilariously bad expository dialogue from Sandy down there. So, as you might expect, Sandman nabs Pamela, the villains disappear, Spider-Man assumes Machine Man was with them, and it's time for Ye Olde Heroes Fight Due To A Misunderstanding…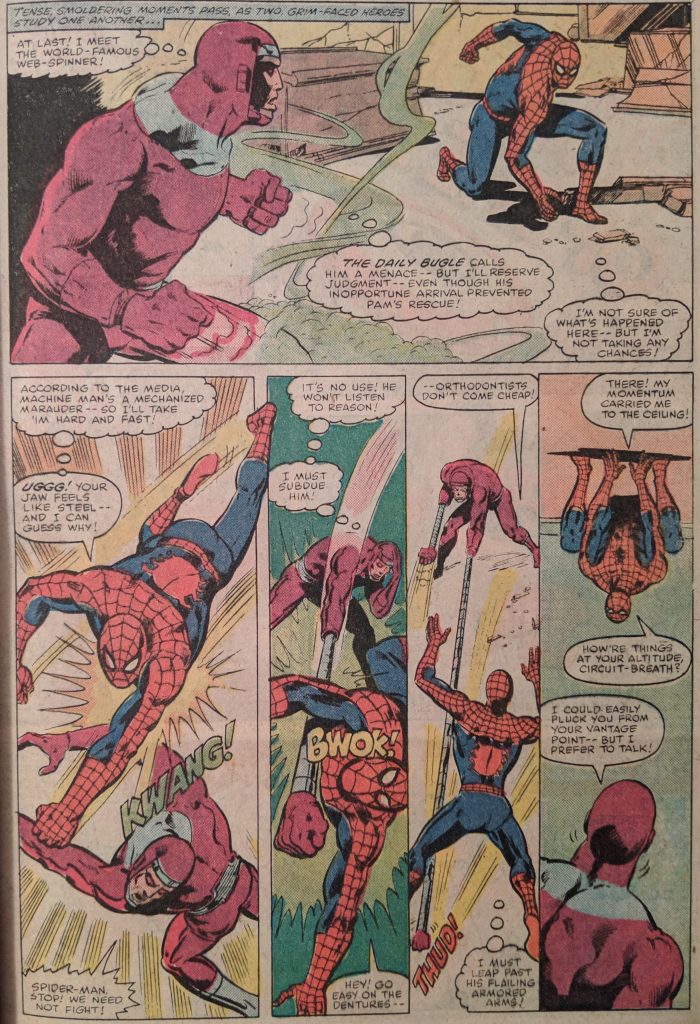 This goes on for another 2 pages before Spider-Man stops being an idiot and lets Machine Man tell him what's going on. Then the cops show up, so the heroes escape out a window. Machine Man takes one of Spidey's tracers and puts it in his chest (Lil' weird) to analyse and amplify its signal, and soon he knows where the one Spidey got on the Baron is. Handy!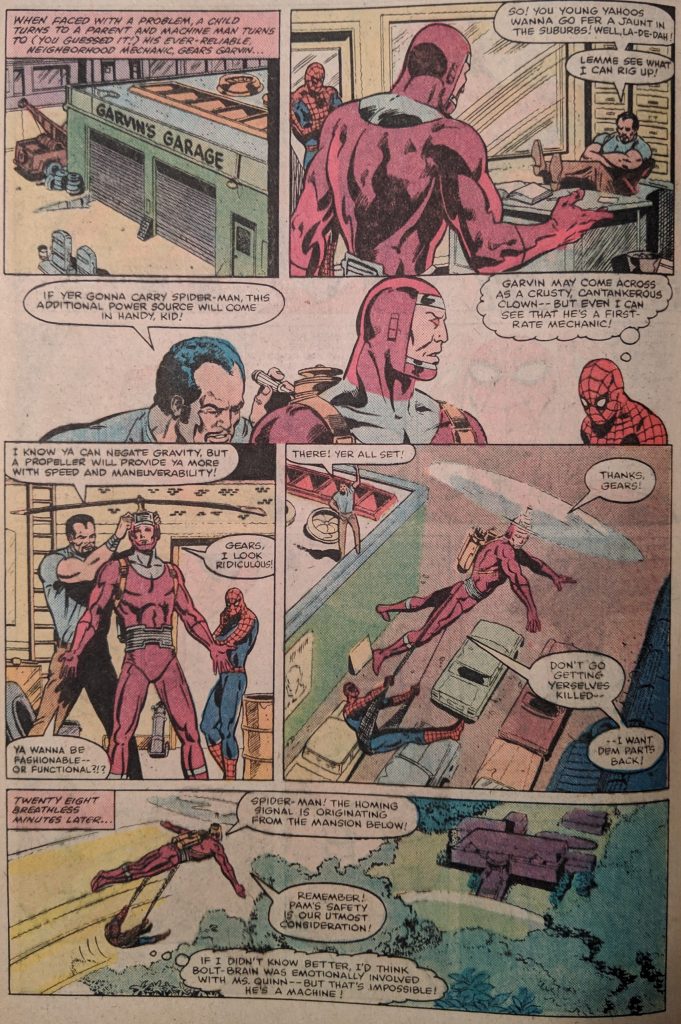 The script in this comic is insane. The plot of this comic is insane. This comic is insane. The heroes announce their arrival by Spider-Man webbing the Baron and smashing him into a wall. Sandman responds by trying to crush them, and then flees. The heroes split up, each taking the other's villain (Variety is the spice of life, I suppose), and this leads to Spidey following Baron Brimstone through a portal to… a Steve Ditko mystical dimension! He's stumbling into a lot of those lately.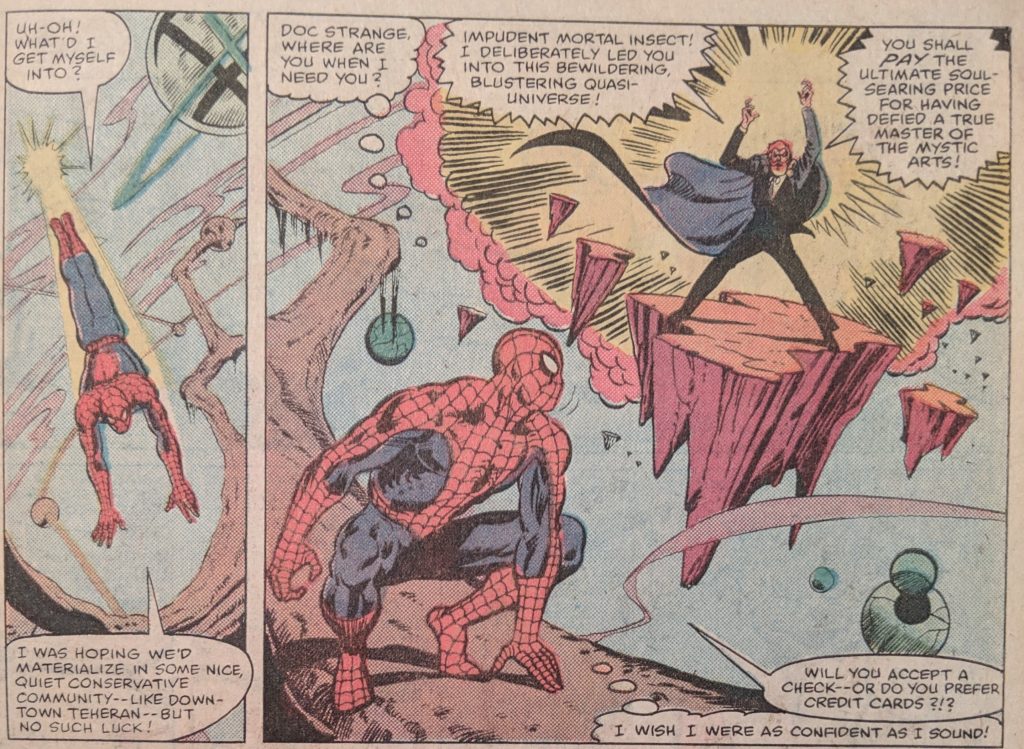 Now that's interesting. Because while I haven't read the Machine Man comic, I know it was started by Jack Kirby, and when he left, the artist who finished it out was… Steve Ditko. He had this thing when he returned to Marvel where he refused to work on Spidey or Dr. Strange, but I guess he couldn't help himself when he came up with this guy. And, looking it up, I see the latter issues of the series, including the one that introduced everyone in this issue, were written by Tom Defalco. They introduced this villain and this supporting cast just 3 months before this issue of MTU was released. That's pretty interesting. I wonder how Ditko felt about all his work immediately crossing over with a character he swore not to work on? Uh, anyway, the Baron sends an army of demons after Spidey, bit of fighting and jumping around and whatnot, and then…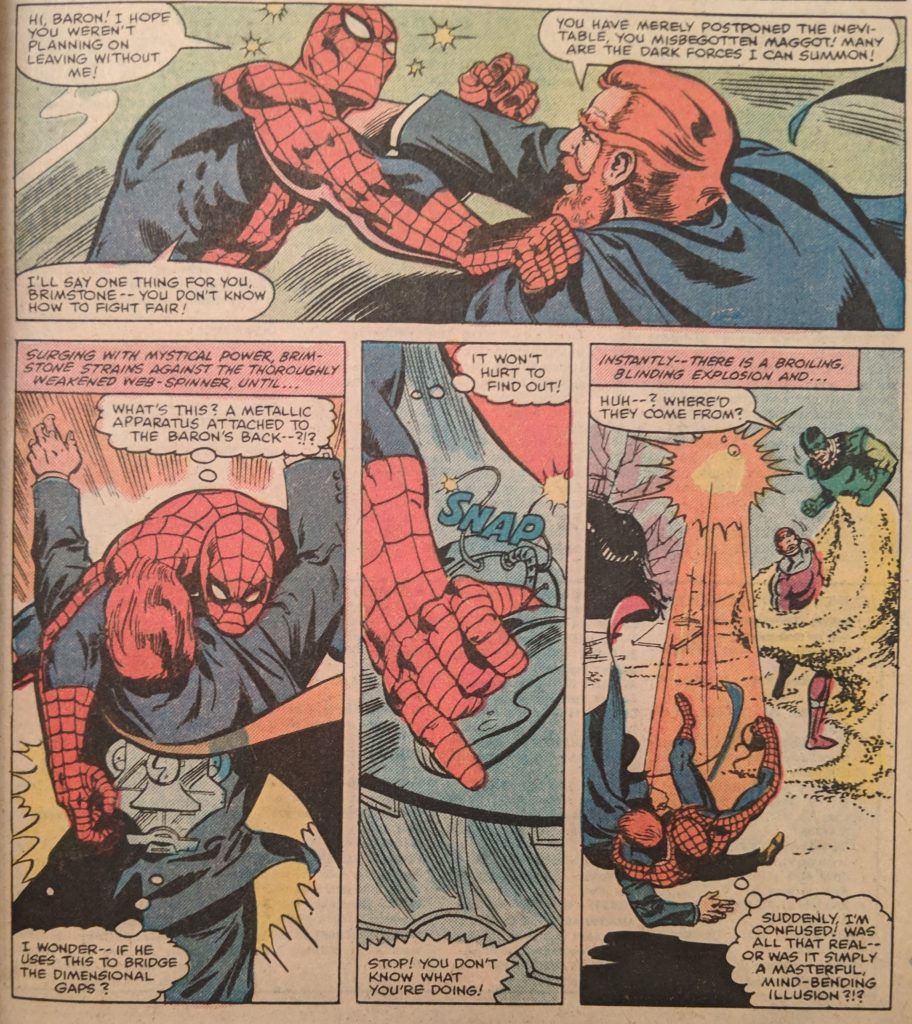 Back in the real world, Spidey knocks out Brimstone and Machine Man wraps his metal arm around Sandman and sticks his finger in an electrical outlet (seriously)…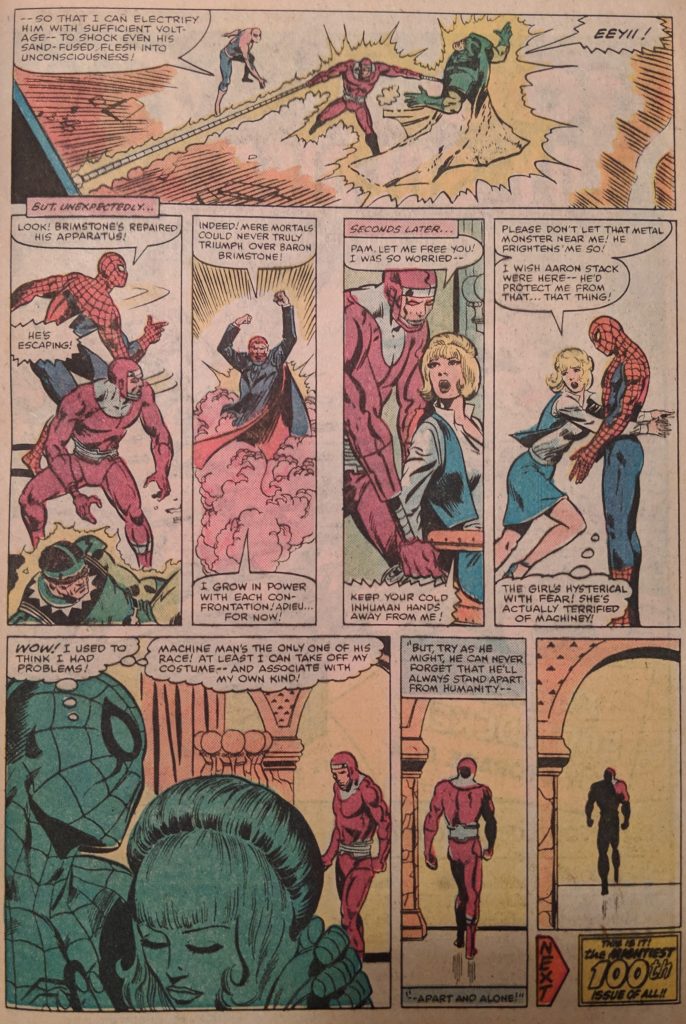 See, kids, that's why they say not to stick your finger in a socket. So, did Machine Man "make three" villains, even though he wasn't one? Is the title based on Spider-Man's misunderstanding? I still want to know. Machine Man and Pam having the exact same deal Spider-Man/Gwen Stacy/Peter Parker had feels pretty stale. Machine Man's comic would only run 2 more issues after this before being canceled. But the last issue of that series will accidentally impact Spider-Man in a huge way, as it happens, so MM's influence on this blog isn't over yet.

In the letter column, Steven Grant reveals his 7 issues as writer on MTU were… actually a series of fill-ins commissioned during the recent editorial change on the book, and his issues were getting turned in faster than anyone else's, so they all got published together. How weird. So, due to those and other fill-ins, even though he's not had an issue of Team-Up since 89, Chris Claremont's last issue is actually 100. Strange how these things work out sometimes.