Now that's a look! So, we're still in 1692, The Dark Rider has shown up, and now, so has Dr. Doom. Cotton Mather has immediately decided Doom is "the angel of light" for some reason, and Spidey and Vision aren't sure what to do. Doom says The Dark Rider has more power than he's ever known. And if you know Doom, that means he's here to try to steal it.

Things are very complicated right now. The now giant cat is not fazed at all by Vision's eyebeams, and he and Spidey dive out of its way. While they fight the big kitty, The Dark Rider recaps Dr. Doom's origin… for Dr. Doom. "This is your life!" Why would he do this? Anyway, a lesser known aspect of comics' greatest villain is Doom is a powerful sorcerer in addition to a mechanical genius, and The Rider wants his power. Doom is shocked by what The Rider knows of his life, but we cut away to a still very shaky Scarlet Witch getting back into the mix just in time to save Spider-Man from the giant cat. I must say, I don't feel like it should take 3 superheroes to beat this thing. It's not even, like, giant-giant. It's a house cat the size of a lion. Surely this isn't the worst they've faced. Anyway, The Dark Rider is now syphoning power from both Doom and Wanda, weakening them as he grows in height and power.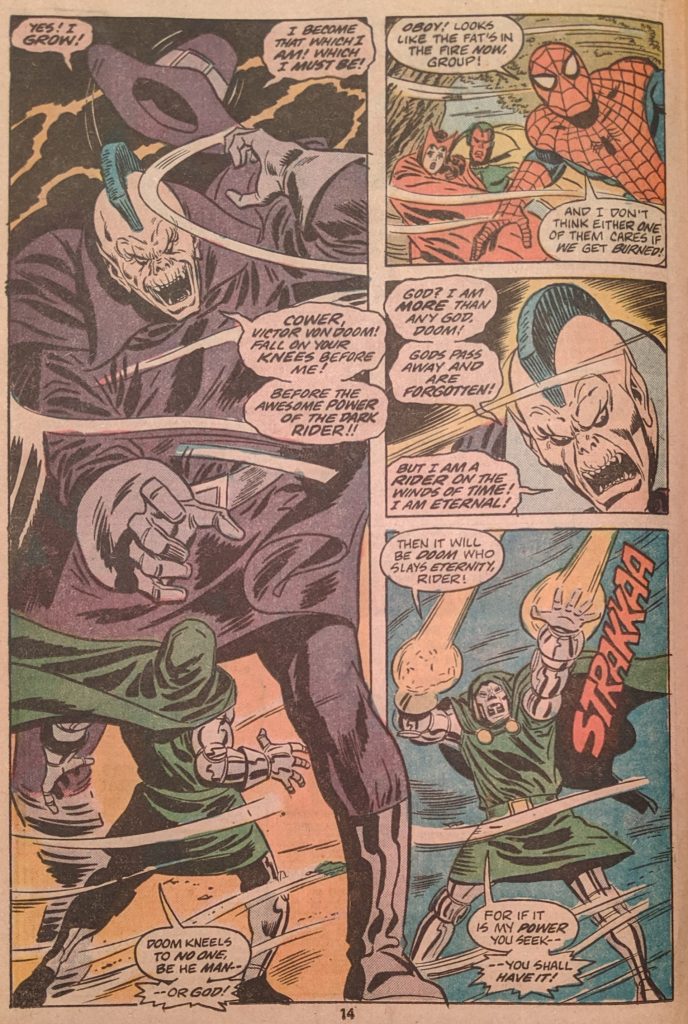 Doom is not amused. Meanwhile, John Proctor, his wife and others are sentenced to death for being witches and all, especially after the jury sees a vision and experiences random, terrible pain during his brief trial. Back out in the woods, Doom is still fighting The Rider, and the heroes are oddly just watching, but Doom is losing. The ailing Wanda finally suggests they should, you know, help him out. Vision is not into that, but what choice do they have? Spidey charges in, and Vision runs after. Doom thanks Spider-Man for his assistance.

The Rider zaps Vision pretty bad, making Wanda furious enough to cast one more spell, and it's powerful enough to trap the big bad guy, probably because she's a mutant (Or at least, she was back then). But then Doom zaps The Dark Rider again, and that actually helps him get loose.

On the one hand, I suppose you need an extremely powerful villain to oppose all these characters, but on the other hand, jobbing Doom out to this goofball is not satisfying at all. Doom's stolen the power of The Silver Surfer and The Beyonder, but this poorly defined weirdo is too much from him? I don't buy it. But I guess I did. One way or another, we'll see how all this wraps up next time And just so ya know, Marvel Value Stamp: present!