Surprise! Another guest appearance. It's so crazy how that is distinctly a Steve Ditko Spider-Man sharing a cover with Jack Kirby Avengers. The interior art team is Don Heck and Chic Stone, working with Stan. We open on a page really showing off the weirdly bureaucratic nature of the classic Avengers.
Thrilling meeting decorum! Wasp is kind of known for changing her costume constantly, and she already looks a little different from last time we saw her. From there we cut to Kang the Conqueror, watching The Avengers from his base in the future, and pondering how to strike at them. This is only the 2nd appearance of my favorite Avengers villain.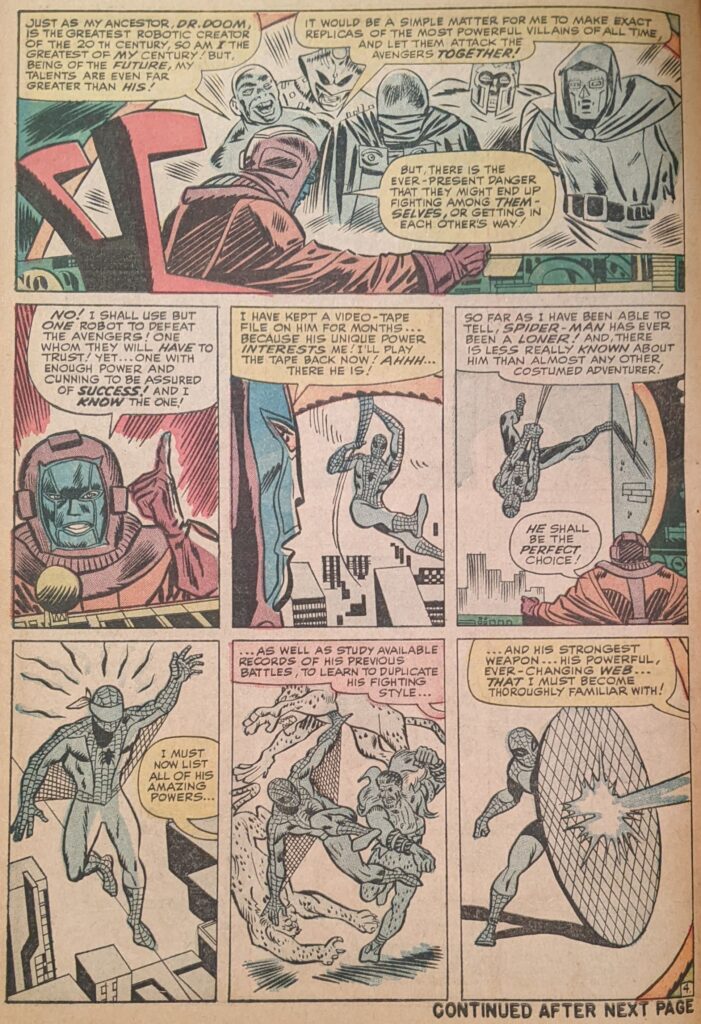 Kangs puts his future science to work, creating a Spider-Man robot that he claims will even have Spider-Man's memories, and then chucks it back in time to "now."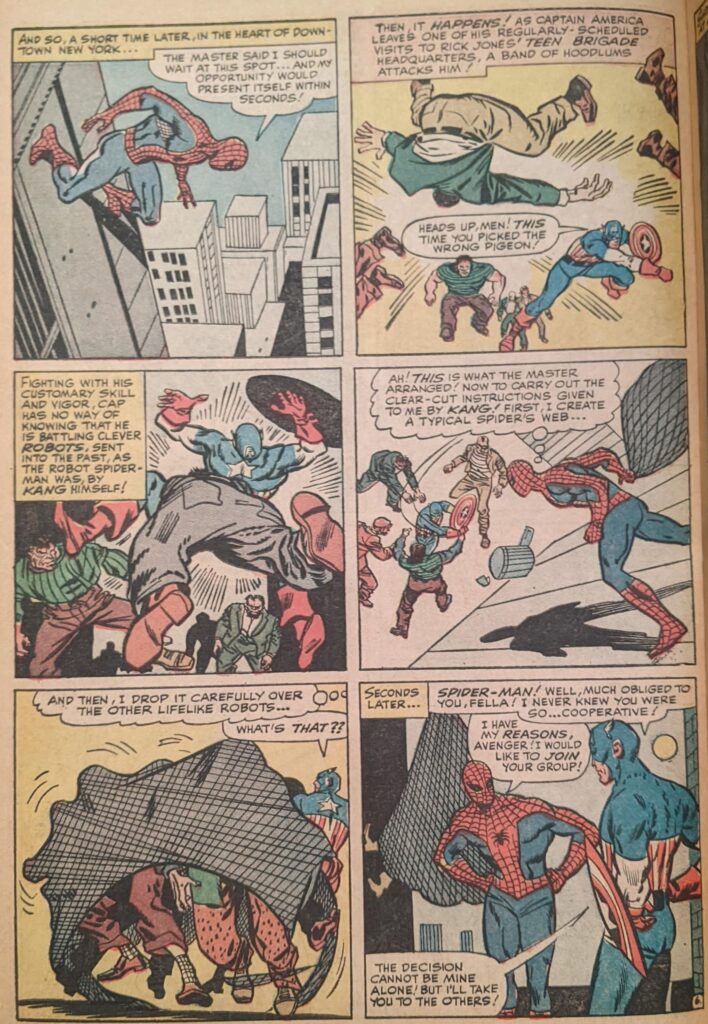 After showing a suitable amount of reluctance, the fake Spider-Man spins up a story of Iron Man being kidnapped by The Masters of Evil, and as they put him into a helicopter, hearing them say they were going to The Temple of Tirod in Mexico. Hey, why not? We're told that, "under standard operating procedure," the Avengers split up and travel to Mexico in various different ways. We're a long way out from them having their own aircraft. We follow Giant-Man and Wasp on their quick journey to the temple, and then inside, not waiting for their teammates. Fake Spider-Man thinks to himself that the whole temple's been converted into a giant trap, and then…
The heroes get into it with the robot, who eventually defeats them both. Hank gets tied to a pillar and Wasp gets hit with a web fly swatter, which is pretty funny. But as soon as that's over, Thor arrives.
Fake Spider-Man accidentally keeps Thor away from his hammer for a full minute, which, unbeknownst to him, makes Thor revert to Don Blake in this period. So right as Thor is about to tear out of a big ball of webbing, he becomes a regular guy, and is trapped (But the web's so thick Fake Spider-Man can't see inside) (Shouldn't Kang know all their secrets, anyway?). Captain America then parachutes in. This timing is really working for the villain. Fake Spider-Man drops a big stone slab from the pyramid toward Cap, who rolls out of the way, only to get a face full of webbing and thrown off the temple. The robot assumes he died. Things are looking grim for our heroes! Who could save them now?
And so, as he does surprisingly often, our hero has to battle an evil version of himself.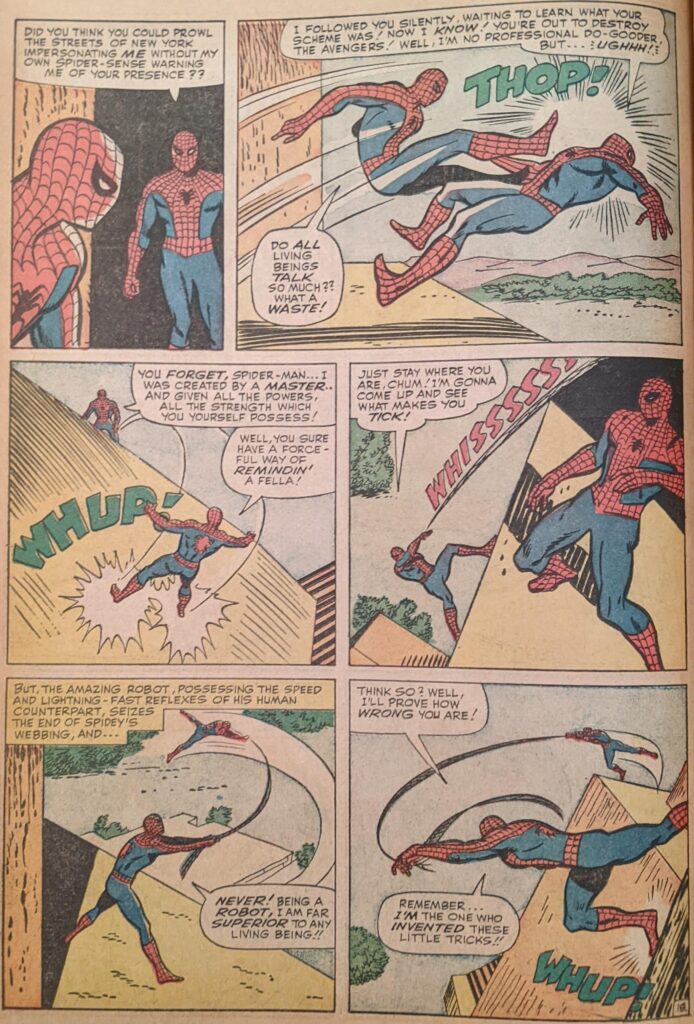 None of that really explains how Spider-Man got to Mexico, tho.
Marvel comics, especially the team books, had a habit of running out of pages in the early days. The artists plotting their own stories weren't always thinking ahead as they drew. But even taking that into account, WOW, what a rushed ending! Spider-Man literally just wafts off into the distance! That's wild. Good of them to work in that gas explanation for Spider-Man, fake or otherwise, stunting on almost the whole Avengers lineup. This is the story being referenced in the incredibly overcomplicated SMTU 4, some 20+ years later. Been awhile since we saw that one.