This is ASM Annual 6, but it reprints the first one, so I saved myself a zillion dollars. I never really thought much of it before, but I think the Sinister Six is a somewhat unusual thing in superhero comics. "Let's have basically all the villains we've introduced in the series so far team up against the hero." Not EVERYBODY, of course. No Chameleon, no Lizard, no Enforcers, and perhaps most importantly, no Green Goblin. But 6 of Spider-Man's 10 unique villains are here to fight him at the same time, and when you consider how, of the missing 4, Green Goblin is the only one who doesn't vanish for years from this point, this is really the A-Team of Spider-Man villains, united. I think Superman had to deal with this sort of thing once, but decades later, and it wasn't his most famous foes. Sounds like something Flash's enemies would do, but I know next to nothing about Flash. I can't think of another hero whose enemies formed a named team to come after him. Spider-Man even has 2 with the Sinister Syndicate. Anyway, just a thing I thought of. I like Kraven leaping off Ock's tentacle on this cover. After a splash telling you some of the plot points that wait, we begin.
Spidey has 2 right hands in panel 6. Next page, a brief ad for Thor…
…followed immediately by one for Dr. Strange. What a weird deal. Spider-Man has no idea which way his mystery man went in the sewer, and lets it go, heading for home. He finds Aunt May looking at old photos and crying in the attic, which leads him to swing away and recount his origin for us. But as he comes out of his reverie, he falls off a roof. He catches onto a flagpole, but can't feel his strength or agility, and can only conclude his powers have mysteriously vanished.
The End. Oh, wait, there's more pages. What if they really did cancel a character like that. "Hey, I lost my powers for no reason! Oh, well, back to normal life for me!"
And so, alleged criminal mastermind Doctor Octopus immediately throws away the obvious advantage of a 6 v 1 fight and allows for Spider-Man to reasonably come out on top. Good stuff, Doc.
Aunt May calls the school for some reason so she can find out Peter didn't show up, and then we learn our man is so lost in thought that he just forgot to go, all of which is pretty goofy. He wanders by a Giant-Man and The Wasp battle, which curiously points you to Avengers to see more of them and not their own feature, and he thinks now that he has no powers, he doesn't want to be anywhere near criminals, which is, you know, a pretty reasonable stance.
INSTANTLY setting up the Aunt May/Doc Ock thing is so funny to me. "Having trouble with his arms." That's great stuff from Stan. I mean, all this sort of stuff makes May seem like a doddering moron, and that's not cool, but it was a different time, and it's funny.
The whole Marvel U appearing this is very strange. More good bits on this page, and as flimsy as it is, there is no denying Spider-Man came to Betty's rescue twice, so it works. Next page, The X-Men see a flaming message in the sky from The Torch to Spider-Man, but choose to ignore it. Peter knows he has no hope of helping anyone without his power, but he can't just leave Aunt May & Betty to his enemies, so he puts on his suit and goes to the battleground. Electro helpfully tells him he's holding a card that will tell him where to go next, but that he has to fight him for it, and throws some zaps his way, with Spider-Man desperately falling out of the way.
The panel 2 Spider-Man wound up in a lot of early marketing, and I think on a sweatshirt. Well, that was convenient. Now he has a chance. He swings off to find a grounding wire, which he attaches ot his leg, and then shuts off the current to the plant to take away Electro's powersource. Then, in a rare in-story splash page, he clobbers Electro in a single punch.
He gets the card telling him where to go next just as Iron Man arrives for his single-panel cameo/ad, then swings off. JJJ calls the FF, desperate for news on Spidey so the Sinister six won't hurt him, but they still have nothing. Then Spider-Man arrives at his next location, a wooded area where he has to fight Kraven and 2 cheetahs, leading to another splash…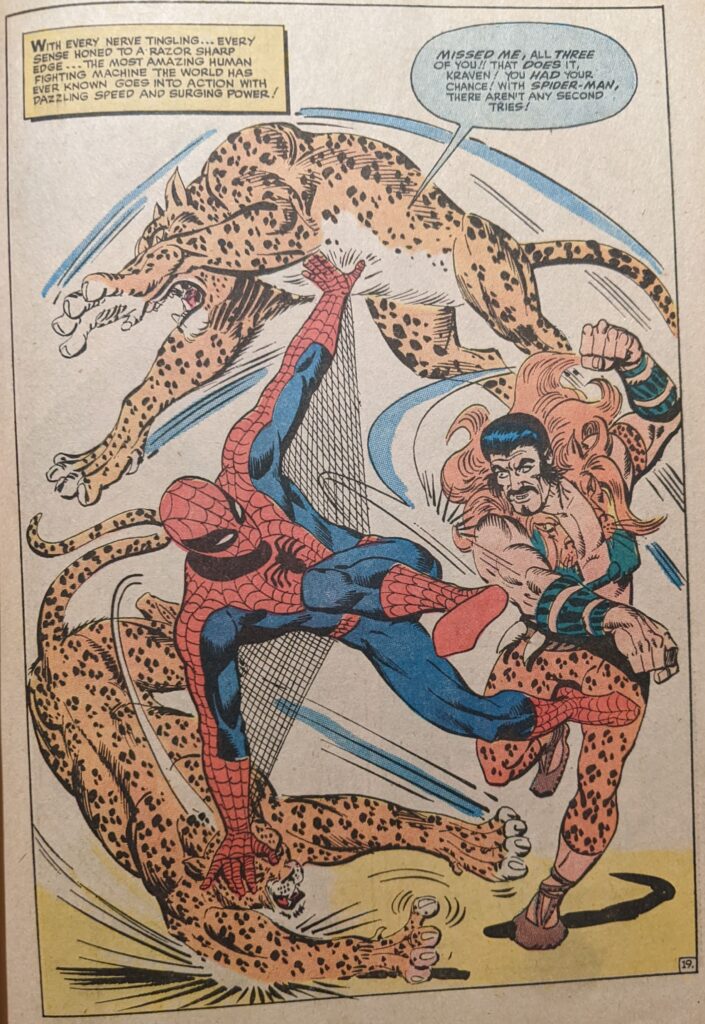 In a wholly appropriate embarrassment, Spidey doesn't even bother to fight Kraven, he just flips in close, steals the card for the next location off his belt, and leaves. He tells himself he must never have lost his powers, but just had a psychosomatic reaction to his guilt about Uncle Ben's death (Which Sam Raimi would use in Spider-Man 2). While he's en route, The Torch finally finds him. Spidey's in no mood to chat, so he even has a brief Misunderstanding fight with The Torch, wild card 7th fight for this issue, until Torch can finally make him chill out and listen. He offers to help, but Spider-man decides this is too personal, and declines. Meanwhile, Doc Ock is proving a fine host, talking about how they'll have to avoid any further slip ups while bringing Betty & Aunt May tea and Danish, Aunt May taken with his lovely manners. Still great. At the next location, he runs into not a member of the Sinister Six, but The X-Men. They attack him without warning, and he soon learns they're just robots made by Mysterio, who he quickly finds manning the controls nearby.
Spidey apparently knocks out an unseen Mysterio inside his famous cloud of mist, another fittingly lame defeat, but Mysterio's card has somehow caught on fire in their battle. Spidey hits it with his liquid web, and is just able to make out what it says despite the damage. Ditko is really pulling out all the stops on this one, challenging Spider-Man in all sorts of ways, while also setting Stan up for so many good bits, like this one with JJJ:
I mean, this is well worth your 25 cents in 1964.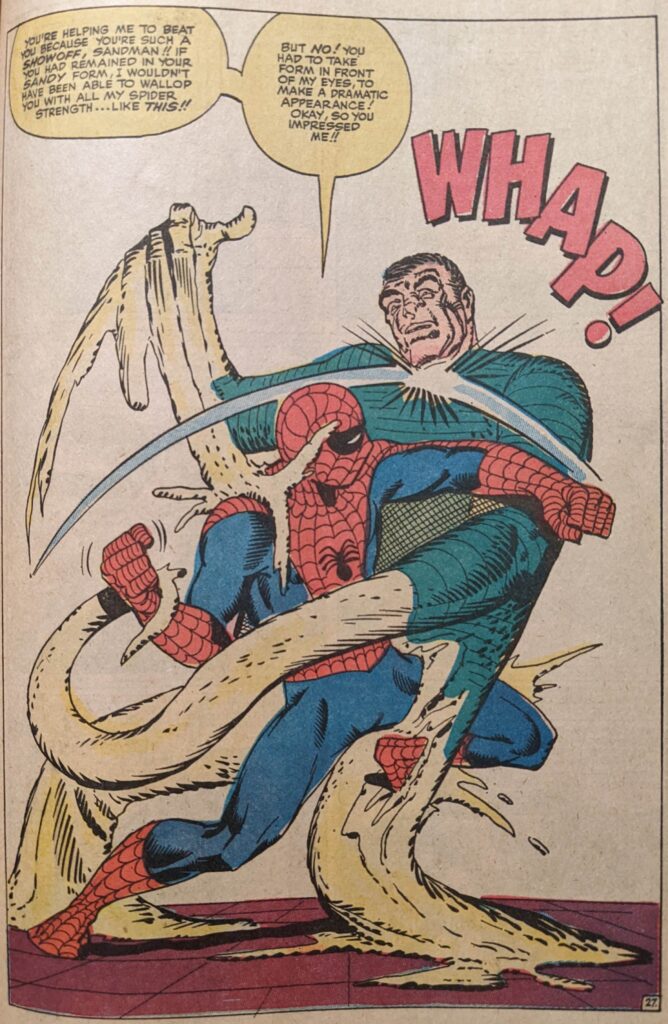 Sandman uses his card to lure Spider-Man into a small metal room, taking away his ability to maneuver. This is the best plan Ock's had so far, but he built the room too well, and it's so airtight, Sandman actually begins to pass out after some fighting, allowing Spider-Man to just leave. JJJ finds out The Bugle is the only paper in town not covering this because he told the whole staff not to disturb him, sending him into an even bigger rage. We cut to Doc Ock, worrying that if Spider-Man beats Vulture, he'll come after him, as if he didn't literally write up cards telling his enemy where to go. Betty apologizes to Aunt May for getting her wrapped up in this, but she's having a lovely, oblivious time. Then Spidey makes his way to his fight with The Vulture. Vultch changes the rules a little, telling Spider-Man to either disable his webshooters or watch him just fly away. So, our hero does just that, knowing he'll have a much harder time fighting a guy who can fly, but seeing no choice. Then they get into it. Vulture somehow produces a variety of props, first a can of oil to make Spider-Man fall off his perch, then a rope to tie to his ankle, swinging him around for awhile. But Spidey manages to get the rope off his foot and loop it around Vulture's instead, using it to get a nice swing going without his web, and…
Spidey rides Vulture into a wall and webs him to a flagpole before taking off. Cut to JJJ despairing about not covering the story, cut to Ock saying he's expecting another visitor and leaving, as May once again tells Betty about his nice manners, and then cut to Spider-Man arriving at a CASTLE somewhere outside of the city, "imported to this country stone by stone." Ok, sure! He sneaks inside, and when he finds Doc Ock, he's not wearing his arms. Ock pretends not to know who Spider-Man is talking about when he demands to know where the captives are while his arms sneak up behind Spider-Man, since he doesn't know Ock can control them remotely.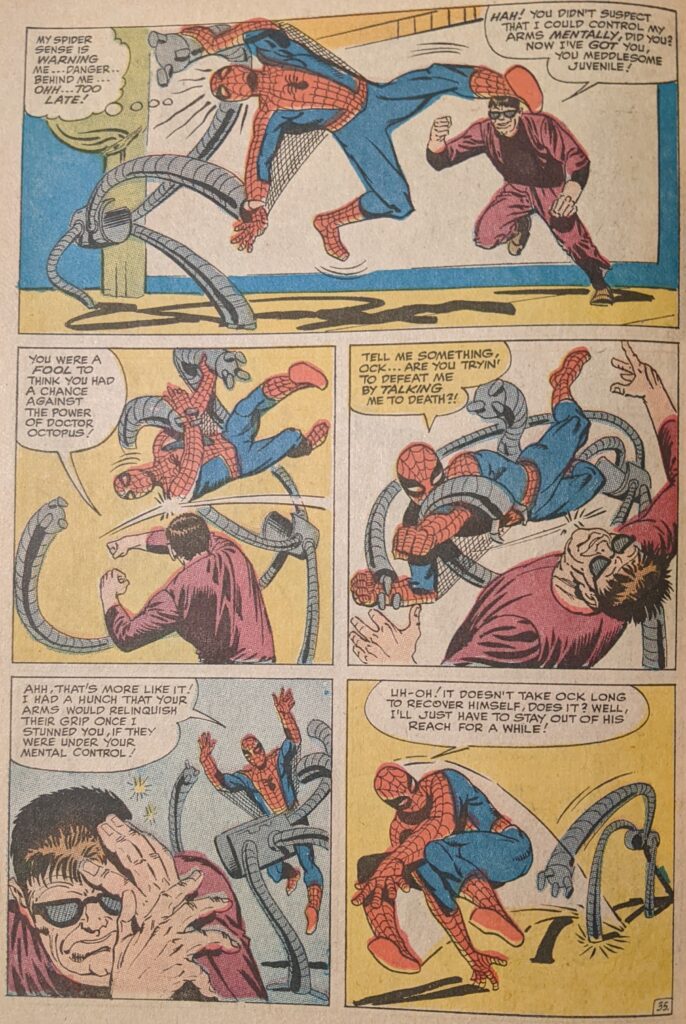 Cranking up the pure insanity of this comic, Spidey bolts, just looking for Betty & May, and Ock waits for him to step over a trap door, dumping him into a giant fish bowl. Then he puts on scuba gear to "defeat Spider-Man in a manner most befitting my name!"
This is some real TV Batman stuff.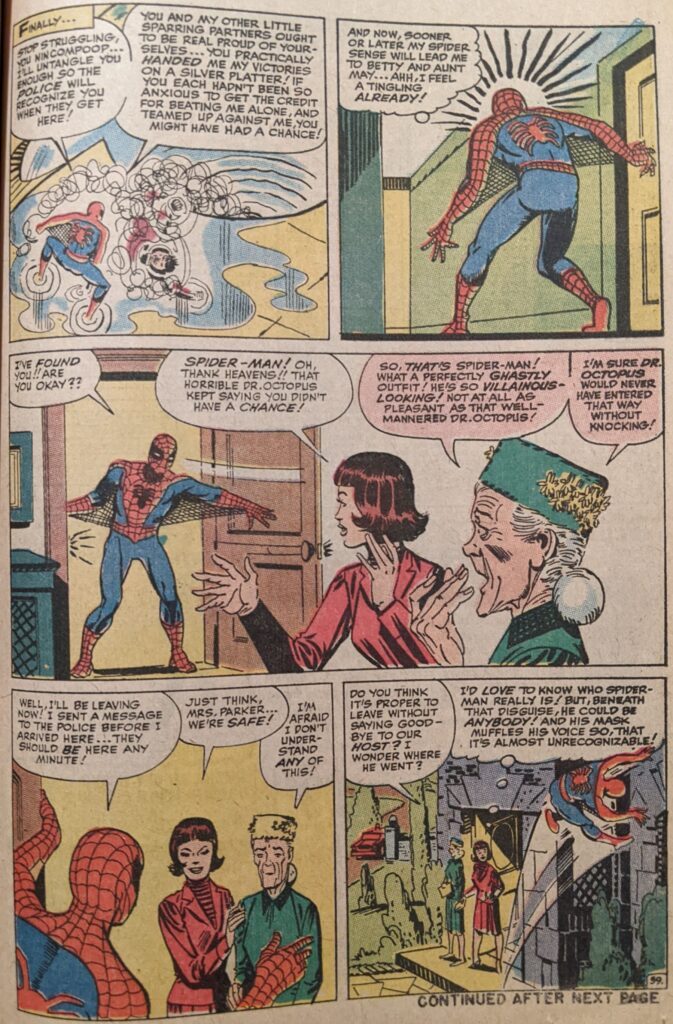 May's dopiness is really beyond the pale, even for the 60s. But it's still funny. And so, Spider-Man has fought six of his most dangerous enemies (And The Human Torch and sort of The X-Men) and lived to tell the tale. This seems like a very risky move. Sure, it presents a problem the reader can't imagine Spider-Man solving, and that's good for sales of this issue. But then he does win, so… If he can beat all these guys under these circumstances most of them in just 3 pages, the next time they come back individually, how scary can they be, really? "Doc Ock again? Spidey beat him and 5 other guys besides, who cares?" Just seems like it could cause you trouble. But I guess it worked out. ASM Annual 6 also includes a reprint of the feature from Fantastic Four Annual 1, which is Spider-Man's meeting with the FF from ASM #1, retold with Kirby drawing and Ditko inking, with longer fights. It's beautiful, but just a longer version of something we've seen. Then it reprints the story from Strange Tales Annual 2. Not really sure what all was in the original annual, and I doubt I'll ever know. Here's the real cover: