A dire warning indeed! Another one with a frustrating history behind it, maybe the dumbest one. In 2018, when I was at Heroescon and discovering that, like, Silver age comics don't cost $1000, I was rooting through bins and got my ASM 30 and such, and I had this in my hand. It was a ratty, messed up copy, kinda falling apart, but with the half off sale that day, it was $12. And I knew nothing about this whole genre of comics buying and decided that was a little steep for a book in such bad shape.
Ha.
Ha ha.
Cut to me spending months trying to find a copy, in any condition, under $200 on eBay. But I didn't know any better, and we live with our choices. I finally did score this one at a price I was willing to pay, tho, so here we are. But this issue has 2 other back stories, too! Like MTU 79, I first saw it in Mighty Marvel Team-Up Thrillers, a collection of great meet-ups throughout history I've had since elementary school, which I read to pieces, quite literally. By the time I saw it in the book referenced in the ASM 14 post, it was old news! But, yes, this issue represents a key moment in my young mind, regardless of its actual place in the pantheon, because it was Spider-Man's first meeting with DD, and I had barely read any comics, and I thought this was monumental. The splash is a particularly nice one of Spider-Man fighting The Circus of Crime, and then we get rolling fast, as these tend to do.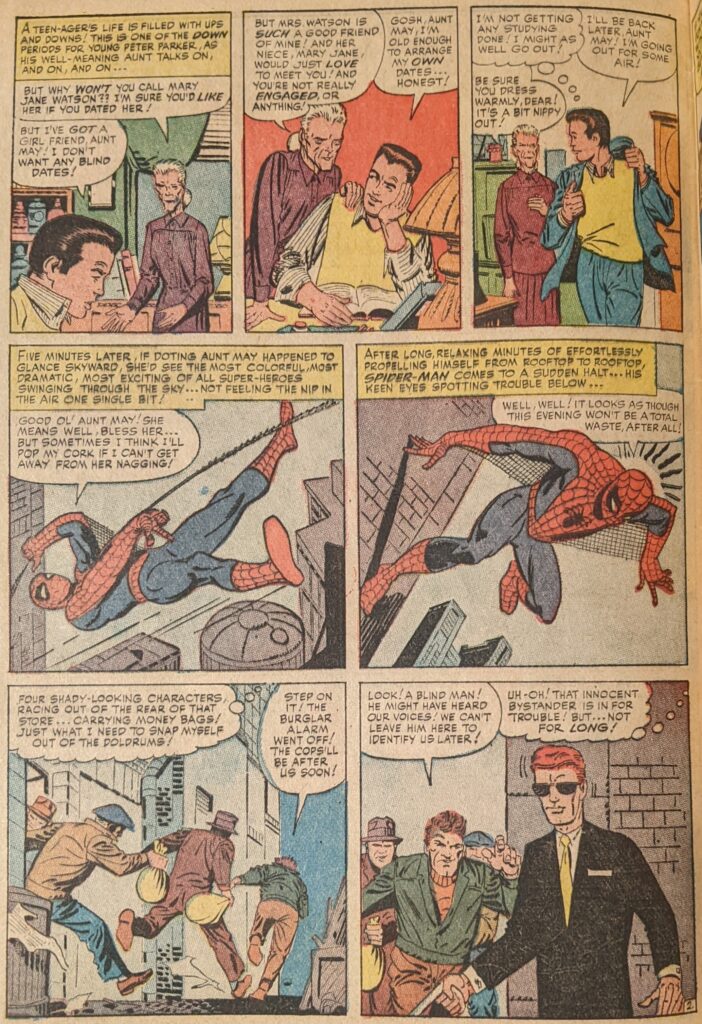 One of my problems with Ross Andru's Spider-Man has always been that he often looks more like he's being towed than swinging. Ditko often settled on a panel like #4 there, where it looks like he's flung himself through the air so hard he doesn't even need a web. The polar opposite.
That flipping action panel is great. That random blind guy sure got lucky. But, of course…
A very quick primer on all things DD continues as we meet Foggy Nelson and Karen Page, his supporting cast. Early promotion of DD positioned him as being "in the tradition of Spider-Man," and people have said that, before it was revitalized in the 80s, the title was often a sort of "Spider-Man lite," but that's so hard for me to reconcile. Aside from both swinging around, what else do they have in common? Spider-Man is a kid, Daredevil is an adult. Spider-Man is poor, Daredevil's doing alright. Spider-Man is super strong and has his web, DD has much weirder powers and no extra strength. Just not too similar, in my opinion, but I guess more similar than either of them and any other Marvel hero of the period. At any rate, Foggy & Karen talk Matt into joining them for a night at the circus, and then we cut to The Ringmaster driving his goons to rehearse, saying they've never pulled their scam in the heart of a big city. The Circus of Crime debuted in Hulk. Certainly one of Marvel's tougher sells in the period. But for this scam, they have an unusual angle:
I don't think it's much of a surprise that Betty Brant isn't among the most loved Spider-Man girlfriends. All she ever did was weep. Gwen was a little too perfect, but she had more to her than this. Foggy tells Matt Spider-Man will be at the circus, and this only piques his interest. Soon, our heroes are gathered at the event, and Peter slips away to do his thing. Matt senses him long before anyone sees him, and then he drops down out of the rafters to tremendous applause. Without, like, talking to anyone connected to the circus, he just starts doing his thing, trying to give the crowd their money's worth. The audience loves him, and so does The Ringmaster, who figures he'll just add Spider-Man to the act. He flags our hero down and hypnotizes him with his silly hat instantly.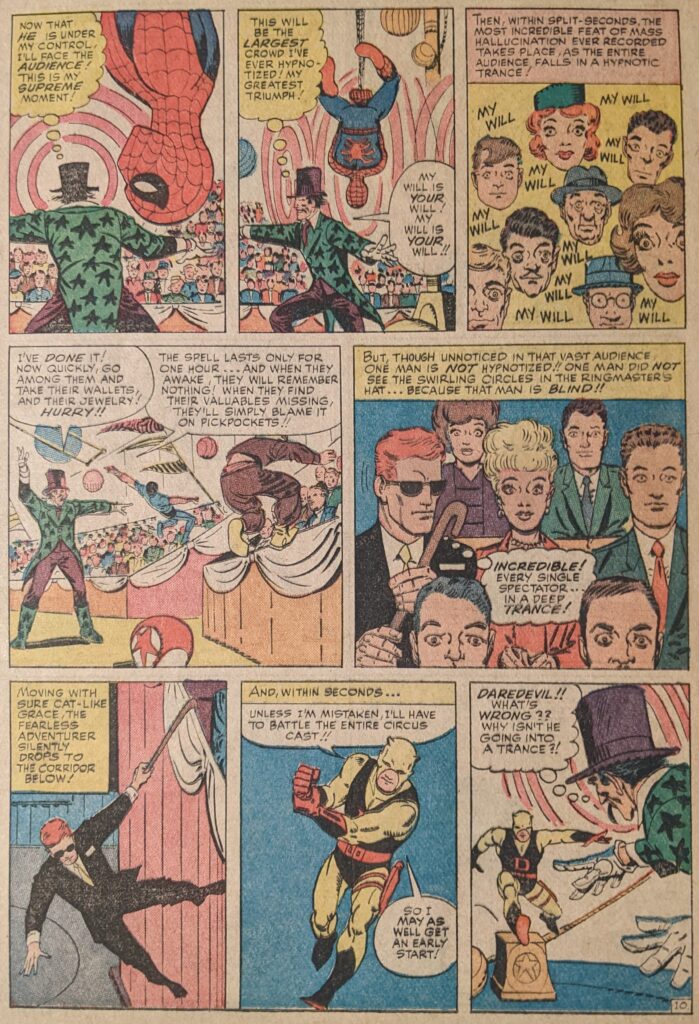 Thus begins the strangely consistent trope of Daredevil generally being the good guy when he and Spider-Man fight in Spider-Man's own book. The cover of that Team-Up trade I had was a painting split into pieces, depicting a scene from some of the comics inside, and panel 6 there at the bottom was this book's representation. As is usually the case, DD quickly realizes Spider-Man is way too powerful for him, and he'll have to outsmart him instead. But he has the fact that Spider-Man is hypnotized going for him. When Spidey knocks DD down, he assumes his mission is complete and goes back to standing totally still, having to be commanded to keep fighting. Rather than fight, DD avoids Spider-Man until he's able to get close to The Ringmaster and steal his hat. As Spidey charges toward him, he turns the hat on our hero.
One of the better excuses for the heroes to fight from this era. Ina pretty odd turn of events, after DD avoids being caught in a net, Spider-Man tells him he's done his part and he can take off, and Daredevil agrees. That's pretty weird! So our hero gets to close out the issue fighting the whole circus by himself.
I feel like this is some real Ditko at work. Ditko's sad devotion to Objectivism meant he hated it when Spider-Man needed help from anyone, a topic he & Stan would clash over any time Stan wanted another hero to guest star. So, having been freed of the hypnosis, he has to beat the villains alone and unaided. This issue really accidentally serves as a fine rebuttal to Ditko's whole philosophy, as Spider-Man, for all his power, is only able to triumph with help. Humans are a social animal, we don't just need each other, we're stronger together. That sort of "rugged individualism" nonsense only gets you so far. At any rate, there follows several pages of top notch Ditko action as Spider-Man clobbers all the circus weirdos, often with their own gimmicks.
When you think about it, the idea that The Circus of Crime are all real circus performers seems pointless. They just hypnotize everyone and steal their money, they could just also tell them they saw a great show while they're at it. Ringmaster could probably do this alone. Well, normally. Spider-Man crashes that dope into the rest of the gang, but The Ringmaster escapes, and finds his hat, ready to control Spidey again.
Another wild and wacky issue. I really enjoy these early ones. They just kind of careen all over the place. There's a charm to their simplicity. This issue features one of the funnier letters I've seen in the early days…
Oof. The news section mentions this is the month they started doubling up heroes in some of the old sci fi magazines since they were only contractually allowed to publish so many comics per month. It's weird that an idea like Sgt. Fury And His Howling Commandos gets its own book, but Iron Man and Captain America will soon be sharing a book.